There's Finally a Legitimate Tour de France for Women
The eight-day Tour de France Femmes represents a step forward for women's pro cycling, but a sizable gender gap still exists in the sport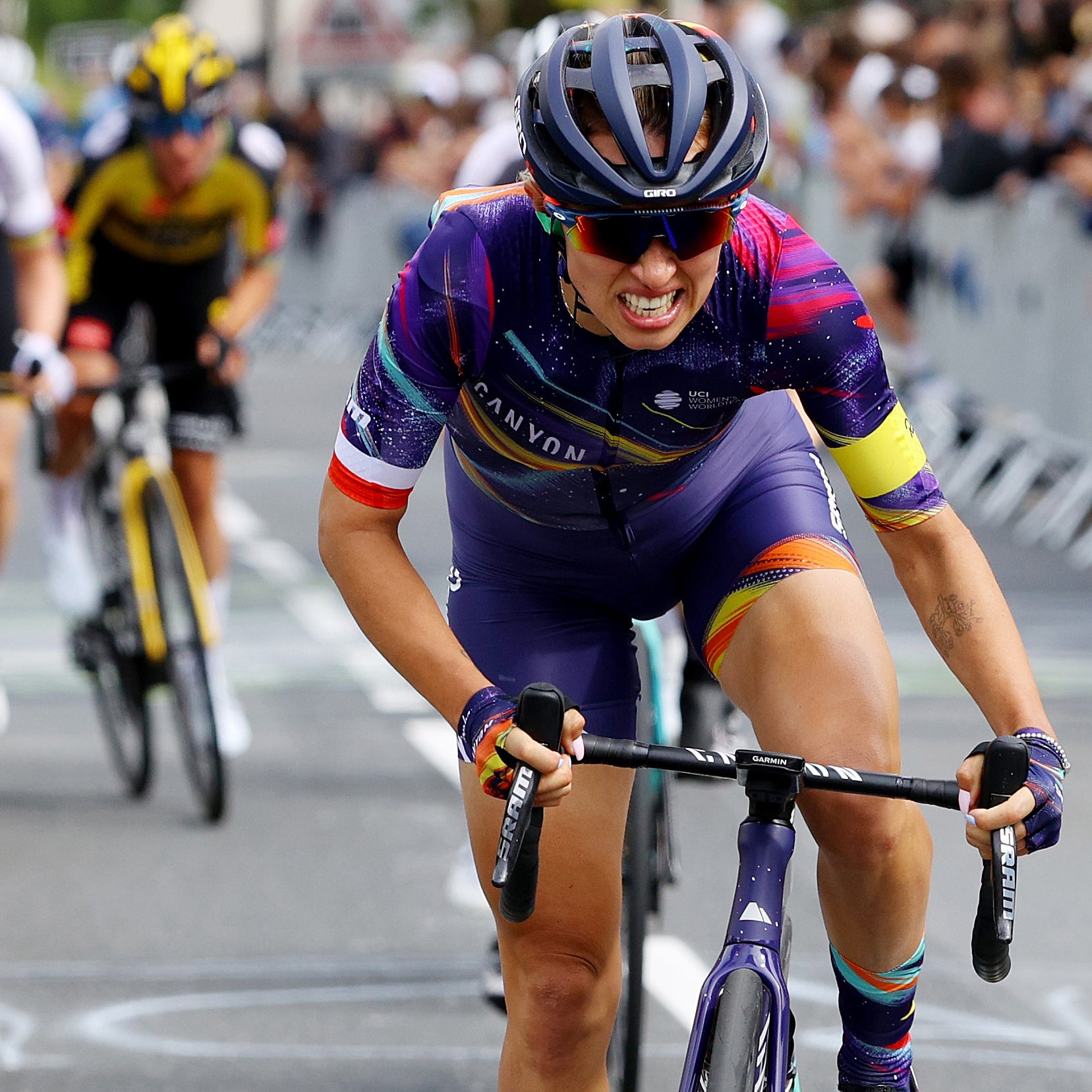 Getty Images(Photo)
Heading out the door? Read this article on the new Outside+ app available now on iOS devices for members! Download the app.
The Tour de France's annual route announcement is pro cycling's version of the Met Gala or the Academy Awards. The world's top cyclists don suits and tuxedos, and then mingle on a red carpet with French VIPs in the Palais des Congrès in downtown Paris. Photographers and TV cameras fill the palace, broadcasting live coverage of the event to fans across the globe.
Lights dim, and then everyone takes their seat in an auditorium, where the route's details are beamed onto a giant screen. Each of the 21 stages—which change every year—are made public, complete with maps, elevation profiles, and information about each climb and sprint. Then, the cyclists, VIPs, and journalists discuss and debate the route's every twist and turn.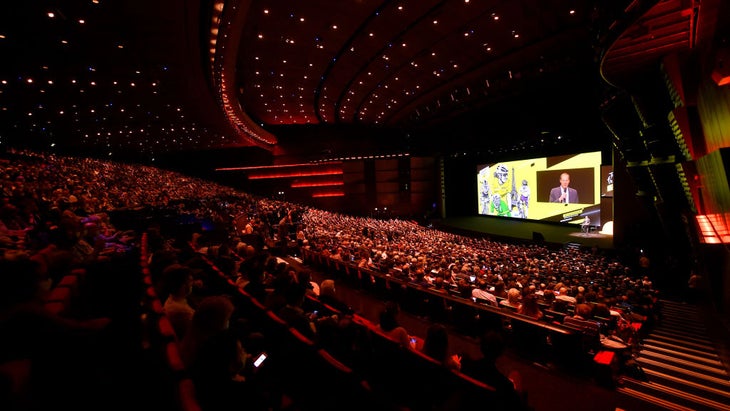 This year's announcement—which was held Thursday, October 14—carried even more weight than normal. The event broadcasted the details of the 2022 Tour de France Femmes, the highly anticipated new stage race for pro women. The eight-day Tour de France Femmes will replace the old La Course by le Tour de France, which was a single-day event held in various locations across from 2014 until 2021.
For years, critics have blasted Tour de France organizer Amaury Sport Organisation (ASO) for not building La Course by le Tour de France into a stage race on par with the men's event. After all, there used to be a women's Tour de France that ran from 1984 until its demise due to financial difficulty in 1989. And these days, other race promoters operate multi-day events for pro women, such as the Giro d'Italia Donne, which is ten days long.
In recent years, a chorus of voices from within pro cycling has pressured ASO to invest more in women's cycling. The requests have been consistent: give pro women a Tour de France that takes in the same iconic climbs and picturesque backroads as the men's event, awards the winner a coveted yellow jersey, and broadcast the race live for fans to watch.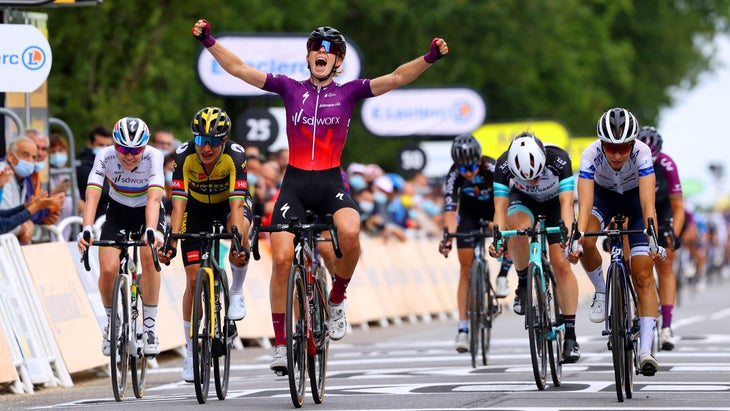 Thursday's route reveal for the inaugural Tour de France Femmes appears to confirm that ASO finally listened to those voices. The race packs in 640 miles and plenty of climbs as it traces a route from Paris, across northeastern France, and into the Vosges mountains, where it concludes with back-to-back climbing stages.
The race kicks off on July 24, the final day of the men's Tour de France, with a fast and frenetic route on the Avenue des Champs-Élysées. The peloton then tackles a series of hilly and flat stages across northeastern France, before heading into the Vosges.
🤩The 𝗼𝗳𝗳𝗶𝗰𝗶𝗮𝗹 𝗿𝗼𝘂𝘁𝗲 #𝗧𝗗𝗙𝗙 avec @𝗚𝗼𝗭𝘄𝗶𝗳𝘁!

🤩 Voici 𝗹𝗲 𝗽𝗮𝗿𝗰𝗼𝘂𝗿𝘀 𝗼𝗳𝗳𝗶𝗰𝗶𝗲𝗹 du #𝗧𝗗𝗙𝗙 avec 𝗭𝘄𝗶𝗳𝘁 ! pic.twitter.com/3Qms6zgoCv

— Le Tour de France Femmes avec Zwift (@LeTourFemmes) October 14, 2021
On the final stage, the race culminates with a summit finish atop La Planche Des Belles Filles, a steep and fang-like mountain that has become a mainstay in the men's Tour de France. The rider with the fastest cumulative time wins the coveted yellow jersey.
The route received near-unanimous approval from many of the sport's top women racers.
Dutch rider Annemiek van Vleuten, the current Olympic champion in the individual time trial, said the route is proof that ASO took a women's event seriously by including flat, hilly, and mountainous stages.
"I have the feeling that, with this route, they made an effort to organize something good and representative," said van Vleuten. "From a quick look, they did a good job in having something for everyone in these eight days of racing."
South African rider Ashleigh Moolman-Pasio, who has been one of the strongest voices to push for more equality in women's racing, said the inclusion of two climbing stages is a suitable test for the women's peloton.
"It exceeded all expectations. There's something for everyone: flat stages, long stages, gravel, and a super queen stage at La Planche des Belles Filles," she said. "That's obviously the one I'm the most excited for. It will be my big goal for next year."
The question now is how ASO will grow the event in subsequent editions. While the race represents a major upgrade from La Course by le Tour de France, it still pales in comparison to the men's Tour de France in length and course design. The Tour de France Femmes noticeably sidesteps the iconic climbs in the Alps and Pyrenees, and it also skips an individual time trial, which is a mainstay in the men's race. The stages are shorter in distance than stages for pro men, which is consistent at all professional women's road events.
"The biggest difference is that the women will have eight days while the men have two additional weeks," retired pro and women's cycling advocate Kathryn Bertine told the CBC. "That is still a glaring difference that needs to be addressed."
In recent years the push for a three-week race for women has sparked discussion within the pro peloton about the ideal length for a women's stage race—some riders argue that shorter events actually produce more exciting action. And a 2018 study showed that women ride at higher intensities during their shorter events, when compared to the men.
While this debate is likely to continue, current pro riders are pointing to the Tour de France Femmes as an important step forward in what will be a long push to narrow cycling's gender gap around exposure and media attention.
"It is a key indicator that the sport is still progressing as we are now able to compete in the most well-known bike race in the world," said British rider Lizzie Deignan. "I think the organizers have done a really good job preparing the route for this edition."
And the Tour has components that hint at future expansion. It has an important financial backer in virtual cycling platform Zwift, which has pledged a four-year commitment to help underwrite the event as a title sponsor. Zwift already boasts equal prize money and equal distances in its virtual races for elite men and women. To lead the race, ASO hired Marion Rousse, herself a decorated ex-pro, who has spoken about creating an event that lasts longer than just a few editions.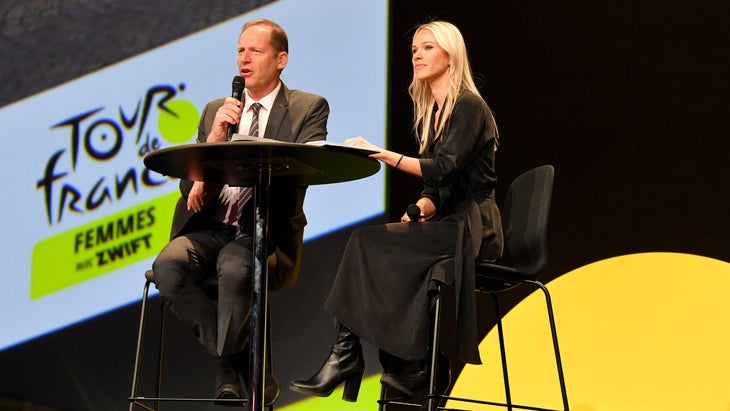 "When I was a little girl, I watched the Tour de France on television with admiration, and when I started my career, I suspected that I would never have the opportunity to race in it," said Rousse. "Now that I have accepted this mission, I intend to invest myself so that it becomes a ritual among the public, and for a long time because this is not about launching a race for two or three editions."
And finally, ASO upper management finally appears to understand the need to create a women's event that carries the same gravitas and longevity as the men's race. The men's Tour de France is by far the most important and lucrative event in professional cycling, and its 108-year history and place within French culture have helped advance competitive cycling across the globe. Every year, the millions of Euros generated by the Tour de France TV viewership and sponsorship sales help fund ASO's smaller races.
Women's pro races have for years navigated a tricky financial landscape, with a finicky sponsorship marketplace, and smaller—but growing—television audiences, when compared to men's road racing. So, harnessing the financial power—and enormous audience—of the Tour de France to propel women's cycling finally appears to be a priority for ASO.
Christian Prudhomme, ASO's general director of the men's Tour de France, said ASO is committed for the long haul to the Tour de France Femmes.
"The goal is to organize a race that will stay, that will still exist in 100 years, that I can watch when I'm old and using a walker," he said.
Let's hope so.
Lead Photo: Getty Images