This Tour de France Champion Has a Fishy Past
The Tour's current leader once worked in a Danish seafood packaging plant to make ends meet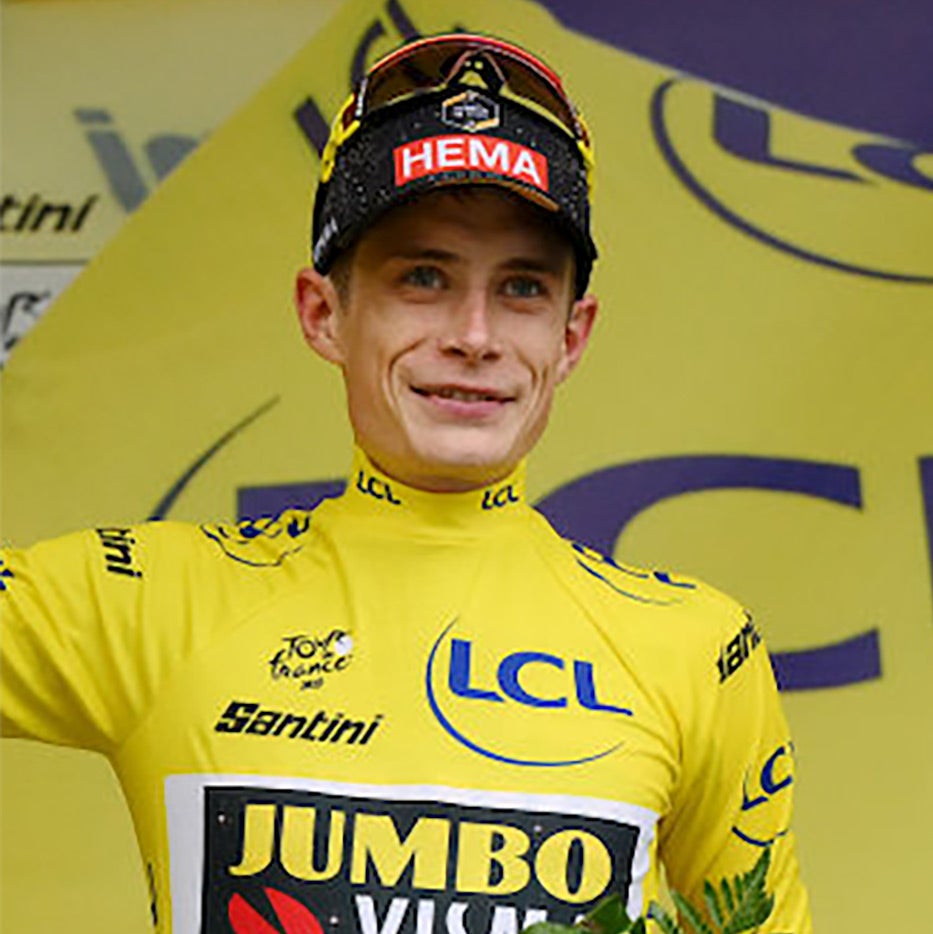 DS/Getty Images
Heading out the door? Read this article on the new Outside+ app available now on iOS devices for members! Download the app.
Jonas Vingegaard isn't racing the 2023 Tour de France just for the halibut—he wants to use his cod-given talent to win!
Please excuse the fish puns, but whenever I write about Vingegaard, my mind automatically envisions herring or sturgeon. You see, Vingegaard, who hails from Denmark, famously worked at a fish packaging plant in the coastal town of Hanstholm when he was coming up through pro cycling's development ranks. He'd log a half day at the plant, then strap on his Lycra biking outfit and go riding for the rest of the day. No, it was not a particularly glamorous lifestyle: pack fish, ride a bike, shower (hopefully), repeat. But the stinky job allowed Vingegaard to pursue his dream of one day making it to the Tour de France.
When Vingegaard burst onto the international scene in 2021—he was second at the Tour that year behind Tadej Pogačar of Slovenia—media honed in on his fishy past. Back in 2017 a Danish TV station produced a charming segment showing the baby-faced Vingegaard slicing cod filets, and the old footage quickly spread around social media. You can watch the clip below.
"I know what it's like to work hard so that helps me in the bike," Vingegaard told VeloNews in an interview in 2021. "I would work a half day in the plant, and then train the rest of the time. I could take time off to go to races."
Tour de France leader Jonas Vingegaard working in a fish-packing plant back in 2017, before turning pro. pic.twitter.com/ClZXtzxaM9

— CafeRoubaix (@CafeRoubaix) July 13, 2022
This video pops into my mind with regularity these days, because Vingegaard, 26, has blossomed into one of the best Tour riders of this generation. He won the 2022 Tour after toppling Pogačar, who at the time was undefeated at the world's biggest race. Now, he's in pole position to win the 2023 Tour. During Thursday's sixth stage, Vingegaard seized the yellow jersey after attacking over the Col du Tourmalet in the Pyrenees. The aggressive move was not a total success, as Pogačar hung with Vingegaard over the soaring climb and eventually dropped him to win the stage. But Vingegaard took yellow and now leads Pogačar by 25 seconds in the overall.
"I'm super happy to be back in the yellow jersey," Vingegaard said after the stage. "It's always nice to be the wearer of such a nice jersey. Of course, I hoped to at least stay with Tadej, but he was really strong on the last climb. I would also have loved to take the stage, too."
The race's mano-a-mano battle between Pogačar and a retired fishmonger will likely continue into weeks two and three. 
Speaking of the fish gig. It's pretty weird for a guy to win the Tour de France in the 21st century just five years after he was schlepping frozen salmon for a day wage—Tour champions have tended to come from the elite class of uber-talented racers. But it's not strange for pro riders to do side gigs to pay for their racing. Some riders breeze through the sport's lower ranks and enter the WorldTour—where they can earn six- or seven-figure salaries—before they ever need to work a real day job. Others, however, require more time to navigate the sport's various developmental rungs. And some of these guys and gals must take on part-time gigs to fund their professional cycling ambitions.
Some coach. Others work in bike shops. Some pack fish—Danish pro Michal Valgren reportedly worked at the same factory as Vingegaard a few years earlier. When I began my journalism career at VeloNews back in 2004, the company's shipping and handling division employed a cadre of aspiring pro riders. They trained all day, raced all weekend, and packed boxes in the evenings and early mornings to pay the rent.
Over the years, I have heard plenty of funny tales of pro cyclists and their bizarre side gigs. The weirdest is that of retired Canadian pro Rob Britton, champion of the 2017 Tour of Utah. He once worked on a roughneck crew that did demolition jobs on cruise ships. Whenever an aging boat would come into port, Britton and his coworkers would enter the vessel with crowbars and saws, and hack away all of the fixtures and interior trim to prepare the boat for a remodel. The work was physically demanding, and not particularly conducive to the train-eat-rest lifestyle of a pro cyclist. "It was bloody tough work, but it was a lot of fun," Britton once told me.
Britton, alas, never made it to the Tour de France. If he had worn yellow, I can only imagine he funny video clips that would have circulated online.
Current Standings
Tour de France, stage 6 (Tarbes – Cauterets-Cambasque, 90 miles)
Tadej Pogačar (Slovenia), UAE Team Emirates, 3:54:27
Jonas Vingegaard (Denmark), Jumbo-Visma, at 0:24
Tobias Johannessen (Norway), Uno-X, at 1:22
Ruben Guerreiro (Portugal), Movistar Team, at 2:06
James Shaw (Great Britain) EF-EastyPost, at 2:15
General Classification standings
Vingegaard, 26:10:44
Pogačar, at 0:25
Jai Hindley (Australia), Bora-Hansgrohe, at 1:34
Simon Yates (Great Britain), Team Jayco-AlUla, at 3:14
Carlos Rodriguez (Spain), Ineos Grenadiers, at 3:30
Tour Twitter's Greatest Hits
🇫🇷 Vous ne verrez rien de plus beau aujourd'hui 💥

La magie du Tour de France 🤩pic.twitter.com/7CiDx3EkE0

— SPORTRICOLORE (@sportricolore) July 6, 2023
The 2035 Tour de France champion is already looking strong.
Tour de France J-3 💛pic.twitter.com/mvJ4xYYf1g

— Cycling Legend (@CyclingLegend_) June 28, 2023
Bananas and beefeaters is a recipe for a great mountaintop party.
👋😅 @AverageRob challenges @EmmanuelMacron! #TDF2023 pic.twitter.com/bt3cPcUuxh

— Tour de Tietema (@tourdetietema) July 6, 2023
Sure, Emmanuel, we believe you.
The men's Tour de France runs July 1-23, and the women's Tour de France Femmes runs July 23-July 30. You can follow full coverage of both events at Velo, and we will continue to publish daily updates from the races on Outside. 
Lead Photo: DS/Getty Images