Cycling's Governing Body Banned Transgender Women from Competing in Women's Races
The sport had previously allowed trans women to compete if they maintained low testosterone levels for 24 months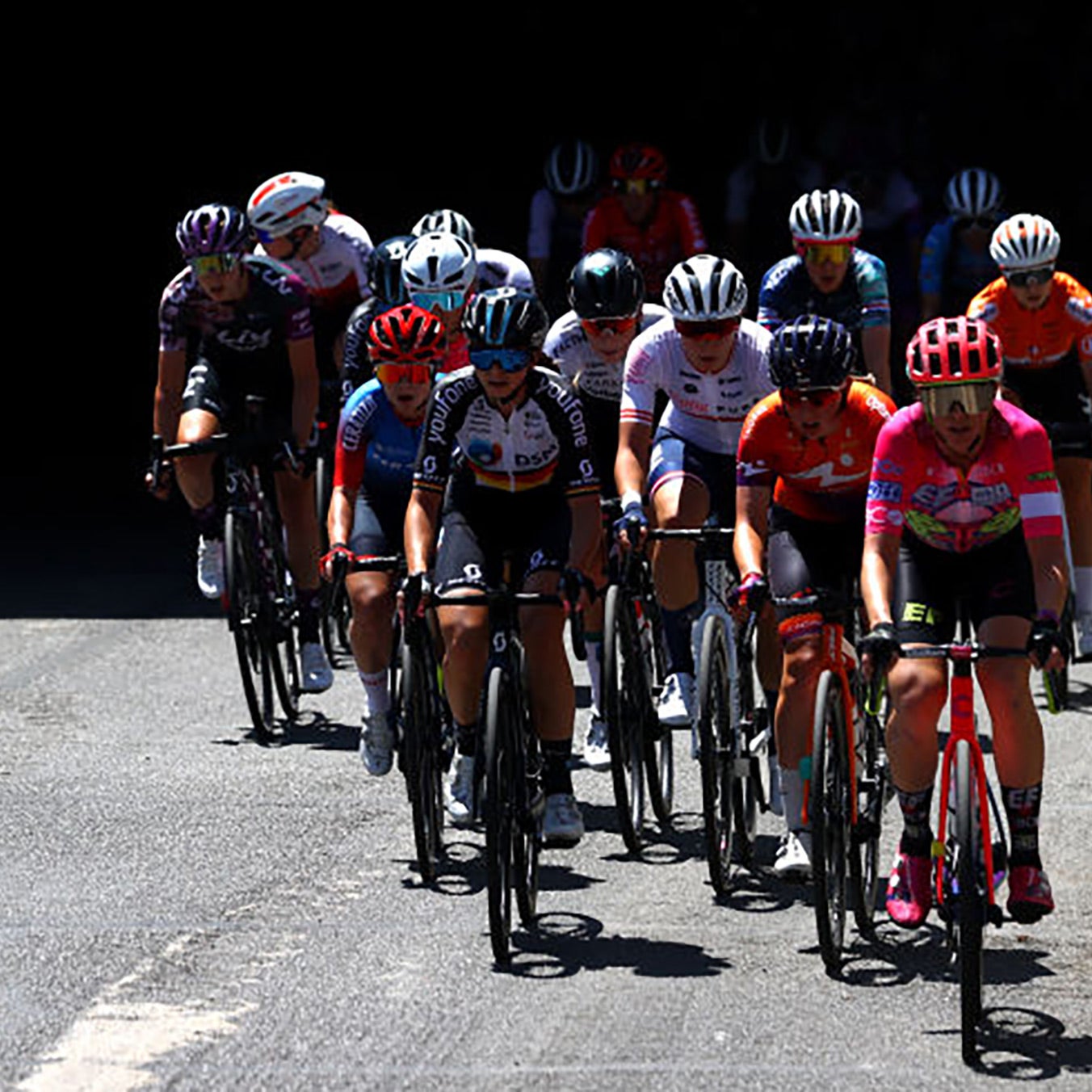 Michael Steele / Getty Images
Heading out the door? Read this article on the new Outside+ app available now on iOS devices for members! Download the app.
Competitive cycling's international governing body, the Union Cycliste International, has banned transgender women who went through puberty as males from competing in the women's category at at all sanctioned events. The ruling, announced on Friday, July 14, reverses a previous UCI statute that allowed trans women to compete if they reduced their testosterone levels for a set amount of time. The new rule goes into effect on Monday, July 17.
The rule impacts events across a multitude of cycling disciplines, including road cycling, mountain biking, BMX, cyclocross, track, indoor cycling, para-cycling, as well as some gravel events.
In a press release announcing the rule change, the UCI suggested that trans women have unfair physical advantages over cis women athletes.
"From now on, female transgender athletes who have transitioned after (male) puberty will be prohibited from participating in women's events on the UCI International Calendar—in all categories—in the various disciplines," the governing body said in a statement on Friday.
In May of this year the UCI had said that it would make a final decision at its annual congress in August, but Friday's ruling comes ahead of that meeting. The governing body said it consulted "scientific research" ahead of its decision, and linked to a research paper written by its medical director, Dr. Xavier Bigard.
"The UCI Management Committee has taken note of the state of scientific knowledge, which does not confirm that at least two years of gender-affirming hormone therapy with a target plasma testosterone concentration of 2.5 nmol/L is sufficient to completely eliminate the benefits of testosterone during puberty in men," the governing body said. It added that there is "considerable inter-individual variability" to hormone therapy taken by transgender athletes, and that the variability makes it "even more difficult to draw precise conclusions about the effects of such treatment."
"Given the current state of scientific knowledge, it is also impossible to rule out the possibility that biomechanical factors such as the shape and arrangement of the bones in their limbs may constitute a lasting advantage for female transgender athletes," the governing body said.
In 2020, the UCI ruled that transgender women could compete in the female category if they maintained a maximum plasma testosterone level of 5 nanomoles per liter for 12 months. In 2022 the UCI revised the rule, lowering the level to 2.5 nm/L for a 24-month period.
Why Now?
According to the release, the decision to block transgender women from female competition came out of an "extraordinary meeting" held on July 5. This meeting followed a seminar on the subject on June 21 which featured the various stakeholders, namely transgender and cisgender athletes, experts from the scientific, legal and human rights fields, and sporting institutions, and enabled them to participate in the debate.
The UCI said that the decision was taken in order to ensure equal opportunities for female riders.
It said that it "considered the interests of transgender athletes in being able to take part in sporting competitions against those of athletes in the female category, which is considered a protected class. In this context, the UCI Management Committee concluded, considering the remaining scientific uncertainties, that it was necessary to take this measure to protect the female class and ensure equal opportunities."
It is not clear what provisions could exist for transgender athletes in future competition, other than in international Masters events. The UCI said that these events would see the men's category renamed Men/Open, and that those athletes who do not meet the conditions for participation in women's events will be admitted without restriction.
The UCI stated that these rules could potentially change in the future depending on how scientific knowledge evolves, and that it would discuss the co-financing of a research program with other members of the international sporting movement. In a statement, UCI President David Lappartient said cycling should be "available to all."
"First of all, the UCI would like to reaffirm that cycling—as a competitive sport, leisure activity or means of transport—is open to everyone, including transgender people, whom we encourage like everyone else to take part in our sport," he said. "I would also like to reaffirm that the UCI fully respects and supports the right of individuals to choose the sex that corresponds to their gender identity, whatever sex they were assigned at birth. However, it has a duty to guarantee, above all, equal opportunities for all competitors in cycling competitions."
Trans Athletes React
The rule change sparked a flurry of reactions on social media, including pushback from transgender athletes and advocates. Molly Cameron, a trans racer from Oregon, called the new rules "deeply problematic."
"I will not endorse or support any events that choose to go backwards by adopting any version of the UCI's policy," Cameron wrote on Instagram.
The UCI rules impact competitions that fall under its umbrella of influence—this includes major professional races like the Tour de France Femmes, as well as amateur events like the U.S. amateur road cycling championships. But the rules do not impact thousands of other races, including many gravel races in the United States. But Cameron worries that events that do not adhere to UCI rules will also ban transgender riders.
"There's going to be a lot of shoulder shrugging non-UCI event promoters who will use this UCI policy as part of their justification for banning trans women from women's categories," Cameron wrote on Instagram. Recently, the U.S. gravel series Belgian Waffle Ride banned transgender women from competing in the female category at all of its events. Belgian Waffle Ride races are not sanctioned by the UCI. The series initiated the ban after transgender racer Austin Killips won its race in Asheville, North Carolina in June.
Killips, who in May won New Mexico's Tour of the Gila road race, wrote a rebuttal to the UCI rule change on her Subsatck page. Killips addressed critics who believe that her victories were not the product of hard work and sacrifice. "It's common for detractors to doubt that I simply trained harder than some other people, but the reality is that I worked my ass off under more precarious and emotionally taxing conditions than many," Killips wrote. "I've had my teeth kicked in racing in Europe and knew the level I was chasing required sacrificing a normal life. I take great pride in my work ethic and approach to training, anyone who knows me well saw a meticulous orienting of my life around finding the limit of my capacity and potential."
Lead Photo: Michael Steele / Getty Images