A Moment of Chivalry Between Tour de France Rivals
During Thursday's 18th stage, Jonas Vingegaard waited when his rival, Tadej Pogacar, crashed on a descent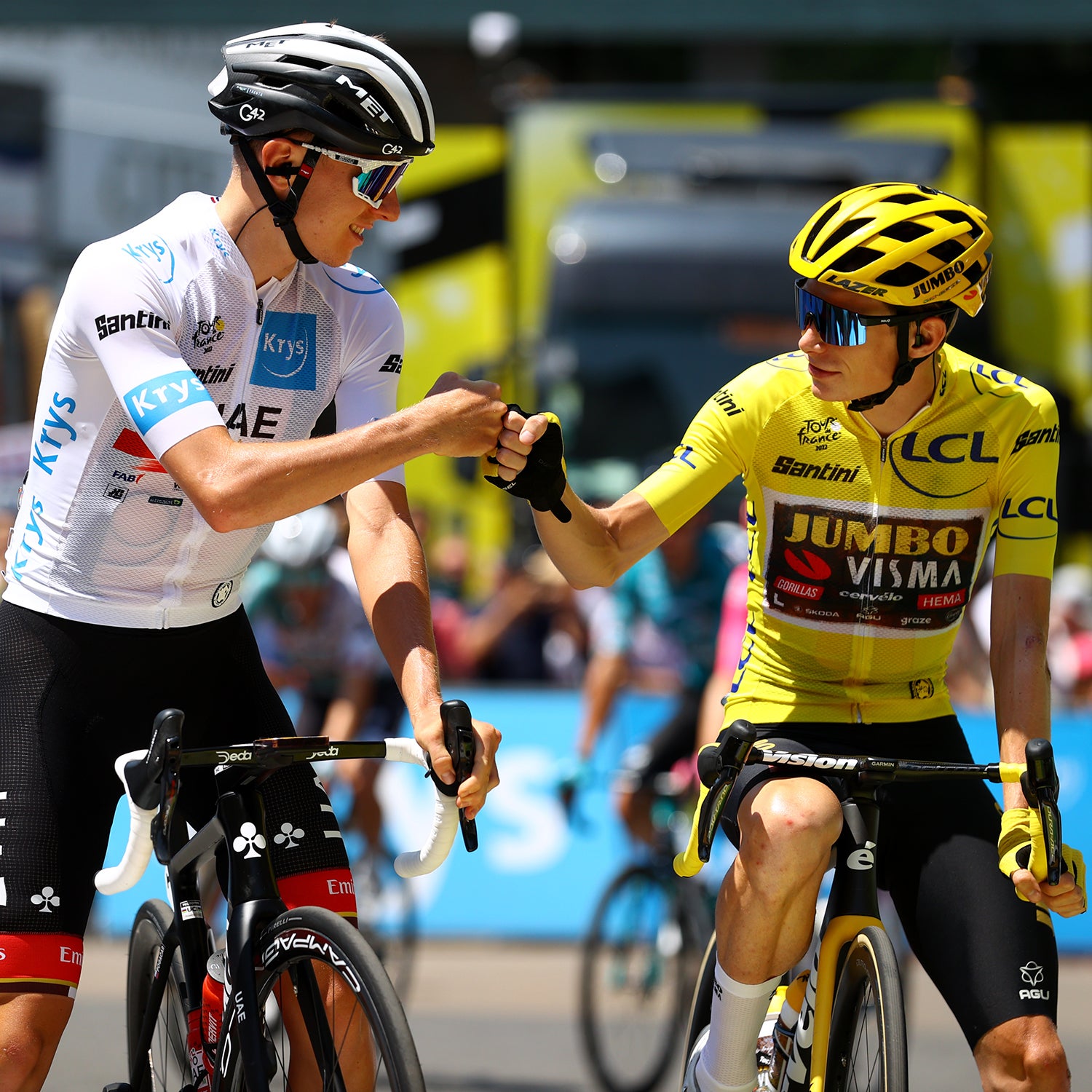 Michael Steele / Getty Images
Heading out the door? Read this article on the new Outside+ app available now on iOS devices for members! Download the app.
This article was first published by CyclingTips.
Boring, or beautiful? Necessary, or foolish?
Denmark's Jonas Vingegaard, who is leading the Tour de France, peered over his shoulder at Tadej Pogacar lying on the ground, his front wheel washed out in a patch of gravel, bloody thigh peeking through his shorts. The two had been speeding down a steep mountain descent while racing for the win, but Vingegaard stopped pedaling and coasted down the road. He took a breath, shook his head, and waited for Pogacar to get back on his bicycle and continue racing.
😱 @TamauPogi crashed! But Jonas Vingegaard waits for him.

😱 @TamauPogi est tombé ! Mais Jonas Vingegaard l'attend.#TDF2022 pic.twitter.com/bmGV0358cx

— Tour de France™ (@LeTour) July 21, 2022
This moment played out during Thursday's 18th stage of the Tour de France, just as Vingegaard and Pogacar were battling each other for the win. Vingegaard eventually took the stage win and tightened his grasp on the Tour's yellow jersey, while Pogacar, the two-time defending champion, ran out of oomph on the final climb.
It's certainly not the first time that rivals have waited for one another during pro cycling's biggest race. But whenever these fleeting moments of chivalry happen, a familiar debate ignites: is this what we want from our champions? Do we want sportsmanship, or total victory?
Context is always important when understanding mid-race truces like these, as are the details surrounding the easing of aggression. Pogacar's crash came on a descent—he entered a left-hand bend on the wrong line with too much speed, hit the apex early, and shot off to the right side. He kept his bicycle upright until the exit, where a patch of gravel sent his front wheel skittering to the right and he dropped hard onto his left thigh.
Best sport in the world! pic.twitter.com/FTIOQeK1Lg

— CafeRoubaix (@CafeRoubaix) July 21, 2022
Pogacar was attempting to drop Vingegaard or force some sort of error on the descent. In fact, he had nearly done so just moments earlier, as Vingegaard was forced to stick a foot out to make it around a corner.
The race was on. Pogacar was the instigator, and he paid a price for his aggression. Vingegaard watched the incident happen.
The unwritten rules of the sport, as loose as they often are, dictate that Vingegaard was under no real obligation to slow down—he could have put his head down, called teammate Wout van Aert back from the breakaway, and sped toward the final climb of the day, Hautacam, as Pogacar attempted to chase.
And yet, he did not speed ahead. He waited.
In doing so, Vingegaard balanced sportsmanship with victory.
"I don't think I needed to attack," he told reporters after the stage. "I think it was better for me to hold a steady pace."
He had Wout van Aert up the road and another teammate, American Sepp Kuss, closing quickly behind. He had already almost crashed; a chain issue led to a rear wheel skid, he said in his press conference, and had little interest or inspiration to take any further risks.
There is no clearer way to signal confidence and strength than to calmly hand back an advantage to your closest rival.
Neither Vingegaard nor Pogacar seem to exhibit the characteristics of cycling's controversial past champions. There is a quietness to both of them, a sense that they find themselves at the sport's pinnacle not by accident. Both have a gratefulness and lack of ego that is rare at this level. There are few instances of ruthlessness. Plus, both men appear to be more placid in press conferences than some of cycling's past winners. They also hug at the finish line and deliver handshakes after crashes.
They are, dare I say it, nice?
They are also proof that a more quiet leadership can be as effective as leadership through fear. They are not patrons in the model of Frenchman Bernard Hinault, or of American Lance Armstrong.
There will always be a sort of faux ethical debate when we see riders choose to wait and not race, and pundits will argue over whether the sport needs killers or brothers fighting on the Tour's slopes. The answer to that question inevitably ends up saying more about us than it says about the riders in question.
It wasn't a flat tire, it was an error. Stopping was the fair thing to do. The cyclists race down as well as up. Waiting was right. He was going to win anyway. Et cetera.
We lay our own Tour desires upon the cyclists—preferences for a cutthroat battle or for human inspiration, or something in between. The riders simply react. And that's why moments like the one we saw on stage 18 between Vingegaard and Pogacar, which are unplanned and instinctual, define athletes in our eyes. They offer glimpses into a rider's character and drive. Only when under maximum stress do we truly see pro cycling through their eyes.
Lead Photo: Michael Steele / Getty Images