What type of bike should I ride on well-maintained trails?
I'd like to get a bike to ride the Katy trail. I'm nearly 60 and haven't ridden a bike in years. Should I get a mountain bike or a hybrid? And do you have any suggestions for gear? Phyllis Rolla, Missouri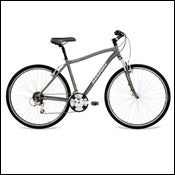 Heading out the door? Read this article on the new Outside+ app available now on iOS devices for members! Download the app.
Wow, the Katy Trail (a 264-mile trail that winds through Missouri, passing towns, wineries, and B&Bs) looks fantastic! It has plenty of distance for sure, but it's an excellent trail with gentle grades. Overall, this is an excellent objective.
Marin San Rafael City Bike

San Rafael City Bike
So, what bike? A road bike would be too uncomfortable. A mountain bike is too heavy and has too much gear you don't need (rear suspension, for instance). So definitely look at some kind of hybrid/city bike.
One intriguing possibility is the Marin San Rafael ($510). It's a city bike with a few mountain bike touches, such as a light front suspension fork that would soak up the bumps you might encounter on some portions of the Katy. It also has a suspended seatpost for a cushier ride. The frame is light aluminum, and it has plenty of gears for steeper terrain. For a comfortable tour of the Katy, the San Rafael would be terrific.
I also like Giant's Tran Send EX ($760). It, too, has a light front suspension fork, good gearing, and a light aluminum frame. And it comes with a full travel setup—fenders, rear rack, the whole deal. It would be a great trail bike and a good fitness bike for you moving forward.
For a bit more speed but still good comfort, take a look at the Cannondale Road Warrior 2 ($900). It's a bit more of a mix between a road bike and a city bike, with upright seating and bars but skinner tires, a little more forward "lean," and better components. And it's designed to handle all sorts of road/trail conditions, so it would negotiate the Katy in style.
As for gear, you'd need the usual that you'd buy whenever buying a new bike: helmet (Bell Furio, $64), rear seat bag (Cannondale SeedPod, $35), rear luggage rack (Jandd Standard Rack, $48), tire pump (Blackburn CF, $44), and some panniers for clothing and the like (TransIt waterproof panniers from Performance, $70). Plus tubes, patch kits, that sort of thing. What kind of bike clothing you get is entirely up to you. These days there are lots of comfortable options that don't swaddle you in Spandex, such as the Zoic Posh Short for $45. Otherwise everyday outdoors wear is fine.
Have fun!
The 2008 Summer Outside Buyer's Guide is now online. From riding to trail-running to camping, get reviews of nearly 400 gear must-haves.