Will Shaving My Legs Make Me a Faster Cyclist?
Cyclists cite various reasons for shaving their legs, like making massages more comfortable and cleaning road rash easier. But will shaving make me faster?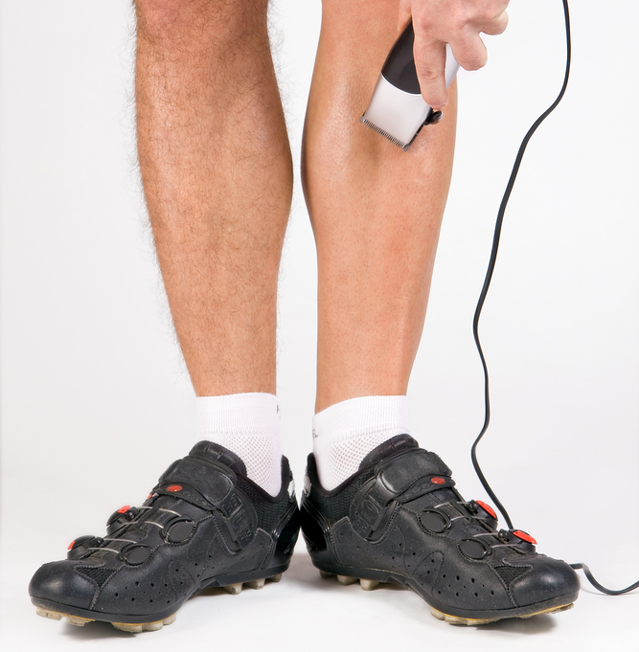 Heading out the door? Read this article on the new Outside+ app available now on iOS devices for members! Download the app.
In a sport where athletes drop thousands of dollars for the latest, lightest, most aerodynamic equipment, it makes sense that you'd ask about shaving. It's cheap, it makes your muscles stand out, and, in theory, hair removal should reduce drag. And because up to 90 percent of resistance is caused by aerodynamic drag, with 60 to 70 percent of that resistance coming from your own body, getting as slick as possible is a worthy goal.
Unfortunately, there's little scientific proof to back up a BIC obsession. Wind tunnel testing is costly, and the aerodynamic advantage of leg hair removal depends entirely on the test subject's original furriness, making it difficult to establish reliable statistics.
That said, a study from nearly 30 years ago found that when a rider swapped a Lycra skin suit for a full-length Lycra suit complete with a hood and mittens, he experienced an 11 percent reduction in drag. Researchers proposed that the reduction was due to the covering up of arm and leg hair, according to a 2005 review of studies on cycling aerodynamics.
But modern studies have shown that an 11 percent reduction in drag is roughly what you'll get when going from riding upright to tucking in the aero position, making it highly dubious that shaving your legs will give you a similar benefit.
In a 1987 issue of Bicycling, C.R. Kyle, the same researcher who came up with the 11 percent statistic, printed an "aero shopping list" outlining how different strategies affect aerodynamics. Shaving the legs, the list outlines, gives an advantage of 0.6 percent, or five seconds in a 40K time trial. An aero water bottle, according to the list, would save you 15 seconds.
But while the actual physical reduction in drag from shaving might be miniscule, don't discount the psychological benefits. One study showed that simply believing that your smooth legs make you faster can, indeed, make you faster.
The bottom line: Shave away, if you so desire. If anything, feeling aero might actually make you speed up.