Women on Bikes: An Afghan Revolution?
Heading out the door? Read this article on the new Outside+ app available now on iOS devices for members! Download the app.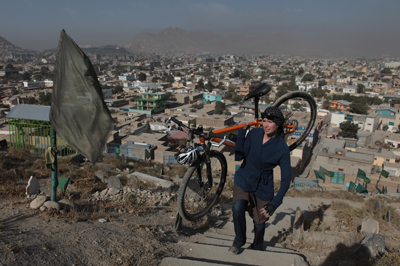 I got a chance to catch up with Mountain 2 Mountain's founder, Shannon Galpin who recently returned from Afghanistan, where she does most of her project work. Clearly, that is no place for pansies, considering the political unrest. Unrest seems to be Galpin's middle name. She is one of the most driven women I know, and her good work is paying off. Galpin's mission is to support existing non-profits and NGOs working in remote mountain communities. She uses education as an entry point into communities and aims to implement a cyclical model that includes training, job creation, and microfinancing. Pretty impressive. Here she is with her Niner in tow, the bike company that is supporting her mission.
–Heidi Volpe
What is your primary motivation for M2M?
To empower women and their communities in Afghanistan.
Tell me about the moment you decided to launch it.
It was an overnight decision, literally. In the fall of 2006, I met with a girlfriend in Breckenridge to discuss the idea of creating a benefit trail race to raise money for an organization working in the area to build schools for girls, and, literally, that night, the idea, concept, and general feel of Mountain 2 Mountain was born. My daughter was one year old, and there were literally no second thoughts. It took a year and half of supporting other non-profits doing work I believed in before I started to travel to Afghanistan to launch off the deep end.
How has being a mom influenced your decisions for M2M?
I am coming to realize that its because I'm a mother that I started down the path I'm on, not in spite of it. I didn't realize how much having my daughter launched me into this effort until a few months back when I started talking about it more. The difficult part is to reconcile my desire to be a great mother to her with conscious choice to work on the ground in a war zone. I know many won't understand this, but it's because of her that I want to do my part to make the world better and to make others realize that just because things are the way they are doesn't mean they should be. Daughters in areas like Afghanistan don't deserve less than my own.
Are you expecting to unravel thousands of years of culture?
More like break through the polluted rhetoric and get back to the roots. In no way do I want to force my culture, my Western ideas on Afghanistan–more that I want to challenge their perceptions. Deep down, sure, I'd love to come in and smack a few heads and liberate their women Rambo-style. But that's not helpful, logical, or sustainable. The irony comes that it's not religion that prevents women from riding horses or bikes. The Taliban, conservative religion leaders, and others have corrupted the original texts for their own purposes. Their own prophet Mohammad, his wife rode horses. Muslim women in Iran have challenged women to break this taboo.
What do you hope your daughter learns from all your work?
That she is greatly blessed to be born within a culture that affords women [freedom], and because of that, she needs to be aware that not all women have the same rights that she is guaranteed. I hope that she finds her passion and turns that into work for something bigger than herself. Only time will tell what that passion is. Right now it's chocolate and elephants.
What is your goal for the Tour of Panjshir?
I hope that the Tour connects communities through their love of pedaling to support our projects in a country where women can't ride bikes. At the same time, I'll be making baby steps to ensure that someday women can!
Do you ever think about giving up?
Nope. Never. There are certainly days where I'm overwhelmed by the enormity of what I've bitten off. But then I realize that around the corner is the possibility of hiring staff here, building an Afghan team, and sharing the load, and I have to keep plugging away. It's tantalizingly close!
What were the trails like over there?
A crisscross of goat trails and occasional walking paths. As a dedicated SS rider, the hardest part was the loose, shale-like quality where I rode in the Panjshir. The real issue is land mines, which still cover much of the country.
No bikes shops, right? What if something goes wrong?
You've got to be able to fix most things yourself. Afghanis are incredibly resourceful, but a 29'er wheels and tubes, disc breaks, and front shocks are all irreplaceable. I got a crash course in taking apart and rebuilding my bike, and it made me even more thankful I ride a singlespeed.
What kind of support do you have for the ride? We haven't had the opportunity to chase any outdoor industry partners yet as my focus is on projects and fundraising.  But sponsorship is huge for groundbreaking endeavors like this.  Obviously Niner has been a great help by giving us bike frames for the ride which means I can leave my beloved tangerine Niner at home and are helping promote us on their website.  The other key partner has become GOAL0 which is a partner not just for the ride but for M2M as a whole.  they are providing me with portable equipment for energy to juice a sat phone which is integral for security and to charge up video/camera equipment that we'll bring along to document.  They been huge supporters of me and M2M in our breakout year and are doing much to promote us on their website and produce packaging.  Partners like them make all the difference.
How much gear will you bring?
We'll have a 4×4 that we'll rent for my fixer and possibly a cameraman, and that can carry extra tubes, tires, etc., but a rigid fork singlespeed should require very little. As my friends will attest, I have ridden with one brake pad, no air in my front suspension, and a completely warped front tire–there is little beyond a cracked frame that could prevent me from riding.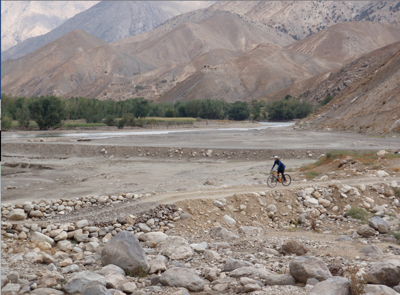 Niner SS, or Niner gears?
No gears…haven't ridden a geared bike, mountain or road, in four years and don't intend to start there. But I am taking a couple different cogs, as the road through the first part of the province is slowly getting paved and is rolling. The latter third is rough dirt roads and, if security allows, a climb up the 14,000-foot Anjuman Pass that marks the back border of the province.
How much climbing is there, and will it be technical for the ride in October?
The first part is not technical at all. The second part gets more rough. The only technical part of this ride will be the climb on the back end where the 14,000-foot pass will throw up the biggest challenge. I may do a couple side trips up areas to ride where I explored last time, but there is a real risk of land mines and that will determine whether we stop or complete the climb up the Anjuman Pass.
What about the Taliban? Will you have security?
Taliban should not be an issue for this particular area, but it's certainly part of the equation overall in terms of keeping off the radar, getting the ride done quickly and efficiently since it's not a one day ride and word spreads quickly. I will travel with my translator and a cameraman in a car behind, and I may be required to have security near the Anjuman Pass area. There are land disputes between the Panjshiris and the Nooristanis that create some conflict. Friends who have traveled by motorcycle back there were required to 'hire' local militia for their trek up the pass. At the end of the day, there is always risk. It's Afghanistan.
How will you fuel on the bike?
I will need to bring over some gels and snacks to keep my energy levels up. Otherwise, it's just kebabs and naan bread along the way. Although, there are two really good bolone stops along the way–similar to a fried crepe stuffed with potatoes and spices. It's a must-have on any trip to the Panjshir.
What did you wear?
Layers, layers, and more layers. And mostly Patagonia, their skirts/dresses/ tunics have become my staple as they repel the dirt, petrol, and dust I am covered in daily like nothing else. It's also the only thing the Afghan laundry doesn't regularly shrink or destroy. As I'm already pushing back on a serious cultural issue by simply riding the bike, I am extra careful to dress appropriately so I'm not shoving their faces in it. My last trip, I rode in a loose pair of jeans, skirt, long tunic, neck scarf, head scarf, gloves, and, of course, my helmet and bike cleats. This trip, I need to wear my bike chamois under some sort of pants as I'll be in the seat much longer than the various rides I experimented with last October.
For your ride: What is your goal and what do you hope to accomplish?
The goal is to ride from the gates of Panjshir province to the back end where the 14,000-foot Anjumen Pass creates the border between Panjshir and Nooristan. It's a very narrow valley that follows the river, bordered on both sides by high mountains, which is why it's the one area of the country never conquered by the Taliban. It's Massoud's Northern Alliance homeland, and the people there are still fiercely independent and proud. We have several projects starting in this region, and it's the first place we will try to distribute bikes, so it all ties together.
Are you scared?
I'm not. I am cautious, for sure, and think carefully about the 'what ifs.' Taliban, landmines, and poor medical care if I get hurt–the most likely of the three with my track record–is all there in the back of my mind, but I feel confident and excited, especially now that we are tying it back to community rides in the U.S. It makes it feel like there will be others riding with me, and that gives me a lot of strength going forward.
What has this project taught you about yourself?
That I have the ability to change perceptions and challenge stereotypes. Not just in Afghanistan, but at home, too.
How you do sustain the project? 
The goal is that the Tour becomes a regular event every year to celebrate breaking barriers half a world away by uniting bikers and communities to come out and pedal in support of empowering women and children in Afghanistan. This year, we will have 9-15 communities involved. I'd love to double or even triple that for 2011, with more sponsor involvement, more race ambassadors motivated to spearhead events, and more outreach.
Did you ever work for the man? Did you ever think you'd run a non-profit?
I never considered running a non-profit an option, but I've never really worked a traditional 9-5 job, either.  My father is an entrepreneur with his own architectural company. I carved out my own career as a sports trainer, outdoor recreation specialist, and English as a second language teacher during the ten years I worked overseas. I love the unpredictability and find that when I've tried to work for others, I'm much less productive and motivated. I have discovered that I thrive in the challenge and will bust my ass to get things done in ways I'd never do with a structured environment.
Tell me about the most life threatening situation you've been in.
There have been a couple, but the one that I'm willing to share was during one of my first trips. A friend who is a photojournalist there and I hired a driver to take us to Maimana up in the north to visit a women's prison. On the way back, our car was stopped and our driver was beaten up. There was a couple minutes where we thought we'd have to jump into his seat and drive off if it came to that, and I realized the burden I'd feel if we had to leave someone behind to avoid our own kidnapping or death. Luckily, it didn't come to that, but it was a solid reminder of the situation we are operating in.
Are you surprised that you've gotten this far?
I'm surprised how organic the process has been, each trip, each meeting, each village visit builds upon the last until the program, project, and the overall vision of M2M itself becomes more easily defined. I expected the process in Afghanistan to be more difficult, and, to be sure, I'd never define it as easy. But the hard part is raising the money, not the corruption, security issues, or the fact we are operating in a war-torn region.
Is this your break-out year?
Definitely. We've been building our network and our momentum in several areas for long-term program development as well as creating a series of unique events to create outreach and raise the needed funds, and everything seems to be coming together, colliding really, this summer. We still have a long way to go to have the sustainability we want, and time is ticking–the country is still at war, and the projects we are working towards implementing aid in that effort to create jobs and empower communities over generations to come. Funding is the only true limiter at this point. Everything else is lined up and ready to launch!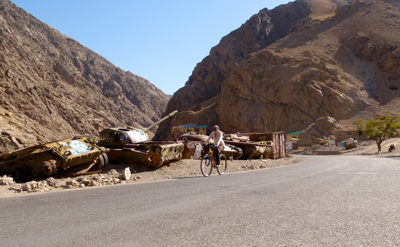 What was the men's reaction to you riding? When the boys threw stones at you, what thoughts flashed through your mind? Do you think it was teasing or ingrained cultural distaste for a woman on a bike?
It was very interesting to see how their curiosity overrode whatever inhibitions they may have towards interacting with me.  The men would gather and talk and watch, often serious expressions on their faces, but there were those that would laugh or smile. In one remote village, I rode for the first time in a populated area. It was six in the morning so it wouldn't be too much of a spectacle. Village life being what it is, word soon spread, and at one point a group of three elder men was walking down the street, they waved, and I stopped to talk. They asked what I was doing, talked about the weather, and as we stopped, several younger men, late teens perhaps, took turns riding my bike.
I find this to be the case in many interactions across the country. It helps immensely that I look obviously foreign. The first reaction in most cases is surprise and curiosity, not animosity, whereas if I was a local women, the reaction would be quite the opposite.
I think that the boys that threw stones did it for the simple reason that it's just what you do. Girls, dogs, whatever–the old theory of 'kicking down.' The dog kicks the cat, the cat kicks the mouse, etc.
You're designing bikes with bench seats. What cultural issues drive that aesthetic?
Women can't ride bikes–or motorcycles or horses–for the simple, frustratingly anatomical reason that they are straddling a seat and their privates are in contact with the seat in a 'provocative' way. So, we are seeing if we can design a bike that is more of an upright trike with a bench seat that has a cart on the back. Our first step is to distribute these to the midwives in areas we are working, or groups we train, with the hope they will be viewed different as a necessity of their job. It's not the same as women riding two-wheeled bikes simply for fun or freedom, but it's a first step in that direction.
How many times have you been to Afghanistan?
I've visited five times in the past two years, each trip building upon the previous.
Have you ever canceled or turned back on a project out of fear of danger?
I have definitely walked away from projects that didn't feel right for several reasons. Once or twice, the location of the project was too dangerous and we didn't have the local buy-in to do it safely and sustainably. There is a lot of corruption and a lot of risk in many parts of the country, and if we don't have a solid group of Afghans to direct and implement the project locally, it puts both us and them in danger. In this case, the project stays open, in the wings so to speak, so that if circumstances change we can revisit it.
What are M2M's goals?
There are two sets for 2010/11. In Afghanistan, we are trying to make next steps with several long-term projects with the deaf community, women's prisons, and our rural midwifery training. Plans are in place to deliver bikes to a rural mountain community where we are also planning to build girls' schools.
In the U.S., we are developing three ongoing events that connect our communities here deeper into our projects over there. The Panjshir Tour, of course. Streets of Afghanistan, a multimedia exhibition of large-scale photography, video, and live action, which launches this summer in Denver and then begins to tour for several years. We also have a trail race, Race for the Mountains, that started in Breckenridge our first year, which we are hoping to model on the Panjshir Tour and find other communities that want to host their own race as part of a series.
What is the fastest way for anyone to help you?
Funding is huge for our projects. People can visit our website to donate directly. To get involved in the long term, we'd love everyone to spread the word about the Panjshir Tour to their friends and communities and take part themselves. We still have room for motivated race directors to come forth and put on a group ride in their community to grow the Tour's outreach in year one.