The World's Toughest Bike Race Is Not in France
"You go ahead and get this race out of your system,' my wife told me. 'But I don't want to get a call from Butte saying your butt's bleeding."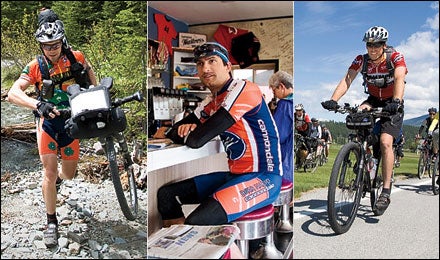 Heading out the door? Read this article on the new Outside+ app available now on iOS devices for members! Download the app.
High Noon is when a proper western should start, but we're still waiting for Floyd Landis, Lance Armstrong, and George W. Bush. The 2007 Great Divide Race kicks off in 18 minutes here on June 15 at the First and Last Chance Bar, in Roosville, Montana, and the border crossing is buzzing with the carnival vibe of a gumball rally: 24 mountain bikers in clean, bright kits, tinkering with gear straps and barrel adjusters as they wait to begin the 2,490-mile self-supported race from the Canadian border to Antelope Wells, New Mexico, on the Mexican line.
Great Divide Bike Race

From left, The author crossing a stream on Day 1; John Nobile coasts on a downhill stretch.
Great Divide Bike Race

Matthew Lee prepares to cross a washed-out bridge, North Fork of the Flathead, Montana.
Great Divide Bike Race

From left, Steve McGuire with his bear mace; Pete Basinger.
Great Divide Bike Race

From left, David Nice and his single-speed; Matthew Lee.
Everyone's nerves are showing. MYSTERY RACER is listed on the Website roster, and various forums are speculating wildly about which celebrity will show. Mike Curiak, 39, is the GDR's official race director and the course record holder—16 days, 57 minutes, in 2004. Curiak's rivals, now the 2007 favorites, are trading greetings: Anchorage bike wrench Pete Basinger, 27, who holds the Iditasport record, and North Carolina maître d' Matthew Lee, 37, the winner of the last two GDRs—best time, 17 days, 22 hours, 30 minutes, in 2006. The wild card, balding and goateed Jackson Hole drywall contractor and Iditasport runner-up Jay Petervary, 34, is fiddling with his XM satellite receiver, which is wired to a mini solar recharger and preset to perpetual reggae and NPR: "I'm gonna get the weather."
The rest of the field consists of two dozen underemployed dreamers who may have gotten ourselves in over our heads. I haven't felt anything like this since the day I got married; I haven't eaten since last night, but Matt McFee, a thirty-something computer geek and mountain-bike guide from Durango, is putting down his second or third hot dog as if he might not see another before the Fourth of July. Rick Hunter, a lanky California frame builder, tries to relax, surfer cool, on a picnic table next to his custom rigid ride, a cyclocross/cross-country hybrid with a couple of extra bottle cages for when this stunt hits the desert. Three middle-aged British endurance riders are keenly filling their camera's memory card. And long-haired San Diego bike messenger Noah Dimit, 23, has waved goodbye to his grandparents and is heating soup on his backpacker's stove: Jesus on a Stumpjumper.
It's no small feat to get your rig to this border—like marriage, the GDR is a tough race to start and a tougher one to quit. Ask Nathan Bay. Bay is a 37-year-old baker, elk hunter, and recovering alcoholic from Bozeman sporting Ted Nugent camo on a green GT single-speed. Bay will tell you that mountain biking helped save his life—but be careful, because fat-tire rehab is a slippery slope, and you could find yourself in Roosville pointed south.
The mystery rider decides not to show; either that or he isn't very mysterious. As for me, undertrained and overloaded, it's too late to turn back. My name is down on a legal pad next to the model of my bike, as if it were a racehorse: Jon Billman riding Santa Cruz Blur. Matthew Lee on Cannondale Caffeine. Matt McFee on Surly Karate Monkey.
There's no starting gun, no eulogy, no ready-set-anything. "OK, beat it," Curiak says at the electronic beep of noon, and we're off. A half-dozen riders—Lee, Petervary, Basinger, and three more—mash their 29-inch wheels to the front. Eight miles in, they are out of sight; with 2,482 miles to go, the rest of the pack has become a very loose chase group.
"Viva New Mexico!" a man in shorts and woolly socks yells from the sidewalk, jumping up and down like a Tour de France lunatic. "Go! New Mexico! Yeah!" His are the last cheers we'll hear for the rest of the race—the GDR has no spectators, other than those who follow the daily updates we'll leave on a Colorado answering machine to be posted online.
I'm already in over both spindles and Mexico is still an oil change away.
DAY 2, JUNE 16, 2007, 13:24:14 MDT: This is Dave Nice in Columbia Falls…. Good, feel good. Got chased by a bull moose for about a quarter-mile…. Yep, it's all good. Weather's nice, and moving a lot faster than I was last year. So it's all good. Talk to you later.
It's hard to argue that the GDR is not the toughest bike race in the world. Imagine a Tour de France run on the honor system, with no checkpoints, no officials, no drug testing. Now sprinkle the course with grizzly bears, goathead thorns, mosquitoes, and rattlesnakes, not to mention almost 200,000 feet of climbing over fire roads, dirt lanes, singletrack, and a smattering of pavement. "You ride your bike from Canada to Mexico," Curiak says, "you've got integrity."
The rules are simple: Don't take any prearranged support. Stick to the course, accept no lifts, and leave the midway point, Steamboat Springs, Colorado, by noon on Day 12. Cell phones are for emergency use only, in which case you'll be well out of range and can use them to reflect sunlight in Morse code at commercial jets. Get your front wheel to the border by noon on Day 25. That's about it.
The Divide has seen riders before: Solo cyclist Frank Lenz traversed it on his wooden-rimmed Victor in 1892, and five years after that, black buffalo soldiers from the 25th Infantry pedaled their 80-pound loaded Spalding "safety" bicycles 1,900 miles from Fort Missoula, Montana, to St. Louis in a blistering 40 days. But the official Great Divide Mountain Bike Route wasn't mapped until the 1990s, by Michael McCoy, author of Cycling the Great Divide: From Canada to Mexico on America's Premier Long-Distance Mountain Bike Route. In 1999, using the somewhat crude maps produced by the Adventure Cycling Association, endurance legend John Stamstad time-trialed the route, arriving in Antelope Wells in a mere 18 days, 5 hours, and 37 seconds.
The first actual Great Divide Race took place in 2004, when Curiak and Basinger battled for the win and it took even Matthew Lee a month to make Mexico. That year there were seven riders and four finishers. The next year, four made it again, including the GDR's only female finisher to date, Trish Stevenson, and the first single-speeder, Kent Peterson. By then, this turtlesque thriller was attracting fans on the Web, an online fan base few had any idea would metastasize the way it has. Pedalphiles from all over follow the updates: Riders check in from pay phones, using an 800 number to leave a message for logistics man Tom Purvis, 44, who works at Absolute Bikes, in Salida, Colorado, one of only a few shops near the route that can give racers the cyclopedic NASCAR treatment. Purvis is the wizard behind the GDR curtain, transcribing the voice mails and posting them online. Fans can also tune in to MTBCast.com to hear Joe "Polk and Beans" Polk summarize the day's events in his Georgia drawl: "MTBCast is on the air!"
A couple of years ago, while Googling the Tour de France, I became part of the GDR's online congregation. Coffee cup in hand, I quickly grew addicted to the race's hardcore brand of velopornography. I was spellbound. A recreational mountain biker at best, I pictured myself out there in a way I don't when watching a Giants game or the Tour.
The dispatches were nightmarish. In 2006 there was extreme puking, saddle sores, a stolen bicycle, bad hygiene, and swollen feet. I began living vicariously through the only two racers still competing—Matthew Lee, days ahead and waiting out a deluge underneath an abandoned bus in Colorado, and the mysterious Kenny Maldonado, a New Yorker drudging through Wyoming's parched and windy Great Divide Basin, disappearing from the race's radar for four days, leaving his fan base to fear he'd shat the bed in the purple sage. But even two weeks behind, Maldonado would have been the winner had something happened to Lee. What mattered to me was that they were out there, riding deep into fat-tire mythology—Make it me! I sang to my wife.
"What's the big deal—you're gonna have all day with nothing to do but ride your bike," Hilary said. She was right, of course; riding my bike had become my sole task on the planet. But that encompassed so much. I was hell-bent on seeing for myself whether the GDR was indeed the next last great American race. I wanted a genuine-article western. I did not want to ride in circles in a 24-hour race, endurance cycling's tour d'hamster. I wanted a journey. In the GDR, a bike is more than a toy; it's your vessel.
I collected panniers, a microtent, a light system for night riding, the Adventure Cycling Association's route maps, and a sleeping bag that weighed less than a diaper. I ducked into AutoZone for a shiny foil windshield sunshade—the de facto sleeping pad of the GDR. "You go ahead and get this race out of your system," Hilary told me. "But I don't want to get a call from Butte saying your butt's bleeding."
DAY 3, JUNE 17, 14:24:15 MDT: Hey there, Matt McFee here. It's about 2:15 on Sunday…. We hit a lot of snow up over the pass, which I'm sure you'll hear more about. Got borderline hypothermic…. Fun, fun day. Wake up in the rain, ride up into the snow, down into the slush, can't feel my hands. See you.
There's a saying in the GDR: "If you're gonna be slow, you'd better be tough."
Some of us are just slow. Montana issues two forecasts—one for the east side of the Divide, one for the west. No prognosis is made for the crest, and the snow is coming down. The leaders are greasing up with sunblock as the chase group digs for anything dry against the wet.
Last night, on Richmond Peak, the route could have been in Scotland; on a full stomach, I might've called the mist romantic. Now, at 8 a.m. on Day 2, we switchback up into fog and hear the bleat of Brit Bruce Dinsmore's bear whistle. Then the drizzle turns to snow—Christmas in June! Steve McGuire, a 49-year-old art professor from Iowa, and I follow the fresh snake-belly tracks of the Brits' Nano Raptors, telling jokes and generally enjoying Mother Nature in full frolic. What throws ice water on the party is the little mountain of grizzly scat on the singletrack, right between us and the Brits. The poop is so warm that snow won't stick to it. This is disconcerting—that bear will need the same trail we do. I suggest to Steve that we allow Kevin Montgomery, a new Brandeis University grad who's been whining about the cold for some miles now, first chance at the blind corners.
No bear. As we descend, creating our own windchill, the crying begins: "I think I'm in the early stages of hypothermia," says Kevin. Dave Nice, the Don Quixote of the GDR with his single-speed bike, homemade whiskey, and soybean chain lube, sits with his feet on the handlebars of his fixie, letting his cranks spin like a dough mixer as he shoots down the back side of Richmond. The contraption looks ridiculously dangerous; even the buffalo soldiers ran freewheels.
The GDR is full of strategic choices. Seeley Lake is two miles off-route, but there isn't another town until Ovando, 50 miles south. Seeley will have a laundromat, or at least a warm filling station. I choose the laundry and spend the rest of the race chasing the bloody Brits, who've pushed on with the same brand of aplomb that enabled them to take India.
The laundromat feels like a last-minute party at someone's house—we survived the storm!—and there's pizza in the gas station across the street! The race's 25th rider, a carrot-topped Albuquerque high school teacher named Jeff Kerby whose single-speed bike showed up on a Greyhound three hours after everyone else left Roosville, catches us here; he's wearing a clear trash bag cut into a poncho. "Yeah," Jeff says. "Give Lance Armstrong a mountain bike and a bunch of maps and see if he can come close."
Riders are already starting to drop out. One of the first, a Georgia bike-shop employee named Scott Hodge, pulls the plug on the second night, hobbling around the Holland Lake Lodge bar with a sore Achilles and a Corona in each hand. Andreas Vogel, a German transplant from San Francisco who logged more than 10,000 miles in training, is fini in Ovando. Where the hell do you rent a car out here? No one knows. Meanwhile, Jay Petervary is almost to Idaho, with Matthew Lee, Pete Basinger, Rick Hunter, teched-out second-time GDR attempter John Nobile, and an Aussie road racer named Alex Field on his rear tire.
"That squirrelly guy, from the race meeting?" Jeff says, shaking his head at Petervary's time. "He's on something."
"Trucker's speed," I say, joking.
"Something."
We are bound for Lincoln, home of the Unabomber, then Helena, then Butte. I leave the guys at a café in Lincoln and then, riding alone, shoot over Stemple Pass and down the back side, an exhilarating descent until I realize I've veered eight miles off the route and will have to climb those eight miles back. I hit Highway 279, which would easily take me into Helena by dusk, but it would be off-course—I'd be cheating. For a moment the thought is tempting. I notice that the wind has sucked the photo of my family out of my map case, my peanut butter is almost gone, and I've lost my map for this section. But for the rest of my life I'd have to live with the fact that I didn't ride those 2,490 miles, that I took a mulligan above Helena. It'd be better to dope like a Tour racer and ride the whole thing than cheat on the course. Back uphill I go.
Rolling into Helena sometime after midnight, I want to drop out. There is an airport here. An IHOP. I sleep downtown for a couple of hours, waiting for the bagel shop to open at dawn. Pretty office girls in heels click around me as if I'm a hobo, which I kind of am. I grab two bagels, hit the gulch at the south end of town, and get lost again for a swift ten-mile penalty. But Matthew Lee had told me that four days is the threshold: "You make four days of the GDR and you can finish the thing."
I've made four days but am in no way confident. My ass is blistered and I can't feel my left hand below the wrist.
DAY 6, JUNE 20, 11:47:01 MDT: Hi, this is Mike Gibney. Just wanted to let everyone know that I'm done with the race. I guess that I'm just not cut out to keep a pace like that, and it just takes its toll on you…. And those guys that are out in front, at the pace they're going, they are incredible, superhuman people. So anyway, I gave it another shot and, you know, hopefully, didn't let anybody down.
By Butte I am reborn. After the first frenetic days, I've settled into a routine. I set my watch alarm for 5 a.m., but wake up at 4 and spend 15 minutes mentally dressing myself down for being here. Get out of my bag for a coyote breakfast—a piss and a look around. Stuff my camp into the panniers. Push off. The anxiety and dread quickly give way to excitement and primal drive—get to civilization for a hot coffee and a pay phone. I don't allow myself to think about Antelope Wells, just the next town, where there'll be rewards and supplies. At home, I had envisioned soaking my gams in cold mountain streams, but that's ridiculous, the stuff of vacations. The GDR is a race. You use every last candle of dusk to make miles. When you can't turn the chainrings any longer it's time to lay the bike down and crawl into your bag with the mosquitoes.
On the toll-free gab line, Tom Purvis has warned us of a rule change. The Wyoming Highway Patrol and the Teton County Sheriff's Department are in hot pursuit of Jay Petervary. He got impatient at the perennial road construction on Togwotee Pass, between Moran Junction and Dubois, and apparently rode through against the flag lady's orders. She phoned the heat, but her real wrath was uncapped for the next rider, Pete Basinger, whom she forced to ride in the pilot car—against one of the few GDR rules. While Jay lost the posse and gunned it for the lawless Great Divide Basin, Pete's conscience made him turn back and ride Togwotee in the dark. Tom implores the rest of us to just take the ride in the pilot car.
There is more news at Flagg Ranch, just over the state line into Wyoming. Matt McFee's fallen asleep at the handlebars and hit a boulder above Lima, Montana. He's bent his frame; the Karate Monkey is dead. Most would have capitalized on the occasion to hitchhike into Dillon and get a bus ticket home, but Matt called his wife in Durango, who FedExed another frame. Then another shocker: The Alaskan, Pete Basinger, has dropped out. He thinks it's food poisoning, but also maybe nerves—he trained not only to win but to break the record. Noah the bike messenger is done, too; he found some hippie campers and decided to hang up the race and hang out instead.
I pedal with one-geared Nathan Bay until I pull ahead in the Great Divide Basin. For the first time I feel comfortable. My hand isn't getting any worse, and my butt no longer hurts. I love the sagebrush steppe country of the Wyoming Red Desert. Several years ago I wrote a draft of a bad novel that takes place here. I thought maybe I could solve all its problems on the bike. Resurrect the thing. Instead I feel mostly brain fade, an alkaline loneliness as I mutter prayers not to run out of water. The prayers are answered with a 45-mile-per-hour tailwind, and I look down and catch myself flowing across the sand at 20 miles an hour. An hour after dark I pitch a hasty camp and awake just before dawn to a herd of wild horses studying me from a safe distance.
DAY 10, JUNE 24, 14:18:16 MDT: Good morning. It is J.P., and I got into Silverthorne last night, got me a little cheap room, cleaned my act up, shaved up, woke up this morning, cruised on into Breck, had some breakfast, getting ready to head up and on over the pass…. And, oh yeah, I'm going to have a pretty good day, I think, because, happy birthday to J.P. All right, have a good one. See ya, bye.
The halfway cutoff, in Steamboat Springs, is two days away, and I'm still in Wyoming. I meet a cyclist couple from Atlanta pulling a BOB trailer, touring the route south to north. They're full of stories of all the racers ahead of me, the fine sandwiches they had in Colorado. "Can I make it?" I ask them.
"If you're feeling frosty," the woman says. I'm not feeling very fucking frosty. This is the country where Kenny Maldonado, the New Yorker, had been at large in 2006. I recall the dispatches—when he dropped out in Rawlins, I felt relief. When I roll by the Greyhound station, Day 12, I know what Kenny was feeling when he bought a ticket. And now Rick Hunter, who has been running up front with Jay, Matthew Lee, and Alex the Aussie, is out in Colorado—bad knee. There are 14 of us left. The Divide is eating riders.
I throw my sunshade in the dirt just north of the Colorado line. Crossing state lines proves the biggest boost to morale, and tomorrow I'll be in Colorado. A buck antelope wakes me before dawn, kicking and snorting as if I'm a threat to his buckhood, so I gather my possibles and ride south. It gets hot fast, and I run out of water on the dusty climb up County Road 38. I know I can't make it all the way to Steamboat with no water. But then, a mirage. A sign on an old schoolhouse reads COFFEE.
I've fallen down a rabbit hole into Wonderland. Kirsten, a tattooed kindergarten teacher from Northern California, makes me my very own pot of good coffee and feeds me mushroom quesadillas and chocolate cake. While I eat, she smokes American Spirits and checks the GDR progress on her laptop. "Matt Lee was here a few days ago. He ate breakfast but wouldn't even take an orange with him." I feel ridiculous attempting to explain to her that oranges are heavy.
I make the 'Boat with 16 hours to spare. While I'm limping to a pizza joint, three GDR riders buzz down the main drag—it's Matt McFee, Nathan Bay, and someone I can't make out. I don't yell at them; I don't want to talk, just eat a pie and beat them out of town. I'm not in the Maldonado position yet, but I know I'm close.
A day south of Steamboat, the map cues refer to a "smattering of rural homes." I see a filthy gardener bent over, working on a lawn mower. It's actually Jeff Kerby, changing a flat. His Dickies shorts are so greasy they appear to be leather, and his single-speed is a homemade number constructed by his friend Chauncy from a melted-down ore car. We ride together, chasing Nathan, Matt, and the Brits, climbing into one of Colorado's ubiquitous dry thunderstorms. Lightning strikes close enough that Jeff's MP3 player sparks from Van Halen to Twisted Sister. "Dude," he says. "That was too close."
This first day riding with Jeff, Day 14, is when the strangeness begins. The tiny ghost town of Como is boarded up at dusk, so we keep pushing into a black, wet valley. We see a yellow light ahead. "GDR rider," Jeff says. Someone has pitched his bivy sack in a field of cow pies.
"Which GDR rider is this?" Jeff calls.
"GDR rider, it's Kerby and Billman!"
I walk toward the light, even more convinced that the object is a sarcophagus-size tent. Hello? GDR rider? "I don't like it," Jeff calls to me. "Let's get the fuck out of here." With that, I start thinking about what else it could be. Weather balloon? Downed alien craft? Rocky Mountain idiot trap? I back up, slowly, toward my bike.
"Fuckin' weird," Jeff says. We ride into the dark drizzle and, a safe distance away, pitch camp in the mud. The next morning he relays the incident at the pay phone in Hartsel, where the lady in the general store tells us about "Little Buddy," the resident alien of Pikes Peak. Soon a half-dozen paranormal Web sites have picked up the story of our interface in the high desert. GDR voyeurs are out there.
DAY 17, JULY 1, 16:25:55 MDT: Hey, everybody, Matthew Lee here. I just got in from the border … And it is hot—not happening hot, just hot…. First, congrats to J.P. for his really fast ride. I'm humbled, and he has certainly raised the bar. I met my goals, and I'm happy with the legs I finished on…. Good luck to all still out on course. Thanks to Tom Purvis for keeping everything together. Rock on.
Jeff and I are wondering why we haven't been forewarned about just how miserable New Mexico is. We've been riding together, yo-yoing, for five days, and in that time two riders have finished: Jay Petervary in 15 days, 4 hours, and 18 minutes, and Matthew Lee, also beating the record in 15 days, 22 hours, and 40 minutes. We thought this was supposed to be the homestretch, and I pictured something of a downhill spree—green chile, yellow sunshine, and a bottomless cup of black coffee. But out here a water bottle full of lukewarm instant java is as good as a venti mocha; another bottle full of Tang and you're an astronaut king.
Late morning on the Fourth of July, we hit downtown El Rito to find Ashley McKenzie, a redheaded North Carolina computer programmer, sitting Indian style on the floor in the mercantile. He's wearing an ice cream sandwich all over his face and talking to himself. Customers give him a wide berth. "Ashley," I say. "How's it going?"
"Sell ya a burrito."
"?"
"The café is closed. But I talked the owner into selling me some leftover burritos. I can't eat 'em all. I got one left. Five bucks."
"No, thanks."
Jeff walks up. "I'll give you $1.27. It's all I have." Awwwll right. "Give me your knife," Jeff says to me. "I'll split it with you." That's OK, I tell him. I'll wait.
"That burrito sucked," he says a minute later as he wipes sauce from his whiskers. We're off for Abiquiú. Ashley shoots ahead like a man born again on burritos and ice cream.
A left turn at Abiquiú and we climb for altitude in the Santa Fe National Forest. Atop the Polvadera Mesa, the trail turns to posole in a steady rain. On the left, a yellow tent is pitched against a juniper tree.
"Billman!" It's Nathan Bay. He sticks his bare torso out. "I been sick. Food poisoning." He spent yesterday throwing up. Today he slept and tried to rehydrate. How did he get that far ahead of me? One of the Brits, Matt Kemp, was sick too, he said. Bad road food.
After a cold dinner of a Slim Jim and dried figs, I hear moaning from a new direction—it's Jeff, in his tent. Nathan and I listen to the distinct sound of vomit splashing off of ripstop nylon. The puking lasts much of the night. Ashley's burrito. High camp has turned into sick camp.
The next morning I'm surprised to find that Nathan is ready to ride out with me. There are man hugs. But Jeff stays put. He's so dehydrated, we'll later learn, that nurses in Española won't be able to find a vein in his arm to stick an IV. His GDR is done. I've grown accustomed to Jeff's complaining and miles of conspiracy theories, and his having to quit this close to the border shakes me. "Do it for both of us," he says.
When we get to Cuba, Nathan and I learn from Tom Purvis that Matt McFee passed out on his bike from heat exhaustion near here; his GDR is over and he's lucky to have made it to the hospital, thanks to the motorist who found him. Nathan stays in Grants to fix his seatpost; I pin it for Pie Town and then on to the Gila National Forest—next to Wyoming's Great Divide Basin, the toughest, most intimidating country on the GDR. The Gila is so remote that you can ride for two days without seeing another person, just rocks covered in graffiti and then, in the middle of nowhere, a stripped late-model minivan that must have been stolen the day before. The Gila is the GDR's Black Hole of Calcutta: Dehydration is a real possibility. Take a wrong turn in the dark and ride further into desolation. Goatheads straight from Satan's garden. A sign warns me about a "dangerous wolf." But the worst is worrying about your tires. These Nevegals have more than two large on them, and the front one is developing strange heat bubbles 150 miles from a town. Worry gets you nowhere out here, but worry is what I do for a day and a half.
By the time I roll into Gila Bike and Hike, in Silver City, my nerves are sanded raw. I run into the Brits at the Javalina coffee shop, quaffing tea and eating scones. Of course they are—they've made it to Antelope Wells and to Wal-Mart for fresh Yankee wardrobes. "God, you look like Hell! Brilliant!" they say—do I know everyone's staring at me? I am filthy in anthropological layers and silly with the cartographical fact that I have only 125 miles to go before I can stop pedaling forever if I want to. This is Silver City, New Mexico, by God—the last leg of the Great Divide Race—and I've finally entered that vision I had on so many training rides. I am a man made of earth.
I haven't talked with Hilary in three or four days. I stand at a pay phone outside the Albertson's. "Hi, babe," I say.
What I want her to say is "Hi, tough hombre."
Instead, this: "I'm gonna say something that's gonna make you mad." I am exhausted and nearly euphoric. I have coffee. What can she possibly say? "You are gonna be so disappointed with yourself if you don't make the border by noon tomorrow." She's been tracking my progress and knows more about my place in the scope of the race than I do. By now 14 riders have dropped out, and I've been feeling a little pride at being one of the remaining 11, telling myself that making the cutoff doesn't matter. But that's bullshit.
She's made me mad.
"You can get tenth," she says. Dusk is coming on fast and I grab a Quarter Pounder combo and spin out of Silver City, racing the noon.
DAY 25, JULY 9, 16:46:23 MDT: Hey, Tom, it's Jon Billman, Silver City. The folks at Gila Bike and Hike are amazing. Came in on spit and prayers with these tires…. They got me some new skins and some new slime tubes and I'm ready to tackle the last section here…. Camp in the Separ area and then head for the border in the morning. All right, bye.
The evening Chihuahuan Desert is magical. The yucca and ocotillo mark horizontal depth, and a monsoon lightning storm plays the sky as I climb for the Divide, crossing it for the 28th time. I haven't developed any sort of powers that resemble a sprint, but I find that by now I can draw from what Matthew Lee calls "inner diesel power." In the last of the twilight, I experience the sensation mountain bikers call flow. My new tires are the perfect tread pattern for the desert. The bike courses over the trail like water through an arroyo after a desert rain. The weather front cools my skin. The water in my CamelBak tastes like fine beer.
The desert is my favorite place to ride. But in full darkness it's the trickiest, because even with the best lights, sand looks flat and even. I lay the bike down three times at 15 miles per hour before I throw my sleeping bag on the sand, crawl in, and close my eyes. It isn't five minutes before the biting ants snuggle in.
I break camp at 3 a.m. Earlier I dropped a Fig Newton and now I watch with my headlamp as a scorpion carries it away—where did he sleep? It's a real time trial now. I could dump my gear, but I want to make the Mexican border in the same way I left the Canadian one—self-supported and overloaded for bear. I'm not gonna be fast, but I can be complete.
Hours pass. I've hit pavement, and the chevroned tires buzz as I stand on the pedals, determined to redline it. The sun is nearing its apex. I have not yet considered that it could be late morning, but, dammit, the sun looks straight overhead. Well, I figure, if I make the cutoff, great. If not, I'll have all winter to bang my head against one wall and drive Hilary up the other.
My lungs are smoked when I hit the green sign with a cartoon pronghorn marking Antelope Wells. I fall off the bike and hobble into U.S. Customs. The air-conditioning is a revelation.
"Did I make it?"
Make what?
"Is it really 11:25? a.m.?" Maybe they haven't adjusted for daylight savings. A customs officer with a gray government-issue mustache checks his watch and nods. Half an hour to spare. Agent Tim Balderston hands me a spoon and a container of astronaut ice cream, the kind that looks like frozen caviar. "Here's your G-D celebration ice cream."
I finish tenth, 35 minutes shy of 25 days. It will take three months for all the feeling to come back to my hand—my body let me finish, but it's gonna punish me for it later. Nathan Bay finishes but misses the cutoff time by a few hours. Jeff Kerby's race ended at the Española hospital. He tells me he left the puke-filled Wal-Mart tent up in the forest, violating every brand of backcountry etiquette. "Some emo kids might want to visit it," he says. "Be close to death."
Both Matthew Lee and Nathan Bay will be back on the line in Roosville in 2008—they're addicted and have unfinished business to tend to. As for Jay Petervary, the GDR winner is back in Jackson Hole, busy as a one-armed drywall hanger, which he sort of is if you consider his numbed left hand. Nah, he tells me—until someone breaks his record, there's no need to tempt the GDR again anytime soon.
But the race dopes your blood, and life off the Divide can seem so banal, so comfortable. "My wife and I have talked about it," Jay says. "We might do it on a tandem."
Trending on Outside Online