BP Guilty of Gross Negligence in Gulf Oil Disaster
Faces fines up to $18 billion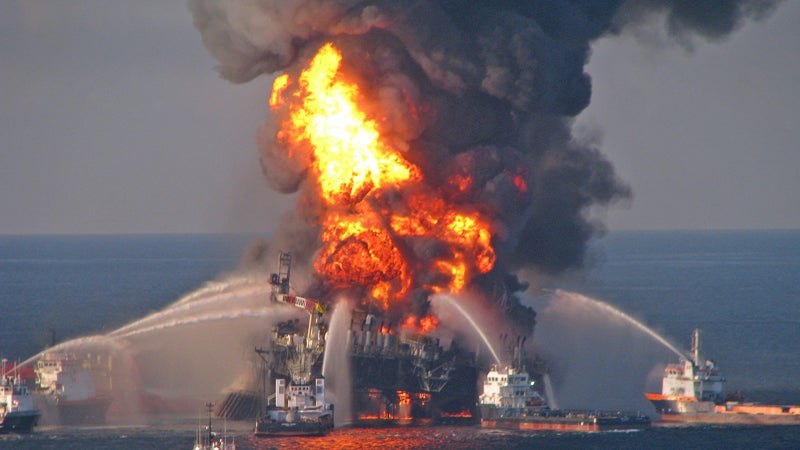 Heading out the door? Read this article on the new Outside+ app available now on iOS devices for members! Download the app.
A federal judge found British Petroleum guilty of "gross negligence" and "willful misconduct" in the 2010 Deepwater Horizon rig blowout that killed 11 and polluted the Gulf of Mexico with more than 200 million gallons of oil. The company, which has already put $28 billion toward cleanup and damage claims in America's worst-ever environmental disaster, faces up to $18 billion in fines.
While BP maintains that cement contractor Halliburton and rig owner Transocean are equally responsible for the disaster, Judge Carl Barbier declared BP 67 percent responsible. In a 153-page decision, Barbier outlined the "chain of failures" that led to an overbudgeted and undermanaged rig exploding under BP's watch, as well as deliberate attempts by the company to hide its liability.
The ruling is the first in a three-phase trial, pertaining only to the blowout itself. Barbier still stands to rule on how much oil was spilled, as well as specific penalties under the Clean Water Act.
The severe verdict makes a landmark case of Deepwater Horizon, with the New York Times calling it "a warning for the oil companies that continue to drill in the deep waters of the Gulf of Mexico." Barbier's gross negligence ruling means BP is liable for almost four times the maximum Clean Water Act penalty for simple negligence, and nearly five times the $3.5 billion it set aside for civil penalties.
Both Halliburton and Transocean were found guilty of simple negligence, apportioned 3 and 30 percent of the blame, respectively. Halliburton reached a $1.1 billion settlement this week—its first acknowledgment of accountability—and Transocean arranged to pay $1.4 billion in federal criminal and civil charges last year.
BP's executives, who have acknowledged accountability since the accident but remain defensive, plan to appeal the ruling. Regardless of who is at fault, the National Wildlife Foundation released a study earlier this year finding that 14 gulf species are still suffering because of the spill.
Lead Photo: US Coast Guard/Wikimedia Commons