5 Things Climbers Need to Know About the Half Dome Flake that Broke Loose
Alex Honnold and other Yosemite locals weigh in on what will become of the route that was wrecked when a giant chunk of granite detached earlier this week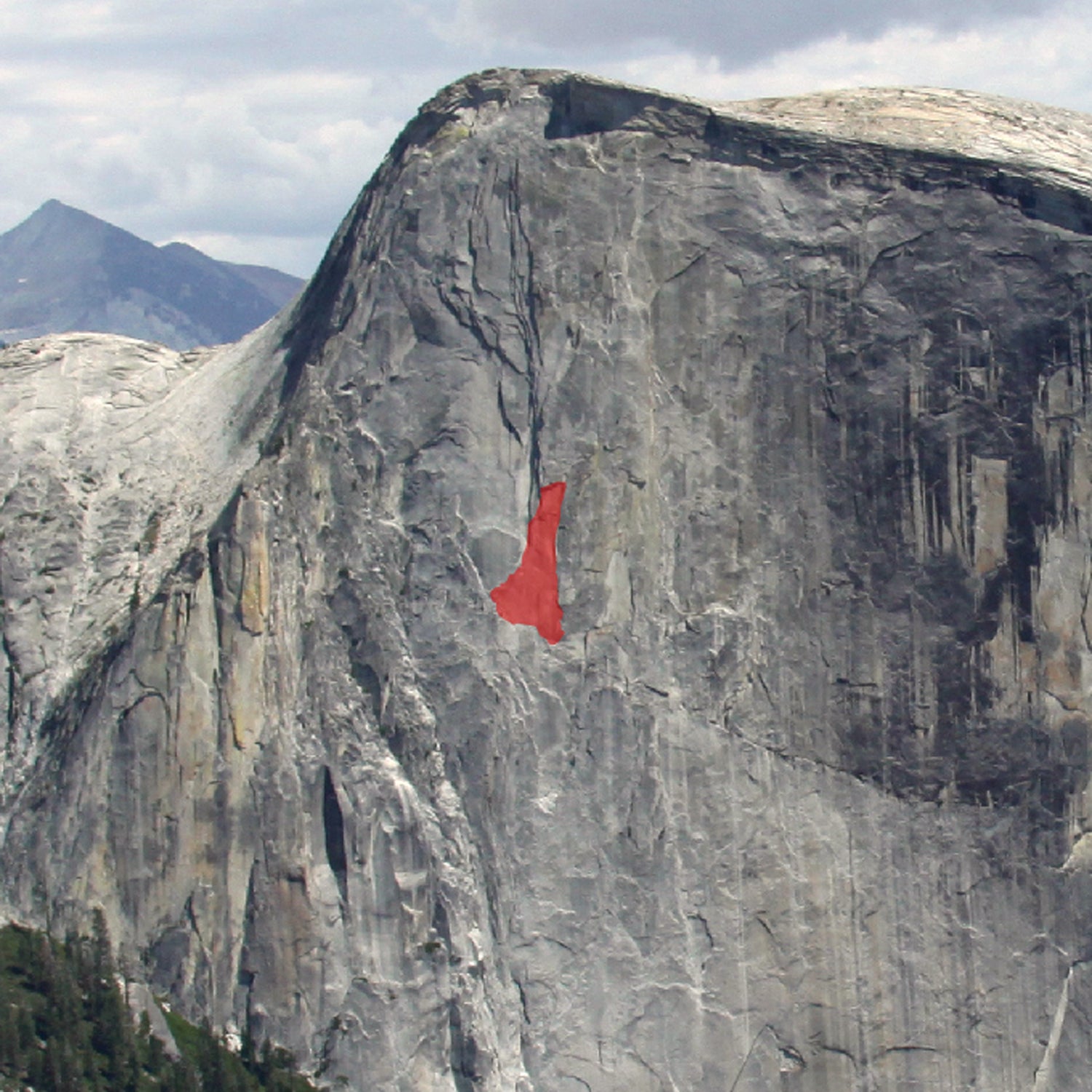 Yosemite Climbing Management(Photo)
Heading out the door? Read this article on the new Outside+ app available now on iOS devices for members! Download the app.
Nobody knows precisely when it fell, but at some point on July 2, 3, or 4, a triangular slab of granite weighing approximately 2,500 tons (roughly 5 million pounds) broke free from Half Dome in Yosemite National Park and plummeted 900 feet before exploding on the valley floor. News of it only broke after a party of climbers discovered the void on July 5, halfway into a 23-pitch route—and were forced to retreat.
The rock that fell was estimated at between three and ten feet thick, 200 feet tall, and 100 feet wide at its base, according to photos examined by park geologist Greg Stock. It comprised all of Pitch 12 on the Regular Route on Half Dome. The flake didn't damage any of the climbing route below Pitch 11, but left an almost featureless scar in its absence and a bevy of questions. We talked this week to park staffers and prominent local climbers about what happened and what lingering questions remain.
1. Why Don't We Know When It Fell?
You'd think someone would have heard or witnessed such a momentous rockfall on such a famous attraction. The park had more than 4 million visitors last year and Half Dome is perhaps its most iconic feature. But a series of storms thrashed Yosemite on July 2 and 3, so most of the valley's residents and tourists were inside during the period when the 90 million-year-old slab is thought to have come down. According to Stock, Yosemite Valley measured three-quarters of an inch of rain overnight, which could have been the trigger. "I'm pretty sure this event happened early in the morning on July 3 in association with that rainstorm," Stock said. "It probably made a loud noise but there was thunder going on every 10 or 15 minutes."
2. What's the Park Doing to Warn Climbers About the Status of Half Dome?
"We put up route condition signs alerting people to the current situation," said Yosemite climbing ranger Brandon Latham, who ascended the first 10 pitches and inspected the damage on July 8. "They're at the climber trailhead over by Mirror Lake, and we also put one at the Happy Isles trailhead." In addition, Latham posted an update, with close-up photographs of the scar, at climbingyosemite.com.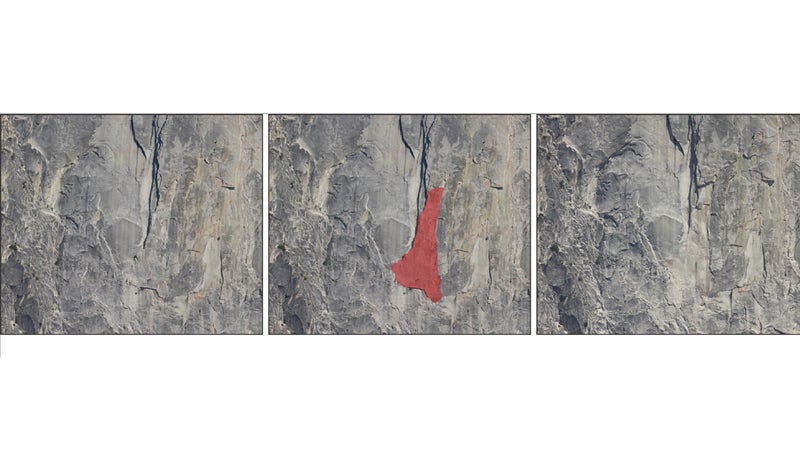 3. How Did the Rockfall Affect the Vibe Among Climbers in the Valley?
"The chatter that I've heard is nobody's super psyched to go up there," Latham said. "They're pretty spooked, which is understandable, because there are still huge flakes up above—Pitch 13 is a chimney created by flakes. So people are very nervous," Cheyne Lempe, a well-known climber and member of the park SAR team who lives in the back of Camp 4, was supposed to join Latham's recon mission Wednesday but opted out. "I got pretty wigged out. It was such a massive feature that came off," said Lempe, who has climbed the Regular route a dozen times. "The top half is still up there hanging, and they're not exactly sure what's holding that in place. No one really knows if it's stable right now."
4. What Will It Take to Set a New Route?
With Pitch 12 gone, the only way to connect Pitch 11 to Pitch 13 is through a variation that begins with a 5.11c finger crack about 60 feet above the anchor at the top of Pitch 11. Reaching the crack now will require a bolt ladder, which, due to wilderness laws, would have to be hand-drilled at a pace of a half-hour per bolt. "It's definitely a few days' worth of work," Latham said. Lempe added: "Whoever goes up there, I strongly recommend waiting a while, especially since we're supposed to get more rain. I think it would be a good idea if everyone chilled out and started thinking about it a little ways down the road." 
As for the free-climbing implications, pro soloist Alex Honnold, who is in New Zealand and has been following the story online, said he doubts the rockfall will "fundamentally change the route." "The original free-climbing variation goes around a lot of the affected zone, and the route Arcturus free climbs a corner to the left of the chimneys," Honnold wrote in an email. "It just seems like there're enough free climbing options up there—one of them will become the new norm and the route will settle in again."
5. Is the Rest of Yosemite's Granite Stable?
Park officials recorded 77 rockfalls in 2014, well above the recent average of 45. The largest occurred on the north wall of Hetch Hetchy and was estimated at 14,880 tons, or six times the size of the Half Dome flake. Still, Stock, the park geologist for nearly a decade, said he believes the increase in frequency is strictly a factor of easier documentation via photographs and videos, not a sign that the rock is becoming less stable. Nor does he believe climate change is a factor. "I wouldn't say unequivocally no, but the Half Dome rockfall is consistent in almost all ways with the sort of rockfalls that have been happening for 150 years in Yosemite Valley. It's a classic exfoliation event, where a relatively thin slab of rock peels off a cliff," Stock said. "This is not the first climbing route that's been changed by rockfall. It's happened dozens of times."
Lead Photo: Yosemite Climbing Management