7 Questions with Mountaineer Mom Sophie Helenek
"Raising our baby girl is our new Everest."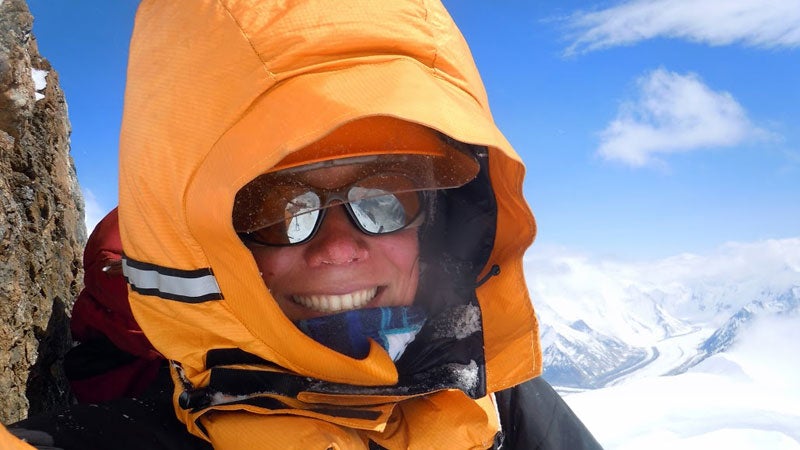 Courtesy of Sophie Helenek(Photo)
Heading out the door? Read this article on the new Outside+ app available now on iOS devices for members! Download the app.
You can call Sophie Helenek many things: a recovering investment banker, the youngest French woman to climb Mount Everest, and—as of 2013—a mother. But having her daughter wasn't going to terminate Helenek's six-year love affair with climbing. We caught up with Helenek via email to talk about staying active during pregnancy, exploring with babies, and her book series written for infants.

My First Book:
Shapes

My First Book:
Sky Wonders

My First Book:
Fruits

My First Book:
Musical Instruments
How did you make the decision to start a family?
I was a mountain climber on my way to realizing my goal of climbing the 14 highest peaks in the world. Being pregnant came as a wonderful surprise, which I embraced from day one. I switched gears to enjoy the wonder of motherhood. Raising our baby girl is now our new Everest.
How did you stay active and fit during your pregnancy?
I had lots energy when I was pregnant. I enjoyed climbing Mount Washington (the highest peak in New Hampshire), Mount Madison, and Mount Mansfield (the highest peak in Vermont). The panoramic view at the top of Mount Mansfield was outstanding. I could see the Lake Champlain and the Adirondacks at my left and at my right. I could see Mount Washington with its top in the clouds.
As I entered in the third trimester, my doctor strongly recommended me to walk instead of trek. So I switched to kayaking. My belly was relatively small, so kayaking on smooth water while watching birds was very relaxing.
Has it been difficult to get back into shape since having the baby?
When the winter was over, I went walking at a local park next to the river. I was alone at first, then I met some other moms, and I started building a walking/running mom group. I met them three times a week. It was great because we were sharing our stories, our struggles, and our good times with our babies.
When the weather was too hot for our babies, the mom groups stopped. But I stayed active; I did some landscaping on our property while my daughter was napping, and I water-skied in the evening with my husband. During the winter, I ice climbed and skied.
I did not struggle or fight to get back in shape. I enjoy being active, as well sharing the outside activities with my daughter. I think it is excellent for her to be outside when the weather allows it.
Describe the process of writing your books.
It was an emotional roller coaster. You go all over the map. I started confidently, drafting a few things, but then I hit the wall. I had doubted and questioned myself: Is it any good? What am I doing? Then I was able to put myself together, had a second breath, and kept writing. Hit the wall again, and I almost gave up. But I stayed strong. With lots of courage and resilience, I finished and published My First Book series, which includes four books: Fruits, Sky Wonders, Shapes, and Musical Instruments.
My inspiration was my daughter. When she was a small baby, I showed her an M.C. Escher book. She seemed to like the black and white spiral drawings. When I say "like," I understand you don't really know what is going on in an infant's head, but I could tell that something happened. I was surprised and started reading about how babies' eyes work, what they see, and why.
At birth, babies are very nearsighted; that is why they are interested in bold black and white shapes and high contrast patterns. Eager to learn more, I read bunch of studies on speech development, child temperament, and babies' milestones. Gathering all this information, I developed and designed My First Books series from a baby's perspective. I wanted to write an engaging book that promotes bonding and supports an infant's developmental growth milestones: vision, memory, speech, and social skills.
They are not just picture books or bedtime stories but rather activity books conceived to stimulate a baby's senses.
Here how it works:
At first, a baby will enjoy simple illustrations with black-and-white and high-contrast patterns designed especially for the very young to focus on.
As babies gets older, their brains learn to distinguish bright primary colors and will start identifying the illustrations with the words you read, which triggers their memory process.
Each picture is accompanied by a simple word that babies will love repeating and which helps their speech development.
The last pages show all the illustrations together, which also helps the baby's memory process.
My First Book series offers a special feature for toddlers, as they can write on the book with a white board pen, wipe it, and write again!
How do you incorporate books into parenting?
My daughter absolutely loves books. She enjoys being read to or just playing with them. Her favorite game is flipping pages one by one. Books seem soothing for her.
I incorporate several type books into my parenting: nighttime stories, which are mainly soft pastel drawing books that are calming; nursery rhyme books, which are more wordy and playful; and activity baby board books like My First Book series, which are placed with all other toys.
My First Book books can be a great medium to bond and interact with a baby, as well as being perceived by the baby as an accessible toy to play with or without an adult. Babies enjoy turning My First Book pages, which are extra thick, easy to grab, and they are captivated by the illustrations.
Reading is essential in your baby's development. For instance, reading aloud to a baby stimulates developing senses and builds listening and memory skills that can help a baby grow up to be a reader. Reading aloud to a child:
Promotes listening skills
Increases the number of vocabulary words babies hear
Develops attention span and memory
Helps babies learn to understand the meanings of words
Promotes bonding and calmness for both baby and parent
Instills the love of books and learning
As an adult, what books do you enjoy?
I'm reading mainly French novels that my mom send me. They are my connection to my French. I'm also magazine savvy. I am currently subscribed to a dozen of magazines from American Scientist to Climbing to Fast Company to Time.
Do you encourage your daughter to lead an active, adventurous life?
My daughter is one year old. She is a very happy baby and nothing seems to bother her. She is content with herself, which makes life very easy for us. I let her explore, and warn her when it is dangerous. Being kind but firm seems to be the key.
Lead Photo: Courtesy of Sophie Helenek