A Legendary Alpinist, a French Mayor, and the Melting Glaciers on Mont Blanc
Writer Andrew Bisharat explains how a legal fight between a climber and local politician in France is a harbinger of future tensions in the warming Alps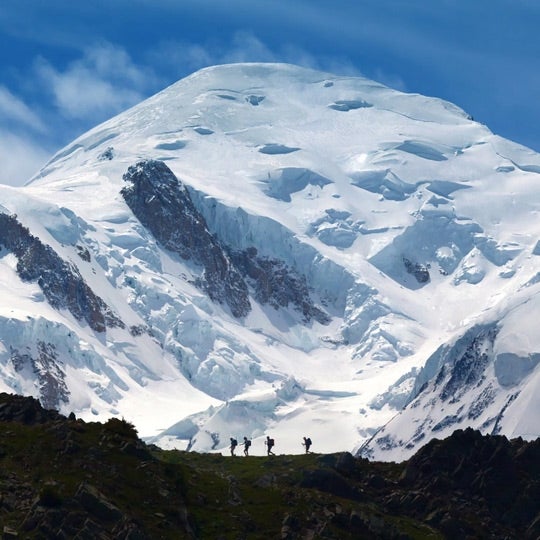 Peter Zelei/Getty Images
Heading out the door? Read this article on the new Outside+ app available now on iOS devices for members! Download the app.
In the summer of 2022, French alpinist and IFMGA-certified mountain guide Christophe Profit removed four large metal stanchions from the slopes of 15,774-foot Mont Blanc. The stakes—used by guides as quick anchors on technical sections of the mountain—had been recently installed under the orders of Jean-Marc Peillex, the mayor of the nearby town Saint Gervais, the municipality with jurisdiction over several routes up the mountain.
Profit confessed to removing the stakes, and returned them to the town. Nevertheless, he was charged with the crime of stealing gear and accused by the mayor of "endangering lives."
On June 5, a French criminal court convicted Profit, 62, for this offense. Originally facing fines upwards of €4,000 ($4,400), Profit was ultimately ordered to pay only €600 (about $660).
Profit, whose legendary exploits include various daring speed solos of some of the faces in the Alps in the 1980s, plans to appeal the ruling.
The ordeal sheds light on the decades-long discussion over who should decide how climbers scale peaks. The legitimacy of fixed gear in the mountains has been an enduring debate among climbers, particularly since 1970, when Italian mountaineer Cesare Maestri carried a gas-powered drill onto Patagonian spire Cerro Torre and installed discontinuous bolt ladders to the top. Placing fixed gear, or unilaterally removing it—as Jason Kruk and Hayden Kennedy did of Maestri's infamous bolts in 2012—has sparked ethical debates that have been traditionally litigated within the climbing world.
Profit's trial and conviction, however, may be the first time a governmental judicial system has officially weighed in on the topic.
Prior to the June 5 ruling against Profit, Anne-Sophie Vilquin, the president of the criminal court in Bonneville, France, expressed her opinion that that it was "not acceptable for a man [i.e, Profit] to assume the right to impose his own vision of the profession of guide and mountaineering in defiance of all the others."
Profit, however, asserted that his motivations were neither malicious nor authoritarian. "I removed these stakes to prevent amateur mountaineers without experience from taking unnecessary risks, when they there was a possible alternative route," he told the French website 20 Minutes.
Profit's actions have also caused a rift among his fellow guides. Profit resigned from the Compagnie des Guides de Chamonix where he had worked for decades, and is now guiding independently. This decision to leave the Chamonix guide company, he said, was "much worse than going to court."
Outside reached out to Profit for an interview, but he replied, "I have nothing further to add. I prefer to remain silent and return to the peaks, far from the noise."
As Western Europe's tallest mountain, Mont Blanc is a prized summit. And with a relatively easy route to the top, it invites over 30,000 climbers of varying experiences levels, many of them guided, every year. High traffic and easy climbing are a deadly combo in mountaineering, and with over 100 annual deaths and at least 1,400 total recorded deaths on the greater Mont Blanc massif, it has been called one of the deadliest mountains in the world. (For comparison, Mount Everest's total death count is just over 300.) Already this year across the Mont Blanc massif, six people died in an avalanche in April. A few days later, three more died in a slide just 25 miles from the peak. Then, a week later two more died when a serac collapsed.
"The normal routes on 'trophy peak' mountains like Mont Blanc, the Matterhorn and the Eiger, have lots of fixed equipment, from cables to fixed ropes, to help climbers get up and down," says Calum Muskett, an IFMGA-certified guide seasonally based in the Alps. "This helps make these relatively technical and much desired routes much safer and I'm sure it will have saved lives over the years. At the same time, I don't believe it is simply up to mountain guides to 'dumb down' itineraries. If a route becomes more difficult or dangerous for the group's abilities, we should adapt and change to other objectives."
Muskett says most of the guides he's spoken to about the Profit story support his removal of the stanchions. "Though I believe he wants to improve safety on the mountain, Mayor Peillex has strong opinions that aren't always considered the consensus view with alpinists and guides," Muskett says.
Mayor Peillex has spearheaded several controversial initiatives to try to keep climbers from getting into trouble. Last year, he pursued the idea of requiring all climbers to pay a deposit of €15,000 ($16,500) to cover the costs of potential rescues and funerals. He has said that people on Mont Blanc might be "climbing with death in their backpacks." He recently threatened to sue two climbers, whom he referred to as "fools," for sleeping on the summit, after passing a 2020 law that banned all bivouac-style tent camping on the peak. During a deadly 2018 season, he ordered the police to stop some Latvian climbers from ascending the mountain with a Latvian flag to celebrate their independence, asserting that it was "not the moment" for such a display and saying that the mountain was "angry."
Outside reached out to Mayor Peillex but he is currently on holiday and was not immediately available for an interview.
At first blush, it may be easy to try to paint Profit as an elitist holding an outdated mindset at odds with the new realities of climbing as an increasingly popular pastime that supports the thriving commercial guiding industry around Chamonix, and one that should be made as safe as reasonably possible for any paying client. But this caricature of Profit as the old-school traditionalist futilely attempting to hold a bulwark against the dumbing down of risk and the embrace of convenience over skill perhaps misunderstands the more nuanced justification for his actions.
In an open letter to his peers in the guiding industry, Profit says that he removed these stakes to discourage people from following the traditional route up the Bosses ridge, where a large and dangerous crevasse has opened after a decade of unusually warm temperatures. Profit suggests guides now take the "Dédé Rhem," a variation Profit pioneered that is admittedly much longer, but one that he believes is the more reasonable and safer.
"This Dédé Rhem variant was not made by chance, it is the fruit of forty years of traversing the peaks," he wrote. "At Mont Blanc, on a glacier route, it is easy to adapt to find an alternative to a passage that is causing problems in order to avoid the installation of help points."
Profit says these stakes weren't even in a place where they could help catch potential falls. He also says he was able to remove two stakes by hand due to the melting ice, suggesting that they were functionally useless anchors. Nowhere in his letter did Profit rage against the commercialization of Mont Blanc or assert the ethical purity of climbing without fixed gear in the mountains.
Instead, Profit said that the stakes were functionally useless, and that they could also mislead climbers into believing that the normal path is safe to climb when he believes it's not.
Alas, Mother Nature may have recently rendered the entire situation moot. According to Muskett, who guided Mont Blanc in mid June, the section of the Mont Blanc route where the stakes had been placed has changed once again. "The steep section around the crevasse as described in the court case no longer exists, and it's a relatively easy track again," he said. "In some ways it's amusing that the court case has been about safety management of this ephemeral feature."
This incident speaks to a broader issue in mountaineering that guides are increasingly grappling with. What happens when routes change? It's an ethical question that European guides will need to grapple with as the warming globe continues to melt glaciers on Mont Blanc and elsewhere in the Alps. Of course, they are not alone—routes everywhere are set to shift as the temperature continues to tick up.
Profit, however, at the expense of his job, his public record, and his reputation, took a stand to encourage a different, albeit longer, route to the top. Instead of forcing a route with fixed gear, Profit was responding to what a rapidly changing mountain is telling him. Unfortunately for that, he was punished.
Lead Photo: Peter Zelei/Getty Images