Aces High
THE IDEA: Make one of the world's greatest Everest guides face his fear of heights. THE PLAN: Send him 3,000 feet up El Capitan with Conrad Anker, Jimmy Chin, and Ivo Ninov. THE RESULT: Panic attacks, cold sweats, and one order of Depends.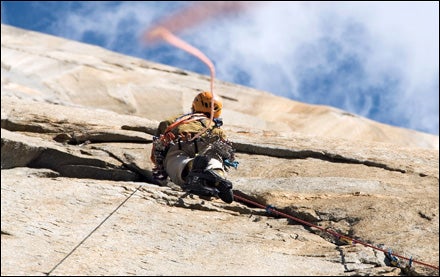 Heading out the door? Read this article on the new Outside+ app available now on iOS devices for members! Download the app.
El Capitan

The author, day four
El Capitan

Anker jugs up as Hahn and Ninov hang out on their portaledges.
I'm not much of a rock climber… and certainly not a big-wall climber. This is not modesty. Sixteen expeditions to 8,000-meter peaks—nine of those to the top of Mount Everest—and 22 years spent guiding cold, remote glaciers don't make one modest. But it can make for a less-than-all-around climber, which is me, because big-wall climbing and high-altitude mountaineering require surprisingly different skill sets. Sure, when I started going up mountains I dreamed of climbing Yosemite's El Capitan. But let's face it: I also wanted to be a fighter pilot, the president, and a porn star. I became an Everest guide instead.
Eleven years ago, in Antarctica, Alex Lowe, the quintessential all-around climber, watched me tiptoe across steep, blue ice on crampons and noted that I seemed overly concerned with the 5,000-foot drop below me. Right then, he and Conrad Anker, his best friend and longtime climbing partner, offered to take me up El Cap. "Climb El Cap and you'll get comfortable with exposure once and for all," Alex said.
I shouldn't have waited. Alex died tragically in an avalanche two years later, in 1999. Conrad and I had climbed together again earlier that year, when he found George Mallory's remains at 27,000 feet on Everest. We summited together on that trip, and I had a rough time at 29,000 feet. I was badly anemic, I ran out of oxygen, it started to snow, and it was late in the day. Conrad stuck with me. He gave me his own oxygen, and we made it down. He probably saved my life.
Although the El Cap subject came up over the next few years, I didn't figure it was ever going to happen. Then I guided a trip on Everest last year with photographer and climber Jimmy Chin, and while we were wedged in a tent at 20,000 feet, I got to talking about my life's dreams. Jimmy stopped me when I got to the El Cap part. "Rad will guide you, and I'll shoot pictures," he said.
So the sandbagging began… Conrad picked the Pacific Ocean Wall, a line up the right flank of El Cap. In person, on a sunny day, El Capitan is a bright, massive, 3,000-foot-tall sheet of granite, completely dominating, as its name implies. One can have a difficult time getting used to the scale of it, but I had total trust in Conrad, 45, and Jimmy, 34, when it came to Big Wallery, where both of them had earned their reputations. I also had total trust in Ivo Ninov, whom Jimmy brought into the game. Ivo, 32, came to Yosemite from Bulgaria nine years ago, has been up El Cap more than 50 times, and is one of the best climbers in the area. He learned to speak English in Yosemite and says things like "The moon is sick" and "Life is bitching." Our plan was to go in October and climb the wall over the course of seven days.
"Just so we're clear, I'm not secretly good at rock climbing," I told them all when we met in August at the Outdoor Retailer show, in Salt Lake City. "I will be a novice. Will that be OK?" They smirked and nodded. Ivo then mentioned a film idea he and his stone-monkey buddies had been tossing around, something about dragging a corpse up an El Cap route to fulfill the last wishes of a guy who'd wanted to do the climb alive. I was encouraged.
On October 2, we drove into the valley and met up with Ivo, who'd been preparing for "launch." We pressed our noses against the car windows to see the flashes of rock soaring all around us. Ivo had stockpiled 20 gallons of water and a fair amount of hardware and rope at the base of the route. We spent some time with the climbers hanging out in El Cap Meadow, where I basked in Conrad's reflected celebrity glow. We looked at the tiny climbers on various routes on the wall, and I reminisced about my family history in the valley. My dad, Ron Hahn, was a Yosemite rock climber in the 1940s and '50s. These walls were the scene of some of my earliest childhood memories.
Launch, 7:30 a.m…. I wasn't really all that scared, yet. Rad motored up the first pitch, and Jimmy said, "OK, Dave, why don't you jug on up next," as he turned to help Ivo hitch the huge amounts of gear to be hauled up the cliff. Jimmy was telling me to climb the rope using mechanical ascenders—a reasonable suggestion, and certainly easier than climbing the rock itself. But I was hoping for something more along the lines of "Now, Dave, there are many ways to climb a rope, and this is a way that I think might work well for you in this particular application." I promptly got caught in a tree a few feet off the ground. Jimmy untangled me, clipped a few of my carabiners and slings into different places, and pointed me upward again.
Second pitch (of 27), 10 a.m.:I got scared… At the first belay station, there were some nice distractions, like a black bear that lumbered past beneath me. Then Ivo accidentally dropped his tobacco and lighter, which bounced off my helmet. I was overworking like crazy, hanging on with my arms at the belay station instead of leaning back to trust the gear the way the pros do. I belayed Jimmy as he led the next two pitches (done as one), marveling that, even though he hadn't aid-climbed in years (he'd been spending a lot of time on big, cold mountains recently), he was jumping boldly into the Pacific Ocean.
The wall's overhanging nature became apparent as I struggled to get out of belay stations when it was my turn to jug. From the ground, the wall's outward push was just a neck-straining curiosity, but now it meant I had no contact with the rock and total dependence on a rope as I climbed. I knew the consequences of falling had not increased—a fall from 75 feet (partway up the first pitch) would have killed me just as surely as a fall from 200 feet (somewhere in the second pitch). But I was starting to think about such things as I'd swing out into space and flail at jugging the ropes.
My technique sucked. My arms were getting worked—my left one eventually went numb—and my movements were slow and jerky. I was perplexed and thought my skills from mountaineering should've helped more here. Hadn't I used ascenders successfully to get myself and others out of crevasses? Hadn't I pushed them up thousands upon thousands of feet of fixed line on all those Himalayan trips? Sure, that had been mostly with my feet on the ground, and all the vertical bits had been short (if spectacularly placed), but it seemed like I should get some kind of break.
So there I was on a portaledge in the dark… It was 9 p.m., 13-plus hours after we'd started climbing. If I'd had the courage to look down, my headlight would not have reached the 400 feet to the bottom. Let's get something straight: There was no actual ledge. The portaledge is a cotlike platform of aluminum and fabric that hangs against the wall, suspended from a single anchoring point. Jimmy and I shared one. I ate cold food from a sharp can, still harnessed up, desperately careful that everything I took out or opened was clipped in and couldn't fall. Listening to Jimmy, Conrad, and Ivo laughing and talking, I was aware that I was a dark pool of doubt. I was getting a glimpse of how world-class climbers—who know all too well the consequences of mistakes and bad luck—deal with nerves and channel anxiety into energy.
Meanwhile, I was clutching the edge of the portaledge, thinking of things that could go wrong. I didn't trust the bolts we were clipped to. Ivo said, "Dave, the protection is bomber; you've got to trust the pro. Each of those bolts could hold 5,000 pounds." After which I did a quick calculation to reassure myself that 190 pounds was less than 5,000. I looked at a label sewn onto the bed of the ledge, which said the fabric was not fireproof, so I did another quick calculation and realized how screwed I'd be if the ledge caught on fire. That is, if we had a stove, which we didn't. Shouldn't we have a stove?
And what if it started storming? It did… Not that night, but the second. I woke up when the first drop hit my lip at 1 a.m. We put up the rain covers on the ledges in the dark. When I say "we," I don't mean I was good for anything more than ballast. I was scared, exhausted (my ascender technique had not improved), cold (the temperatures were in the low thirties), and thinking about how I was holding the guys back. Almost every time I opened my mouth I was apologizing, and they had to be getting sick of that.
Snow squalls funneled through the valley for much of the following day. The clouds were low and gray, and most of the other climbers stayed in their ledges, but we got after it. Conrad was always up before daylight. He also called home each morning and night. (Conrad married Alex Lowe's widow, Jenni, in 2001, becoming a father to their three boys.) The eighth anniversary of Alex's death happened while we were on the wall, and we talked about it. The avalanche that took Alex's life had nearly killed Conrad, too, and was about as life-changing an event as one could possibly sustain. I marveled at the way Conrad could still get himself up for some difficult and dicey leads—the way he did on that stormy morning—and exude calm competence. Jimmy thought it was a perfectly normal way to start a day. "Adrenaline, the breakfast of champions," he shrugged.
I was also impressed as hell by Ivo. He led the Central Latitudes pitch on that day, a very challenging traverse, and he did it smoothly, quickly, and with great skill. "You need to get it done, because no one can get you out of there," he said, always the philosopher. Ivo turned out to be great at working with my limitations, too, which makes sense—as he casually revealed one day, he's a fully certified mountain guide, trained in Chamonix and Bulgaria. I was in need of guidance. Not only was I a client; I was a bad client.
I had a small breakthrough on day three… To follow Ivo's Latitudes pitch, I needed to go sideways on the wall, something I'd come to dread. The preferred method was for me to rappel from the belay station, descending to a V on the rope, well below the station I'd left and the one I wanted to get to. As usual, I was worried that my Grigri (the lowering device) would fail, if the rope didn't break first or pull out the anchors it was attached to. I was doing the best I could to climb out of the V when I learned to jug—finally. I got it.
I was encouraged when I clambered onto a rock ledge to join Ivo, whom Conrad had begun calling the Bulgarian Wheelbarrow Artist, in reference to how he might consider carting his truly massive balls from one place to another.
After a largely sleepless, shivering night on the portaledge, better weather arrived on day four, and it was a little easier to watch the peregrine falcons flying about the face and to peer from side to side to see how the other humans on the wall were doing.
There were more breakthrough moments, like that sunny morning on day four when I finally decided to trust the rope, stepped off the ledge, swung 20 feet straight out from the cliff, and enjoyed it. I twirled out there in space, took pictures of my partners, and let out a big stone-monkey yell (as everybody else had been doing for days).
The loads became lighter eventually, too, and I reached a point where I was able to help with the hauling. I began laughing more—at Ivo's stories of learning to skydive and BASE-jump, both of which, he said, are "better than sex." I rolled my eyes at Jimmy's romantic quandaries. (People once ranked him as one of the most eligible bachelors, and he's done slightly more stuff than Indiana Jones, yet he still worries he might get shut down asking someone out for a coffee.) I laughed at Conrad's talent for devising novel climbing strategies and inventing phrases. Team Wheelbarrow was getting the job done.
There was no shortage of drama playing out around us. Some distance east of us, Ivo's friend Ammon McNeely had taken a big whipper on the route he was rope-soloing. "He must have botched the sequence," Ivo said. For a few moments, Ammon seemed to be unconscious and was hanging from his ropes. A rescue operation got going, and a helicopter flew into the meadow to stand by. Ammon managed, through yells and arm signals, to indicate that he didn't need a rescue. Meanwhile, climbers Alex and Thomas Huber busted the speed record on the classic and well-traveled Nose route—twice—while we were on the wall, watching. They climbed it in two hours, 45 minutes, 45 seconds.
"You'll love this next part—it's super-sick!"… The boys were taking good care of me. I'd make it to a belay station with my teeth clenched and muscles quivering and get a big slap on the back from Conrad. He'd ask, in all seriousness, "Dave, do you want to lead the next pitch?" Jimmy would see me nervously looking around, lock eyes with mine, and say, "Dude, you're doing it!" Ivo made sure I knew how to back up my systems, and each small success was greeted with "Man, that's super-sweet!"
The final day was mostly just fun and hard as hell at the same time. By then we had big views of Half Dome and the rest of the world. I spent hours gazing at the bulk of Cathedral and Sentinel rocks, across the way. I was still apologizing all the time, but I was also enjoying the heck out of the place.
We phoned legendary climber Jim Bridwell on our sixth and final night and enjoyed hearing what it had been like for him to put up the Pacific Ocean route in 1975. Bridwell said he'd never repeated the climb, preferring to hold on to his original impressions of its challenges. The four of us crowded in to hear his exact recollections.
When I topped out on day seven, I didn't spend a lot of time at the edge peering back down, nor did I do anything stupid like kiss the flat ground or curse the wall. I was happy to put things down without clipping them in, to take off my climbing harness and my grubby shirt and feel the sun on my rippling and huge muscles. Well, they weren't huge, but they felt like they were.
I slowly and carefully rappelled down the East Ledges descent route, carrying a big load. Conrad waited to make sure I was OK, just like in 1999, when he and I came down the Northeast Ridge from Everest's summit together in a snow cloud. Some things never change.
Now I'm home… And doing the reading I should've done before the climb. In the guidebook Yosemite Big Walls, I found a quote from Royal Robbins, perhaps the greatest of all big-wall pioneers. In reference to climbing a rope in 1961 on an overhanging El Cap pitch a few thousand feet in the air, Robbins said he was so scared that "I could barely suppress a shout of terror!" He went up anyway. In my own awkward fashion, so did I, and I'll treasure that barely suppressed shout forever.
Dave's Climbing Glossary
EL CAPITAN or EL CAP or THE CAPTAIN (n): a hulking 3,000-foot granite cliff in Yosemite National Park, California. Most people consider it "pretty" and find it challenging to fit the whole darn thing in a photograph. Big-wall climbing was, in large part, invented on this mountain. There are more than 50 established routes to the top.
PROTECTION or PRO or PIECE (n): nuts, bolts, cams, pitons, and any other metal bits that attached us to the wall. Some pro is "time-bomb pro" and fine for years, until, as Ivo says, "the day Jesus says this bolt is going to go off and you're going for a sick ride." Ivo says Buddha and Allah are just as good at dishing out sick rides.
BELAY (v): to protect another climber by minding the rope that person is attached to. BELAY (n): the various stations between climbing pitches that are used to belay from, haul from, jug from, and sleep at. Keeping all the rigging at a belay organized is a neat and intricate cat's cradle. I tended more to the cat-with-a-ball-of-yarn model, tangling every rope I touched.
HAUL BAG (n): a heavy bag that contains all your water, food, and clothing and is never all that easy to get into when you want those things.
AIRMAIL (v): to drop something down the wall accidentally. As in "Jimmy had a knee pad come loose one day and airmailed it down the cliff." Ivo kindly airmailed Jimmy's other one for him shortly afterwards so that somebody down below could have a pair.
SANDBAG (v): to entertain oneself by downplaying the difficulties of a particular challenge to a gullible friend or rival. See also: Dave Hahn on El Capitan.