Everest Season Kicks into Gear
The world's highest peak will again be the focus of the climbing world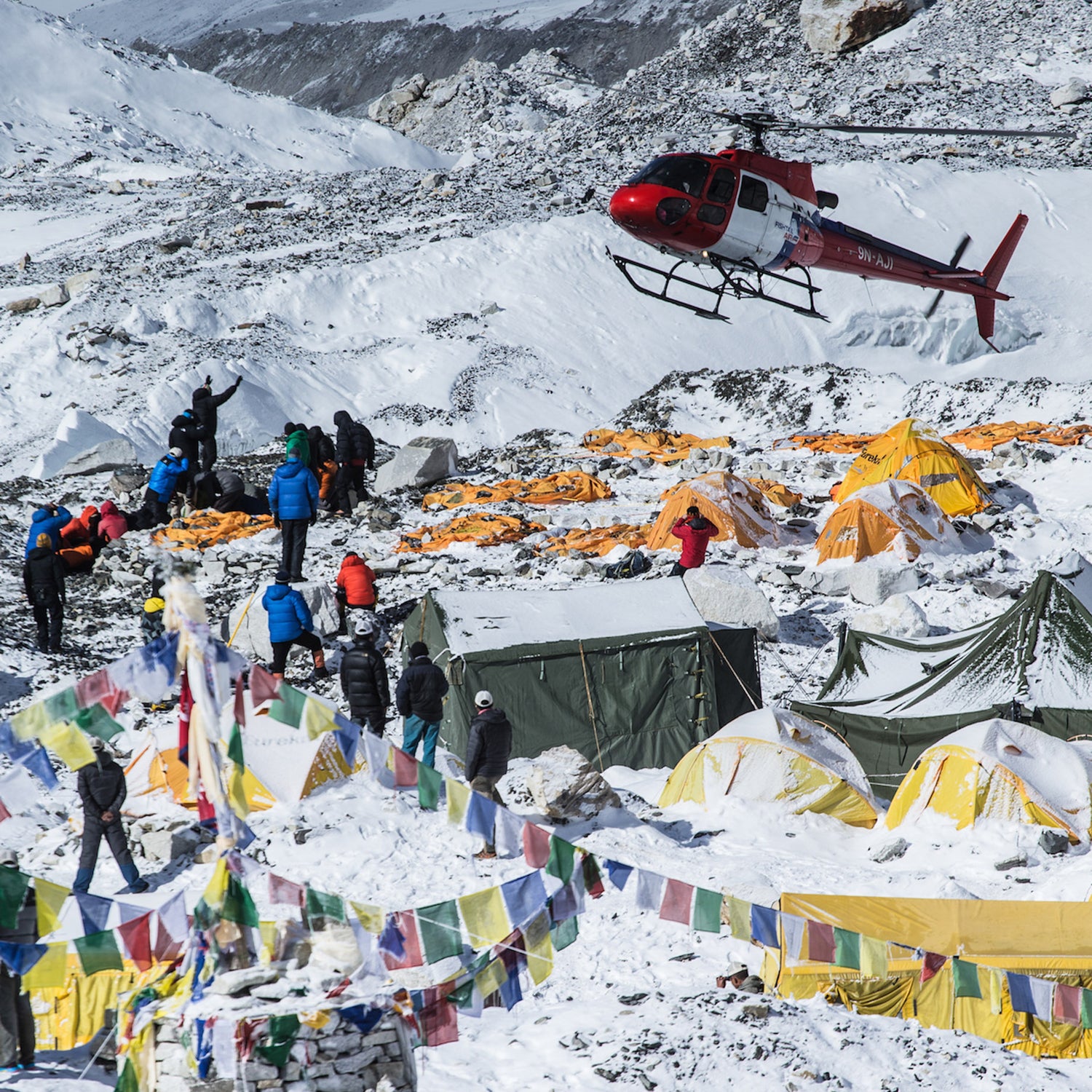 Michael Clarke/Unsplash(Photo)
Heading out the door? Read this article on the new Outside+ app available now on iOS devices for members! Download the app.
The 2018 Everest spring season is underway. While we're excited for some of the record-setting attempts, there's already the usual hand-wringing about overcrowding, trash, and deaths. Here's a rundown of everything you need to know as the climbers begin to settle in at Base Camp.
It'll Still Be Crowded
This year is expected to have a similar number of climbers as last year, when over 800 attempted the world's highest peak. In 2017, six people died and 648 successfully summited—237 from the north side and 411 from the south side. As a long-term trend, the popularity of Everest continues to grow. In 2000, there were just 145 summits. By 2013, a record 661 mountaineers stood on top of the peak. Almost all of that growth is due to a rise in climbers from India and China, two countries with burgeoning mountaineering scenes. 
Discount Outfitters Will Continue to Expand
As the guide market fragments into low, mid, and high-priced expeditions, clients have more options, especially with the local Nepali and Sherpa-owned companies. Seven Summits Treks, a Sherpa-owned outfit, is attracting large numbers with its $30,000 price tag. (The average price of a guided Everest climb is between $45,000 and $50,000.) Seven Summits Treks may have over 60 clients this season on the Nepal side alone. 
Contrary to popular belief, the death rate is actually declining.
We'll Finally Solve the Mystery of the Hillary Step
As is customary for Everest, headlines in the mainstream media will be focused on the weather and the crowds. While extremely early in the season, it has been a bit colder with more snow than in previous years. Time will tell what the conditions are like high on the peak. One geographic feature that will come under scrutiny is the Hillary Step, the iconic section of steep rock at 28,000 feet. This section has been a bottleneck for both ascents and descents, creating severe problems, in past years. After the 2015 earthquake, the Step was rumored to have collapsed. Climbers in 2016 and last year found that the topology had in fact changed but were uncertain if it just looked different due to unusually high snow. Climbers last year simply walked over what seemed more like a snow ramp than the Step. Some jokingly renamed it the Hillary Slope. This mystery may be solved this year.
The Chinese Are Making Moves
The Chinese, who control the north side of Everest, were reported to be building a Mountaineering Museum about 30 miles from base camp. It will serve as the base for Chinese tourism, skiing, paragliding, climbing, and other adventures. Most important to climbers would be the access to helicopter rescues on the Chinese side, a potentially life-saving perk that has only been available on the Nepal side in the past. However, it's unclear how much of the construction has actually been completed. 
New for 2018, the Chinese are requiring a trash deposit of $5,000 per team. In addition, they are enforcing a new rule that each climber bring down 17 pounds of old trash from the mountain. The penalty for non-conformance is unclear. Nepal has had a similar requirement since 2013 but has never enforced it. This rule, while easy to mandate, is more difficult to enforce. Much of the trash high on the peak—old ropes or other gear—is frozen solid into the mountain. It takes a strong person, with amazing aerobic capacity and sufficient time, to recover just a tiny piece of tent fabric stuck in the mountainside, much less a body (which is, alas, also considered trash). 
Sherpas Will Be Better Trained
Back on the Nepal side, there has been a concerted effort to provide basic medical training for well over 200 Sherpas who will aid foreign clients this spring. This program will supplement the climbing skills training at the Khumbu Climbing Center in the village of Phortse, which has graduated over 1,000 guides since 2003. This has provided highly skilled support for novice clients.
Lead Photo: Michael Clarke/Unsplash