Friends and Family Mourn 25-Year-Old Climber Cassy Doolittle
The Wisconsin native had just climbed Aguja Guillaumet in Patagonia when she was trapped by a storm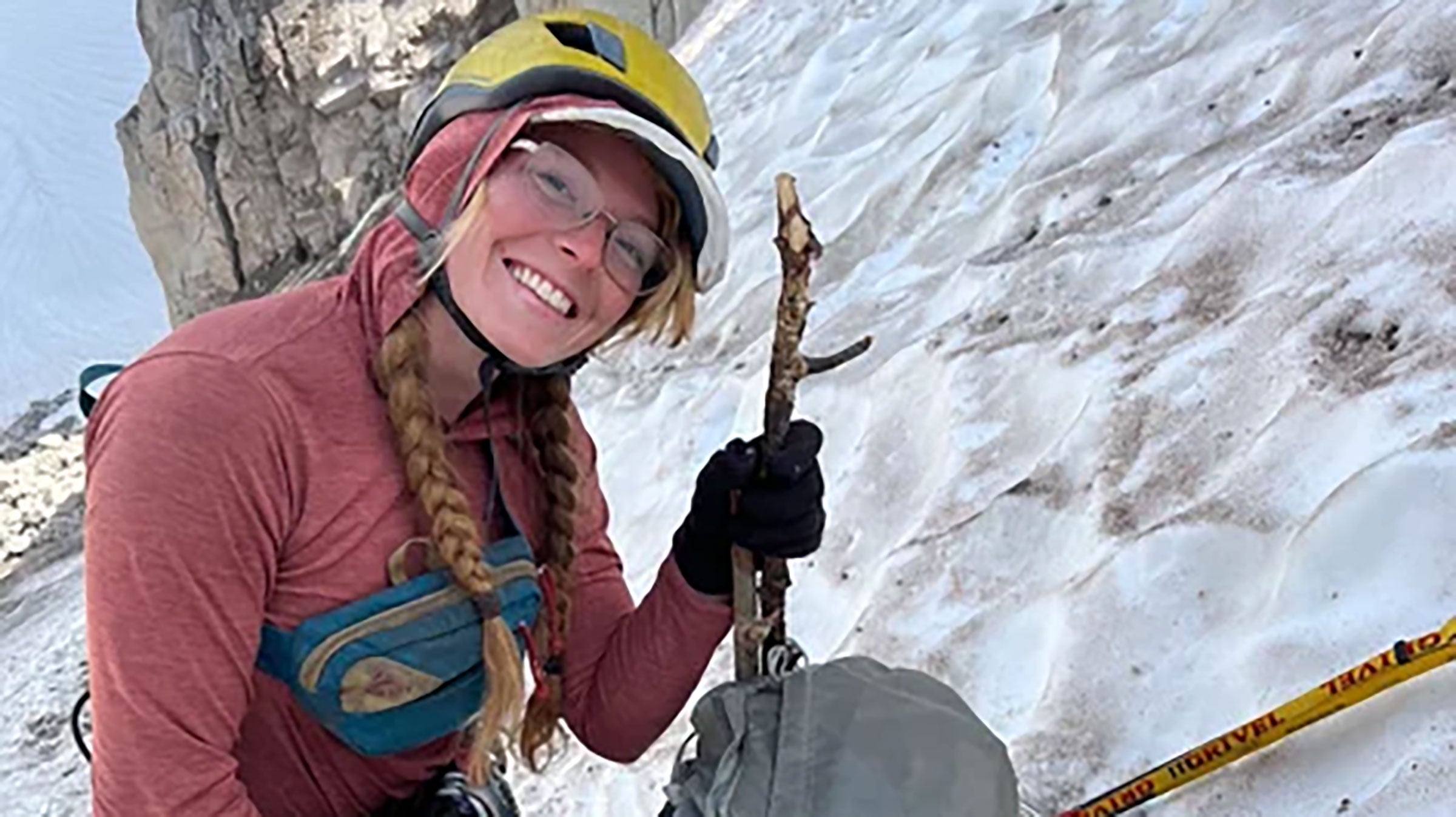 Bailey Spears
Heading out the door? Read this article on the new Outside+ app available now on iOS devices for members! Download the app.
American graduate student Cassandra "Cassy" Doolittle died in late December while on a climbing trip in El Chaltén, Argentina. Doolittle had just finished a solo ascent of the Comesaña-Fonrouge on the northwest ridge of the 8,500-foot spire Aguja Guillaumet in the Fitz Roy massif. She was caught by a fast-moving storm while descending.
Doolittle sent out a distress signal at approximately 10:00 P.M. on December 25, after becoming disoriented amid the high winds and heavy precipitation. She had descended the full length of the route but rappelled slightly past the walk-off point to access her base camp. She sheltered beneath an overhanging ledge and waited for rescue. Search and rescue efforts were delayed due to the heavy storm, and initial responders concentrated their search efforts higher on the wall, on the route itself.
"With this weather blowing in, she was likely hypothermic and dehydrated," her mother, Pam Doolittle, told Climbing, "and I'm sure somewhat disoriented and scared. [So] she rappelled further down [than she should have]. But where she landed, she could've gotten out, she just was too disoriented and exhausted." Doolittle said her daughter's body was ultimately found below the end of her rope at the base of the wall, at approximately 6,500 feet, under a ledge where she'd attempted to take cover from the storm. The autopsy indicated death from exposure, with no evidence of a fall or other trauma.
Born on May 24, 1997, in Madison, Wisconsin, Cassy Doolittle attended school in Sauk City, a small town northwest of Madison, after her family moved to nearby Mazomanie in 2001. She later went to college at the University of Wisconsin-Milwaukee, graduating with double majors in psychology and vocal performance and a minor in biology. 
Doolittle began climbing at the Adventure Rock gym in Milwaukee, and later ventured to nearby Devil's Lake State Park, "where she discovered her love for trad climbing, learning to trust her head and try hard over small cams and nuts," said friend and climbing partner Hans Beuttler. At the time of her death, Doolittle was a third-year graduate student at the University of Las Vegas, pursuing a PhD in neuroscience (and the pristine sandstone at the nearby mecca Red Rock Canyon).
This trip was Doolittle's first time in El Chaltén, and "she'd just recently gotten comfortable in the alpine in the [Bugaboos] this last summer," said Gardner. She'd initially planned to travel to Argentina with a partner, but when her second backed out of the trip, Doolittle decided to shift focus to easier objectives she felt comfortable soloing.
Many of Doolittle's close friends and climbing partners reached out to Climbing to contribute to this memoriam. Their words painted a picture of a tenacious climber with a deep passion for the wild spaces of the planet, and a dedicated, caring friend.
In a tribute shared with Climbing, climber Madeleine Gardner recalled meeting Doolittle in El Potrero Chico, after driving down to the Mexican crag alone. "I hadn't really gotten in with any group yet," she said. "I was taking a shower at camp and this girl I'd seen around poked her head in and [said] 'Yeah it's mostly clear,' [to someone] behind her. Within seconds, a few boys followed her inside. She sat on the countertop, looking quite bored as they began stitching up some wounds on her body, [which] I hadn't even noticed because of her dulled expression."
Gardner was impressed with Doolittle's toughness, which she later learned was in response to a 100-foot fall. It was only a few days before the two would connect around a group bonfire, spawning the beginnings of a fast friendship.
A few months later, both were in Index with a similar group of friends. "I'm someone who strays on the outskirts of the crew … [and] Cassy was one of those rare people that sought out those who were hard to find," Gardner said. "I remember the way she looked at me as I spoke one day by the river, when a few of us girls gathered to share stories of trauma. Sometime that week, she decided we were to be very intimate friends … We started sharing all our secrets with each other."
Cassy was an all-around climber, but she was particularly stoked on the trad around Red Rock, said Gardner, a place where "she [could] lead rope solo a lot of things when she didn't have a partner [which] made her feel capable and powerful."
Doolittle often reflected on the sense of empowerment and community she found in climbing, said Gardner. "Often while having [group] dinners she would say how thankful she was to have met each one of us and how much it meant to her to have our friendship."
"I remember she pulled me aside one night after she and the boys did some group soloing—saying how they all had this epiphany midway up the route that they just didn't want to be doing this right now. Collectively humbled, they all bailed together. [Doolittle] was awestruck by the community she felt at that moment."
Doolittle was talented and motivated beyond her climbing, with passions ranging from cooking to writing to music. Her mother fondly recalled her early passion for hockey, how Doolittle insisted on playing on the boys' youth hockey team for as long as she was allowed. "She was 'The Great Wall of China,' a force the forwards contended with as they made attempts on goal." 
A skilled musician and vocalist, Doolittle was remembered by the Sauk Prairie Music Association as "kindness in human form … She was the student that stood up to bullies and welcomed everyone into the group. She was the person younger students would seek out for advice or support. She was musically gifted, [with] a style unlike anyone we have ever worked with."
This versatility and expansive interest resulted in an individual equally guided by both logic and passion. "Cassie was very, very smart," Gardner said. "An academic type, rational… but [also] forever fascinated by the illogical, magical side of things. She always wanted me to read her horoscope. She was fascinated by the idea of embodying a two-headed Gemini. She felt the duality of her mind a lot."
Hans Beuttler, one of Doolittle's regular climbing partners, remembered her for an "energy on and off the wall [that] was contagious. Climbing with [Doolittle] was always full of laughter and enthusiasm," he said, "no matter how hard the challenge."
"Cassy didn't believe in Type 2 fun," he added. "She said that climbing was all fun. No matter how big the adventure, she would be smiling and excited the entire time, which would only motivate those around her to try harder." 
Doolittle's trip to El Chaltén was, in many ways, the fulfillment of a dream she'd carried throughout her climbing life, Beuttler said. "Cassy never imagined that she would ever make it to Patagonia. The place she saw as a paradise for climbing, she turned into her reality. Although her feelings at her end will forever be unknown, I like to believe that she climbed to the top of Guillaumet with the same passion and love for the mountains she always had."
"When I think of Cassy now, it simultaneously aches and warms my heart," said friend and climbing partner Bailey Spears. "She was sweet and had a voice that became squealy with excitement in a pleasant way. When it came to climbing, she became fiery. It amazed me how one person could embody such polar states. In addition to Cassy being an amazing human and strong climber, she was an incredible partner.
"She was fun, considerate, and encouraging. She was dialed on her rope systems, fast and smart. She was willing to take any pitch, even if it was rainy or scary. Cassy was basically every good quality you could use to describe a person and mixed in, she had this mysteriously beautiful and powerful style of doing everything."
Spears remembered the first time she belayed Doolittle, who had chosen to lead the entire route using only nuts for protection. "I still feel that is fitting of her: playful, different, and bold. She was the most inspirational woman I have ever climbed with. Her persistence and commitment were astounding. Cassy could work herself to complete exhaustion, and even then, I don't think quitting would be a thought that crossed her mind."
Like Gardner and Beuttler, Spears recalled a woman who loved her friends deeply, without condition. She mentioned one occasion last summer, when a large group of their friends gathered to celebrate a birthday, and Doolittle just broke down into tears, smiling. She ultimately laughed and explained, "I just love you so much."
"I know this isn't the only friend she would cry for out of a full heart," said Spears. "Cassy astounds me, inspires me, and forever will. She was wild and courageous; any other way wouldn't have been her. She has, and always will have, an immense amount of love from the people that know her."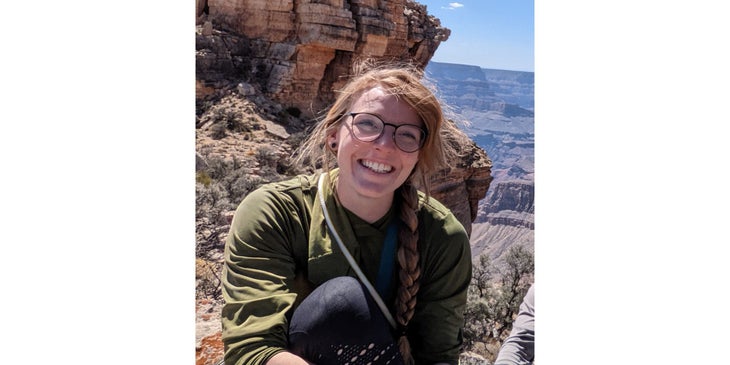 Trinity Robinson met Doolittle three years ago, "by what felt like more than sheer coincidence." While climbing in Las Vegas, Robinson met a climber, Chris, who recognized her from somewhere. Eventually, she realized they both were from southeast Wisconsin, and had met at Devil's Lake. When Chris and his partner Grant picked Robinson up to go climbing two days later, Robinson opened the car door to find Doolittle in the front seat, taking a Zoom call for her graduate class.
"Once Cass finished her call, she promptly began asking [us] numerous questions. I was immediately hooked by her overall stoke, the way she cared about what I had to say, and … how much we had in common. As it turns out, we played hockey against one another in high school, growing up just an hour and a half apart."
"She refused to let anything get in the way of her goals," said Robinson, "and, oh boy, did she have a lot of them. The whiteboard in her room in Vegas laid out her dreams and objectives including a timeline and partners. We shared a similar psyche, understanding, skill, and goal orientation, though, I was nowhere near as organized. We made plans that, to me, felt like unattainable dreams, but promptly started ticking them off."
By the spring, the pair had climbed in Joshua Tree, Red Rock, and Yosemite Valley. Though Doolittle had much less time to climb than many of her friends, amid a full-time schedule as a graduate student, "I swear she climbed more than almost anyone, including those living full-time on the road," said Robinson. "She would drive eight hours after Friday lecture or lab, sleep for four hours or so, climb the Rostrum the next morning, and return to Vegas by Monday. Sometimes, if she could swing it, Cass would take meetings while belaying and even multi-pitching."
The pair climbed together less in recent months, as Doolittle remained in Vegas to pursue grad school and Robinson stayed in Yosemite to climb full-time, but  "Cass' skill was skyrocketing," Robinson said. "She was doing everything she set her sights on and never gave up. It seems as though we both improved like crazy, leading up to our ascent of the Nose on El Cap in November 2021."
The pair had the wall almost entirely to themselves, and with dead phones they kept spirits high by singing songs from the Disney film Moana. "I was working at the Valley daycare at the time," said Robinson, "and Cass had the voice of an angel. If I do say so myself, it was one of the cutest ascents the Captain had ever seen."
The next spring, Doolittle went for the Nose in a day. "Of course, it was a success. It always seemed to be," said Robinson.
For Doolittle's birthday that May, the pair attempted a one-day ascent of the Regular Northwest Face of Half Dome. Despite a bungled approach, the team eventually fired up the wall, catching up to four separate parties. "I spent two hours standing on a micro ledge, on lead, waiting," said Robinson. "We were moving so slowly it was certain we would top out well past dark. We decided to chill and sleep on the wall, though not too much sleep was had on our little ledge."
"We spent that night watching the sun set behind the granite walls, talking about life, love, risk, and happiness. I always felt these were the best, most real talks I have had with almost anyone. We would be so exhausted that the feelings and words would just flow. Our friendship and comfort around one another grew past our climbing partnership. I know well that many of Cass' other partners felt this way too. She had steadfast emotional intelligence and genuine care for what you had to say."
Robinson last saw her close friend at Hidden Valley in Joshua Tree. "We frothed over the future with heart-eye emojis and, in my mind, I truly thought we would be those old ladies at the crag, still crushing, still psyched, still exuding a seemingly unstoppable youthfulness."
"As it turns out, this time of our twenties, this 'nothing can hurt us' energy is a farce. I naively thought this couldn't happen to us … In the grand scheme of time and partnerships, Cass' and mine was brief, yet resounding."
Robinson said she has recently found herself connecting with more and more of Doolittle's former climbing partners.  "[Her] stoke and kindness attracted so many wonderful humans, just as it attracted me … We all share an immense and unforgettable love for our partner. And we freaking miss her like crazy."
Family friend Desiree Bates set up a GoFundMe shortly after the accident to raise funds for Doolittle's recovery and funeral. The initiative has since vastly exceeded its fundraising goal, but an update from the family indicated that further funds will be used to "find a way to fuel the fires of other adventurers and explorers, the same way Cassy inspired the world of people around her … to support and honor the communities who [did so for] the woman that Cassy became."
In addition to her large and loving network of friends and climbing partners, Cassy is survived by her parents, Daniel and Pamela, younger sister Nichole, older brother Kevin, sister-in-law Amanda, and niece Quinn. At the time of writing, the Doolittle family had traveled to Argentina to recover their daughter's body.
In a tribute shared with Climbing, Doolittle's brother, Kevin, expounded on the meaning of "stoke" and how his little sister embodied the word. "It feels pretty much impossible right now, but we need to keep her fire alive," he said. "She would want my mom to feel the stoke when she is showing her horse Contigo this summer … She would want my dad to solo [pilot] his first airplane, and feel the stoke … She would want me and my little sister Nichole to grow close [and get stoked on] whale watching together…"
"She was taken far too soon… But if we can, and I know it seems totally impossible, we NEED to feel some of her STOKE, because that is what she would want."
In the close of her contributions to this obituary, Gardner recalled how shortly after Doolittle's 100-footer in Potrero, another climber, a schoolteacher, died in a fall while she and Doolittle were still there. "Everyone was shocked, but it didn't last," Gardner said. "Cassy couldn't stand how easily everyone forgot about the tragedy, and she wrote about it a lot. [She] wondered constantly if her fate would be the same after she passed."
"[Cassy] I love you forever," she wrote. "Not just for a little while. This love won't fade."
Lead Photo: Bailey Spears