Athlete Playlist: Climber Sasha DiGiulian
The first American woman to send 5.14d shares her five favorite pre-climb songs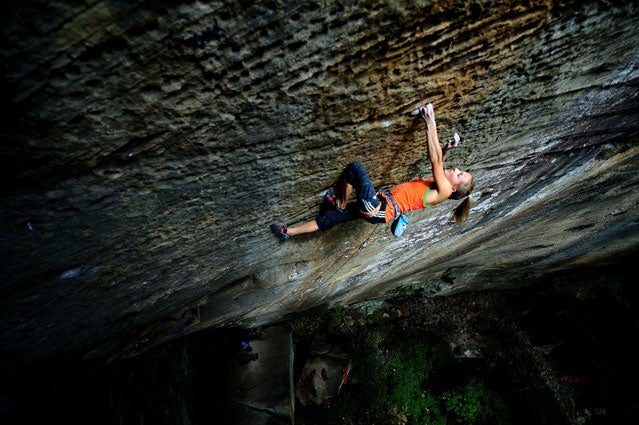 Heading out the door? Read this article on the new Outside+ app available now on iOS devices for members! Download the app.
In the space of one climb last fall, Sasha DiGiulian went from being a moderately successful comp climber to the most acclaimed woman on rock today. In October, the 19 year old from Virginia redpointed Pure Imagination—a 5.14d, 80-foot, heinously overhanging line of sharp crimps and pockets in Kentucky's Red River Gorge. The climbing media took notice, and within two months, she had landed on the covers of magazines in the U.S., Spain, Japan, and France.  DiGiulian had a banner year on plastic too, winning the overall gold at the World Championships in Arco, Italy. After a year of traveling and climbing in Europe and North America, DiGiulian will start classes at Columbia University this fall. She also has her sights set on becoming the first woman ever to send 5.15. "I don't think that it's an unrealistic goal in any way," she says. "But I do think it will be another process."
To get psyched up pre-send, DiGiulian listens to the following five songs.
5. Africa (Toto)
"It's such a classic song. It's one of those beats that's mellow, but fast enough to get you psyched to do something. You can play it anytime: leading to a competition, or after, when you're just hanging out."
4. Young, Wild and Free (Snoop Dogg and Wiz Khalifa, feat. Bruno Mars)
"I definitely experienced my fair share of media backlash this year—'Oh, Sasha is really thin, I wonder if Sasha eats.' Stupid stuff. I think that when I first saw that, I got a little self-conscious.  But I'm just living my life, Young, Wild and Free, and doing what I love to do, which is mainly climbing. With the negative stuff, there's a whole bunch of positive stuff out there."

3. The Edge of Glory (Lady Gaga)
"It's like you're on the edge of doing something really magnificent. I think that's a lot of why I like it. It just pumps you up to go do something cool."
2. Perfect Day (Hoku)
"That's from Legally Blonde. I'm not gonna lie, that's one of my favorite movies. It's one of those songs where when you're driving down the highway you're gonna turn your music up to the maximum and jam out to it."
1. Like A G6 (Far East Movement)
"I have no idea. Wait, let me ask my friends. (In background: Do you guys know what a G6 is?). It's an airplane. Like, a huge airplane. I guess it has to do with popping bottles on an airplane?"
Download the full, uncut playlist on iTunes

Trending on Outside Online