Buhler's Monster Mountain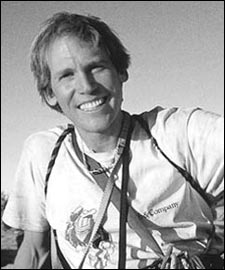 Heading out the door? Read this article on the new Outside+ app available now on iOS devices for members! Download the app.
Throughout the course of his 34-year mountaineering career, Carlos Buhler has been forced to overcome challenges. An American who now resides in Montana, he has experienced both victory and pain on some of the highest mountains in the world. He's noted for tallying first ascents on Dorje Lhakpa, Kangchenjunga, and Everest's Kangshung Face. However, none of the ferocious peaks in the Karakorum have affected him like K2. During each of his three summit attempts, the mountain exacted a severe tax, nearly killing him in 1994, and claiming his friend and climbing partner, Igor Benkin, on their descent in 1996. But even though he was painfully aware of the risks, Buhler just couldn't keep away. In light of Outside's November 2003 cover story on K2, "The Mountain of Mountains," we decided to catch up with Buhler, to discuss his fascination with the meanest mountain on earth.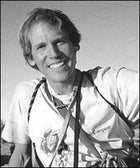 Veteran climber Carlos Buhler

Outside Online: You made three attempts at K2's summit, finally completing the goal in 1996. Can you describe your feelings that day on the mountaintop?
Carlos Buhler: Attaining the summit was not something I always set out as a goal for myself. When I didn't summit via the Abruzzi Ridge in 1989, I knew I'd be back. The mountain grabs you; it occupies your thoughts. Because of the weather, I knew I could go seven or eight times and not make it. Our route in 1996, along the North Ridge, was no guarantee of success. To date, less than 30 people have summited via that route. When I finally made the summit, the feeling was: "Holy smokes, we came so close in 1994, I don't know if it was worth coming back." Why was that?

I fully understood that each time I went back, the risk of dying on the descent increased enormously. On every trip, I saw someone close to me get killed. K2 was a wonderful goal for me to have—it gave me a tremendous path to follow in my life. It was a gift, but I was lucky I survived.


On your 1994 expedition, you attempted a new route along the West Face with Wojciech Kurtyka and Krzysztof Wielicki before traversing to the South Spur and continuing up to the Shoulder. There, you met Rob Hall and Michael Groom and attempted the summit but stopped within 100 feet of it. Why did you turn back?

We were exhausted from attempting the West Face for a month. This was going to be our last attempt and we knew it. Hall, Groom, and Veikka Gustafson had come up the Abruzzi Ridge. Wojciech decided to stay on the Shoulder, saying he was worried about frostbite. The other five of us continued toward the summit. Around 5 p.m., thinking we were still an hour away from the summit, we decided to turn back. It had started to get dark and we were out of time. Hall, the only one with supplemental oxygen, continued toward the summit.


What happened on the descent?

Hall caught up with us about 90 minutes later. He had made the summit only 20 minutes beyond where we stopped. Kryzyztof and Veikka decided to solo down to the Shoulder, while Groom, Hall, and I used ropes to get past the Bottleneck, a slick, steep gully. It got darker and darker; we only had one headlamp between the three of us and it was difficult to see. Hall had run out of oxygen near the summit, and the thin air started to effect him. His legs started failing him. During parts of the descent, Groom and I had to help him walk. If we'd left him there he would've died. We weren't roped in and the slope was very steep—if you slipped, you wouldn't have stopped. After nine hours, we made it back to our camp on the Shoulder.


Did you feel safe once you made the Shoulder?

No. The weather was starting to turn. All of us had friends who had died on the Shoulder during a storm in 1986, and that was on everybody's minds. The same night we got back to camp, several Ukrainians tried to climb up in the trail we'd broken through the snow. They got caught in a storm above the Bottleneck and died of exposure.


K2 has a higher mortality rate than most Himalayan mountains, including Everest. Why is it such a draw for climbers?

It's an enormous puzzle. It gets to the heart of why people climb in the first place: to challenge themselves intellectually and physically. K2 embodies that: To make the summit, you need to make all the right chess moves against a very formidable opponent in Mother Nature. Then, you have to have the physical strength to carry out those moves.


How have your impressions of K2 changed since you first laid eyes on it?

When I first saw K2 in 1983, two words came to mind: big mountain. It is a beautiful mountain, but it doesn't look spectacular like Changabang, Gasherbrum IV, or Cerro Torre. It's just huge in bulk and size. You see a lot of ways you could kill yourself up there. After my final expedition there, I came away feeling that K2 was not a friendly place. It was a place I never wanted to set foot on again, a place that made me worry when my friends went there. It was a dark corridor, and if someone chose to walk that dark corridor, I knew they wouldn't come to a happy place.


How do you see the K2 experience changing in the future?

I expect its popularity to grow in the future. K2 can be made accessible with fixed ropes, much in the way Everest is today. The guides exist who could fix such ropes, but it would be an expensive venture. Like the Seven Summits, I see there being a push to climb the second-highest summits on every continent as well. Humans are wired to outdo each other. I'm not against commercial expeditions to K2, but the experience will evolve into something different.


What does someone who has summited K2 and made the first ascent of Everest's Kang Shung Face do as an encore?

Since climbing K2, I have found great satisfaction in exploring these less visited nooks and crannies. I would much rather spend my energy making the ascent of some little known peak than going back to areas that have become quite popular. Ama Dablam and Cerro Torre are beautiful places and worth going to, but I also have found tremendous joy in exploring areas off the beaten track.