Can you give this climbing newbie a crash course in carabiners?
I'm new to climbing and have been to several stores both local and online looking for gear. I concerned with safety and see all different brands (SMC, Petzl, Omega), shapes, materials, and sizes of carabiners. Which one is best? Don Bellingh, Washington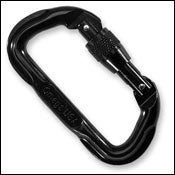 Heading out the door? Read this article on the new Outside+ app available now on iOS devices for members! Download the app.
It's certainly true that the store racks have all sorts of carabiners—big locking ones, cute little shaped carabiners with wire gates, D-shaped, oval-shaped (not so common today), different colors.
Omega Pacific Locking Standard D

Locking Standard D Carabiner
But really, it's ultimately pretty simple. Any name-brand carabiner such as the ones you mention is going to be safe if used properly. Carabiners, ropes, and climbing harnesses are all extensively tested to meet standards approved by the European Union, the UIAA (the International Mountaineering and Climbing Federation), and other groups. They're also all rated to specific strengths defined in kilonewtons, which measure the force applied to a device as a function of weight, velocity, and gravity. You weigh 150 pounds, but when you fall and hit the end of the rope or anchor you exert kilonewtons, and that may be 10,000 pounds or more.
So here's a simple way to do this. For your climbing harness and your primary connection to rappel devices, belay devices, ropes, and everything else, use a big locking carabiner such as Omega Pacific Locking Standard D ($11; omegapac.com). This is a beefy carabiner with a locking gate so it can't be opened inadvertently. The Petzl Attache Screwgate ($13; en.petzl.com), and the Black Diamond Positron Screwgate ($11; bdel.com) work as well.
For all your slings and carabiners used for cams, stoppers, friend-type devices and the like, most any lightweight non-locking carabiner will work well. Black Diamond's Livewire ($9; bdel.com) has a wire gate and anodized aluminum body for light weight and strength. The Trango Superfly ($9; trango.com) or DMM Spectre ($11; dmmclimbing.com) are similar in design and strength. I'm inclined to suggest you get ALL of one design or another, so they all feel the same in your hand.
The biggest safety issue of all, of course, is how you go about your climbing. If you're just starting out, connect with a group that offers competent instruction, such as the Mountaineers in Seattle. And always remember the words of that superb mountaineer Ed Viesturs: Getting to the top is optional. Getting down is mandatory.
You've seen our picks for 2007 Gear of the Year, and now the entire
Outside Summer Buyer's Guide is online. Check out this year's more than 400 must-have gear items, including climbing gear.