Checking In On The World's Strongest Ice Climber
Heading out the door? Read this article on the new Outside+ app available now on iOS devices for members! Download the app.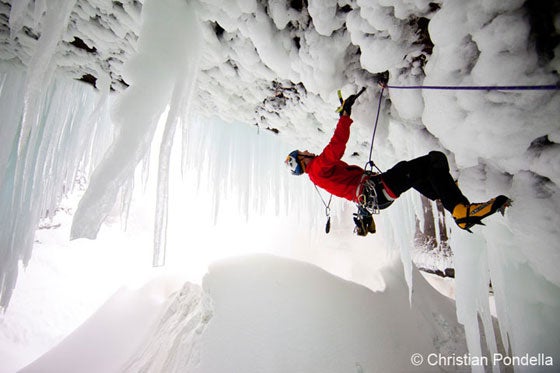 Will Gadd on Spray On. Photos: Christian Pondella
Will Gadd may be the world's strongest ice climber. Consider: Gadd's latest project, a radically overhanging route in British Columbia's Wells Gray Provincial Park dubbed Spray On which he and partner Tim Emmett sent in 2010, came in at a rating of WI10—three grades harder than the world's previous hardest ice climb. If you're not convinced, he's also won three X Games gold medals and the ice climbing World Cup, climbed 25,000 vertical feet in 24 hours at last year's Ouray Ice Festival, and made the first one-day ascent of the highest mountain in the Canadian Rockies, solo.
Earlier this year, Gadd returned to Wells Gray with filmmakers Josh and Brett Lowell of Big UP to put up a five-pitch extension to Spray On and film a segment for the 2011 Reel Rock Film Tour. He spoke to us from his home in Alberta to tell us more about his new project and what global warming means for the future of ice.
—Adam Roy
@adnroy
You've probably climbed more kinds of ice than anyone on earth. You've done waterfalls, alpine, mines, spray ice, ice competitions, icebergs. Where do you think the future of ice climbing is?
Like any sport, there'll always be the really ragged edge. With surfing, you've got tow-in, but most people are going to keep going out to their local break. Ice climbing's the same way: most people are going to keep climbing really nice frozen waterfalls.
But the 'frozen edge' of ice climbing, I think, is spray ice. There's nothing else out there that's half as interesting to me right now. I've found another half-dozen great locations all over the world. People just haven't been looking at it as a climbing environment.
Let's talk about Spray On. From what I understand, it's a cave behind a waterfall that's frosted with spray ice.
The waterfall comes off what's call Helmcken Falls. It's a 450-foot waterfall that comes off a lip and just plunges. It's one of the most spectacular waterfalls in the world, I think–and I've seen a few. You could fly a Cessna around this waterfall. It's a long, long way out.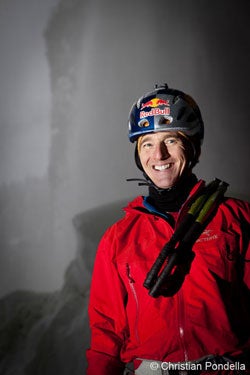 What happens in winter is some of that spray bounces back and attaches to the wall behind that waterfall. It's huge back there, and it's coated with ice, which ranges from an inch thick to many feet thick. It's like nothing else on earth I've ever seen.
How did you first come across it?
I blame the Internet for a lot of the problems in my life. I saw a picture of this thing. Someone had written something along the lines of if you were completely crazy you could climb it. But I had a really hard time finding anybody that would go there with me.
A photo can't really capture the scale of the place. But I finally found a friend that was psyched to go, and that was the end of it. I don't really have a lot of interest in other forms of ice climbing anymore. After a lifetime whacking icicles, this is a new game.
The first time you went there, you bolted a single one-pitch route. You said you were going to go back this year and try to expand it. How did that go?
There are all these funny things you have to overcome to get going. Like, how do you find the bolts, because they get covered with this meringue ice? So I went to our equivalent of Wal-Mart and bought a metal detector. You see the old guys on the beach [with metal detectors], right? Well, here's another old guy with a metal detector trying to find the bolts on an overhanging wall. And it worked.
What's it like to climb ice that's that soft? You called it "meringue ice".
Yeah, meringue or hard Styrofoam. It's interesting because it accepts picks pretty well, but you have to swing in the right spot for it to hold your weight. Each placement is kind of a time bomb. I remember this video game I used to play when I was a kid where you'd put a sucker on the wall and climb up, and you only had so many seconds for each suction cup before you plummeted. It was kind of like that with ice. The falls can be pretty serious. Although it's bolt-protected, it's not really safe sport climbing.
It's just such a huge perspective shift. Water doesn't really freeze in overhanging ways. It's water, it goes down. But the less-steep stuff in there is overhanging by maybe 10 or 15 degrees.
You're also a very accomplished kayaker and paraglider pilot. How did you get started doing all these sports?
My parents were climbers, so when I was young I would get out with them. But caving was really the first sport I got into on my own. I was 14 and there was a good caving community where I lived, so I'd go on trips with these guys on the weekends. Then some of them were kayakers, so I got into kayaking. It's been kind of a serial obsession, you know? I'll climb really hard for three or four months, then fly really hard for a month or two, then do another sport for a month or two, and then start it all again. You can't get good at anything if you're doing everything at the same time.
Considering that you do all these risky sports, how do you negotiate that space between being a high-level athlete and being a responsible parent?
That's something I think about a lot, and it's changed the equation. I don't solo alpine climbs anymore, I don't solo waterfalls anymore. But you know, I kind of had kids when I was no longer interested in running that level of risk anyhow. I pay a lot of money in life insurance, and I try to set my life up so that if something went wrong my family would be more or less OK. There's no easy balancing of things.
I quit BASE jumping because I didn't think I was ever going to be skilled enough to have a reasonable [safety] margin in that sport. I've walked away from a lot of climbs. Over half of what I go out to do I don't succeed at, but people don't see that. The average day for me is a failure
We hear a lot today about shrinking glaciers nowadays. Do you see a change in global temperatures or weather patterns affecting your climbing?
Yeah, global warming is pretty bad news for a professional ice climber. I don't know if I buy into the whole global warming thing or not, but what I do buy into is that something weird is going on that's really messing my world up. I kind of look at it like a climb in that there's this huge risk out there. Nobody knows what's going to happen if you pump this much carbon dioxide into the air. It's just not a good idea.
I see the glaciers retreating dramatically. Some of them are literally miles back from where they used to be when I was a kid. I look at the people who say its not global warming, and most of them usually have an agenda of some kind.
https://youtube.com/watch?v=DCVcyKeULAg%C2%A0
A few years ago, you went ice climbing in a mine in Sweden. I remember seeing pictures of it after you did it, and it seemed like such an insane idea.
The idea of climbing in these mines came out of global warming. Or unusual weather, let's call it that. I was trying to go ice climbing, and everything was melted. A couple of Swedish ice climbers had actually been in these mines. They emailed me some photos and I was like "all right, I'm in, let's go try this."
It was kind of a weird combination of climbing on these old abandoned mining bits and pieces. The ice forms like an onion skin, where a new layer goes on every year, so it tends to be a little bit unstable. These mines are everywhere in Sweden. If it does get warmer, they're probably going to be the only place to go ice climbing.
As climbing becomes a more mainstream activity, do you feel like you're seeing less environmentally-conscious climbers out on the rock or on mountains?
There's more money in outdoor sports now than ever, and money always brings problems. I think that in the greater ranges–the Himalayas and the Andes and stuff–money's just bringing more people into that environment. The alpine is a really fragile place, and if you put more people in the alpine it's going to take a beating. Whether someone leaves an oxygen cylinder on Everest or not, that's not a big deal. The bigger problem was the jet that brought everybody there in the first place. That's doing far more damage to the atmosphere and the world than the actual climbing.
Climbers tend to get their knickers in a knot about the irrelevant. It's ugly as hell in a lot of the Himalayas now, but the real problem is the people going there. You can't buy a pardon by taking out a sack of trash.