Chris Waddell's Climb: After the Summit
Heading out the door? Read this article on the new Outside+ app available now on iOS devices for members! Download the app.
This is the start of the third day since we came off the mountain. I'm finally starting to feel semi-normal. The first two days, I had trouble getting out of bed. I hadn't really slept in two weeks, and getting out of the shower–well, I finally exited when the plastic deck chair used started to lose integrity.
On the mountain, I just pushed through everyday. The pain didn't really register until I stopped. With that pain comes the significance of my effort. My nose is peeling. My lip is split and still painful, especially when it touches toothpaste. I have a persistent tickle cough from the exploding dust on the mountain. But the muscle and joint pain is starting to subside.
For the first two days I felt like I'd been hit by a truck. My wrists felt almost fused. It seemed like someone had hit me across the back of the shoulders with a baseball bat. I pushed at a quarter speed, looking like someone with a delicate, brand new spinal cord injury; a state I still remember being in. It felt like the residual of a marathon: tons of early-season intervals and being sick to the point that my face was puffy, my mind was foggy, and all I wanted to do was sleep.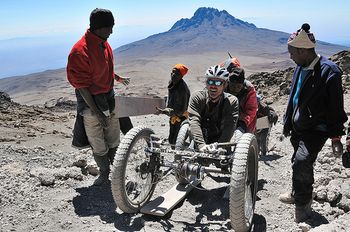 My experience might have been extreme in relation to the rest of the team, but they all worked so hard on the mountain, too. Doing their jobs meant that they climbed many sections of the mountain more than once, and often at pressing speed. I think they're all feeling it a bit more than they're showing, which is a testament to their collective resolve since we didn't stop after we left the mountain.
Early the first morning we visited Mobility Care to meet the first three recipients of Mobility Revolution's wheelchair donation. One individual was unable to make it, but the other two confirmed our efforts. Zachariah, who is from Arusha and sells vouchers for cell phone minutes there, received a three-wheeled handcycle constructed by Mobility Care. A couple years ago he had osteomyelitis in his hip, which affected bone density in his hip and femur. Instead of being an isolated malady, his whole body has been affected, giving him the look that his neck and wrists have been fused. He has to turn his whole torso to look at you. His hands almost look like those of a quadriplegic, even though he didn't tell us of any nerve damage. We hope that with the handcycle he will use more muscles and give his wrists and neck a bit of a break.
Nine-year-old Masufu has a heart-breaking story. He has kidney failure and there are only two dialysis machines in all of Tanzania (as we've been told). He has lost one leg from the kidney failure already, and his body looks painfully swollen. To pressure the family even more, his father died 10 days before we met him. As he sat in the chair for the first time, I asked him what he wanted to do. He said that he wanted to go to school. Why? Because he wanted to become a doctor–specifically, a pediatrician because they work with children.
Later in the day we did a press conference for Tajiri with seven members of the Tazanian press.
In the fall of 2009, Chris Waddell attempted to summit Kilimanjaro.Sounds like a basic goal, until you consider that this star athlete andparalympian sought to conquer the 19,340-foot-high mountain without the useof his legs. Waddell's aim was to become the first paraplegic tosummit Kilimanjaro, the tallest freestanding mountain in theworld, unassisted. While he did summit successfully, he did not do so completely unassisted. But he did reach the ultimate goal of bringing attention to his cause, One Revolution. He wrote a series of dispatches on this expedition for Outside Online.
Trending on Outside Online