Legendary Himalayan Journalist Elizabeth Hawley Dies
Generations of climbers, journalists, and scholars relied on her reporting from the foot of the world's 8,000-meter peaks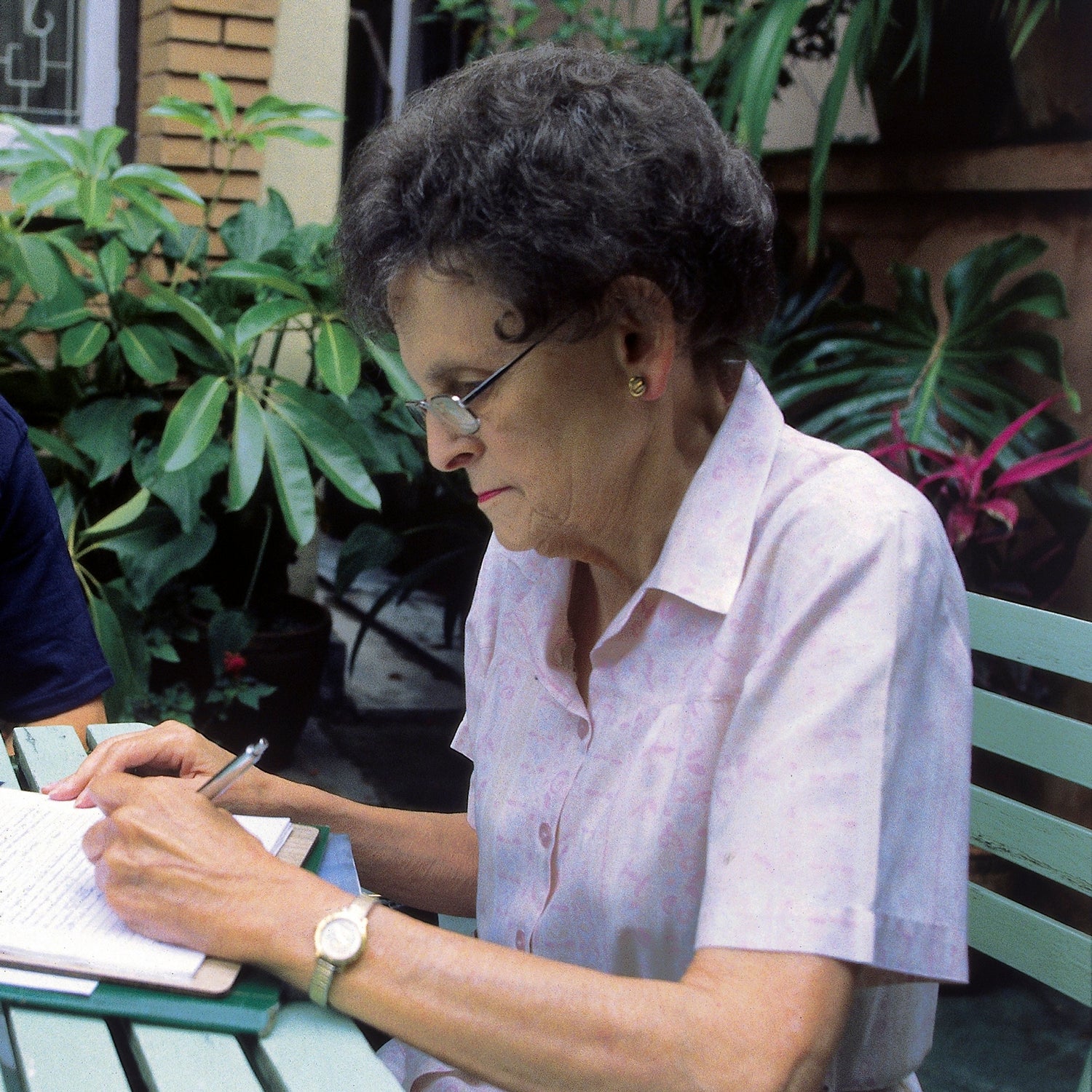 Heading out the door? Read this article on the new Outside+ app available now on iOS devices for members! Download the app.
She stalked mountaineers at the arrival gates of Kathmandu's tiny airport, paid guesthouse receptionists for tips on the climbers' whereabouts, and pestered guide companies to divulge schedules.
Since 1960, Elizabeth Hawley—a tenacious, exacting Kathmandu-based journalist—interviewed virtually every high-altitude climber to pass through the city, sussing out whether their claims were true and using her notes to create the sport's most thorough record, called the Himalayan Database. 
She passed away Thursday afternoon at the age of 94. Climbers, colleagues, and friends around the world mourn her loss and remember  her fondly. 
"At age 91, she was still getting into her baby blue VW bug and going to hotels and grilling climbers," Mount Everest blogger Alan Arnette told Outside. "She kept a lot of people honest."
Kunda Dixit, now the editor of the Nepali Times, filled in for Hawley as a stringer in the 1980s. "Liz didn't suffer fools, she wanted everyone to meet her exacting standards," he says. "As a rookie journalist, I couldn't have wished for a more effective mentor."
Ang Tshering Sherpa, the former president of the Nepal Mountaineering Association, recalled how Hawley was more than a tough reporter. She once helped his team save a climber trapped on Mount Everest. "In the middle of the night, she was in touch with us, providing valuable suggestions on how we could rescue him," says Ang Tshering. 
Journalist Billi Bierling, Hawley's assistant, originally intended to work for Hawley for a year. Instead she stayed for 14. "I'm gutted," she said from the Dubai airport, en route to Kathmandu.
It's hard to imagine what Hawley would think of all this. Those who knew her remember a woman not given to sentimentality. She was born in New York City in 1923. After she received her master's from the University of Michigan, Hawley became a researcher at Fortune magazine, but couldn't imagine a future there. In 1957, she quit to travel the world—visiting places like Algeria, India, Hong Kong, and, of course, Nepal. Upon returning to New York, she had an epiphany. Kathmandu wasn't just more "real." It was also more comfortable, pleasant, and fun. She returned to the city with assignments from Time magazine and Reuters, and promptly established herself as a correspondent.
Even though she lived at the base of the biggest mountains on the planet, she didn't desire to test her human-endurance limits. She rarely, if ever, trekked. She was too busy working.
A story of hers about the death of Nepal's prime minister made the front page of The New York Times. Big, newsworthy expeditions started arriving in the 1960s. Thirty years later, the number of climbers had skyrocketed. She occasionally found herself in the middle of controversies, such as the 1996 disaster chronicled by Jon Krakauer in his best-selling book Into Thin Air. ("Jon Krakauer, he was very kind, very patient, spent a long time with me," she once said.) A small group of assistants and supporters joined her in Kathmandu, including Richard Salisbury, a retired climber and computer whiz from Ann Arbor, Michigan, who digitized and catalogued Hawley's room full of files. 
She spent much of her time in the city reporting, using up significant chunks of her not-large income to do so. Her beloved VW Beetle became a fixture in the city. As I noted in my 2011 profile of Hawley for this magazine, her information came to be relied upon by newswires, scholars, the Nepal Mountaineering Association, the American Alpine Journal, European climbing publications, and the world's best mountaineers. "If I need information about climbing 8,000-meter peaks, I go to her," Italian climbing legend Reinhold Messner told me.
One day, when she was in her 70s, she realized she was struggling to gauge distances, so she handed over her license, quit her favorite pastime, and hired a driver. Her career as a chronicler ended just as decisively. In the middle of an interview a year and a half ago, her mind went blank, Hawley's assistant Bierling said, something that had never happened before. Hawley quit conducting interviews shortly thereafter. 
She held others to high standards, and she wasn't going to lower them for herself. Nor would she indulge in nostalgia. Bierling recalled asking her what it felt like to give up working on the Himalayan Database, something she was clearly so passionate about.
"Passionate? I'm not passionate about anything, certainly not a database," said Hawley.
So why then did she carry on for so long?  
"I started something," she said. "And whenever I start something, I finish it."
Lead Photo: Golob/Anzenberger/Redux