Sponsor Content
Climbing Curious? Give Bouldering a Try.
It's as simple as packing a few pieces of gear and inviting your friends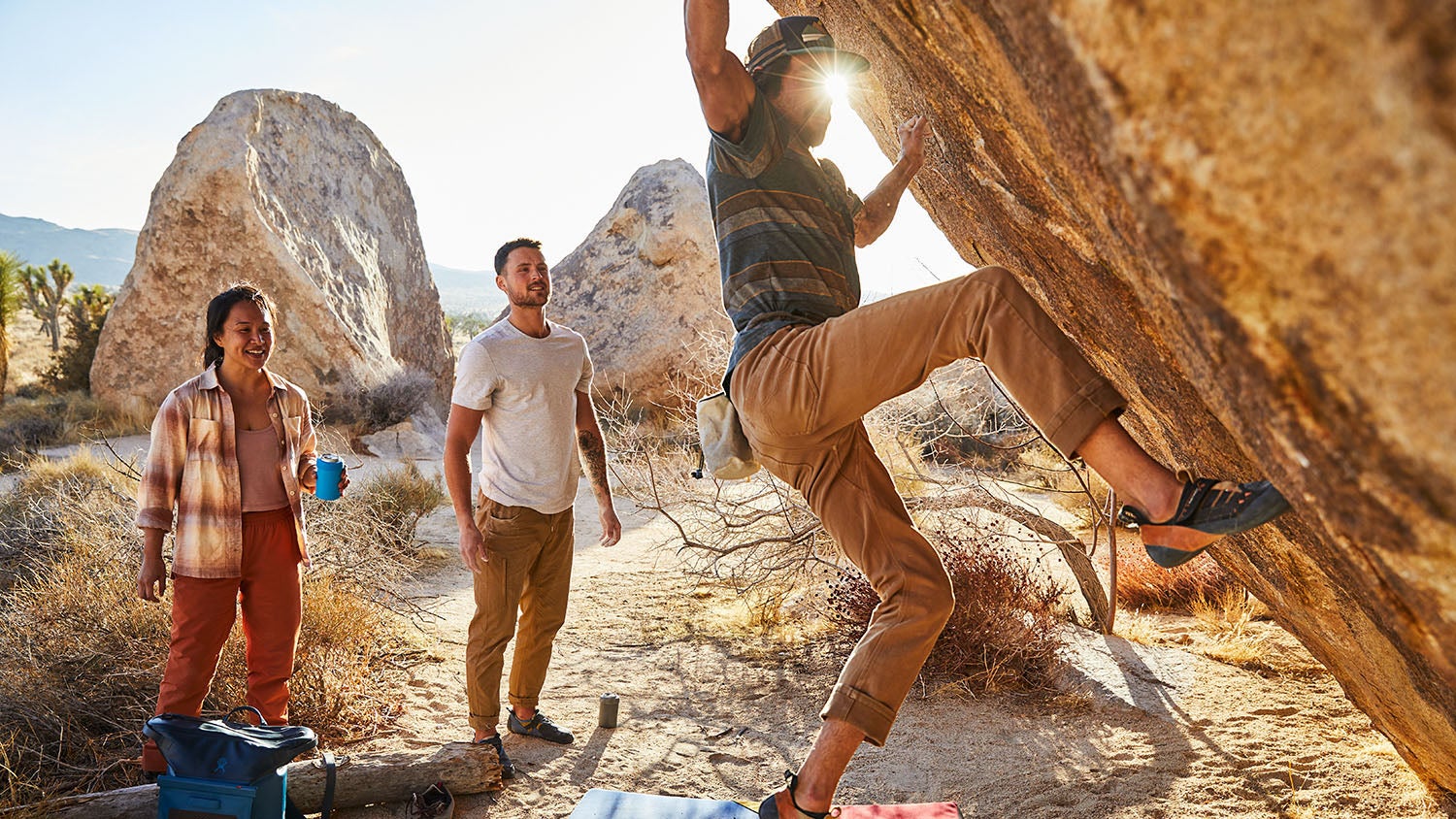 Climbing is one of those activities you can practice for your whole life. But it's not always obvious how to get started. Good news: bouldering has become a popular subgenre for its approachability, and it's now easier than ever to give it a try. Plus, the room for growth is infinite. "It's such an interesting sport because you literally never stop learning," says professional boulderer and Hydro Flask ambassador Alex "A.J." Johnson. "Nothing is the same twice." So why not start now? Here are five reasons you should try bouldering.
Climbing Gyms Make It Easy to Start
A lot of climbers—including Johnson—were introduced to the sport at climbing gyms, which are opening at record rates all across the country. Plastic holds, color-coded routes, thickly padded floors, and expert staff make them safe environments for learning. You can also take classes to learn how to fall, spot, downclimb, and build strength. "The gym gets you comfortable with gear, terms, lingo, and movement, and it helps you find a community," Johnson says. "By surrounding yourself with other climbers, you'll naturally get acquainted."
The gym staff should give you a quick lesson on the various bouldering grades, too, although most routes go by the V-scale—named after famous boulderer John "Vermin" Sherman. "The lower the number, the more accessible the climbing," Johnson says. A V0 is usually a good place to start. 
Boulders Are Closer than You Might Think
If you don't live close to an indoor climbing facility, no sweat. There are plenty of easy boulder problems outside, too. Rely on resources like the route-sharing site/app Mountain Project, guidebooks, and your local gear shop for recommendations on where to go nearby. Where Johnson lives in Salt Lake City, boulders are right along the road. Other routes require hiking in. Just be mindful of your impact. Pick up your trash, stay on the trails, and respect closures. "You always want to leave the area better than you found it," she says.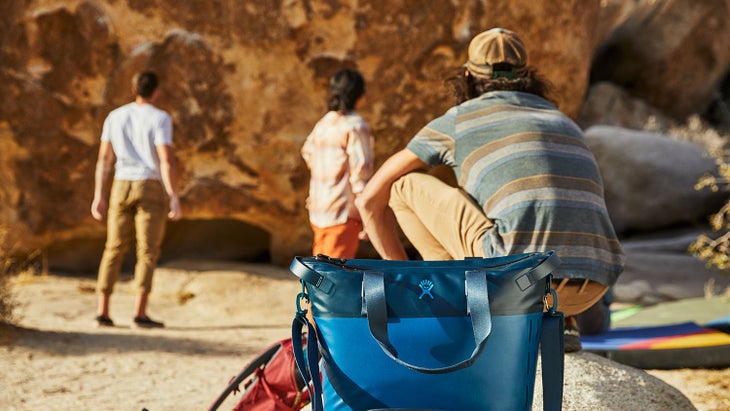 You Only Need a Few Things
To start, you really need just three pieces of bouldering-specific gear: a crash pad for cushioning your falls, climbing shoes for protecting your feet and helping you stick to the rock, and chalk for giving you a better grip. Stores and climbing gyms usually offer rentals at an affordable cost, so you can try them out first before you commit. "It's why bouldering is so accessible and probably the fastest-growing discipline in the sport," Johnson says. 
Then, as always, keeping hydrated and fueled is essential. At roadside crags, Johnson relies on her Hydro Flask 20 L Day Escape Soft Cooler Pack to keep food fresh and shareable beers chilled. When she's hiking to a crag, she brings along the 32 oz Lightweight Wide Mouth Trail Series because it doesn't weigh her down when she's carrying her crash pad and other gear. On colder days, she'll keep coffee or tea hot in something insulated like the 12 oz Coffee with Flex Sip Lid.
It Can Be Either a Solo or a Social Sport
Because you're not relying on a belay partner, you can go out to the crag or gym alone, which is nice when you can't sync up with a partner. But bouldering is more known as a hypersocial sport because climbers like to gather and cheer one another on. It can feel intimidating to be watched, but Johnson offers some words of encouragement: "Seeing somebody really going for it at their limit, regardless of the grade, is the coolest thing."
Bouldering Strengthens Your Body and Your Mind
Bouldering can be really hard physically, which makes progressing much slower than in other sports. Rather than get discouraged, reframe the mellower pace as an opportunity to practice patience and enjoy moving your body in a new way. 
"You're improving every time you go, whether or not you feel like you're getting stronger," Johnson says. Try picking up a new lesson every session—a little something about your physical, emotional, mental, or spiritual state. She says, "You could repeat the same climb ten times in a row and something would be subtly different every time."
---
Since 2009, Hydro Flask has designed gear that happily goes where you do and stays the perfect temp til the outdoor adventure is over. Today is wide open. And we're up for anything. #HeyLetsGo