Dave Morton Is Quitting Everest. Maybe. (It's Complicated.)
After two years of unimaginable tragedy, everyone from outfitters and Sherpas to would-be climbers and the Nepalese government is questioning the future of commercial mountaineering. And then there's Morton, a veteran guide who spent the past year asking: What happens when you try to leave the world's most lucrative mountain forever?
Heading out the door? Read this article on the new Outside+ app available now on iOS devices for members! Download the app.
The ground beneath you can shift at any moment.
For David Morton, it happened when he was going to see about some yaks. On April 25, 2015, the mountain guide and photographer, who is now 44, walked out of Thame, a small Sherpa village in the Khumbu region of Nepal. He knew the route well. Since 2001, when Morton began working in the Himalayas—first on Cho Oyu and Ama Dablam, and then on Mount Everest as lead guide for Seattle outfitter Alpine Ascents—he had based countless trips out of the Thame Valley, a regional hub of about 1,000 people. One of his mentors and closest friends, Lakpa Rita, the legendary sirdar, or lead Sherpa, for Alpine Ascents and a 17-time Everest summiter, hails from the area and has hired many of its men to work as high-altitude porters. Back in Seattle, Lakpa Rita's daughters occasionally babysit Morton's five-year-old son, Thorne.
Last spring Morton, who has summited Everest six times, was in the place he calls his second home, preparing to guide a client up a lesser known 6,000-meter peak called Kyajo Ri. The client, a golf coach from North Carolina, stayed at a lodge in Thame while Morton went to sort gear in a nearby village called Thamo. That's where the yaks were.
He was having tea with friends when things in the building began to shake. Slowly at first, then with unmistakable fury. The group ran outside, where Morton's friends watched their home buckle in a 7.8-magnitude earthquake. After the shaking subsided, Morton and his friends checked on neighbors, but everyone was fine. The damage in Thamo was surprisingly light. Most of the homes managed to stay upright.
The same couldn't be said for Thame. When Morton hiked up to within viewing distance of the town, which sits on a flat plain, it was as though a bomb had gone off. Most of the houses were down; one now consisted of nothing more than a blue door that somehow remained standing. A friend's aunt was killed. Morton is accustomed to both triaging and consoling accident survivors, but by the time he arrived in Thame, about an hour after the quake, there wasn't much to do. He checked on his client, who was rattled but unscathed. When the sun set, everyone in town lay down in a field and tried to sleep between aftershocks.
Low clouds covered the sky the next day. Morton took out his camera to survey the destruction: downed buildings, a family sitting atop a tarp in a soft drizzle. An aftershock triggered an avalanche on a nearby pass. Word began to circulate that something similar had happened some 15 miles to the northeast: the earthquake had caused a hanging serac to fall above Everest Base Camp, unleashing a slide that killed 22. As Morton was helping a friend clear personal effects out of a ruined house, a 6.6-magnitude aftershock hit and again Thame shook. Two girls standing next to him began to scream. In that moment, he experienced two visceral reactions.
The first was the desire to be near his wife and son.
The second was a deep relief that he wasn't on Everest.
In past years, trauma on the world's highest peak had triggered the part of Morton's brain that says: Go help. But Morton had been on the mountain in 2014, when an avalanche in the Khumbu Icefall, the shifting glacier between Base Camp and Camp I, killed 16 Sherpas. Now, standing in Thame, he imagined the chaos at Base Camp—the search for bodies and the whump-whump-whump of helicopters arriving for the injured and the dead. Soon those same helicopters would be carrying in hungry TV reporters. He thought, I'm so glad that I'm not there.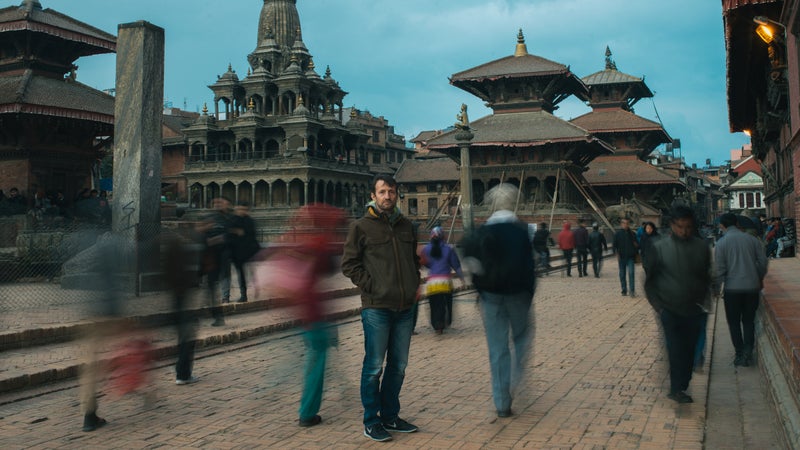 Guilt quickly followed. Since 2012, Morton has run the Juniper Fund, a nonprofit that financially assists the families of Nepalis who die while working in the mountains. In the 2015 earthquake, at least ten Sherpas died on Everest and many more were injured; why didn't Morton wish he was helping triage the carnage? When he returned to the states a few weeks later, he kept stewing. Morton is five foot nine and muscular, with crow's feet around his eyes and a thoughtful manner. When off the mountain, he reads pop-philosophy books (Alan Watts's The Wisdom of Insecurity is a favorite) and speaks quietly, often in long and elliptical sentences that can turn in on themselves, causing him to question his original point. "I can maybe think things over too much," he says. It occurred to him that he might be finished with working on Everest.
In May, he read an article in Vanity Fair by Sebastian Junger about the challenges facing returning soldiers. Junger, who had recently quit combat reporting, covered not just the effects of post-traumatic stress disorder, but also the more complex issue of rebuilding one's identity without a single adrenalizing purpose. "What all these people seem to miss isn't danger or loss, per se, but the closeness and cooperation that danger and loss often engender," Junger wrote. This hit home. Morton knew that if he left Everest, he wouldn't miss the crowds or egos. He felt less sure, though, about how he would fare without the need for urgent collaboration that arrived on the roof of the world with the regularity of the monsoon.
Not long afterward, a filmmaker from Seattle called with a proposal. He was planning to take some veterans, one suffering from PTSD, up Everest. The project had the potential for great publicity. In fact, some of the guys knew Junger. They needed a cameraman with experience on the mountain. Did Morton want the job?
He said he'd think about it.
---
People have been following ghosts up Mount Everest ever since George Mallory and Sandy Irvine vanished on the mountain's flanks in 1924. A front-row look at death is part of the allure: you climb in order to taste mortality and, should all go according to plan, defeat it. Following many of the highly publicized tragedies, including the deadly Into Thin Air events of 1996, the number of commercial outfitters on the mountain has actually increased. After the 2006 season, in which 11 people died, the number of Everest climbers increased from 447 to 572. "There's always been a disaster mystique," said Jennifer Peedom, director of the 2016 documentary Sherpa, who spent three seasons filming on the mountain. "The worse things that happen, the more people come." The fact that inexperienced climbers could join the parade, given the lack of regulation, only contributed to the chaos, creating a deadly feedback loop.
But this spring, the impossible seems to have happened: Everest's mortality fetish has reached a limit. Following three disastrous years on the mountain's most popular south side, in Nepal, its reputation has hit bottom. In 2013, an ugly fight broke out between Sherpas and Western climbers, exposing one of the mountain's worst-kept secrets: that a new generation of Nepali high-altitude workers no longer see themselves as subservient to traditionally dominant Western outfitters. Then came the 2014 avalanche, which was the deadliest day in Everest history—for precisely one year and one week, that is, until the earthquake of 2015.
The bad luck, bad moods, and bad press have had an impact. I spoke with a couple of Western guides who complained that they'd been vilified by the media over the number of Sherpa deaths on the mountain. Guy Cotter, the CEO of Adventure Consultants, who helped produce Everest, the feature film about the 1996 disaster, bemoaned the media's "reverse racism" in attacking Western guides while ignoring the culpability of low-cost Nepali outfitters who sometimes fail to provide for their workers. Dave Hahn, an Outside correspondent and lead guide for RMI Expeditions, who has summited 15 times—more than any other non-Sherpa—told me, "We're blamed for the quake, for economic disparity. Could you do much more to make Everest unpopular?"
This spring, the impossible seems to have happened: Everest's mortality fetish has reached a limit.
Actually, yes. An ongoing fuel crisis in Nepal, brought on by a political power grab following the earthquake, has persisted since last fall, contributing to uncertainty about the stability of the country, not to mention the availability of rescue helicopters. I spoke with ten outfitters, most of whom said Everest bookings across the industry are down by about 50 percent. At least two major operations, RMI and Benegas Brothers Expeditions, have canceled their 2016 seasons entirely. A third, Mountain Madness, had been thinking of returning to Everest following a seven-year hiatus but after the earthquake decided to hold off at least another year. "People are in a waiting pattern," said American guide Adrian Ballinger, the owner of Alpenglow Expeditions, which offers high-end trips on the less frequently climbed Chinese side of Everest. Even though the Chinese route wasn't struck by avalanches, Ballinger said, "Many of my clients who should be ready to go are sitting on the sidelines and wanting to see a successful year or two."
Those who make their living on the mountain are not immune to the paranoia. Quietly, a few prominent Sherpa climbers have decided to no longer pass through the Icefall, among them Lakpa Rita, who made the decision following the 2014 avalanche, when five of his staff, four of them men he'd hired from Thame, were killed. "I lost part of my whole person," he said. He blamed the misfortune on the conflict in 2013. "The fight, it screwed up everything," he said. "After that, I think the god itself got upset." (In Sherpa culture, Everest is not just a mountain but a living deity.) He told me he was returning to manage Alpine Ascents' expedition from Base Camp—he worried that if he didn't, the outfitter might hire Sherpas from another village, and the people in Thame were in dire need of jobs following the quake. "Everyone wants to work," he said, "because they need to recover what they lost."
Hahn told me that he too had thought of quitting. "When I came home, I wasn't all that psyched about going back," he said. "But I was always leaving room for feelings to change, and somewhat predictably, they did. Smart people don't put it in writing." Still, he doesn't have an Everest guiding gig for this year, since RMI suspended its expedition. Hahn told me he might go back just to climb on his own, to prove to himself that he still has what it takes.
---
Morton's conflict felt different. Everest provided a significant amount of his income, but it never became his identity the way it did Hahn's. In recent years, he had taken up photography and even applied to law school. Now in his mid-forties, he found himself wanting to spend more time with his family. Following the earthquake, he also couldn't help but focus on one hard truth about the industry he loved—the fact that, over the past 15 years, nearly half the people who died on Everest were local hired help. According to the Himalayan Database, of the 102 deaths on Everest since the 2000 season, 46 were Nepali. (The next-hardest-hit nation is South Korea with seven dead.)
Since 2012, Morton has served as the executive director of the Juniper Fund. The fund successfully helped lobby to increase accidental-death benefits for high-altitude expedition workers from $5,000 to $15,000. It also supplements that income, promising to assist the families of every Sherpa killed on an expedition, using private donations. Prior to 2015, the Juniper Fund was aiding 20 families; last year's events increased that number by 12.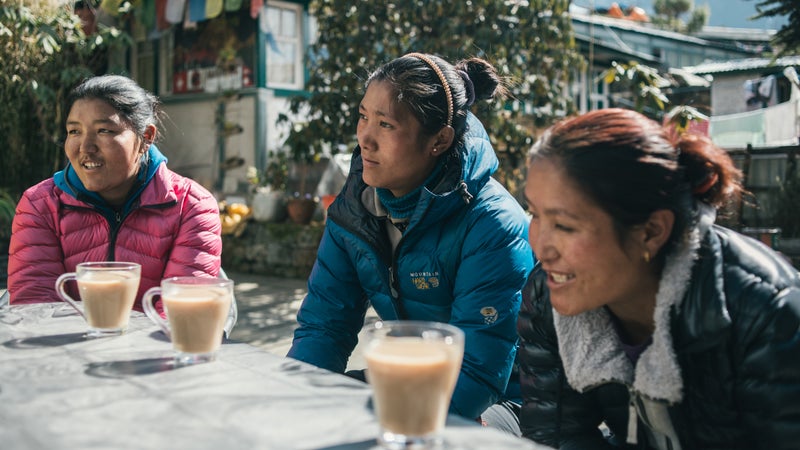 "Having the Sherpas dying is just hard to watch over and over," Morton told me. "I felt like, my time in this world is not that long, and this is starting to get sad." He said he could understand a climber being willing to die on a well-planned first ascent in some remote place. But, he said, "up there it just feels hollow." He didn't think the mountain would become better regulated or safer. "At some point, you're exacerbating it by participating," he said. Then, a few minutes later, he doubted himself. "Maybe that's not the right way to think about it. Maybe the right thing is to stick to it and try to improve it. The locals need the jobs. Part of me is like, Why quit if you love it?"
Morton had no illusions that leaving would be easy. "Things are simpler if you go to Everest," he said. "If you do this, it's very hard to have another life."
---
Climbing guides are competitive. Numbers matter—of summits, clients, and clients on summits. Morton, on the other hand, wanted to see the world. The son of a Seattle bond trader, he earned degrees in political science and a program called the Comparative History of Ideas at the University of Washington. He ski-bummed in Utah in the winter and, following graduation, traveled in Chile, Bolivia, and Peru, where he shattered a wrist and a few ribs in a paragliding accident. While rehabbing he started working at the gear company Kavu, where he met his future wife, a young woman from California named Kristine Kitayama. In 1995, at a climbing gym, Morton saw Scott Fischer, the freewheeling owner of Mountain Madness, who had just climbed K2, the world's second-highest peak. Morton was starstruck. He entered Mountain Madness's guide program and met Fischer in the spring of 1996, just before the climber left for Nepal, where he would die on Everest in the events chronicled by Jon Krakauer.
Morton, who eventually hired on with Alpine Ascents, first went to the Himalayas in 2001 on a guide-training trip. He has returned every year since. Early on, Morton had no desire to climb Everest. He saw the peak the way some musicians might view South by Southwest: overpopulated and overexposed. "I remember thinking it was cool that I'd never been up there," he said.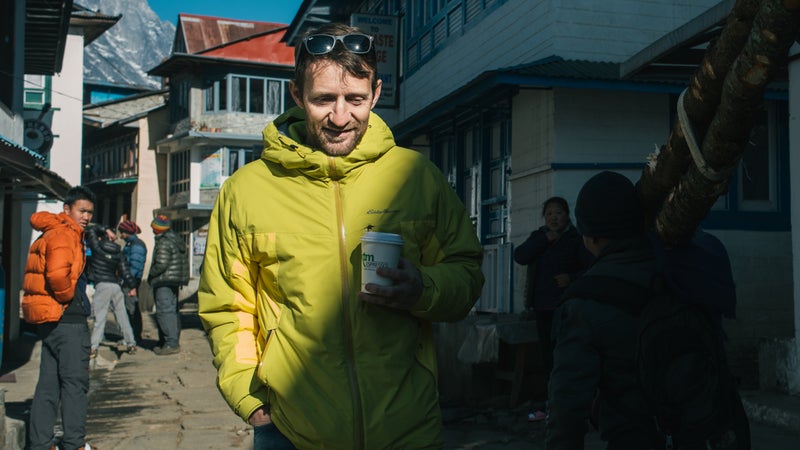 Thame changed his mind. In the past half-century, and especially since the advent of commercial guiding in the early 1990s, Everest has become a vehicle of socioeconomic upheaval. Today, Sherpas in the Khumbu Valley are some of the nation's wealthiest people, and the reason for that is the willingness of foreigners to pay for an assist up their goddess mountain, known locally as Chomolungma. "Everest has bought a lot of houses," Morton said. Many of those houses were in Thame.
In 2004, Alpine Ascents owner Todd Burleson offered Morton his first job on Everest. Morton went with two other guides, eight clients, and about twenty Sherpas, including Lakpa Rita. They were at Camp II when Morton saw an Argentine guide named Gustavo Lisi in a tent. Lisi had recently left his client, a Bolivian doctor, on the summit ridge where he eventually died. News of the episode—now notorious in Everest lore—had already traveled around the mountain. Morton recalls seeing Lisi in his tent and expressing concern for the client, whereupon the Argentine briefly lamented the incident before offering to show Morton photos of the summit. "It's so beautiful up there," Morton recalls Lisi saying. Morton thought, What the fuck?
En route to the summit, Morton never saw Lisi's client. (It is assumed that he fell off the ridge.) But he did pass Fischer's corpse, which remains on the mountain, for the first of many times. When the Alpine Ascents team reached the top, Lakpa Rita and the other Sherpas were ecstatic, hugging and taking photos. From the summit, Morton looked down at the world. The height was obscene. It was as though he were not among the Himalayas but rather looking straight onto their crowns.
---
Death became routine. "I've brought a lot of bodies down," Morton told me, "without remembering what year it was or who." The first experiences with mortality, though, stick with you. In 2006, Morton was in the Icefall when a call came in on the radio that there had been an avalanche nearby. He and Lakpa Rita left their clients with another guide, ran ahead, and found that three Sherpas from another expedition had perished. With nothing to be done, they returned to their clients and decided to continue climbing. "All we did was just walk right through," Morton said. Five clients summited.
After the trip, Morton reached out to the wife of one of the Sherpas in the accident, a woman named Nima Lhamu. She was pregnant. Morton and Kristine pledged to support the unborn baby through school, and the families became close.
In 2007, Morton was lead guide with a group of 12 clients. During the summit push, he and Lakpa Rita assisted with the rescue of a Nepali climber who had fallen unconscious. As Lakpa Rita helped the woman down on a sled, he rounded a feature called the Geneva Spur. He looked up at the face of Lhotse, which borders Everest to the southeast, and saw what he thought was a rock falling from the mountain. It wasn't a rock but rather a revered female Sherpa named Pemba Doma. That night, Morton and Lakpa Rita took off for the Everest summit. Two days later, after guiding nine clients up and down, they hauled Pemba Doma's body from Camp II to Base Camp on a sled, carefully lowering her corpse through the Icefall with pulleys.
Morton summited again in 2008, leading an expedition of three guides, ten clients, and twenty Sherpas, after which he resolved to stop running huge trips. "There's no way you can actually have any control over that many people," he said.
He took up photography and ran boutique trips for solo clients: Everest in the spring, other Seven Summits peaks in the fall and winter. He landed a sponsorship deal with Eddie Bauer, and in 2010 he and mountaineer Melissa Arnot were paid by the company to climb Everest, with Morton also shooting Arnot's ascent. Kristine was eight and a half months pregnant the day Morton reached the summit. He rushed back to Base Camp and arrived in Seattle in time for Thorne's birth, on June 11. A month later, he flew to Pakistan to climb K2 but didn't summit.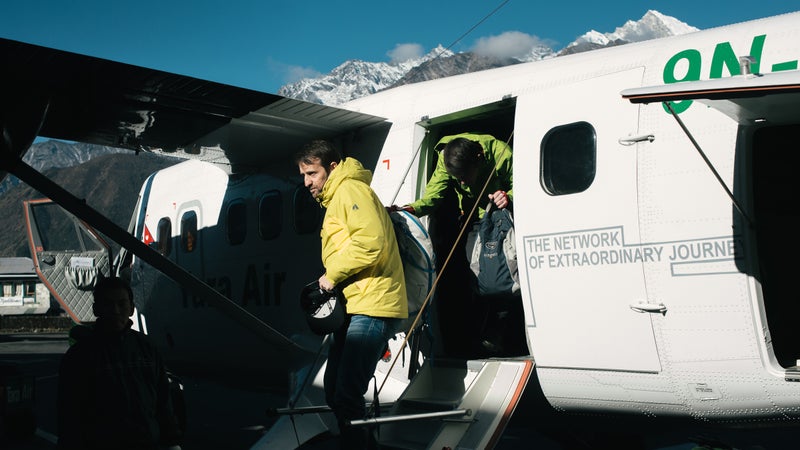 That fall, a renowned high-altitude Sherpa named Chhewang Nima died on an expedition with Arnot. Morton started researching accidental-death insurance. "At first I was in shock about what the families go through," Morton told me. There's no doubt that high-altitude portering is a swift way to make a living. The average annual household income in Nepal is $730; climbing Sherpas typically make between $2,000 and $6,000 per season. But when they die, their families often go into debt. In Sherpa culture, a person can't be reincarnated until their family performs an elaborate puja, or blessing. The family gives gifts, burns juniper to purify the air, and hires Buddhist lamas to lead the ceremony. Many families perform a puja, which can cost thousands of dollars, every year for up to seven years. That's a full burden even before you consider the emotional impact of the loss.
"There's a superficial experience of all that death when you're on the mountain," Morton said. "Every year there's one or two. For some people who climb, there's not a lot of understanding about what goes on with the local families. I remember talking to some climbers who saw some of the families after an accident. They had this reaction that was sort of like, 'Oh, my God, the Sherpa families were so distraught.' I was like, Duh!"
In 2012, Morton and Arnot launched the Juniper Fund to advocate for increases in expedition policy minimums. They also started raising matching funds, pledging $15,000 to be disbursed over five years to the immediate family of every high-altitude expedition worker who dies on the job in Nepal. By this point, Morton was focusing on sponsored projects, like a 2012 attempt to retrace the route of the first American ascent of Everest, in 1968, up the very difficult West Ridge. (It was unsuccessful.) In 2014, he was hired as a cameraman and safety consultant on Everest. Kristine came to visit Base Camp, and the couple climbed to Camp I, passing through the Icefall.
"I'd never fucking do that now," Morton said. "I remember a couple of friends seeing us and going, 'Are you guys on holiday? You just decided to take your wife through the fucking Icefall?' "
On April 18, 2014, Morton was listening to music on his headphones in his tent. Ang Dorjee, the sirdar for Adventure Consultants, who was instrumental in rescue efforts during the 1996 disaster, entered with a panicked look. Morton asked what happened, and Ang Dorjee said there was an avalanche off the west shoulder of the Icefall. Morton quickly got up to help. "It wasn't ho-hum," he said, "but I was familiar with that scenario."
Then the radio crackled and someone said 16 people were missing and presumed dead. Soon the shadows of helicopters appeared, long-lining out body after slack body from the Icefall. Morton and Lakpa Rita found one another. Lakpa Rita was sobbing uncontrollably. He hugged Morton and didn't let go. When Morton called Kristine, he managed to say a few words, and then he, too, started to bawl.
---
This past November, Morton returned to Nepal to meet with the families that the Juniper Fund supports. He was also looking at apartments, because he was planning to move to Kathmandu in the spring, splitting time between there and Seattle. When we met up, he expressed reticence about sharing his thoughts on Everest. He was a quiet guy, he said, not prone to making big statements. He was also worried about his finances—the Juniper Fund was paying him an honorarium of just $19,500 per year, less than he makes from a single Everest trip. He planned to continue guiding on lesser known peaks, but those trips don't pay nearly as well as Everest. Should he consider returning?
Later I spoke with one of Morton's friends who had undergone a similar transition, a former Alpine Ascents guide named Neil McCarthy, who quit guiding in the Himalayas after one trip there. "It's a very scary thing when that's what you've done for so long," said McCarthy, who is now a leadership-development consultant. "You think, What's my value without this? Dave's in a unique position. I don't know that there's anybody else in the world who can answer this call to try to create something that recognizes the humanity of the people who do this crazy job. He has the intellect, the experience, and the relationships to do it. I also don't think he ever set out to be the operational leader of a nonprofit. If I was in his position, I'd be struggling with it, too."
One night in Kathmandu, Morton and I went out to dinner with his friend Luanne Freer, the founder and director of the Everest ER clinic. It didn't take long for the mountain to come up. When Morton said he was having doubts about returning, Freer asked, "So you're saying it out loud?" Then she exhaled deeply. "I don't know what it is that shifts," she said, "but it was instant for me. How much louder does this mountain need to speak to tell us all it's not OK?"
A tall, 58-year-old emergency-room doctor from Montana, Freer was first drawn to working on Everest after she visited Base Camp in 2002 and saw how limited medical care was for Sherpas. She set up a tent and opened shop in 2003, and returned every spring except for 2014. The work took a toll—she and her husband divorced, and friendships back home suffered. But she got hooked by the mountain's urgency. This sounded familiar.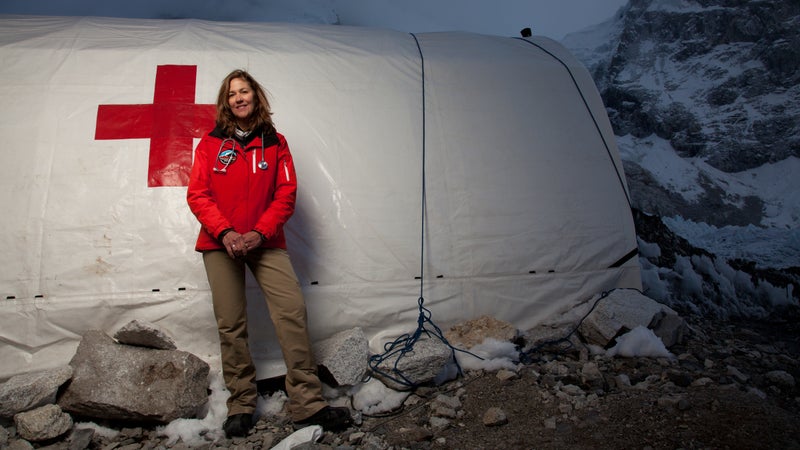 Freer wasn't on Everest in 2015 during the earthquake, but once she heard the news from her colleagues at Base Camp, she returned to Nepal. The devastation followed her back to Montana in the summer. Originally, after the quake, she wanted to publicly push for a pause on Everest expeditions. Recently, though, her feelings had changed. "I took it down a notch," she said, "from saying, 'Let's get the pope and the Dalai Lama to come, bless the mountain, and say no one should go there,' to saying, 'Maybe it's not the place for me now.' " She planned to set up the clinic in 2016, then leave it in the hands of other doctors, departing at the beginning of climbing season. "It used to be my favorite place in the world," she said. "Home. And now it's a scary place."
"If I don't go back to Everest," Morton said, "it fundamentally changes my ability to support myself. Each time I go back, the more I depend on it the next year. Which is part of the reason I want to stop."
Freer couldn't identify with that; she's a volunteer. She said she'd miss the patients. "There's nothing quite like helping a Sherpa who's sick or injured and then watching them bring home the money to their family. Or a Westerner achieving their goal of getting to the summit. It's about feeling relevant and helpful and needed."
Morton agreed. "You feel like you're actually experiencing," he said. He could find that same rush elsewhere, but the stakes are highest on Everest. "The hardest part is not from the stuff you see," he said. "It's when you go home, you see your friends, and you're not experiencing that closeness."
The more the two spoke, the more apparent it became that they were mourning the same thing.
Freer said, "Oh, Dave, I don't know. There are so many ghosts up there."
---
Over the next couple of days, Morton went to see a few of the ghosts' families. He wanted to ensure that they were receiving payments, and he was also planning to make fundraising videos of the widows telling their stories. The Juniper Fund's operations manager, an upbeat 24-year-old Sherpa woman named Tsering Dolker, carried a folder full of names and navigated as our driver twisted through Kathmandu. Morton was trying to arrange a video shoot with a woman named Menuka whose husband died in the 2014 avalanche on Everest.
"Where did you say Menuka was?" Morton asked. Tsering Dolker responded that Menuka was not picking up her phone. Morton suggested driving by her house. Before we went there, though, Tsering Dolker called a friend of Menuka's, which proved to be a wise decision, because it turned out Menuka had moved to India.
"Temporarily?" Morton asked.
"Permanently," Tsering Dolker replied.
We drove around for a while. "What about Kam Phuti, Pasang Karma's wife?" Morton asked. "Do you know where she is?"
"No," Tsering Dolker said. Kam Phuti's phone was off. We turned around a few times while Morton scrolled through his laptop—"There are so many families," he said—and Tsering Dolker made calls. Morton eventually picked a destination. The road became less paved, and soon we were bottoming out in deep ruts. Then Tsering Dolker said, "Oh, there she is." The driver stopped on a busy corner, and a woman in a blue coat hopped in: Pasang Lhamu. Her husband died on Annapurna in 2015, on an expedition with an outfitter called Dreamers Destination. We went to her house for tea. Morton asked, "Has Dreamers Destination helped?"
"They haven't helped at all," Pasang Lhamu replied. She said she had received an insurance payment, but it wasn't enough to cover the funeral puja. She was using the Juniper Fund money to send her daughter, Nima Doma, to school, and she hoped eventually to send her abroad. Maybe to Europe.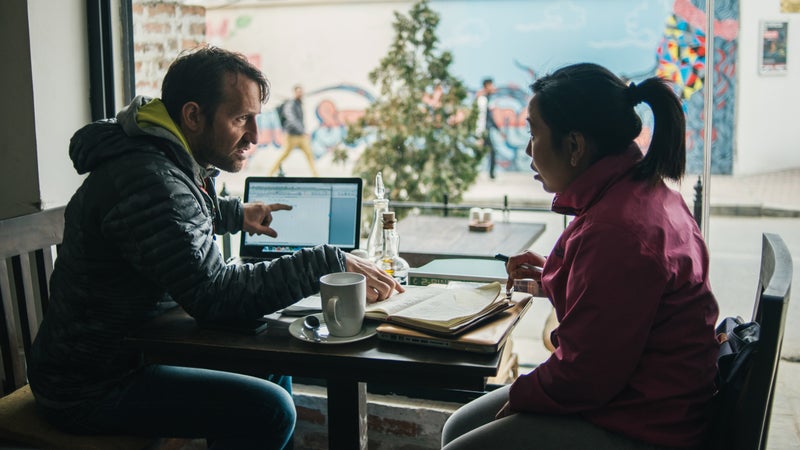 From there we went to see a young woman in her mid-twenties named Ang Pasi, who had lost her husband in 2014 in the Icefall. Ang Pasi started to breast-feed while her late husband's brother, Phurba, refilled cups of tea. Ang Pasi said the money helped but that she hoped to send her brother to school, which would require more. Morton informed her that the Juniper Fund could only support the immediate family of a victim. She smiled, and Phurba poured more tea.
We went to see a beautiful 30-year-old woman with a gold tooth named Dawa Diki. Her husband, Lakpa Chhiring, had died six months earlier, at Base Camp during the earthquake. He, too, had been with Dreamers Destination, and the insurance money had yet to arrive. Dawa Diki had borrowed $7,000 for the puja and needed to repay it. She said she was having problems with her mother-in-law, who wanted some of the Juniper Fund money. "Her in-laws are always complaining about her, no matter how much she helps," Tsering Dolker explained. "Mine, too," said Morton, and everyone laughed. It was the one moment in our conversation when Dawa Diki wasn't in tears.
Finally, we went to see a woman named Anita Lama, whose husband had died in the 2014 avalanche as well. She and her daughter lived in a small one-bedroom apartment. She poured us tea and said that she was going to school to earn a degree in social work. Anita Lama said she was having trouble getting citizenship for her daughter, Umi, because the girl had a different surname than her father. Nepal's constitution makes it difficult for single mothers to confer citizenship to their children. Anita Lama said she'd heard that one of the women supported by the Juniper Fund had remarried.
Would such a woman's family, she asked Morton, continue to be supported? Morton responded that the children would be.
"At times," says Morton, "I'm like, 'Jesus Christ. That's what you've been doing for the past ten years?' "
At the end of the day, Morton looked pretty sad. "I get a huge dopamine rush from being in the mountains," he said. "Driving around in a cab to see all the families, it's a lot. Constant sadness. I'm obviously not the one going through it, though."
I asked if he was running the Juniper Fund out of guilt. He flatly rejected the idea. Mountain portering is good work, he said, especially compared with the most common alternative: traveling to Qatar to work on World Cup stadiums, where more than 150 Nepalis died in 2014. He was simply trying to improve the industry's one downside. I pointed out that the downside was not insignificant. "That's why I'm doing this," he said. I asked if he would ever hire a Sherpa to carry his own stuff up a mountain and was hardly surprised when he said that, on a personal expedition, he wouldn't think of such a thing. We drank a beer on the roof of a hotel as the sun set over Kathmandu to a soundtrack of birds, monkeys, taxi horns, and braying dogs.
Morton said, "Nothing about Everest is fair, you know. It's amazing how powerful it is in terms of providing and killing, and then what the aftermath of that is. The haves and have-nots. It's a microcosm of the world in a lot of ways. And it's not pretty." To the widows, he was a friend with financial benefits. He knew he occasionally received versions of the truth that were elusive or convenient. "I get why. As painful as this work can be, it's also a connection. It's raw, and it's real, and it makes you feel closer to people."
The work was more challenging than climbing Everest. That had never felt so unimportant. "At times," he said, "I'm like, 'Jesus Christ. That's what you've been doing for the past ten years?' But I think it only seems less valuable once you're ready for something else." He told the Seattle filmmaker taking veterans up Everest to find another cameraman.
---
In January, Morton called me from Nepal. The Juniper Fund had recently been able to guarantee support for all 32 of its families for five years and was making inroads into starting a support group and providing occupational training for the widows. He was looking forward to moving for part of the year to Kathmandu, to guiding and climbing lesser known Himalayan peaks, to spending time in the lasting grit of the actual world.
Still, recently he'd found himself once again thinking about Everest. The tragedies were feeling further and further away. He wondered if, given the right opportunity, he might return someday. "There might be an important reason to revisit it," he said, "just for closure." He wondered if closure was possible.
The size of something depends on the angle from which you view it. From one vantage point, Everest is the biggest thing on earth. From most others, though, it's just so small.
Contributing editor Abe Streep (@abestreep) wrote about the Race to Alaska in November.