Rebelling Against the Void
David Roberts, a major figure in modern adventure literature, has explored risk, death, and loss for more than 50 years. Now he's fighting cancer while producing new writing—including a series of reflections on his disease—that friends and colleagues believe is his best work yet.
Heading out the door? Read this article on the new Outside+ app available now on iOS devices for members! Download the app.
The first of the three fatal accidents happened in the summer of 1961. David Roberts was 18. He and a high school friend, Gabe Lee, were climbing the low-angled First Flatiron, a sandstone slab near their hometown of Boulder, Colorado. Lee was belaying Roberts up the fifth pitch when the rope wedged under a dagger of stone, 50 feet to Roberts's left. Lee hadn't been able to find protection to secure himself to the belay; if Roberts fell retrieving the rope, he would likely pull Lee from the rock.
Roberts and Lee were close enough to shout at each other. They agreed that Roberts should untie and fling his end of the rope down to free it from the rock's grip, which is what Roberts did. But the rope didn't budge. He scrambled to a large ledge to wait. Lee down-climbed and worked the rope out of the crack. He was slowly making his way to Roberts's ledge when Roberts heard a horrible grating sound. Suddenly, Lee shouted, "Dave!" Then, "No! Oh no!" Roberts watched as Lee slid and bounced 600 feet to the ground.
The second mishap occurred late in the winter of 1965. Roberts and Matt Hale, both Harvard upperclassmen were leading an ice-climbing trip for the Harvard Mountaineering Club on the lower slopes of Mount Washington's Huntington Ravine, in New Hampshire. Two seasoned climbers, Craig Merrihue and Dan Doody, were ascending, independent of the Harvard group, on Huntington's trade route, Pinnacle Gully. Sometime later, Roberts heard cries for help at the gully's base. After rapping down and running, he and Hale arrived to find the broken and bloodied bodies of Merrihue and Doody, still roped together. Roberts leaned over Merrihue and gave him mouth-to-mouth resuscitation for more than an hour before giving up.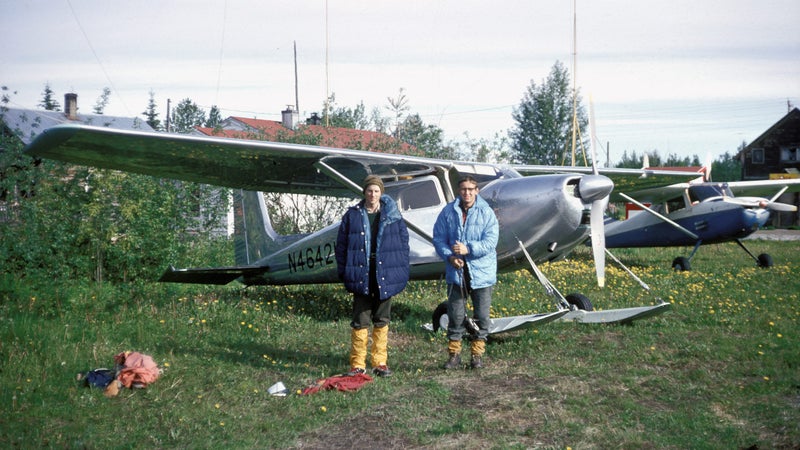 The third accident, which would haunt Roberts for the rest of his life, occurred just four months later. Camped on the Tokositna Glacier below the towering west face of Alaska's 12,240-foot Mount Huntington, Roberts was about to undertake the most audacious climb of his career, which even at age 22 had already been remarkable. In 1963, he had climbed Denali's monstrous Wickersham Wall with a strong Harvard team—a route whose lower 1,000 feet is so hideously strafed by rockfall and avalanches that it has yet to be repeated. The following summer, he and Don Jensen—a partner, he would later write, with whom I "had wound my half of our double helix of destiny, had plotted a limitless future of unclimbed mountains all over the globe"—waged an unsuccessful 42-day campaign in Alaska's Hayes Range, on the crumbly east ridge of 12,339-foot Mount Deborah. Now, on Huntington, Roberts was joined by Hale, Jensen, and a tough but inexperienced underclassman named Ed Bernd. They spent 40 days pushing a line up the face before they finally made the summit, climbing in two pairs. Bernd, who was descending with Roberts, leaned back on rappel, mysteriously broke free from the anchor, and plunged 4,500 feet to the glacier. His body was never found.
Precisely how these tragedies affected Roberts's emotional wiring is impossible to say, but they've certainly informed his writing. His body of work, which includes 28 books and hundreds of magazine articles, is rife with themes of loss, stark realism, and a search for truth. What really happened here? Roberts has sought answers to that question on mountaintops, in the canyons of the desert Southwest, and in libraries all over the world—but even more so in the deep defiles of his own consciousness and conscience. Roberts hasn't just dug into What happened here? but also Why now?
That second question is very much at the fore these days. Roberts, 73, is gravely ill. He's been through 15 months of treatment for a cancer that took root in his throat and has spread to his lungs. His doctors at Boston's Dana-Farber Cancer Institute tell him that, at this stage, the disease can be managed but not cured. Faced with the strong possibility of death—not for the first time—Roberts has started work on his 29th book while he undergoes a new immunotherapy regimen that has halted the growth of the lung tumors. Always an energetic writer, he has brought his readers along on this terrible adventure by posting his thoughts about life and mortality on CaringBridge, a website that many cancer patients use during treatment. The combined posts exceed 120 single-spaced pages. They're compelling enough that Katie Ives, the editor in chief of Alpinist magazine, says she would like to see them brought out in a single volume. Alpinist is publishing an essay by Roberts, "Death and Climbing," in an upcoming issue.
"His friends unanimously say that David's best writing has come out of his cancer," says the climber and writer Greg Child, one of Roberts's closest friends. "Those blogs, his e-mails to us, the things he's saying, the way he's looking at things—it's not that it wasn't good before, but now there's more David-ness about it."
What's David-ness? "He's got this willingness to explore the dark places of human minds, the ugly truth behind the surface," Ives says. That predilection, so different from the grand hero narratives that predominated in climbing literature before Roberts came along, has put him at the pinnacle of North American mountaineering writers—the "top dog," as alpinist Freddie Wilkinson described him. It's this David-ness that elevated his first two books, The Mountain of My Fear and Deborah: A Wilderness Narrative, from standard expedition narratives to modern classics. And it was David-ness that suffused his first submission to Outside. Starting in the early 1980s, Roberts became one of the magazine's most important contributors, at a time when the publication was looking for new voices that cut against conventional approaches to writing about the outdoors.
---
"Last night I had a dream that National Geographic gave me the greatest assignment."
Roberts is on the first floor of his two-story house, a colonial in Watertown, Massachusetts, speaking from the same room that houses a big TV tuned to Red Sox and Patriots games, which he watches when he's not writing or reading. He works downstairs more than he used to, because he's often too weak to walk up to his second-floor study. Sharon, his wife of 48 years, moves around nearby. She's never too far away these days.
"They wanted me to explore these Mayan caves, which I've actually done for them before," Roberts says. "But I just couldn't do it because of this illness. So I was really depressed."
Roberts is sick of being sick. He mourns the loss of his strength, his athleticism. He misses booze, which is prohibited by his doctors. He's tired and often testy. Prior to treatment, the five-foot-ten Roberts weighed 170 pounds; he has dropped as low as 117 since his diagnosis and now hovers around 130.
"I'm so far behind where I was three months ago," he says, lamenting his physical decline. Last year, despite double rounds of chemo and radiation, he was able to climb at Watertown's local gym and play 18 holes of golf. Now there are days when he can barely stand. "This is no way to live a life," he says. He doesn't sound angry so much as resigned, but anger is never far from the surface. Having found himself in a New Hampshire emergency room last summer, in the midst of a rare road trip outside of Boston, he dressed down a well-meaning doctor who began to preach the power of positive thinking.
"I asked if he'd read the book that made the phrase famous," Roberts wrote on CaringBridge. "Book? He'd never heard of Norman Vincent Peale. 'It's an utter piece of shit,' " Roberts said of Peale's best-known work, The Power of Positive Thinking. "Homiletic Puritan American hokum at its most saccharine."
Vladimir Nabokov famously rebelled against the acceptance of death and nothingness—"the two black voids, fore and aft," as he put it—a sentiment Roberts invokes in his own writing. Nabokov had butterflies; Roberts has climbing and adventure. But he doesn't have them now, so writing is both a fetish and a sanctuary.
Roberts would never hesitate to stick a fork in an overripe platitude, but part of the grim business of cancer is fielding hopeful thoughts about fighting the disease. Last April, after learning that his cancer had metastasized, Roberts wrote, "This gloomy development reinforces my anger at our Pelagian culture's ineradicable metaphor of a 'battle against cancer.' I don't think I could have tried much harder to get well than I have in the last few months. But the multiplying cells laugh at human will—or would laugh, if they deserved our feeble-minded efforts to anthropomorphize them."
At the same time, he's grateful for the encouragement from friends and loved ones. "I AM determined to fight," he wrote, but the "rational part of me wonders whether there are any good double-blind studies proving that the will to fight cancer makes any difference in survival."
Sharon's role in that fight is incalculable. On CaringBridge, Roberts has called her "beyond heroic," "a saint," "indefatigable." "In this blog," he wrote, "I have often hailed Sharon's tireless solicitude during my months of illness as a blessing I had no right to deserve."
Most days he rises by eight. He paces himself through a throat-strengthening regimen several times a day. He decants the first of six cans of Osmolite into a feeding tube. (If he takes food by mouth, he risks aspiration pneumonia.) Last year's rounds of radiation killed his salivary glands, so he keeps his mouth lubricated with water, which he spits out. He's racked by coughing spasms. Still, he gives me more than seven hours of phone time over the course of a month. His mind is sharp, his memory keen, and on some days his voice sounds close to the way I remember it before his diagnosis.
Every few Wednesdays, David and Sharon make their way across the Charles River to Dana-Farber for his monthly infusion of Pembrolizumab, Merck's cancer-fighting drug, which costs about $150,000 a year. He listens to Schubert while the chemical drips into his veins. Of the orchestral works, he favors the Unfinished Symphony. Of the song cycles, the melancholy Winterreise. "What Schubert did by the age of 31 still blows me away," Roberts says. "It's just a direct conduit into the things that are repressed most of the time. Even Schubert's most beautiful stuff seems tragic to me."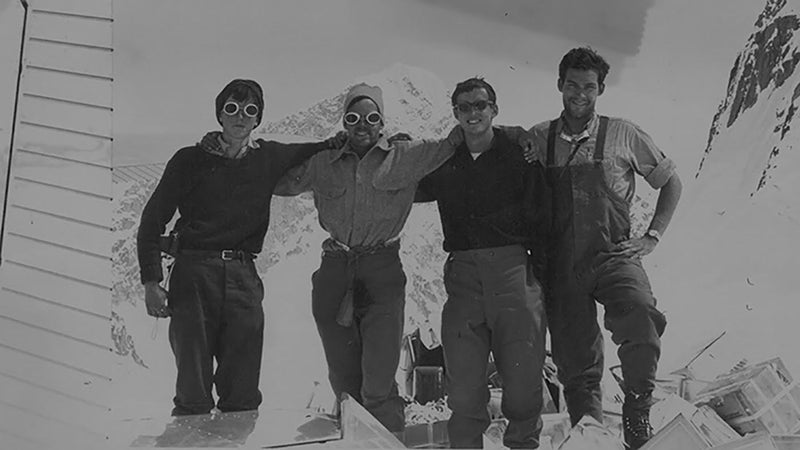 Roberts's friend Alex Honnold jokes that Roberts was a grumpy old man long before the cancer diagnosis. The famous free soloist experienced Roberts's dourness firsthand when the two were cowriting Honnold's memoir Alone on the Wall. "I think that's who he is," says Honnold. "He's a serious intellectual. I could see him wearing a lot of black at French cafés. Heavy thoughts, heavy thinking, brooding on mortality and things."
"Death is something you have to face," Roberts tells me. He's an atheist, so he doesn't count on "some last-minute escape hatch into religion." Vladimir Nabokov famously rebelled against the acceptance of death and nothingness—"the two black voids, fore and aft," as he put it—a sentiment Roberts invokes in his own writing. Nabokov had butterflies; Roberts has climbing and adventure. But he doesn't have them now, so writing is both a fetish and a sanctuary.
Some 3,000 books line the walls of the home, and he adds to them at a rate of three or more per week. Even in illness, he has never known writer's block and can't understand those who find writing difficult work. He takes an almost perverse joy in recounting how Jon Krakauer, his most celebrated friend and former college student, agonizes over drafts.
Roberts has always typed using his right forefinger only, but a rotator-cuff injury prevents him from doing that now. So he's dictating the new book to Sharon. They sit close together on the living room couch so she can hear his voice.
"I've watched him work," says Child. "He can write faster than anyone I've ever heard of. Krakauer would tell you the same thing. He's unbelievable at researching and digesting the research, and he scribbles profusely on pads and gets all this information. But he retains a ton of stuff in his head, and then he very quickly lays it out in story form. I've seen him write a third of a book in one sitting, I think, in two days I've spent with him."
"This might sound corny," Child says, "but David is living the kind of ordeal that he's been writing about for half a century."
Roberts is folding that notion into a new book, which he characterizes as a meditation on adventure—not just a remembrance of excursions past, but also a reflection on the future of true exploration in a world with few if any blank spots left. As for climbing? The animal intensity of scaling dangerous walls can imbue the alpinist with a state of grace, sure, but it's ultimately a selfish act. Adventurous anthropology—something he's done often during explorations of Anasazi culture in Utah, Colorado, New Mexico, and Arizona—is anything but.
"Exploring the Anasazi is about having great wilderness experience with the aim of understanding another whole culture, one that is very little understood," says Roberts. "You look at the rock art and you know something supernatural is going on. You have no idea what it is."
---
David Stuart Roberts was born in 1943 at Denver General Hospital and spent his first five years in Climax, Colorado, where his father, Walter, installed one of the world's earliest coronagraphs—an instrument for observing the corona of the sun—after graduating from Harvard with a doctorate in astronomy. David's mother, Janet, was an aspiring writer who put that aside to raise him and his three younger siblings. She was a member of the Boulder city council in the sixties and seventies.
"By the age of five, I had internalized my father's drive and perfectionism," Roberts wrote in his 2005 memoir On the Ridge Between Life and Death. He described his "competitive rage" to outperform everyone in everything, even as a preteen. "I became a tyrant, the organizer of all the games, the arbiter of rules, first-up and first-choose," he wrote. He got straight A's at Boulder High, won spelling bees and math contests, and didn't care much about making friends. Walter was an absent father who traveled the world. Janet was happy at home, but lonely and bereft, and turned to her eldest for emotional intimacy. David became like his father—ambitious, driven, outward bound. But he acquired his love of writing and literature from his mother.
More scenes from his youth: At 12 or 13, David strikes out alone, at dusk, up the Mesa Trail above Boulder, after a fight with his mother, and he gashes his leg on a barbed-wire fence. Sulking and depressed at 16 for having been forced into a family road trip, he buries his head in Thus Spoke Zarathustra. Lashing out at his father: "You're not a scientist. You're a fundraiser." Reading Maurice Herzog's Annapurna and imagining himself as a climber. (He would later write a bestselling book, True Summit, that debunked Herzog's narrative of the climb.) Learning the ropes at the Colorado Mountain Club. At 18, attending Harvard on a scholarship.
At Harvard he majored in math but lived for mountaineering. He would hole up in the Harvard Mountaineering Club's room in the basement of Lowell House, poring over topo maps and Brad Washburn's aerial photos to seek out unclimbed walls of rock and ice. Many of the trips he took to those far-flung sites—the Hayes Range, the Cathedral Spires, the Arrigetch Peaks, the Revelations, the Ruth Gorge—resulted in first ascents, a handful of them cutting-edge. "What you have to know about Dave is that he's an inventive explorer, a pioneer in discovering new opportunities and working them out," says Matt Hale, his oldest friend and the only other surviving Huntington climbing partner.
After his undergraduate years, Roberts enrolled at the University of Denver's doctoral program in creative writing and climbed in Alaska for the next seven summers. In 1966, at 22, he wrote The Mountain of My Fear in nine intense days during spring break, not only to give the Huntington ascent its due as the most difficult Alaskan alpine climb, but to exorcise his horror and shame over Bernd's death. He borrowed a phrase from W. H. Auden for the title and submitted it cold to Vanguard Press.
It was published two years later, to good reviews. "Mr. Roberts uses his own adventure as a vehicle for probing the feelings and motivations of his fellow climbers and, indeed, all of life itself," wrote Jeremy Bernstein, a scientist and climbing historian, in a review for The New York Times.
Next came Deborah: A Wilderness Narrative, published in 1970, an account of his 1964 attempt on the peak with Jensen. Shorn of the first book's "metaphysical flights and Faulknerian dithyrambs," as Roberts puts it in his memoir, Deborah's lean prose stripped Roberts and Jensen to the bone. Here was a kind of writing that had rarely been seen in mountaineering narratives, plunging into an interiority unusual for the genre, almost turning the traditional form inside out.
"Deborah doesn't make for that kind of sweeping, romantic arc of a narrative that people were expecting from climbing literature," says Ives. "It's not an escapist book. I think it probably went further, maybe, than other books at the time were going, and further than many books even now go."
In Deborah, Roberts portrays himself as sliding into emotional decrepitude, increasingly cowed and stultified by the dangers and drudgery of climbing the mountain, crammed into a too tight tent with Jensen, who he begins to loathe.
"I told myself that I got mad at his deliberate way of spooning up his breakfast cereal because it was indicative of his methodicalness, which was indicative of a mental slowness, which was why he disliked and opposed my impatience," Roberts wrote. "The chain of rationalizations almost always resulted, thus, in a defensive feeling; I was becoming, in the stagnation of our situation, both aggressive and paranoid."
Auden reviewed the book for The New York Times and thought it was superior to The Mountain of My Fear. "As did I," says Roberts. "I think that in Deborah, I was starting to learn to write ironically."
---
In 1970, Roberts took a job at Hampshire College, a small liberal-arts "experiment" in western Massachusetts created by a coalition of schools that included Amherst, Mount Holyoke, the University of Massachusetts, and Smith.
"It was like a grad school for 18-year-olds," remembers Chip Brown, a former Outside correspondent who entered Hampshire in its second year. "You're at such an age that you go into a restaurant and all you want to eat is dessert, so you only take courses you're interested in." Roberts taught English part-time and directed the school's outdoor program. He ran climbing classes and eventually took students on expeditions in Utah, Colorado, and Alaska.
Ed Ward, one of Roberts's closest friends, remembers meeting Roberts in 1970 at Rattlesnake Gutter, a short overhanging crag that Roberts used as the program's top-roping site. "I wandered down, over to the cliffs, where they were climbing, and I started watching them," says Ward, who was attending UMass at the time. "They just sort of totally ignored me."
Roberts was worried that UMass students would poach the crag, but after Roberts watched Ward climb—and learned that the soft-spoken, bearded grad student had climbed a challenging route on Mount Logan, Canada's highest peak—they became friends. They would team up on several significant Alaskan first ascents, most notably Shot Tower in the Arrigetch Peaks and the southeast face of Mount Dickey. Within the year, Roberts recruited Ward to co-teach Hampshire's outdoor program.
Hale remembers Roberts as kind of a pied piper. "He had a whole coterie of students who were acolytes whom he was mentoring. He'd dare people to do things—dare them to write a book, dare them to go out and do a climb, to get out of their ruts," he says.
Krakauer, who studied at Hampshire starting in 1972, has similar memories: "I would never have gone to obscure Alaskan ranges like the Arrigetch Peaks—one of the most amazing places on earth—if Dave hadn't showed me slides of his expeditions and sparked my desire to climb there."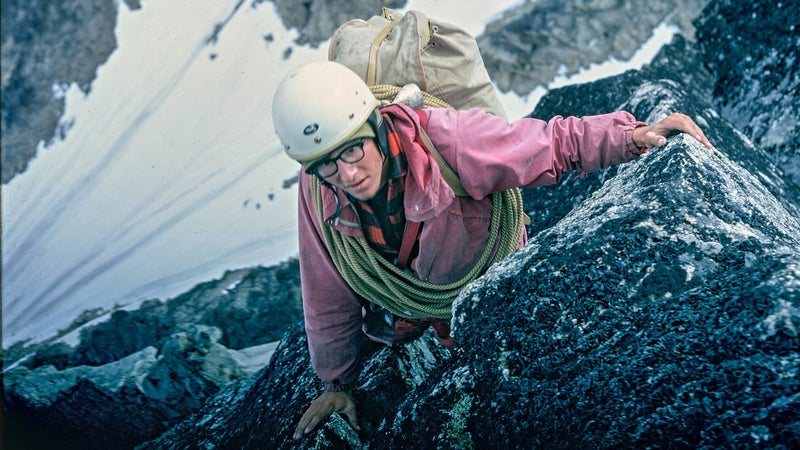 Roberts hosted parties and organized ferocious two-on-two touch-football games. "Dave enjoys being the center of attention," Krakauer says. "He likes to call the shots and run the show. To spend a day in his company is both intellectually stimulating and utterly exhausting. To share a tent with him for three weeks on an expedition can permanently fry your brain and leave you gibbering for mercy. The dude is relentless."
Roberts taught a popular course called Literature of Great Expeditions, its syllabus packed with gritty readings depicting the travails of adventure. As a teacher, he bluntly assessed the quality of a student's work, and as a peer he could be just as tough. He viewed poetry and novels as Real Art, and by 1979 he had written three new works of fiction, all of which were rejected. He was also submitting articles to the American Alpine Journal, Ascent, and Mountain Gazette. In retrospect, these stand out as some of the smartest forgotten work in mountaineering literature.
Take the 1980 edition of Ascent, which contains a 61-page climbing novella, "Like Water and Like Wind," and "Slouching Toward Everest," a humorous review of expedition books. Ives, who recently reread the novella, considers it one of the finest character portraits she's ever encountered. "Slouching" skewers standard mountaineering clichés. ("Base camp will not be reached before page 100," it declares.) Ascent's founding editors, Allen Steck and Steve Roper, placed the two pieces back-to-back, as if to showcase Roberts's virtuosity in both creative and critical prose. In a 1974 piece for Mountain Gazette, Roberts seems to overcompensate for the genre's deficiency by reflecting on his relationship with the recently deceased Don Jensen.
"We were almost like lovers," he wrote. "The thought seems stale, it has come to me so often. Yet how far from lovers. For we needed a third, an Other, the mountain, to love through. On Deborah, we lay resenting any invasion of precious ensolite-space, as true lovers never would have. We hated, too. As I have hated no man in my life, I grew on Deborah to abhor the very sound of Don's breathing."
What was Roberts doing between classes at Hampshire? In short, subverting the genre of climbing literature. "Before Dave, there had been a handful of excellent climbers who wrote pretty well, and a handful of excellent writers who were OK climbers," says Krakauer. "But he was a highly accomplished mountaineer who wrote about the activity with style and piercing insight."
---
"It's weird but maybe you have to be facing death to realize how many people actually care about you, and that some actually love you," Roberts wrote in one of his CaringBridge posts. "I often have felt myself incapable of being loved."
Talking to Roberts and his closest friends, a theme kept arising: they felt well loved by him. "David is just always there," says Child. "He runs deep and he runs loyal in a person's life."
"Dave happens to be one of the most loyal and generous people I have ever met," Krakauer concurs. "He'd insist on using his last five dollars to buy you a cheeseburger if he thought you were hungry."
But that loyalty comes at a price. "The main way Dave relates to the world is through direct and very energetic engagement," says Krakauer. "He abhors avoidance. He refuses to be ignored. He does not shy away from confrontation. His criticisms can be blistering."
"He'll do and say things to all of his friends that piss them off, or lead us to say or do things to him that piss him off," says Child.
Given the choice between wanting to be right and wanting to be happy, Roberts prefers the former. Once, he damaged a friendship by challenging a colleague to justify how she could be both an archaeologist and an observant Mormon. If such piercing analysis is instinctive, so is the reflexivity that accompanies it. As early as Deborah, he described how, when he was bored, he fixated on Jensen's flaws and picked at him. But then his self-awareness kicked in. "It was the first time that I recognized a trait of my own …" he wrote. "I could not stand for things to go well for too long a stretch; it was as if I needed a regular exercise of hostility."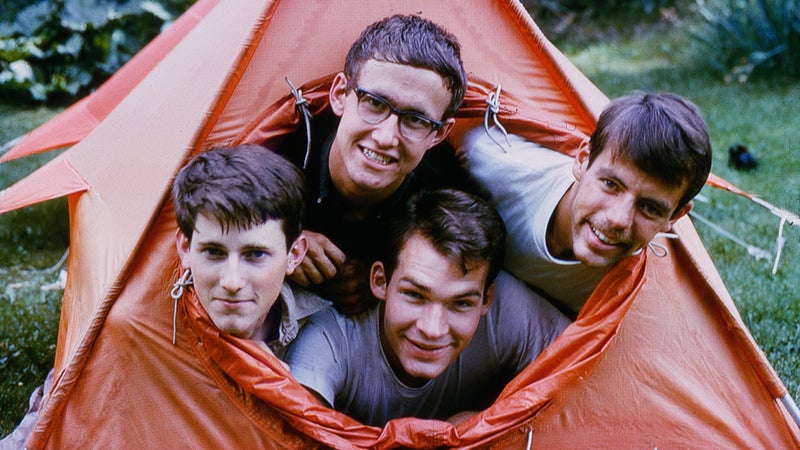 Katie Ives puts it this way: "I think it's more of that obsession with trying to learn the truth, which was getting beyond the formulas, with getting beyond the romantic vision of climbing and trying to figure out what actually happened, and at the same time being aware of the limitations. You have these moments when all of a sudden it unfolds and there's this kind of richness beneath the surface that comes out. He's got this very fine-tuned sense of how to modulate his prose and when to bring that kind of radiance to the surface and when to keep it simple."
When the rich prose appears, it can evoke the most extreme psychic pain—like that caused by Bernd's death. "I figured it could have just as easily happened to me as him," Roberts told me. "I never thought that the rappel fucked up because Ed did something stupid. But what really brought it home was visiting his parents in August just weeks after the expedition, and that hideous long weekend—90-degree temperatures, and no air conditioner—in the house in Philadelphia. Finally seeing the incomprehension and the grief they were going through."
Roberts has mused on the joy that the mountaineering life brought him, only to reject that feeling as being less than the sum of his climbs. In a recent essay in Ascent, Roberts, writing now as a cancer patient, revisited the Deborah climb. He both renounced and celebrated the hubristic worldview that led him and Jensen to Deborah's black schist.
"Now, in the purported wisdom of my eighth decade, I can dismiss our invincible destiny as a youthful fantasy," he wrote. "But I also know that nothing else came along to fill the void it left behind." Those words, the final sentence of the essay, mesh well with the final two of Roberts's memoir: "In the human heart … there are nobler feelings than pride. And there are more important things in life than joy."
---
Roberts turned 36 in 1979. His hardcore climbing years were over. He was tired of teaching at a college someone described as possessing not just one ivory tower, but 1,200. He desperately wanted to write full-time, but he couldn't make a living on the pittance he received from climbing magazines.
So he wrote a 6,000-word story describing the deaths of Lee, Merrihue, Doody, and Bernd, exploring the unresolved guilt and grief their loss caused for the victims' families and himself. Was the risk of ascent worth the momentary joy of the summit? He concluded that it was:
But nowhere else on earth, not even in the harbors of reciprocal love, have I felt pure happiness take hold of me and shake me like a puppy, compelling me, and the conspirators I had arrived there with, to stand on some perch of rock or snow, the uncertain struggle below us, and bawl our pagan vaunts to the very sky. It was worth it then.
He mailed the manuscript to Outside's Chicago office, where a part-time editor read it, liked it, and showed it to John Rasmus, then 26 and the magazine's first editor after Outside was sold to Mariah Media by Jann Wenner in 1978.
"I still remember the day," Rasmus says. "The story definitely went against the grain of the climbing literature and the sensibility of the time. But I didn't think twice about publishing it, because it put all of mountaineering's rationalizations under a very harsh personal light. It was smart and edgy and challenging and unexpected, and also just a gripping story. If someone didn't like David's conclusions, or they didn't sit well with them, well, that was too bad."
"Moments of Doubt" ran in the December 1980–January 1981 issue, and Rasmus wanted more. Within a few months, Roberts filed a story about the new era of women climbers taking on Himalayan peaks. Less than flattering profiles of two of the world's strongest mountaineers, Reinhold Messner and John Roskelley, quickly followed. In another feature, he scrutinized the failed 1939 American attempt on K2—a tragic campaign in which an expedition member was abandoned high on the mountain and three Sherpas died trying to rescue him. Roberts cried foul at the American Alpine Club's censure of the team's leader, Fritz Wiessner.
"You could expect everything he did to have an interesting edge," Rasmus says of Roberts. "There would be villains and heroes in his pieces. He liked conflict, and if he unearthed it, he'd talk about and write about it."
Roberts inevitably pissed people off. In his 1981 piece on female high-altitude climbers, he looked askance at Arlene Blum's leadership of the successful American Women's Himalayan Expedition, which Blum famously chronicled in her 1980 book, Annapurna: A Woman's Place. Blum, a seasoned mountaineer who had summited Denali and reached nearly 25,000 feet on Mount Everest, had been denied a spot on at least one all-male high mountain expedition because of gender. She was told by a male guide that women were a liability—too weak to carry big loads and lacking the emotional stability to deal with intense stress.
In 1978, Blum formed an all-women's team to tackle 26,545-foot Annapurna I, one of the most treacherous of the world's 8,000-meter peaks. Blum's team sold T-shirts to fund the climb, featuring the catchphrase A Woman's Place is on Top. But the ten climbers didn't label their expedition feminist.
"Annapurna was for us primarily a personal challenge," Blum wrote, citing the many obstacles the team would have to overcome: fundraising, logistics, the technical rigors of climbing the peak. "If, in addition to all this, our experience helped break down the prejudice against women climbers, so much the better."
Two of Blum's team members summited Annapurna while climbing with male Sherpa guides, and two others, climbing without Sherpas, died during a subsequent attempt. Roberts was critical of certain decisions made by the women, saying they were "fired with the zeal of American feminism." He said the expedition had been exploitative of the male Sherpa guides who broke trail to the summit and also served as first responders for the fallen climbers.
Blum was angered that Roberts called her out and also by the story's provocative subhead, which Roberts didn't write: "Why has the course of women's mountaineering led to tragedy?" To Blum, Roberts's argument was not only sexist but hypocritical. Sherpa guides had been carrying loads and breaking trail for male-only expeditions since the start of Himalayan climbing, and many men had died climbing or descending from summits. Why was Roberts holding women to a higher standard?
In 2005, 24 years later, the animus went public at the Banff Mountain Film and Book Festival, where Blum and Roberts were panelists on a discussion about climbing memoirs. "Your article said that my friends died on Annapurna because I, out of pride for women, refused to let Sherpas accompany them on their summit attempt," Blum said to Roberts. "That's not true. Your article was not accurate and it hurt me and other women." Roberts objected to Blum's argument then, and he challenges it today. Climbing to further any "ism" is fraught with danger, he believes. "People can get into trouble when they climb with an ulterior motive like that. That contributed to the fuck-ups that led to the deaths."
---
Roberts's friends describe him as an incurable peripatetic who has grazed far and wide. "I'm pretty sure that when he emerged from the womb, he was in an intensely agitated state," says Krakauer. That intensity partly explains his range as a writer, which has taken him from Douglas Mawson's Antarctica (Alone on the Ice) to the six-year ordeal of four shipwreck survivors on the island of Svalbard (Four Against the Arctic). He has cowritten books—four with Ed Viesturs, and one each with Conrad Anker and Honnold—and written biographies, leading him everywhere from Brad Washburn's Alaska to Jean Stafford's New York.
Roberts loves big-mountain terrain, but no place seems to have galvanized him as much as the American Southwest, which is featured in eight of his books. Canyon country, Roberts has written, simply got under his skin, and he found excuses to return to it by writing about it.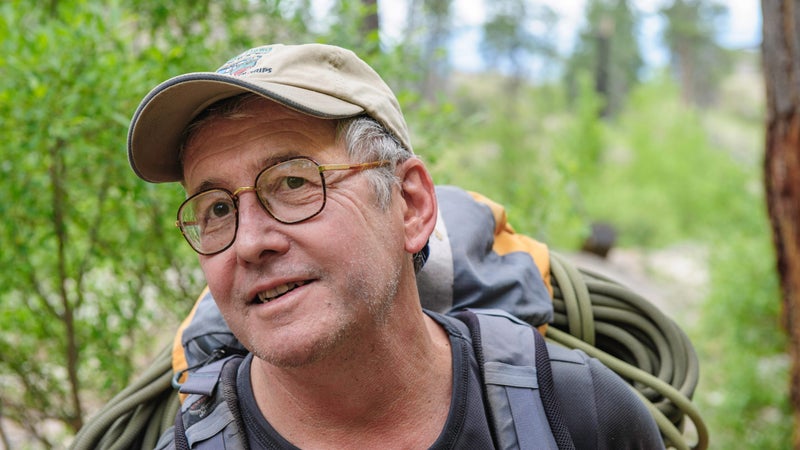 In the Southwest, he's produced books about Geronimo, Cochise, and the mysterious disappearance of the 20-year-old poet and artist Everett Ruess. He's told stories ranging from the 1856 Mormon handcart tragedy to the Pueblo Revolt of 1680. He's kept returning to one of his greatest loves: the Ancestral Puebloans. In 1987, he wandered into Bullet Canyon, a tributary of Cedar Mesa's Grand Gulch, and was bedazzled by the cliff-perched dwellings and granaries he saw. He realized the skill of Anasazi climbers—a fact, he says, that has been completely ignored by archaeologists, who believe that canyon walls have sloughed off over 700 years, making extreme terrain out of once steep but conceivably climbable rock. ("That's pure bullshit, and I can disprove it," Roberts says.) Since the publication of In Search of the Old Ones in 1996, he's returned to the Colorado Plateau twice a year, including last May, to visit old haunts with his closest friends.
Roberts has been criticized for having been too revealing of Ancestral Puebloan sites and antiquities in his book, which is still used as a sort of treasure map by hikers exploring the area's canyons. In one of the book's scenes, he described finding an intact "corrugated" ceramic pot and provided a photo of it.
"Folks started showing up at the Kane Gulch ranger station on Cedar Mesa, my book opened to the photo of the corrugated vessel, demanding, 'How do I get to Roberts's pot?' " he writes in the foreword of the 2015 sequel The Lost World of the Old Ones. "Tell Roberts to shut the fuck up," a ranger told one of Roberts's friends. Roberts understands the frustration, but he refuses to stop exploring—or to shut the fuck up. That's not who Roberts is or what he does. Has ever done.
---
When I first e-mailed Roberts last summer to see if he'd talk to me for this piece, he wrote back: "Sounds like a premature obituary! W. H. Auden told me that the hardest thing he ever had to do was write an obit for the NY Times on T. S. Eliot while Eliot was still alive. Oh well—I ain't Eliot and you ain't Auden. I'm happy to help you with this."
Roberts's generosity shined through during our five conversations. Despite exhaustion, coughing spells that left him breathless, and a parched throat, he gave freely of his time and answered nearly all my questions, whatever they were. When our last conversation was winding down after 90 minutes, he could barely croak out his answers. Still, I had one more.
"How would you write this piece were the roles reversed?"
He chuckled. "I don't think I've ever quite done something like this," he said. "I guess I would caution you to look for the foibles. If it's all positive, it's not going to be very good. But I don't really want to push that on you."
Schubert's health was failing when he composed Winterreise, which tells the story of a jilted lover, a poet, wandering alone through a winter landscape, haunted by the loss of his love to another. The final song, "Der Leiermann," is widely considered the most poignant of the 24, the cycle's capstone. The words are as spare and haunting as the music.
The poet-wanderer passes beyond a village and sees an old hurdy-gurdy man playing his instrument. Nobody else notices; no one listens. The money bowl is empty. Dogs growl. The musician's fingers are numb, and his feet are bare; they slip on the ice. But on he plays.
"Strange old man," says the poet to the musician. "Shall I go with you? Will you play your hurdy-gurdy to my songs?" 
Brad Rassler, a former Outside editorial fellow, is the founder of Sustainable Play (@sustainableplay), an online magazine covering adventure and the environment.
Lead Photo: Matt Hale