Why Did Eddie Bauer Lay Off Its Whole Team of Professional Athletes? It's Complicated.
Last month the company discontinued its Guide Built program, letting go of over 20 athletes in the process. Who's left? Influencers.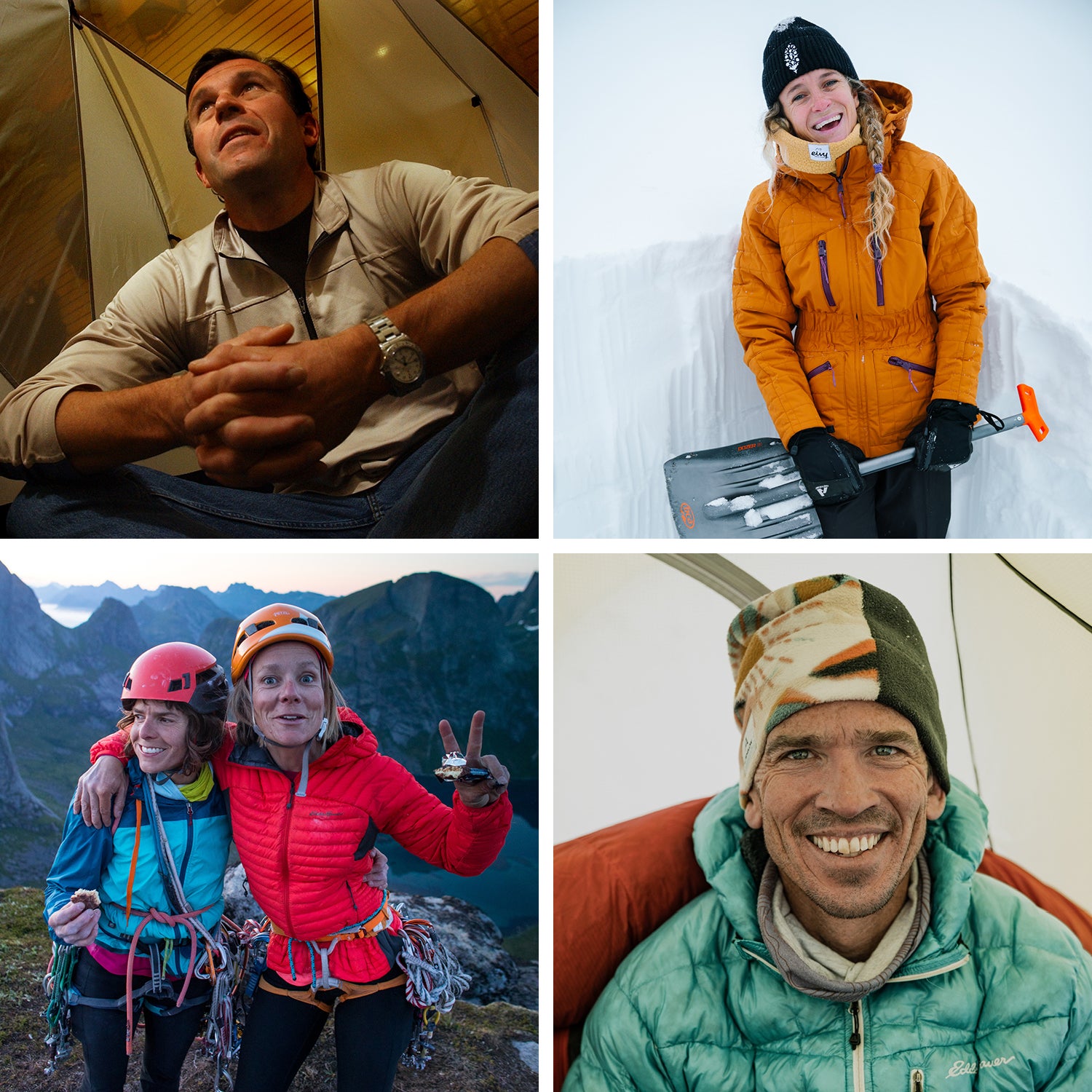 From left, George Wilhelm/Getty; Courtesy Caroline George; Courtesy RXR sports; Zoya Lynch/Courtesy Lexi Dupont
Heading out the door? Read this article on the new Outside+ app available now on iOS devices for members! Download the app.
On Monday, January 30, alpinist and internationally certified guide Caroline George received an email from Eddie Bauer, her sponsor of nearly 15 years. She was expected to be on an important call with the company's CEO, Tim Bantle, the following day.
This is how it ends, I'm sure, she thought.
On Tuesday, all 11 members of Eddie Bauer's Guide Built athlete program gathered on the call. Those in attendance included climbers and alpinists like Adrian Ballinger, Carla Perez, Paige Classen, and Melissa Arnot Reid. Bantle, who was hired by the brand in September after serving as general manager of the North Face and the VF Corporation Canada, warned that this was going to be a difficult conversation for them.
Bantle explained that they were being laid off, effective immediately, and that the termination clauses in their contracts would be honored. In lieu of continuing to sponsor its team of professional athletes, Bantle said that the company would instead work with what it calls brand contributors, a varied group of adventurers, photographers, fishers, kayakers, and more, all with large social media followings.
George's relationship with Eddie Bauer looked like many athlete sponsorships: the brand supplied her with a monthly stipend, free gear, and support for trips she was taking, while she helped with product testing and development, promoted the brand on her own channels, attended events on behalf of the brand, and planned and executed trips for herself and other athletes that would support the brand's marketing. The nature of Eddie Bauer's relationship with the new team is unclear. Outside reached out to seven of its brand contributors but was not granted an interview, and the brand declined to comment beyond issuing the following statement:
"We have discontinued the Guide Built program and our formal guide-based product development relationships in order to reach a broader audience and wider distribution opportunity for First Ascent – our most technical outdoor product. First Ascent is evolving to a more comprehensive collection of technical, premium outdoor products for all mountain experiences, informed by over 100 years of product-development know-how."
Just like that, all the professional climbers and alpinists that comprised the Guide Built team were left wondering what's next. Perhaps they should have seen it coming—about half of the 20-plus person team had already been cut in October, including climber Katie Lambert, who had been an athlete for Eddie Bauer for the past decade, and the entire ski and snowboarding team, which involved well-known athletes Drew Tabke and Lexi Dupont, among others.
"I'm trying not to be bitter about it," said one longtime athlete who wished to remain anonymous. "But honestly, part of the process for me is about grieving, knowing that we've worked so hard for so long to build legitimacy into this brand."
While the athletes that Outside spoke with were disheartened, they also expressed gratitude for what the brand enabled them to accomplish. "I can only have the deepest of gratitude for everything I've gotten to experience from Eddie Bauer," says George. "During my time with them, I was able to fulfill lifelong dreams in the mountains and beyond. When I had a child, my journey into motherhood was fully supported. It was no doubt one of the one of the most impactful chapters of my life."
---
Eddie Bauer built its brand in close collaboration with boundary-pushing athletes. Its namesake was a Seattle-based guide who opened a store in 1920 and went on to outfit many notable expeditions, like the third American expedition to the Karakoram in 1953 and the first ascent of Gasherbrum I in 1958. In 1963, Jim Whittaker wore an Eddie Bauer parka as he became the first American to summit Mount Everest. The brand was acquired by General Mills in the seventies and began producing casual lifestyle apparel and home goods, but in 2009 it returned to its roots with the launch of First Ascent, an "expedition-class" technical-apparel line born from direct collaboration with professional guides.
"The role of the guides in the development of this line is unprecedented," said Peter Whittaker, a renowned guide and nephew of Jim Whittaker, in a press release in 2009. "We designed it. We built it. We live in it." The First Ascent line went on to win 48 outdoor-industry awards.
As the brand become more invested in the idea of retaining professional mountain athletes for marketing and promotion, the use of the word "guides" with reference to its athlete team wasn't totally accurate: several longtime members aren't actually guides (Lambert and Dupont for example). "Half of the team was legit alpine mountain guides," says Lambert. "It felt disingenuous to call the rest of us, professional rock climbers included, guides when we hadn't gone through all of that training."
None of what I actually do in the mountains seemed to matter as much as what I posted. It made me wonder what kind of world we were heading toward.
The team identity got more muddled when, starting in 2019, according to Lambert and George, the company began to add community leaders to the roster. But the athletes welcomed the new members. A meeting with the group was held that year, in which management stated its intention to become more inclusive and diverse, "which I could not be more supportive of," says George. Tabke, himself a certified ski guide and avalanche instructor, voiced similar support, even in the wake of his October layoff. "I was OK with it actually, because they've been building a really cool diverse group of sort of hybrid influencer-guide-athletes. If they want to cut a straight white male skier on their way to building a more equitable team, then I support it," he says.
However, athletes noticed that the company was placing an increasingly heavy emphasis on social media clout. "They were bringing on professional influencers, the ones that curate lifestyles, and they were trying to integrate them with the athlete team," says Lambert.
She recalled Eddie Bauer management looking for a female climbing athlete to add to the roster in 2019. "One of their stipulations was that they had to have over 20,000 followers," she says. She kept recommending athletes that she felt had a lot of potential but whose followings hovered closer to 15,000, and the company didn't bring them on. "They just couldn't wrap their heads around it," she says.
Toward the end of 2021, Lambert says, Eddie Bauer largely stopped funding expeditions and trips. George confirmed this. "We were all kind of sitting around, twiddling our thumbs like, Well, this is a sweet job, but what are we doing aside from product testing, if we're not going on these trips? What's going on?" says Lambert.
George was told in December 2022 that her contract was being renewed because her social media feed was so good. "What was standing out to them were my reels and growth on social media. None of what I actually do in the mountains seemed to matter as much as what I posted. It made me wonder what kind of world we were heading toward. Ethics and authenticity are extremely strong values in the mountains and I felt they were in conflict with what I was hearing." (George is one of few internationally-certified female mountain guides, has 20 years of experience, and has climbed the six north faces in the Alps, including the Eiger's in a day, and has put up new ice climbs in Norway, Canada, and Iceland.)
After the layoffs, on February 3, Eddie Bauer's official Instagram page posted a picture with three smiling hikers. They're bundled up, making their way down a muddied trail in the rain. "Come rain or come shine, always #LiveYourAdventure," stated the caption.
Those who heard what had happened to the brand's athletes began to infiltrate the comments section. "Influencers are not athletes," follower after follower remarked. Eddie Bauer did not reply.
---
Brands play an important role in defining who gets to be a professional mountain athlete. "The way that climbing is set up, we don't have teams other than the national teams—the people who compete in the world championships and the Olympics," says Jonathan Retseck, the founder of RXR Sports, an agency that represents former Guide Built team member Adrian Ballinger and many other well-known climbers. "It's not like there's the L.A. Lakers of climbing. The brands provide that infrastructure for these guys to go on trips and to do all the inspirational stuff that we all love to read about and watch movies about." Almost every brand that makes outdoor gear has a stable of athletes that they sponsor, with support ranging from free gear to a yearly stipend or salary and financial support for their athletic endeavors.
Most of these professional athletes also act as influencers, in the way they present themselves on social media, work with brands, and promote certain lifestyles and agendas. The key difference is that athletes do this while also pushing their sport's boundaries. They're record holders and first-ascent chasers, setting new standards and refining old ones.
The representatives Eddie Bauer has chosen to move forward with are inarguably valuable for the brand, especially in its effort to reach a broader audience. They have a large collective following on social media and are notably more diverse. Many of them are grassroots-level community leaders who facilitate equitable access to the outdoors. Mikah Meyer, the first person to visit all 419 National Park Service sites in a single road trip, has 66,700 Instagram followers and is a well-known LGBTQ+ rights advocate. Eeland Stribling, an angler, wildlife biologist, outdoor educator, and stand-up comedian, has 18,200 Instagram followers and works closely with Brown Folks Fishing, a nonprofit supporting anglers of color. Kayla Lockhart, a world-traveling fly-fisher, works with conservation groups and introduces kids in the foster-care system to the pastime with the Mayfly Project. She has 34,800 Instagram followers.
The athletes Eddie Bauer let go had significant followings, too, and gave back to the community in myriad ways. Lambert has 8,200 followers on Instagram, has made notable big-wall free ascents in the U.S., Canada, and Europe, and is the COO of Sacred Rok, a Yosemite nonprofit that helps underserved youth get outside. Paige Claassen, with 43,300 followers, is easily one of America's best sport climbers and also founded the Southern Africa Education Fund in 2016 to build new classrooms in rural Africa. Ballinger summited both Mount Everest and K2 without supplemental oxygen, made the first ski descent of Manaslu, and has led over 150 expeditions as the founder of Alpenglow Expeditions. He has 118,000 followers on Instagram.
But followers do not necessarily equate to outdoor-adventure experience, nor even accurate portrayals of their outdoor expertise. The anonymous former Eddie Bauer athlete recounted an instance in which they guided an influencer who had built a large following based on their image as an athlete and climber—but didn't know how to put on a harness. "Most of the time we spent in the mountains, they were running to set up their GoPro and get the angle right to make the terrain look steeper. And then, over the next year, I watched content come out that portrayed this person as a very extreme, skilled climber." They expressed concern that the person they guided didn't seem interested in actually learning new skills, because they had such a strong self-perception—bolstered by their online identity—that they were already an expert.
Climber Drew Hulsey stressed the importance of authenticity. The self-described "V1 gym crusher" (a reference to the bouldering rating scale, in which V1 denotes an easy climb) attends events, gives clinics, and uses his social feed to promote plus-size gear for several brands, including Black Diamond and La Sportiva. He's never tried to inflate his abilities; instead, he's genuine both in his love for the sport and in his belief that others can and should give it a try. "I don't think this move is great for the industry." says Hulsey. "If you just go all in on influencers, you're not going to showcase the sport in the best way possible—you're not having real pro-level athletes showing you what the sport means."
The former Eddie Bauer athletes I spoke with agreed: they just wanted honest representation. "I think there should be a space for influencers who are authentic, who are doing real things," says George. The athlete who wanted to remain anonymous echoed that. "If you're selling what you're actually experiencing, I'm so here for that," they said.
Lead Photos: From left, George Wilhelm/Getty; Courtesy Caroline George; Courtesy RXR sports; Zoya Lynch/Courtesy Lexi Dupont
Trending on Outside Online