The New HBO Documentary Series 'Edge of Earth' Sparked a Climbing Controversy
In the third episode, climbers Emily Harrington and Adrian Ballinger ascend Kyrgyzstan's Pik Slesova. The publicity around the expedition has shed light on the complexities of reporting big-wall attempts.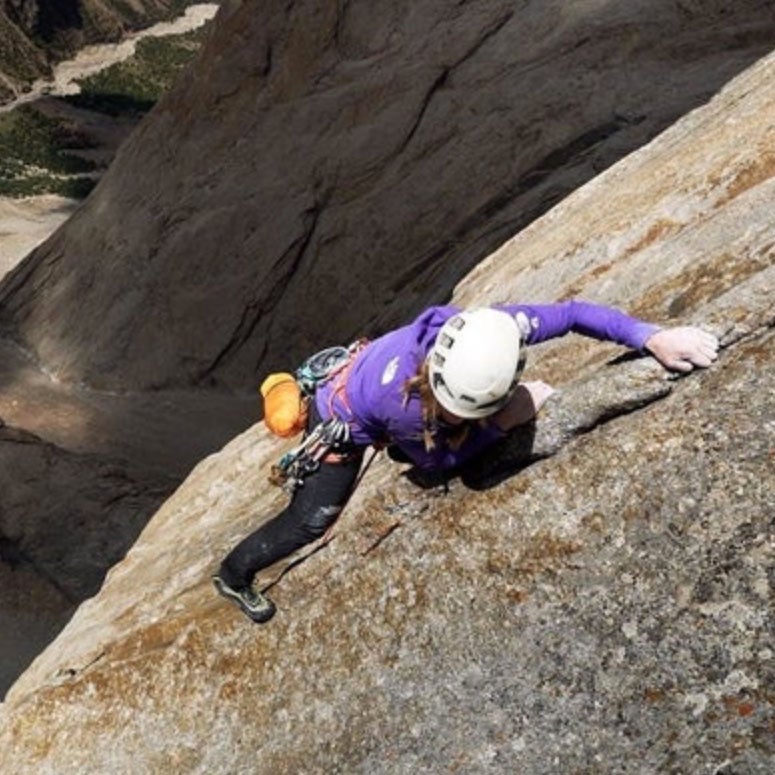 Colette McInerney and Teton Gravity Research
Heading out the door? Read this article on the new Outside+ app available now on iOS devices for members! Download the app.
On July 26, HBO released the third episode of its outdoor documentary series Edge of the Earth, in which pro climbers Emily Harrington and Adrian Ballinger ascend the northwest face of Kyrgyzstan's 13,910-foot Pik Slesova, a famed granite wall known by climbers as "Russian Tower." The duo are trying to send the route The American Way, which was first climbed in 2019 by climbers David Allfrey, Brent Barghahn, Nick Berry, and Eric Bissell. Harrington and Ballinger each planned to claim individual first free ascents, but—as you can see in the well-produced hour-long episode—they encounter major challenges.
Afterward their expedition, a weeks-long online debate about big-wall ethics ensued. Things got heated.
On Instagram, the day before the show released, Allfrey wrote: "In regards to the new @HBO show 'Life on the Edge' @hbo @hbomax @emilyaharrington @adrianballinger claim 'a first free ascent of Pik Slesova', in which they climb a free route established and freed by @nikscaryberry @ericbissel @brentbarghan and I. We think they could have done better to represent the truth of their accomplishment, a proud second ascent, a first female ascent. But not, in any way, a First Free ascent." 
Other climbers weighed in about the presentation of the accomplishment, and some asked questions about climbing style and the ascent itself. Let's dig in to the controversy. 
The Episode
The four-part Edge of Earth series is produced by Teton Gravity Research, and it is worth watching. In this particular film, Harrington is as strong and honest and tenacious as ever, and she and Ballinger take on some formidable obstacles, from threats of terrorist activity, to COVID, to rockfall, and then of course the difficulty of the route itself.
"It was one of those trips where literally everything seemed to be always falling apart and we couldn't catch a break," says Harrington in an email. "It's just like anything though, you have to 'train' for such junkshows by remembering that in order to come out of it with even a shred of your sanity intact you have to let go of the things you can't control and do your best with the things you can."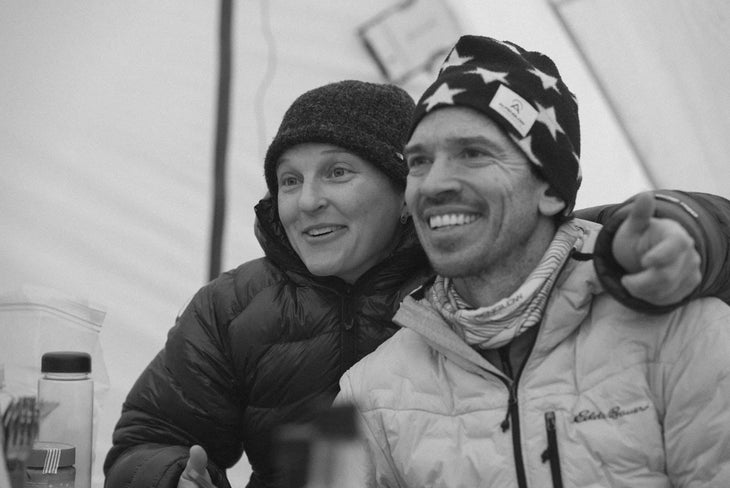 In perhaps the most pivotal moment of the episode, Harrington traverses through the sky, having just climbed the majority of a pitch called The Kyrgyz Monster, named after the Monster Offwidth on El Capitan. She's shaking, dancing her weight from one foot to the other and back again. The final hold, a jug rail, is just out of reach, and the truth is written all over her face: She does not have the energy to do the pitch again if she falls. But she pulls through, because she's a rock star. She gets scared, she cries, she tries really hard. In the end, she's just plain tough. 
The Route
Kyrgyzstan's Ak-Su Valley remained largely unknown to the climbing world until a Soviet party visited it in 1982. The valley is much like a remote Yosemite. Glacier-carved granite crests thousands of feet above a rippling floor. The rock goes on and on—Kyrgyzstan comprises one of the world's most mountainous regions. As Soviet alpinists played in the region, word spread and climbers from abroad began traveling to the country. Unfortunately, the area has been rife with conflict since the 90's. It was here that climbers Tommy Caldwell, Beth Rodden, John Dickey, and Jason Smith were kidnapped by militant rebels in 2000. The threat of violence has only recently diminished, and with that, climbers have begun returning to the extensive rock playground. 
Roughly the height of El Cap, Pik Slesova soars over 3,000 feet from its base. It is home to the famous Perestroika Crack (5.12b), widely considered one of the best big wall crack climbs in the world, free climbed in 1995 by Greg Child and Lynn Hill. In 1988, the steeper northwest face was first aid climbed by a Russian team who called their line the Moroz Route. Conrad Anker and Alex Lowe climbed the line seven years later with a few variations, calling the alternate route the Russian Shield (VI 5.10 A4).
More than 20 years after that, Berry, Bissell, Barghahn, and Allfrey added different variations to the original Moroz Route, doing a team free ascent of The American Way. "Team free" refers to the fact that not every member of the team climbed every pitch without aid; it's a fairly standard method for tackling big walls, especially when dealing with the work and logistics of first ascents. They spent four days aid climbing up Moroz Route, fixing ropes up to the white block bivouac, a large ledge about halfway up the wall. Then, in a ground-up push, they spent three days free climbing up to the ledge. From there, they continued their push to the summit. In total, they spent 18 days in the valley and left behind rappel anchors and bolts placed as needed. 
In 2021, when the episode was filmed, Harrington and Ballinger went to Kyrgyzstan with the goal of completing first individual free ascents of The American Way—meaning that they each intended to free all the pitches, another fairly common step in the continuum of big-wall climbing. Once arriving at the route, after many unforeseen delays—watch the episode!—the two spent a few days working the crux 5.13 second pitch, which is conveniently accessible from base camp. The weather cleared, and they went for a ground-up push, attempting each pitch in sequence. Harrington led everything 5.12b and harder, as well as the runout, loose, and more dangerous moderate pitches. Ballinger led one 5.12a that he had worked on, but, largely due to time, did not successfully free the whole route. 
"It's an incredible route," says Harrington. "It had everything you want in a big wall free climb: hard face pitches, thuggy off-width, long, wandery and runout moderate pitches, a beautiful summit. It rivals any free route on El Cap in terms of quality and awesomeness."
The Selling of a Story
Trouble began even before the episode was released, when various media outlets wrote headlines about how the two had completed the first free ascent of The American Way, leaving out the crucial word "individual." Harrington and Ballinger worked swiftly to correct the headlines, but not without more than a few climbers placing blame on them on social media for falsifying the story.
"The funny thing is that we went to great lengths to clarify and make sure the story was told accurately and fairly in terms of what was done (and who came before us) in the episode," Harrington says. Within the first four minutes of the episode, in fact, a photo of the four climbers to record the first ascent is shown while the history is discussed.
"Admittedly we didn't catch the first incorrect headline about us trying to do a first free ascent, but that was apologized for and fixed immediately after we were made aware (there were others that we also got fixed but it took longer)," she says. "Obviously we didn't write that headline, make any such claim, nor did we have that much control over its publishing—the mainstream has been guilty of getting the subtle nuances of climbing wrong in every big story, not just this one."
Indeed, this is not the first time Harrington's accomplishments have been misconstrued by the media. Back in 2020, Harrington became the first woman to free climb El Cap's Golden Gate route in a day. Many news outlets incorrectly headlined their articles "First Woman to Free Climb El Cap in a Day." Famed climber Lynn Hill was the first to do that in 1994, followed by Steph Davis, in 2004, and Mayan Smith-Gobat, in 2011. This type of misreporting is not Harrington's fault—but rather the general population's lack of understanding of our sport.
HBO's marketing of Edge of Earth didn't fix the situation. The series, comprising four episodes total, features "four groups of elite action-adventure athletes embarking on never-before-accomplished missions," so reads the site's page. This language added to the confusion. 
Francis Sanzaro, Ph.D, was the former editor-in-chief of Rock and Ice, Gym Climber, and Ascent, now of GearLab, speaks highly of Harrington in terms of her strength as an athlete and veracity of character. But he pointed out the inherent conceptions that come with the idea of "never-before-accomplished missions." 
"I think the modern public, when they see 'first,' they think of the first person who climbs a wall, or gets up it. And I think that's how my mom or dad watching the HBO special would interpret that, you know? … It gives us a sense of true exploration. In terms of the popular definition of first, this didn't fit. But [Harrington and Ballinger] were trying to do a first particular type of free climbing, which is very nuanced in the climbing world," Sanzaro says. 
It does all beg the question: how much responsibility do climbers have for controlling the media's choice of words? It is, of course, a two-way street between an athlete and a journalist, and there's abundant room on either side to intentionally or unintentionally say the wrong thing.
Let's Get Philosophical
The accomplishment is still likely to resonate with hardcore climbers: First free individual ascent. It is the norm to define a free ascent as climbing each pitch without falling. But there are stylistic differences that open up room for questions: Did you lead every pitch? Did someone haul your gear for you? Was protection already placed? Did you do it in sequence and ground up? 
In November, 2021, U.K. alpinists Matt Glenn and Tom Livingstone made the first ascent of the Northeast Pillar of 21,282-foot Tengkangpoche in Nepal. The two used some gear that had been left on the mountain by alpinists Quentin Roberts and Jesse Huey the year before, including a pair of jumars, a daisy chain, an aider, ten protein bars, and three gas canisters. Should they have used the leftover stuff? And should the cache have been left there in the first place? A heated internet debate sparked after the hike, with no obvious conclusion. Importantly, Glenn and Livingstone learned they should have disclosed the usage of the gear in the initial reporting of their ascent. While the two did in fact earn the coveted "first," the fact that they use stashed gear means there's perhaps further room for someone else to come along and improve the style.
In 2017, climbers Sasha DiGiulian, Jon Cardwell, and Marcus Garcia made the first free team ascent of the 15-pitch Misty Wall (5.13) in Yosemite. Initial headlines left Garcia out. In fact, this Gripped article doesn't make it clear that Garcia was one of the ascensionists. His role was to film—or that was the plan—but when two wide-crack climbs were wet, he tapped in for the lead to help move the team along. So why was he left out of initial reports? The claim that DiGiulian and Cardwell, wherever it originated, made a team free ascent is false or at least incomplete, since on that particular day, they couldn't have made it happen without Garcia. Clarifying who did what pitch and in what style is the only way to explain the full story and try to prevent false assumptions.
On the outset, you might think doing an individual free ascent might help to get around all that. Climb every pitch yourself, and no one can doubt your abilities on the route, right? But that style, too, comes with its own set of nuances. 
As Sanzaro points out in his article Who Did It First? Style, Grades and Dispute in First Ascents, Tommy Caldwell and Kevin Jorgeson topped out El Capitan via the Dawn Wall in 2015. They both sent the crux pitches of the route, however, they swung leads on the remaining pitches, and neither claimed an individual free ascent. Instead, they gave that credit to Adam Ondra, who in 2016 led every pitch himself. Defining an individual free ascent by lead-only is not the norm in big wall ethics, but it is certainly an improvement in style. 
Conversely, in July, Austrian legends Babsi Zangerl and Jacopo Larcher claimed a free ascent of Eternal Flame, on the south face of Trango Tower, in Pakistan. Like Harrington, they each led the crux pitches and then swung leads on the rest.
"It makes a lot of sense to do it that way for efficiency reasons, especially in the mountains where time and weather is a factor; but they each individually freed the route," says Harrington, speaking of Zangerl and Larcher's ascent. "Of course [in our case], leading all the pitches could be argued to be better style, but that would have greatly detracted from Adrian's experience and we felt like that was something to consider as well." 
Armchair philosophers of our sport should also remember this: A style improvement is a style improvement. Sometimes that's the most important takeaway when discussing accomplishments, as incremental steps are the only way to push the sport forward. 
Ultimately, there are no set rules in climbing. But as our sport grows, and more money gets pumped into the system, the stakes are higher. It's increasingly important to discuss what definitions we wish to persist within our sport and the asterisks with which we want to separate the everyday ascents from the fantastic ones. We can mitigate misreporting and obfuscation by asking questions and requiring details. And we get to decide upon the ethics and definitions we wish to persist in our sport.
Also at the end of the day: the HBO episode featuring Harrington and Ballinger is truly a delight. Go watch it and continue the conversation.
This story was originally published by Climbing.com 
Lead Photo: Colette McInerney and Teton Gravity Research
Trending on Outside Online