The Everest Brawl: A Sherpa's Tale
In an exclusive interview, a Sherpa involved in the incident speaks out on the now infamous scuffle with Western climbers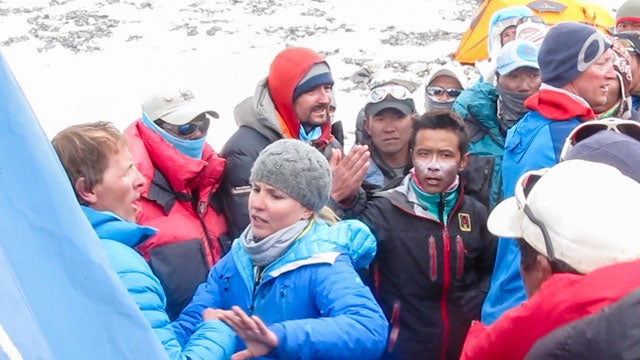 Heading out the door? Read this article on the new Outside+ app available now on iOS devices for members! Download the app.
Ever since the so-called Everest brawl on April 27, reports have emerged from western climbers and Sherpas who were not involved or, in some cases, even witness to the fight. The stories have sparked plenty of controversy, and many were based on second-hand information. None of the Sherpas at the center of the fight have told their stories, but in a recent interview, a Sherpa on the rope-fixing team who was directly involved in the altercation shared his side of events. International Mountain Guides' two-time Everest summiter Tashi Sherpa, 30, spoke with reporter Deepak Adhikari in Kathmandu. The interview was conducted in Nepali and translated into English.

Ueli Steck (right, red jacket) approaches Everest's Lhotse Face, before the conflict at Camp 2 erupted.

Ueli Steck (lower left) on the ground at Everest's Camp 2, after being attacked by Tashi Sherpa. Simone Moro can be seen fleeing camp (upper left, orange jacket).

Guide Aaron Mainer holds back Tashi Sherpa (left, dark blue jacket) at Everest's Camp 2 during the scrum.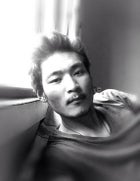 Tashi Sherpa: "They told us: We will not disturb you; we will take another route."
Walk us through the chronology. Give us a step-by-step recounting of what happened on the Lhotse Face.
In a meeting at Camp II, we had decided that no one would climb until we finished our job. We were aware that many climbers would hike up from Camp II to acclimatize. Fixing ropes is a sensitive and huge task. So, we strictly alerted everyone not to go high up.
We were a team consisting of belayers and leaders. In our job, if one of us makes a small mistake, another member can be injured. So, we have to be extra careful. We were at 22,000 feet at around 8 a.m on April 27. We saw that three foreign climbers were climbing up. We were all using the same radio frequency so when we saw them, we asked other Sherpas to stop them because ice can fall from high up. But they didn't stop. Nobody knew who they were. Someone said they were Russians. When we inquired about them through the radio, we were told that they were Russians and had a permit to climb Lhotse. Even then, we tried to stop them, but they didn't listen and continued to climb using our ropes. They turned out to be three renowned climbers and guides—Simone Moro, Ueli Steck, and Jonathan Griffith.
They told us: We will not disturb you; we will take another route. After their assurance, we allowed them to go ahead. By this time we had reached 23,000 feet. Our goal for the day was to complete the rope fixing up to Camp III and then go 600 feet farther. When the Europeans traversed past Mingma Tenzing, our lead fixer, ice tumbled down and hit one of our crew members, a Sherpa who works for Adventure Consultants. His face had bruises. This hasn't been revealed yet. (Earlier, we lied to people saying that it was from a slip, but in fact a chunk of ice had struck him.) I don't know whether they had dislodged the ice intentionally or whether it was just an accident, but pieces of ice were dislodged and that was the main issue. Mingma told us that it was becoming too dangerous to continue. These people climbed up despite our call not to do so. Mingma said we should descend, so we followed his instructions.
This message was also delivered to our coordinator Greg Vernovage [the leader of the International Mountain Guides Expedition] at Camp II. Mingma had already anchored the rope and while he was rappelling down, Simone approached him and began the verbal abuse. "How much money do you need?" he asked Mingma. As this was going on, Ueli Steck stormed in and grabbed Mingma's chest. It was very dangerous to grab someone's chest in such a high and precarious place. I was 100 yards below him at the time. I was leading on the right side while Karma Sarki was at Mingma's side. We had already decided to descend because the three were not only getting in our way but were also picking fights. Simone uttered words that were abusive. Ueli also pointed his ice axe toward Mingma. I was scared at the time. We descended wondering why they had defied our warning and why they were keen on getting into a quarrel.
We arrived back at Camp II at around 2 p.m. Everyone was aware of what happened on the Lhotse Face because they all had tuned in to the same radio frequency. The overwhelming mood in the camp was that of resentment.
What did Simone and Ueli do to make everybody so angry?
So here's how I sum it up: The three ignored our warning and climbed up. Ueli grabbed Mingma's chest, and Simone used foul words. While we were talking with Greg over the radio from the Lhotse Face, discussing our next move, Simone said: "We will see; we will talk with the fucking Sherpas. We will come there and see."
Later, we heard that they resumed our work and began fixing the ropes for us. Sherpas fixed the ropes, but it was the foreign climbers who took the credit. Not many people know this. It is Sherpas like us who work hard, risk our lives but never get the credit. Simone is not unfamiliar with our mountains. He was invited to the meeting organized by SPCC [the Sagarmatha Pollution Control Committee is the closest thing to a governing body at Everest Base Camp], which oversees the rope fixing. But neither he nor the other two attended the meeting.
Explain how things got heated at Camp II.
At Camp II, we decided to talk to the three and find out why they had ignored us. Many Sherpas were angry and said that they should be punished and banned from the country. This is not the first time these people have humiliated us. Greg told us that he would negotiate with them. Sherpas were saying that all three must apologize. Sherpas were obviously angry. We were also very tired. I think altogether there were about one hundred of us. Sherpas were also curious about Simone. They had heard that he was a chopper pilot but hadn't seen him up close.
Mingma and I made our way to his camp, which was about 50 yards away. We were approaching Simone's tent when a foreigner emerged from it. He turned out to be [Kiwi Peak Freaks' guide] Marty Schmidt. He assaulted me and shouted: "Why are you here?" He said, "I'm Simone. What do you want?" We were only a few feet away from Simone's tent. We had to defend ourselves, and the brawl ensued there. By this time, three other Sherpas joined us. Rocks started to fly and Sherpas started to shout at Simone and others, demanding that they come out of their tent.
Were any of you wearing scarves or oxygen masks over your faces when you went to Simone and Ueli's tent?
It was natural for Sherpas to wear scarves to protect from cold. I was also wearing a scarf.
Who kicked Simone while he was on his knees?
Simone had already escaped. But later, some Sherpas demanded his apology. Then, Simone appeared and apologized. I don't know who kicked him. I'm not sure whether it was a kick or a punch.
Steck seemed convinced that his life was in danger. Do you think the Europeans might have actually been killed?
I have read in blogs that they claimed one hundred Sherpas attacked them, that they were trying to kill them, and they had to flee for their lives. That's false. If Sherpas had really wanted to kill them, would they be alive now? Sherpas have all along respected the foreign climbers. All of us respect them. The relation has been that of trust and friendship. But it got a bad name due to one person—Simone.
In reality, we were helpless. There was no one who spoke on our behalf. There were so many journalists in Base Camp. They were constantly blogging and updating on the brawl. But not a single journalist or blogger approached us. They were simply not interested on us. Even the government-appointed liaison officer didn't bother to talk to us.
Was this an isolated incident or is there some deeper resentment that Sherpas are feeling toward western climbers as has been suggested by some Everest watchers?
The resentment was always there. But incidents like this didn't occur before because Sherpas didn't take offense to trivial matters. But this time around, it was different. Earlier, most Sherpas were uneducated and they would grin and bear it. Earlier, we had suppressed our feelings.
Even in documentary films like Into Thin Air and Everest, you don't get to see Sherpas. We have been left out. But we are the ones who, despite the risks and hazards, make sure that all is well on Everest. This is our life, our livelihood. It's not only Sherpas but our government that has benefited a great deal from mountaineering. Moreover, the whites have also benefited from it.
People tend to ignore what foreigners do on the mountain, but when the scuffle broke out when we tried to defend ourselves, it became a huge issue. Our government also remained silent on this matter. For me, mountaineering is both a choice and a dream. There are Sherpas who despite being in their forties, still guide expeditions. Historically, they were not educated, but now they are. Many who are old don't want their sons to work as guides because there are other options. If they can educate their children, a better future awaits them. I have been interested in mountaineering since my childhood. I used to see my father—he's now in the U.S.—return from the mountains. I received training from the Nepal Mountaineering Association and know my job and responsibilities well.
For us, Everest is a goddess. We worship it before embarking on an expedition. I think the relation between Sherpas and foreign climbers is still good. It has been strong and cemented over the years working together for a goal. But this incident was waiting to happen, and it will happen again as long as Sherpas are humiliated.
Simone comes to Nepal because his livelihood is here; he is dependent on the mountains. Earlier, there was no one to oppose him. Sherpas were fearful for their own jobs. Earlier, they feared that if they angered him, they would lose their job. Now they have become more confident.
Trending on Outside Online