The Everest Circus Moves to K2
Climbing K2 is the next biggest thing. We refuse to whine about it.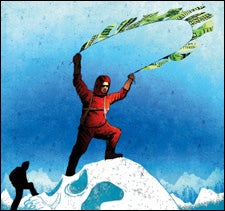 Heading out the door? Read this article on the new Outside+ app available now on iOS devices for members! Download the app.
Editor's Note: This article was written in May for the July issue, before the climbing season began on K2.
K2

Last August, after 11 climbers died on K2 in a chain reaction of mishaps and mistakes, every journalism outlet from expedition Web sites to The New York Times to Outside debated whether the mountain would, like Everest, be overrun someday by record seekers, guided rich guys, and unqualified yahoos. A year ago, it didn't seem possible. But now things seem to be changing, and we're convinced that K2's circus era is inevitable. Since we can't stop it, we've decided to be OK with it . . . with one major caveat, which we'll get to.
Yes, summiters are still five times more likely to die descending the steeper, colder, less-protected flanks of K2 than Everest, but if you think that's going to keep the joint from becoming the next "It" spot for cocktail-party bragging rights, just read a sampling of last spring's press releases. In April, Fredrik Ericsson, a 32-year-old Swede, gave word that he plans to be the first to climb and then ski the 28,250-foot monster later this month. Forty-six-year-old Slovenian Davo Karnicar, the first to ski Everest, announced that he'll try the same thing next summer. Even more telling was the announcement by Field Touring Alpine, an outfitter that operates out of Australia and the United States, that it has hired Colorado's Fabrizio Zangrilli to lead "what might be the first-ever commercially organized expedition of its kind" on K2. Unlike the handful of quasi-commercial trips that have tried it since the mid-nineties, Zangrilli is taking ten clients there this July in an expedition that, according to his sponsor Marmot, will usher in a new era of "super guiding."
Granted, what Zangrilli is leading isn't quite the same as the annualEverest-palooza—there won't be any espresso makers, hot tubs, or disco tents. As one of the world's top alpinists, the 36-year-old Zangrilli has led more than 20 expeditions in the Himalayas and the Karakoram, including three trips to K2. He handpicked this summer's clients, all of whom have summited at least one 8,000-meter peak. He'll monitor his climbers' rates of ascent and descent during their acclimatization on nearby 26,400-foot Broad Peak, and he says he'll bench anyone who's not moving fast enough. "I view them as expedition mates, not clients," says Zangrilli. "Most of them have regular day jobs, and my role is more of the organizer, consultant, and coach."
OK, but they're still customers—not fellow pros—and that sound you hear is the rusty creak of stock pens opening. Curious critters will follow if there are cowboys willing to herd them up the mountain. And since 8,000-meter guiding has been around for nearly two decades, there are more worthy guides and Everest-jaded clients than ever before.
"Right now," says Guy Cotter, owner of Adventure Consultants, a New Zealand–based guiding company formerly owned by his friend Rob Hall, "there are a limited number of guys that could pull off" a K2 expedition. "But, assuming we have the right group of people to make it happen, yeah, it's always in the cards as an option." Regardless of what happens this summer, attempting K2 is only going to get easier. More guided traffic will pay for more and better-trained Pakistani porters to fix ever-larger portions of the route with safety ropes.
It will also, as surely as bodies roll downhill, mean more dying. And that brings us to the caveat. We hereby declare a preemptive moratorium on all public moralizing over whether Something Needs to Change on K2. When a K2 calamity happens that involves guided amateurs, and a plucky journalist dutifully writes, "This raises serious questions . . ." our only thought will be: Meh, not really. The questions have been raised and raised again, and nothing ever seems to slow the powerful combination of Dangerous mountains + people who can afford to climb them = people who shouldn't climb them but do.
So we're not going to wade into that morass again. As veteran American alpinist Carlos Buhler points out, "the reason people are climbing K2 is because people are dying on K2." If you're planning on booking (or guiding) your own trip, consider yourself warned. Yeah, we'll cover the drama and heroism and, unless you behaved very badly, we'll probably even shed a tear if you perish. What we won't do, however, is waste any more time examining the issues and deconstructing the decisions. Henceforth, you're officially the 19th cast of Survivor.
Trending on Outside Online