Expedition Watch: Climbing Everest's West Ridge Without Supplemental Oxygen
Heading out the door? Read this article on the new Outside+ app available now on iOS devices for members! Download the app.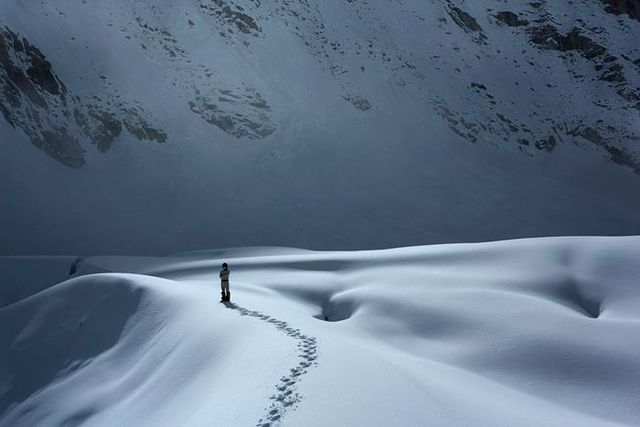 Nobukazu Kuriki on Everest. Photo: Nobukazu Kuriki/Facebook
On Tuesday, Japanese climber Nobukazu Kuriki's Twitter account said he set off for Camp IV in his attempt to summit Mount Everest via the West
Ridge. It was a short
announcement that has not gotten a lot of media attention, but if he summits, his
feat will be one of the most impressive climbs in recent history.
Kuriki is ascending one of the mountain's
most difficult routes, the West Ridge path first
completed by Tom Hornbein and Willi Unsoeld in 1963, which has only seen five
total
people summit. He has received some support from Sherpas—Kraig Becker reported
that they guided him through the Khumbu Icefall, fixed his ropes, and
resupplied his high camps. Otherwise, he is climbing alone, without the aid of supplemental oxygen. "Well, that's huge," said Jake Norton. "No other way to put it. If he pulls it off, I'd say it'll be one of the more impressive ascents of Everest, akin to Messner's 1980 oxygen-less solo on a semi-new route on the North Side. Kuriki isn't solo, but he's on a far harder route, alone above Camp II with no O's and massive climbing ahead. Definitely ballsy."
If the
weather cooperates, he could go for the summit
in the next couple of days and will share his results as soon as possible. Here's a bit more on his quest, in case you want to follow along.
WHO: Nobukazu Kuriki is a 30-year-old Japanese climber who
has completed solo ascents of three 8,000-meter peaks—Manaslu, Cho Oyu, and
Dhaulagiri—without the aid of supplemental oxygen. He has also climbed Aconcagua,
Mount Elbrus, Kilimanjaro, Mount McKinley, and the Carstensz Pyramid. This is his fourth attempt to summit Everest.
WHAT: Everest's West Ridge was first climbed in 1963 by Americans Tom Hornbein and Willi Unsoeld.
This past spring, expeditions
sponsored by The North Face and First Ascent tried, but ultimately
failed, to summit via the West Ridge. More snow covers the ridge this
fall.
Climber Jake Norton said that the additional snow may offer some
benefits for Kuriki, but also may raise the risk factor as he nears the
summit.
"From
the look of the video, he has a huge advantage on the West Ridge
Headwall in that it's covered with snow, whereas for us it was hard ice
the whole way—or 97 percent of it," said Norton. "But, my guess is he'll shortly have to
contend with massive avalanche hazard once he gains the Ridge itself." 
 Norton said it will be a more difficult task
in many ways than what his team had to face. "It's not easy in any way," said Norton.
"And, he'll have no one to bounce thoughts/ideas off of. So, my hat's off
to him for his efforts, and my fingers are crossed for him for his
safety."
WHEN: Kuriki tweeted that he arrived at Mount Everest on September
11. If everything goes according to plan, he hopes to make a summit push in the
next couple of days. The fall climbing season lacks the crowds and the near-constant press coverage that mark the spring climbing season. In addition to Kuriki's quest, a Korean team is attempting to summit Everest via the South Col and a Polish team is attempting to summit Lhotse.
WHY HE SHARES HIS ADVENTURES ONLINE:  "The first time I streamed a live video
online was in 2007, for my climb of Cho Oyu. The footage was available via an
online video site owned by Nippon Television Network Corporation, and was
titled: 'A NEET Alpinist's First Himalayan Climb.' [Laughs]
While I was on the mountain, I was getting emails from NEETs and hikikomori [youth withdrawn from society], and a lot
of them said negative things like: 'There's no way you can do it!' or 'I hope
you fall off and die!' After I reached the summit, though, the tone of the
messages changed, and some of them were saying: 'Thank you!' Prior to that
experience, climbing had always been a personal quest for me, but seeing how
people had been moved by my efforts multiplied my joy many times over. Since
then, 'sharing adventure' has become my motto."
SPONSORS: Nippon.com
FOLLOW ALONG: @Kurikiyama_EN on Twitter, @KurikiyamaEN on Facebook, @Kurikiyama on YouTube (in
Japanese), and his Japanese website at Kurikiyama.jp
H/T: Alan Arnette, Wenger Blog
—Joe Spring
@joespring
facebook.com/joespring.1