The Extraordinary Effort of Margo Hayes
With back-to-back sends of 5.15-rated routes, the climber made history in 2017. And she's just getting started.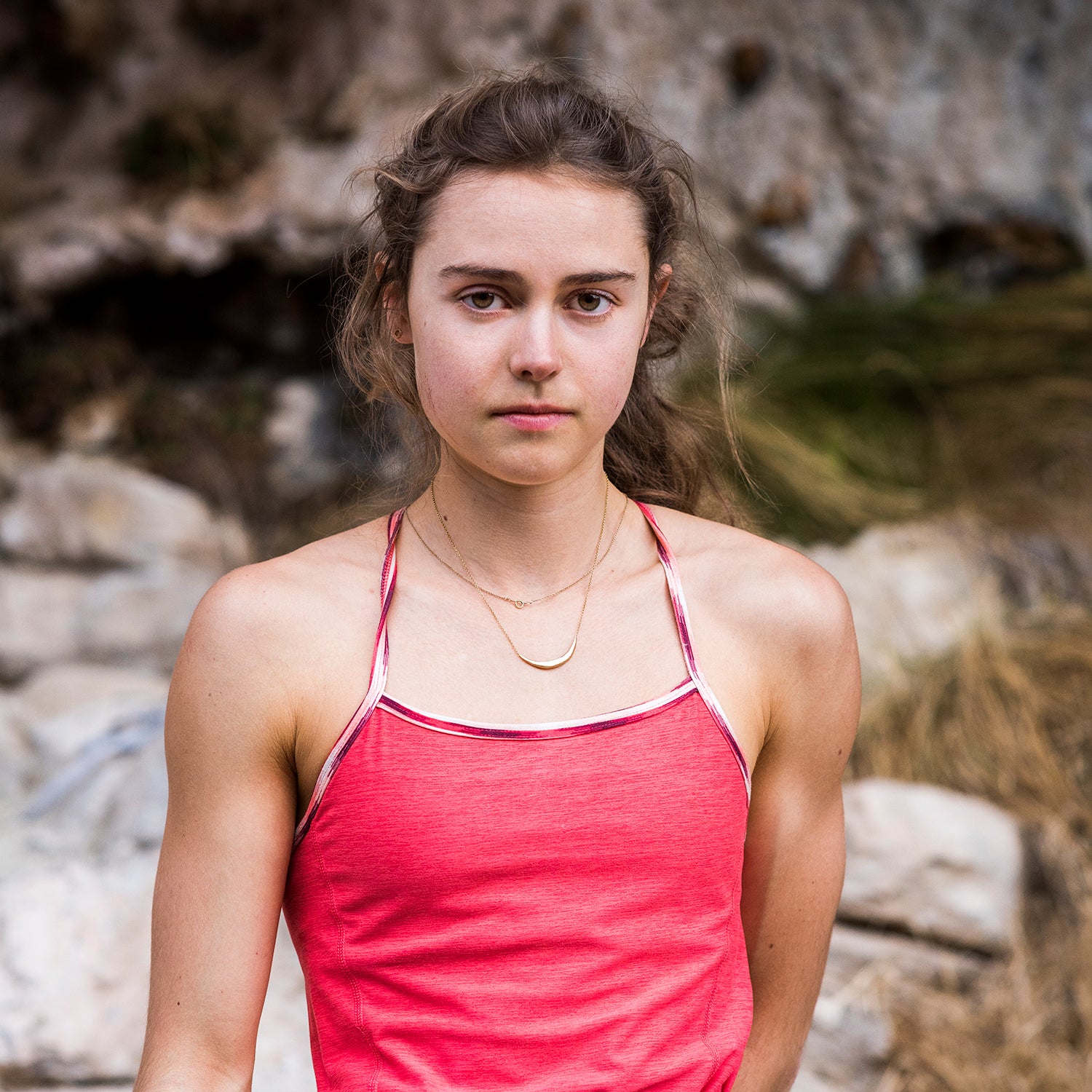 Heading out the door? Read this article on the new Outside+ app available now on iOS devices for members! Download the app.
Margo Hayes is a perpetual motion machine. On a late-November morning at Movement Climbing and Fitness in Boulder, Colorado, she has already swept the bouldering area and is now logging circuits on the MoonBoard, a ten-foot wall set at an ab-quivering angle and littered with microholds. When Hayes falls, which is rare, she's back on the wall before the chalk dust settles. After nearly three hours, Hayes appears to call it quits on her first training session of the day, but within minutes she's slipping her climbing shoes back on to take another few laps on the MoonBoard. "It's never really time to stop," Hayes says with a grin.
That insatiable drive helped the 20-year-old Hayes make history in 2017. First came her breakthrough ascent of La Rambla (5.15a), a 135-foot endurance rally up an achingly steep line in Siurana, Spain, in February. The grade had narrowly eluded American phenom Ashima Shiraishi and Spaniard Josune Bereziartu, and Hayes' success made her the first woman to climb a consensus 5.15 route.
News of her accomplishment spread quickly, thanks in part to a candid photo that Matty Hong, Hayes' former coach and La Rambla belay partner, posted on Instagram. In the image, Hayes clutches her arms in disbelief, her face registering a flawless illustration of strength and vulnerability. The shot logged more than 24,000 likes. "It kind of went outside of the climbing community," Hong says. "It's not like a photo of Chris Sharma gazing off into the sunset, where only climbers are like, 'Oh, sick.'" But Hayes wasn't finished. Seven months later, she repeated the feat by sending her second 5.15a, Biographie/Realization, in Céüse, France.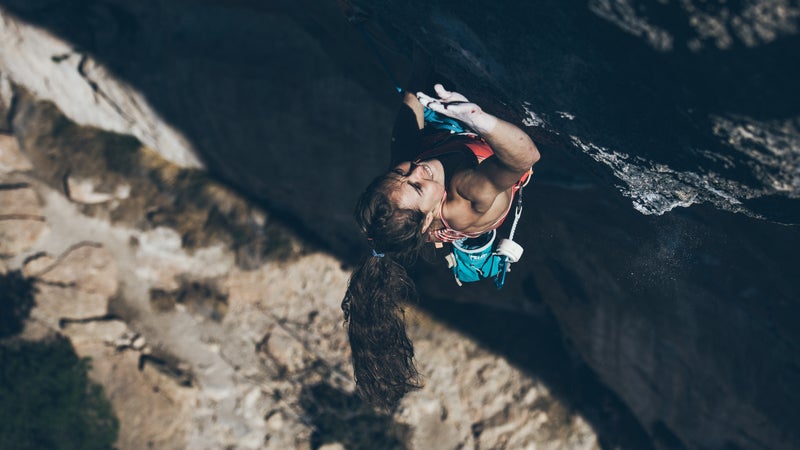 Even core climbing observers didn't see that coming. Unlike, say, Shiraishi, who's been in the spotlight since age 11, when she was profiled in the New York Times, Hayes has operated mostly under the radar. Still, those who know her aren't exactly surprised. Even as a grade-schooler, Hayes developed her own training routines and maintained a lofty set of goals, meticulously stored on checklists taped around her room. "Do you know that Margo Hayes came to me saying that she wanted to go to the Olympics?" says coach Robyn Erbesfield-Raboutou, recalling the day when Hayes, then ten years old, joined her Team ABC climbing squad in Boulder. The young athlete became her biggest challenge. "I have to be the best coach in the world to meet Margo's standards of how she manages herself, because everything has to be on point for her," she says. "If you're not holding the bar as high as she is, then you're not with Margo."
Photo Gallery

19-Year-Old Margo Hayes' Historic Climb
---
I'm tucked into the comfiest seat in Hayes' childhood home in South Boulder, stuffed with tea, chocolate, and a thick slab of honey-drenched banana bread. Scattered among our crumbs lay an assortment of watercolors; when I ask if she painted them herself, Hayes explains that it was her first time dabbling in the medium. I look back to the small, colorful squares—a frog, a taped hand, a bunch of carrots—and blink in disbelief. They seem nearly flawless.
When I offer a compliment, Hayes is gracious but redirects praise to her mother, Cathy: "She doesn't call herself an artist, but she's an artist. She can do anything." Hayes counts her mother as one of her greatest role models. The former schoolteacher made sure their home was full of creativity, introducing a new poem to her children every week (Hayes' sister, Nola, is three years older), devising countless craft projects from thrift store finds, and creating themed installations—a rainforest decorated with monkeys, a glittering disco-ball tribute to ABBA, a buzzing beehive—in the family room to surprise her daughters on their birthdays.
Even as a grade-schooler, Hayes developed her own training routines and maintained a lofty set of goals, meticulously stored on checklists taped around her room.
Cathy and her husband, Tom, also cultivated a sense of curiosity and compassion in their daughters that prioritized the importance of world travel. In fact, one of Hayes' most memorable childhood experiences occurred during a trip to Turkey at seven years old, where she witnessed a "mesmerizing" performance of whirling dervishes. The significance of this memory is unsurprising when you understand that she was the rare child who was never content to sit numbed by a television set or video games. Instead, Hayes preferred to run wild outdoors, challenging her sister to near-constant races and roping friends into various competitive schemes conjured in her mother's garden.
Instead of discouraging this kinetic energy, Hayes' parents sent her to Boulder's CATS Gymnastics. There, she flourished in an environment that not only engaged her physically but also channeled her competitive drive into something constructive, which eventually afforded her the opportunity to participate in USA Gymnastics' talent search program. However, Hayes' tendency to push her limits also led to a parade of broken bones, the most severe occurring when she attempted to emulate Olympic gold medalist Nastia Liukin on the uneven bars and instead landed on her upper back. "My legs flew over my head, and my feet hit so hard that I broke and dislocated my talus," she explains. "The ER doctor said that it looked like a football injury."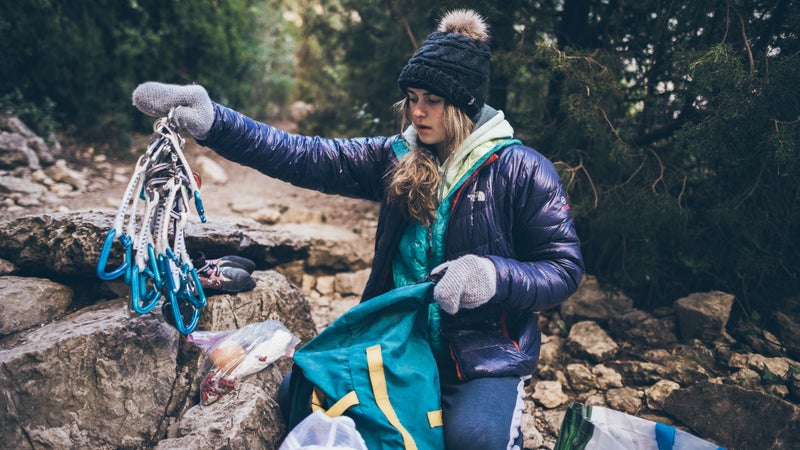 Climbing offered a theoretically less injurious pastime, and one that Hayes was familiar with from a young age. Her maternal grandfather, Dr. James Morrissey, led the first successful ascent of Everest's Kangshung Face five years before she was born. Her father was a Yosemite Valley regular who introduced both of his daughters to the sport; her mother would also rope up from time to time. Mix that history with her active nature, and it's not surprising that when Hayes landed at Erbesfield-Raboutou's doorstep, she was primed for success.
Hayes began competing almost immediately, eventually winning a spot on USA Climbing's national team. In 2013, she earned the North Face Young Gun Award, which honors up-and-coming climbers. Three years later, in 2016, she won three golds at the World Youth Championships, realized her goal of sending fourteen 5.14s during the year (an objective documented on one of her lists, of course), and won Climbing's Golden Piton award.
These accomplishments—and a sponsorship deal from the North Face—raised her profile, but nothing prepared her for the acclaim she received after La Rambla. Hayes was bombarded by well-wishers and interview requests, an experience she calls humbling and overwhelming. So much so that she almost declined when Hong asked if he could use footage from the climb to create a short film. Eventually Hayes agreed, and the result is Break on Through, a study in relentless devotion and training that chronicles her success on La Rambla and her four-month slog to follow it up on Biographie/Realization.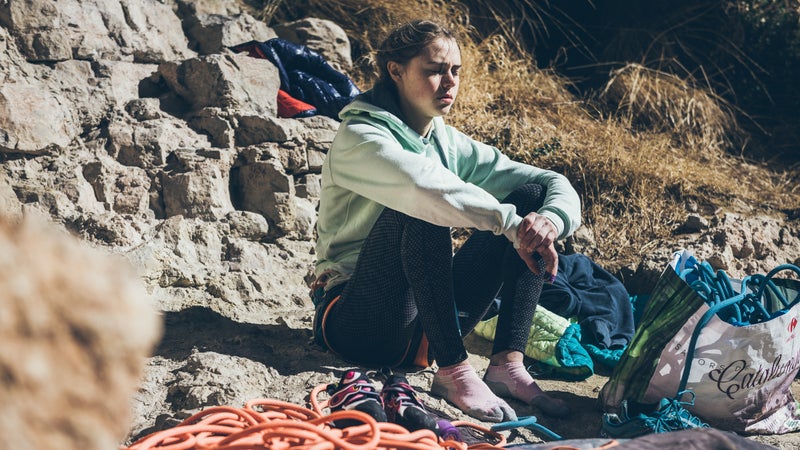 What you don't see in the film is how difficult it was for Hong and his filmmaking partners to coax Hayes into opening up about any deeper intentions she had for those two climbs or to acknowledge their historic impact. "It was really hard for us to get her to say, 'I came to Spain to send La Rambla,' or 'I went to Spain to climb my first 5.15,'" says Hong. "She doesn't want to come off as someone who's ungrateful or someone who's arrogant."
Erbesfield-Raboutou doesn't disagree with this last statement but does acknowledge the extraordinary drive and work ethic that Hayes has possessed since childhood. "I think that if you were to really, really strip that down, there's no doubt that that Margo did it for her, but she knew what she was doing: She was trying to break a barrier. She was trying to push the bar higher because she believed she could do it," she says. "Yes, she's humble, and she's been humble through the process, but she knows what she's doing."
Though she demurs a bit when I ask about it, it's clear that Hayes is also quietly eyeing the 2020 Olympic Games, the first to feature a climbing competition.
Even though Hayes says she didn't target La Rambla to make a statement about women climbers, she's conscious of her new status as a role model. "It's a responsibility, but it's also an honor," she says. "I've been fortunate enough to have so many great people to look up to that I feel like I'm giving back a little bit to the community that has given so much to me." But Hayes is also quick to acknowledge the efforts of her contemporaries and those who have come before with a humility that's both effusive and genuine. "I feel really humbled by so many other people's accomplishments," she says. "If I make a little mark, if I add a little stone to the pile of our sport of climbing, then that's something I'm proud of."
Hayes wasn't alone in pushing the sport last year. Shortly before she sent Biographie/Realization, Belgian Anak Verhoeven became the second woman to climb the grade, notching the first ascent—of any gender—of Sweet Neuf at Pierrot Beach, France, in September. The following month, Austrian Angy Eiter logged the first female ascent of La Planta de Shiva, a 5.15b at Villanueva del Rosario, Spain. "I would say that Margo opened a door, but perhaps all of that would have happened anyway," says Erbesfield-Raboutou. "What that proves is that there are several women at the top who believe they can do just what they did, and I believe that will help other women push themselves."
---
In November, when I meet with Hayes at her climbing gym in Boulder, it's to reflect on an incredible year. But she isn't quite finished making history. Though it's only her third day on the MoonBoard, Hayes will win the inaugural MoonBoard Masters, along with partner Alexander Megos, just nine days later, on December 9. The following month, she'll receive an Inspiration Award from Outdoor Retailer, along with the Robert Hicks Bates Award from the American Alpine Club, bestowed upon young climbers who've shown "exceptional skill and character in the climbing or mountaineering arts" and demonstrate the potential to push even further in the sport.
Just as she's done every year since childhood, Hayes has already begun constructing a list of goals for 2018. If she has any sort of master plan to chase grades or tackle even more impressive climbing objectives, she doesn't say. Hayes offers me only a vague glimpse into her future, perhaps out of self-preservation as much as it is to avoid projecting self-importance: She'd like to continue her college education, advocate for the environment, pursue aesthetic lines, and possibly even bolt her own route as an expression of gratitude toward the climbing community.
Though she demurs a bit when I ask about it, it's clear that Hayes is also quietly eyeing the 2020 Olympic Games, the first to feature a climbing competition. "It would be a huge honor to be there," she says, before characteristically downplaying her own aspirations and potential as equal to any other athlete who holds the same dream. It's a long road to Tokyo, of course, but I can't help but feel that Hayes will put in an extraordinary effort.
"I don't know what my limit is, and that's so exciting," Hayes says. "It's like you're chasing this running carrot—it doesn't stop moving."
An edited version of this story appeared in the March 2018 issue of Outside.
Lead Photo: Greg Mionske