Going Places
A generation ago, mounting an expedition meant drafting a herd of porters, slogging loads of gear to a rocky base camp, and laying siege to a Himalayan peak. These days, light, fast, and self-supported expeditions are in, and multisport explorers like Mike Libecki, Mark Synnott, and Brad Ludden are showing us how to do it. Here, our preview of the hottest adven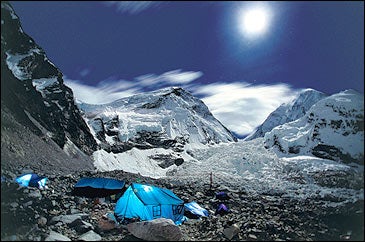 Heading out the door? Read this article on the new Outside+ app available now on iOS devices for members! Download the app.
EXPLORING QUEEN MAUD LAND
Team: [ Andrew McLean, Mike Libecki ]
Location: Antarctica

UNTIL NOW, TRAVERSING a couple hundred miles of ice cap, climbing a new mountain, or nailing a first ski descent has been enough to give Antarctic adventurers serious bragging rights. But when 29-year-old climber Mike Libecki and 41-year-old ski-mountaineer Andrew McLean, sponsored by Mountain Hardwear and Black Diamond, head to Queen Maud Land in November 2003, they'll raise the stakes considerably, combining all three in a two-month, $60,000 expedition. Using kites to help them tow their 200-pound sledges, they'll climb routes on the faces of 3,400-foot cliffs like Midgard, Ulvetanna, and Kinnetanna. If the weather holds, the duo will attempt first descents on some of the area's steep, untouched chutes. "The biggest challenges are the unforeseen variables," says Libecki, who helped pioneer Arctic climbing in Greenland. "That's what makes this an ultimate adventure."
EXPLORING THE HMS BREADALBANE

Team: [ Alfred McLaren, Don Walsh, Mike McDowell ]
Location: Canadian Arctic
UNDERWATER ARCHAEOLOGISTS spend their lives dreaming about lottery-winning discoveries, and Alfred McLaren, 70, is no exception. In April, his team will investigate the HMS Breadalbane, a perfectly preserved three-masted sailing ship that sank in 1853 while searching for traces of Sir John Franklin and his crew, who disappeared trying to find the Northwest Passage a few years earlier. The ship now rests 350 feet below the ice, 500 miles north of the Arctic Circle. "There haven't been all that many dives there," says McLaren, expedition leader and renowned deep-sea explorer. "We could discover anything." To improve his chances, McLaren will employ a cutting-edge submersible called the Dual Deepworker, made of two side-by-side acrylic viewing domes, which will whiz explorers around under the pack ice.
KAYAKING THE WORLD
Team: [ Brad Ludden, Ben Selznick, John Grossman, Samantha Gehring ]
Location: 46 countries

IT'S BEEN MORE THAN 30 YEARS since the surfing movie The Endless Summer showed us the cool way to do a global road trip. Now 21-year-old Brad Ludden, a pro paddler from Vail, Colorado, wants to update the concept with an expedition he's calling Endless Satori. The objective: a seven-month around-the-planet kayaking tour, kicking off in July, in which his team will visit some 46 countries and tackle more than 30 rivers. Along the way they'll attempt first descents on sections of the Blue Nile and White Nile in Africa and a source-to-sea paddle of the Mekong as it flows through China, Laos, Thailand, Cambodia, and Vietnam. Sponsorship of the $100,000 expedition is being "negotiated," and Ludden is planning to bring along a film crew. "A few of these trips," he says, "are going to be full-on heavy, crazy stuff."
FIRST ASCENT OF INNOMINATA
Team: [ Mark Synnott, Kevin Thaw ]
Location: Himachal Pradesh, India
ALPINIST MARK SYNNOTT and Kevin Thaw, big-wall vets in their thirties who have conquered routes in Africa, Nepal, and Pakistan, looked to India's Himachal Pradesh to find their next big first ascent, an unclimbed 20,000-foot-plus mountain they've dubbed Innominata, Italian for "nameless." The mountain is a two-day drive and four-day trek from Delhi. Researching the hazy recollections of climber friends from the Dolomites, a single photo, and an obscure Russian map, the two Americans, sponsored by The North Face, are setting up a three-day blitz this August in which they'll attack using an ultralight alpine style. "When I first got into climbing, I had this sad feeling that I had missed the heyday," says Synnott. "But now I know these kind of amazing peaks are all over the Himalaya—they're just very, very difficult to find."
Adventure Itinerary 2003
(JAN)

New Zealanders Graham Charles, 36, Marcus Waters, 36, and Mark Jones, 37, attempt the first unsupported traverse of the CORDILLERA DARWIN, a range of glaciated 8,000-foot mountains at the tip of South America.
British mountaineer Christian Bonington, 68, heads to OMAN, on the Arabian Peninsula, to climb the region's 3,300-foot limestone faces.
Mark Newcomb, 36, and a team of seven, including climbers Carlos Buhler, 45, and Ace Kvale, 46, attempt a winter ski-mountaineering expedition in Tibet's 22,800-foot SEPU KANGRI RANGE.
Thirty-three-year-old Scotsman Alun Hubbard begins a three-month expedition to SOUTH GEORGIA ISLAND to attempt first ascents of three mountains.
African-American climbers Elliott Boston, 33, Stephen Shobe, 46, and Jean Ellis, 55, join Conrad Anker, 40, for an attempt of Antarctica's highest peak, 16,067-foot VINSON MASSIF.
(FEB)

Blind mountaineer Erik Weihenmayer, 34, sets off to climb 16,023-foot CARSTENSZ PYRAMID in Irian Jaya, Indonesia.
(MAR)

Doug Scott, 61, leads a team to the border of India and Tibet to attempt 23,114-foot NYEGI KANGSANG, the last of the 23,000-foot peaks east of Bhutan yet to be climbed.
A Flemish expedition led by physician Paul Symons heads to LOW'S GULLY in Borneo, one of the world's last unexplored canyons.
(MAY)

Ed Viesturs, 43, visits 26,658-foot NANGA PARBAT, the 13th summit in his quest to become the first American to climb all 14 of the world's 8,000-meter peaks.
(JUN)

Australian adventurer Tim Cope, 24, begins a 30-month ski and kayak circumnavigation of the ARCTIC CIRCLE.
(AUG)

American Stephen Koch, 34, heads to Mount Everest to attempt a vertical snowboard descent of the HORNBEIN COULOIR and finish his quest to board the Seven Summits.