From Here To Antipodes
On the other side of the world are other worldly sights-Tasmanian Devils, spirit houses, and the greatest reef of them all.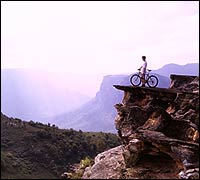 Heading out the door? Read this article on the new Outside+ app available now on iOS devices for members! Download the app.
High summer kicks off in Australia in December. But when the Christmas picnic hampers are being rolled out under pearly skies on Sydney's Bondi Beach, the Outback is shimmering in a blistering heat and the tropical north of the country is soaking in monsoonal rains. Try to climb Ayers Rock and you'll collapse from heat exhaustion; sign up for a day trip on the northern reef and you may never see clear sky. The solution? Stick to the temperate southern portion of the continent, which is at its most welcoming during the dark American winter.

The Blue Mountains

Once you've gotten over your trans-Pacific jetlag at one of Sydney's 40 urban beaches, cast an eye inland: Just 90 minutes west of the city lies one of Australia's most famous landscapes. Strings of golden sandstone cliffs loom over some 540,930 acres of Blue Mountains National Park—the centerpiece of 2.5 million acres of classic Aussie bushland, all swathed in the eerie eucalyptus haze that gave the mountains their name. (Most Americans first saw this park as the backdrop for Elle Macpherson in the art-house flick Sirens.)


In the park are a string of sedate, 1920s-era hamlets geared toward romantic weekend getaways for Sydneysiders. Katoomba is the most popular, and Lilianfels its most genteel hotel (doubles, $200; 011-61-47-801-200). But for a more dramatic taste of "the Blueys," pack a tent and hike into the campground at Acacia Flats. To get there, drive via the village of Blackheath to the trailhead at Victoria Falls Lookout, then follow the six-hour zigzag track past the maze of thin, ghostly eucalypts known as the Blue Gum Forest (no permit or reservations are required for camping). The next day, follow the 12-mile loop to Govetts Leap through more bird-filled, creek-riddled ravines. On the third day, hike back on the steep trail via Evans Lookout and catch a taxi back to your car. (For park information, call 47-87-8877.)
For the most intense burst of local color, take a guided day trip to Claustral Canyon near Mount Tomah, about ten miles farther north: You can rappel down the chasm's three underground waterfalls, a cascade of icy water pounding you in the face all the while; later, you'll have to swim through various pitch-dark tunnels to emerge at the canyon's other end. For rock climbers there's the sheer 600-foot middle finger of the famous local landmark, the Three Sisters; if you make it to the top, you can wave at the hundreds of tourists snapping your photo over at Echo Point. Blue Mountains Adventure Company (47-821-271) arranges these and other trips: One-day trips cost $67-$80; a five-day sampler of canyoning, rappelling, mountain biking, spelunking, and climbing will run you about $415.

Tasmania

Although the outside world has yet to catch on, any Aussie will tell you that for the most extreme wilderness fix, you should head down to Tasmania. This island's mountainous expanse contains the finest bushwalking in the country, the fiercest rivers, the most dramatic alpine scenery. More than one-fifth of its territory has been listed as World Heritage areas.
The premier bushwalk is the Overland Track in the northwest of the central highlands. Running through Cradle Mountain-Lake St. Clair National Park, this tough, muddy trail crosses 54 miles of exposed, windswept moorland, its mountain panoramas interspersed with lakes and gnarled, twisted forests—all inhabited by wallabies, wombats, and Tasmanian Devils (unlike the Bugs Bunny version, they're like big-headed rodents, but the surprisingly loud roar is accurate). The track can be covered in five days, but most people prefer to take at least eight to explore the side trails. No permits are needed for camping, but all hikers must register on departure (for park information, call 04-92-1133). The Australian outfitter Peregrine (in the U.S.: 800-889-1464) runs guided seven-day camping treks for $780 per person, including all equipment and transfers from Hobart. Cradle Mountain Huts (03-312-006) offers a cushier six-day trek on the Overland Track, with overnight stays in comfortable, heated cabins ($1,138 per person). And there's no shame in staying at the sprawling chalet-style Cradle Mountain Lodge (cabins with kitchenettes, $125; 800-225-9849) at the entrance to the national park. The place is almost the size of a small village, but it's a good base for day hikes. Your best bet: Take the six-hour loop around Dove Lake via the Twisted Lakes.


For fly fishermen, the thousands of lakes and pristine streams riddling the central highlands are hopping with brown trout; stay at the eccentric Bronte Park Highland Village (doubles, $50-$63; 02-89-1126), a converted hydroelectric camp from the 1950s, each of its cottages named after a different foreign country. Meals are extra, served in a family-style dining room.
Beyond Cradle Mountain-Lake St. Clair, the whole southwest of Tasmania is a network of World Heritage-listed national parks, a barely mapped expanse of mountains and temperate rainforest where many are convinced the Tasmanian Tiger, or thylacine, still lurks. At the area's northern fringe lies the Franklin-Gordon Wild Rivers National Park, which enjoys talismanic status among Aussie environmentalists: In the early 1980s, hundreds of Tasmanian "greenies" threw themselves in front of bulldozers to save the Franklin's raging rapids from a dam. Whitewater rafters can only give thanks: As you weave through some of the world's most inaccessible country, overhung by greenery and 170-million-year-old sheer quartzite gorge walls, the Franklin seems like a crevice in geological time. Class IV rapids follow in quick succession, with portages required in several sections. Peregrine runs rafting expeditions, from the more moderate five-day trip along the Upper Franklin ($860 per person) to a 13-day wilderness extravaganza along the entire river ($1,490 per person) climaxing with 600 yards of the Class IV Newland Cascades and including a day climbing Frenchmans Cap, the tallest peak in the park.
For coastal drama, head for the South Coast Track, a six-day journey along uninhabited beaches flanked by huge headlands; it's like a larger-scale Big Sur (next stop south: Antarctica). To tackle this sodden, mist-shrouded, leech-filled trail alone, take a light plane from Strahan into the airstrip at Melaleuca—a camp almost lost in the middle of the wilderness—then hike about 45 miles out to Cockle Creek, where daily buses operate (no permits are needed, but hikers should be experienced; for park information, call 011-61-02-88-1283; flights cost $463 with Wilderness Air, 04-71-7280). Down Under Answers (in the U.S.: 800-788-6685) operates nine-day guided camping trips for $870 per person, including equipment and transfers from Hobart.
On the east coast of the island, the Freycinet Lodge (cabins, $110; 02-57-0101) is a new, minimally designed wilderness hotel at the gateway to the sand-fringed Freycinet Peninsula National Park. You can take day hikes over the pink granite mountains into clear, green Wineglass Bay. Peregrine offers a three-day sea-kayak trip for $390 per person (including gear, meals, and transfers from Hobart). You'll paddle three and a half hours south of the lodge to a remote beach camp on the western shore of the peninsula where you can kayak, hike, snorkel, and fish.

Heron Island

In FNQ (Far North Queensland), the most popular jumping-off point for the Great Barrier Reef, the holiday season is hot, sticky, slow, and wracked with rains. Which is why you need to head to the reef's southernmost reaches for more temperate climes—well, 90-degree days with the occasional tropical sprinkle for relief.
At the southern tip of the coral expanse lies Heron Island, regarded as one of the world's top ten diving spots. Seen from the air, Heron is a green dot at the tip of an immense triangle of coral. Swim out a short way with your snorkel and you'll be surrounded by a fluorescent parade of 800 species of fish, and more white-tip reef sharks than you can poke a fin at (luckily, they're too well fed to bother with swimmers). For experienced divers, a dozen major sites are within 15 minutes, and as a Christmas bonus, December and January are hatching months for green turtles.


Heron is reached by helicopter or catamaran from Gladstone. Room rates start with the budget Turtle Cabins ($125 per person, including all meals) to $230 per person for a deluxe Beach House, but the best deal is the Heron Suites ($185 per person, all-inclusive), from which you stroll straight out onto the white sands and into the water. For all three, book through P&O Resort Holidays (in the U.S.: 800-255-9849).
The Whitsundays and Fraser Island

The Whitsundays

Only slightly farther north of Heron lies the Whitsunday Archipelago, a string of 74 islands in the Cumberland group encrusted with sand and coral. For an independent reef experience, hire a bareboat at a fraction of Caribbean prices. A skipper is free for the first day, and $100 a day thereafter until you're confident enough to strike out alone. Of the islands, 66 are entirely national park (the only developed ones to avoid are Hamilton, Daydream, and Hayman). There are hundreds of protected anchorages to choose from, most with solitary beaches, fine snorkeling, and hiking. Fishing is permitted in designated areas.
A dozen or so boat-hire companies operate out of Airlie Beach and Shute Harbour, just beyond Proserpine, but a good start is Rent-A-Yacht (in the U.S.: 800-788-6685). Rates start at $200 a day, with a five-night minimum. Catamarans and motor cruisers are also available (the latter, an obvious choice for more lubberly skippers, start at $250 a day).


If that's all too pricey, hop a ferry to one of the 20 or so campgrounds on the islands. For $40, take the regular service out to large, lush Whitsunday Island and camp at the southern end of blindingly pure Whitehaven beach, one of Australia's finest; alternatively, the privately run campground on Hook Island has excellent hiking and snorkeling. (You can book all of these services via the travel agency Destination Whitsundays, 79-466-848.)
Fraser Island

Off the Queensland coast between Brisbane and Heron, Fraser may be the world's largest sand island, but it's far from barren desert. Every corner overflows with greenery—200-foot satinay trees, banksias, even tropical rainforest—all growing on nutrients gathered in the top three or so feet of sand. The weather is steamy at this time of year, but there's water everywhere. At the ends of hiking trails you'll find sand-bottomed lakes for swimming (in some, like Lake McKenzie, the water is Caribbean blue; others are the color of tea). You can float on your belly down clear Eli Creek through the rainforest, or climb the giant dunes that drift across the island like mini-Saharas—only to bolt back down and crash straight into another lake. And Fraser's entire eastern coast is taken up by 75 Mile Beach, upon whose hard-packed shores four-wheel-drive vehicles race up and down at low tide.
On the west coast, the wilderness lodge Kingfisher Bay (doubles, $185; 71-203-333) is a study in eco-chic. Almost hidden by the surrounding bush, its glass-walled lobby is a postmodern cathedral. Kingfisher makes a fine base for the first few days, but to get the most out of Fraser, head "out bush" with your own tent and four-wheel-drive vehicle. It's easiest to rent a car in Brisbane and drive the three and a half hours to meet the barge from River Heads, just south of Hervey Bay; the fare is about $50, and reservations must be made with Kingfisher Bay. A four-wheel-drive permit is also required: It costs about $12 from the general store at River Heads. Free-range camping is permitted up and down the east coast of Fraser, but Dundubara campsite, with showers and barbecue grills, is just back from the beach in the northeast; it's the shadiest spot to pitch a tent. (Camping permits cost $6-$10 a night; obtain them on the island at the Eurong information center, 71-27-9128.) Pick up supplies and beer from the tiny island community at Happy Valley, fish straight off the beach, and presto—you're an honorary local.