How to Photograph the Biggest Ice Climbing Event in the Country
The official photographer of the Ouray Ice Festival on surviving the cold (and possibly falling slabs of rock) to get the shot you've been dreaming of.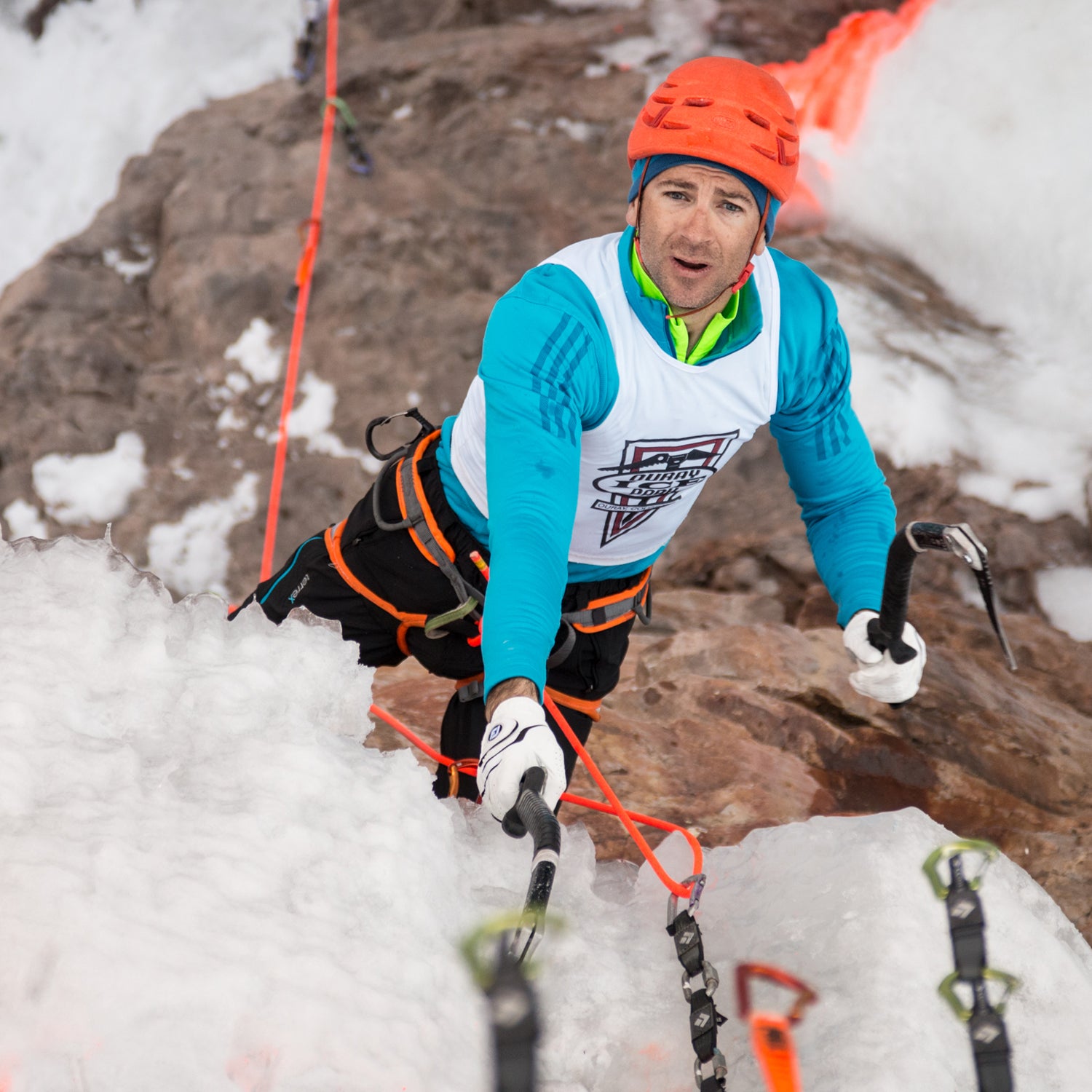 Rhys Roberts(Photo)
Heading out the door? Read this article on the new Outside+ app available now on iOS devices for members! Download the app.
On a typical workday, Rhys Roberts spends hours dangling from a rope with his camera perched above icy formations, waiting for the short window when climbers hacking their way to the top offer up the opportunity for the perfect shot. In return, he gets a free pass to all the best spots at one of the most recognizable events in winter sports.
The Ouray Ice Festival draws top climbers from around the world to southern Colorado every January, and this year's event saw record attendance numbers in spectators and star talent. Despite the picturesque surroundings and climbers hanging from their ice axes, the competition isn't easy to capture. Here's how Roberts, the official park photographer, battles the ice, elements, and light to make sure he gets the shot.
Climb to Shoot Climbers
I was a climber before I was a photographer and the technical skills I learned are critical to how I shoot in Ouray. With so many spectators and competitors involved, safety is always my first priority during the festival. Knocking off a slab of ice or a rock is the worst case scenario, so I have to be careful where I set up to shoot. I also have to be aware of other photographers and even the athletes, and make sure I'm not in a dangerous position below them. 
I was lucky enough to have access this year to a place they call the tower, which is a 20-foot scaffolding structure they build over one of the main routes. I'll hang from my ropes over the edge of the tower or try to balance on a small one-inch ledge and shoot down on the climbers as they ascend. 
Pro Tip: I always have two camera bodies set up, one with a 24-70mm lens and the other with 70-200mm so I can switch quickly and not miss too much of the action.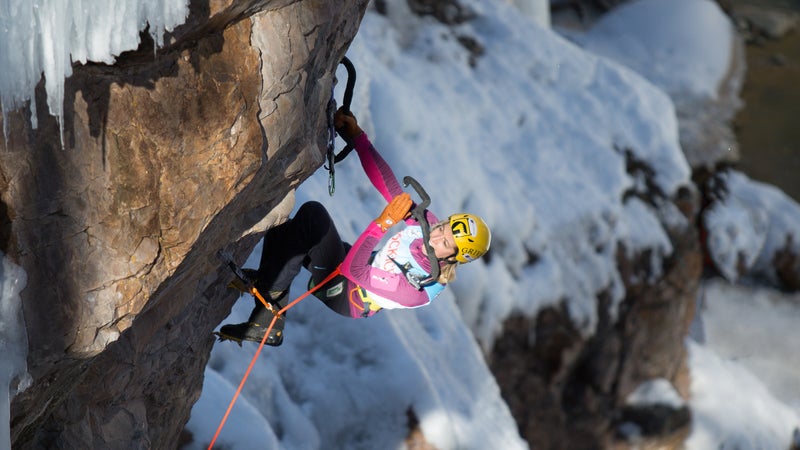 ---
Get Off the Wall, Get the Shot
For a climbing event like Ouray, I try to provide a sense of place but also not too many distractions in the background. With so many people watching in a confined area, it's a challenge to get shots that aren't too busy. In an event or competition setting it can also be effective to show the spectators nervously watching every move. 
For climbing shots, I'll often have some gear in the shot, whether it's a rope or a bolt to show the technical side. Most importantly, I'm looking for those unpredictable expressions from the athletes. Sometimes an expression can take over their entire body, and for others it's a grimace or huge smile on their face. Conveying what the climber is going through is crucial to any great shot. 
Light is a huge part of composition and it's constantly changing in the way it hits the walls and climbers. I prefer the morning light because it can be more predictable and softer before the sun is high in the sky.
Pro Tip: In harsh light, move around and find the best angle. Moving can be hard if you are climbing too, but sometimes getting off the wall for another perspective is the best move.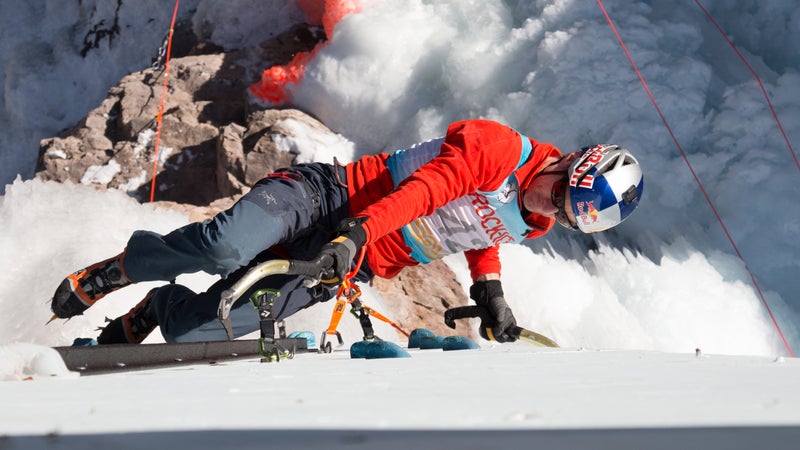 ---
Necessary Gear for Cold-Weather Lensmen
Really warm boots. Keeping your feet warm is everything when you are standing on ice all day. However, keeping your hands warm is the hardest part. It's nearly impossible to shoot in gloves. I wear them when I can and keep my favorite hand warmer in a pocket so I can get my shooting hand warm before the climber begins. I'm a Patagonia and Black Diamond guy when it comes to layering but everyone has their favorite jackets.
For my camera equipment it's often the inverse. Taking your camera from a heated room to shoot outside in the freezing cold can damage your equipment.
Pro Tip: I leave my camera in the car overnight and keep my batteries inside. This prevents the elements in my camera body and lenses from being damaged by a drastic temperature change. 
Lead Photo: Rhys Roberts