I Poached the White Elephant
High over Hemingway's Africa, our hero discovered a last epic feat somehow still undone. Going where no man has ever bothered to go before, he vowed to become the first person to descend Mount Kilimanjaro on a pair of stubby Kneissel Big Foot snowboards. Never mind that it was illegal, and basically insane.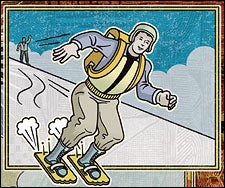 Heading out the door? Read this article on the new Outside+ app available now on iOS devices for members! Download the app.
FATE HAD ITS WAY WITH ME. I did not choose to write my name in the history books, would never have imagined joining the pantheon of great adventurers—Polo, Magellan, Lindbergh, Hillary, Bass. It is true that, the instant I heard the calling, I knew that my life, and my legacy, would be irrevocably altered. But I could not pretend that I had not heard the call, could not dupe the Spirit of Adventure by placing palms over ears and singing: La-la-la, I'm not listening la-la-la. When the oracle speaks, you down your energy drink and pay attention.

Illustration by Peter and Maria Hoey

My mission came in a dream, that fertile interior space where all voluptuous revelations are made known. A waifish angel in a nightgown whispered to me, her voice soft, like a vesper, then alarmingly loud, like a longshoreman: "Ki-li-man-jaro. Kili-man-jaro. KILIMANJARO!" I awoke sweaty and feverish. I knew at once what I had to do, sure as a river knows gravity: I must make a pioneering descent. I must conquer Mount Kilimanjaro on miniature skis.


It was all so clear. I would be the first person to skiboard Kili…the first person to skiboard one of the Seven Summits…the first person to skiboard above 19,000 feet…without supplemental oxygen!


Of course, as they say in the Amazon, every great hunter must first clean the pit toilet. Or something like that. So I went about the business of getting my expedition into gear. Thankfully, the postmodern adventurer can travel light: no pressure to expand the empire by dint of discovery, no scientific assignment to test the limits of human or technological power, no dorky pith helmets to wear. My goal was simple: I would seek entry into the Guinness Book of World Records.


Two days before departing, I ripped open a FedEx package and beheld my loaner pair of skiboards—two stubby 18-inch-long "skis" with edges like metal rulers and bindings like coat hangers. They were the Big Foot model, made by Kneissl in the eighties, with tips cut to resemble five separate toes, each little piggy painted pink. I held them aloft, closed my eyes, turned my face to the heavens, and exhaled a breathy YES! Then I opened my eyes and noticed that I was holding two left Feet. I took it as a good omen, especially since I had never skiboarded before.


There was just one last detail before I set off: Kilimanjaro National Park prohibits all forms of recreation other than hiking. Stephen Koch—who had laid the first snowboard tracks on Kilimanjaro in his quest to board the highest mountain on each continent—appeared to be the expert on this, having snuck to the summit twice.


"I wouldn't even try to get official permission," Koch insisted. "When I met the director general of the park, he said, 'No pleasure devices.'" Koch suggested I follow his way, the unpopular Umbwe Route, which weaves down an ice cliff. No, thanks. I figured I'd sneak in my turns, but let the unsuspecting folks at Park East, my deluxe U.S.-based tour operator, choose the approach.



MOUNT KILIMANJARO SPRAWLS OVER 800 square miles in Tanzania, just south of the Kenya border. Towering 19,340 feet above sea level, it is one of the tallest freestanding mountains in the world, a place where nearly all of the earth's climate zones layer one on top of another.


The going would be arduous. Since it was March, our expedition would undertake a traverse from north to south, letting the mountain shield us from the monsoon rains blowing in from the Indian Ocean. We would start at 6,000 feet, outside the town of Rongai, and spend the first night six miles in at a campsite called First Cave. The second day we would briefly trek east eight miles, through heath and shrubs, to a flat spot known as Kikelewa: camp two. On day three we would ascend four miles of trail to Mawenzi Tarn, a shallow alpine lake. The fourth day we would cross a barren, rocky saddle to Kibo Hut, a ranger station and tourist lodge eight miles west. On day five we would make our bid for the summit, Uhuru Peak, and then begin our two-day, 17-mile hike out on the Marangu Route.


My preparations were impeccable. Judging from a postcard I picked up in Arusha, Tanzania, Kilimanjaro's best skiboard line was a finger of snow pointing down the east face. It looked long, steep, and quite picturesque. The afternoon before our climb began, I met with Jim Foster, a lanky British expat and the Park East organizer of my trek. He filled me in on what the postcard didn't show. First, there wasn't a helluva lot of snow. And, Jim said, I probably wouldn't see any other tourists until Kibo Hut. Day five he described as "bad to diabolical." The trail from Kibo Hut to Uhuru Peak was packed gravel all the way—but it gained 4,000 feet in just over two miles.


"A bit of vomiting on its own is not cerebral edema," Jim offered, sipping tea with milk. "And the grandmother of all headaches on its own is not cerebral edema. But together, you better get the hell down to where you last felt well." He paused. "Morten Frost couldn't make the crater rim, and he's the former Danish badminton world champion!"


If Jim only knew. Sipping a passion-fruit Fanta, I relished the training I had done to prepare for this. I was in the shape of my life. For the last month, I hadn't smoked more than a half-pack of cigarettes a day.



THE ONLY WAY TO GO UP Kilimanjaro is with an expedition worthy of Livingstone. The team—two guides, five porters, and I—gathered outside a small check-in hut surrounded by cornfields. The porters were from the nearby Chagga tribe, a crew ranging from a skinny, five-foot-tall 21-year-old to a thick, six-foot-tall bruiser in his late fifties. Two spoke some English, and all wore Western attire: jeans, T-shirts, and an assortment of Skechers and wing tips. Their names are changed here to protect them from undue punishment by park officials.


The head guide, whom I will call Sir Edmund Hillary, was a quiet Chagga tribesman in his forties with a wife and seven children at home. The assistant guide—let's call him Heinrich Harrer—was a happily married Masai in his late thirties. Each had about 0.001 percent body fat, and nothing but summits under his belt—more than 250 between them.


As we set off, I noticed that one of the porters was carrying a folded wooden table and a collapsible chair. This way, Sir Edmund informed me, I would never have to sit in the dirt. Another porter took my duffel and hefted it up on his head. If the edges of my miniature skis dug into his scalp, he didn't let on.


Harboring an innate American resentment toward all things imperial, I insisted on portering too. In the way that doctors call a heart attack a "cardiac event," this experiment could be described as a "load-bearing incident." Five steps up the dirt path, my trachea crumpled, my vertebrae fused, and the small muscles in my back revolted and spasmed. I threw down the 30-pound load and thanked God this was not my profession. Then and there, I decided to fulfill my coalition-building duty by stimulating the local economy with tips.


I set off carrying little more than a rain jacket and camera, saving my strength for the summit. An hour later, it began drizzling. Soon, the faint pitter-patter crescendoed into the staccato of heavy drops falling on Heinrich's poncho. The trail became a ribbon of mud; the downpour, a deluge.


Four hours later we arrived at our first camp to find both tents already erected: a large canvas A-frame for me, and a slightly larger one for all seven of them. Sir Edmund sat with me at dinner, patiently watching me slurp my fresh cucumber soup. White flowers of fog-fed heather surrounded the camp picnic table, and lingering storm clouds obscured Kibo and the mountain's lesser summit, Mawenzi. I backed into the question of skiboarding—"I heard people have tried to paraglide and ski and stuff"—and hit a wall. "Yes," Sir Edmund said, "that is illegal now."


Then I walked him over to my tent so that I could show him the Big Feet.


Sir Edmund was surprised but not unsettled. "It's OK, it's OK, Eric," he said quickly, indicating I should put them back in my pack. Twenty feet away, three rangers wearing military fatigues and toting rifles sat outside a metal yurt.


I asked him in a whisper if I could try a little "boarding" up high.


"Yes, yes, no problem. Better you tell me now. Now put them away. Don't tell the porters."


"What will happen if we're caught?"


"You pay $2,500 and I lose my license."


That raised the stakes. At worst, I had imagined a mildly embarrassing incident in which I explained to the director of Tanzanian National Parks that "pleasure devices" meant something very different in my country. Suffering a crisis of conscience, I called on my college ethics courses, specifically Aristotle's virtue theory—"An act is just if it is what a good person would do"—and joined Sir Edmund back at the table. He was sitting quietly, staring at my tent. I picked up my silverware, knowing full well that every great expeditioning dilemma is best contemplated on a full stomach. I dug into the spiced fillet of fresh fish, herb-fried potatoes, and spinach with minced onion. After dessert and before tea, I saw that I must do as Aristotle had commanded: I must be a good person and avoid trouble for Sir Edmund. While, of course, continuing my mission as planned. "This is good," I thought, slipping into third-person dreamspeak. "Eric might be OK. Sir Edmund seems to be on his side."



SIR EDMUND DIDN'T ASK EXACTLY HOW Eric intended to skiboard down Kili. And neither did Eric.


Better not to ask. We were just two days in, anyway, and I had to concentrate on traversing the 11,000-foot contour of Kilimanjaro's north side to Kikelewa. As scrubby heather gave way to grassland, we were afforded a new view of Uhuru Peak, and I saw that Providence had dealt me yet another wild card. The crown of snow pictured in my decades-old postcard was now little more than a sweatband of ice. (I'd later learn that 82 percent of Kilimanjaro's glaciers have disappeared since 1912—33 percent of them in just the last two decades.)


The third day, we ascended to 14,000-foot Mawenzi Tarn, a mucky natural sump nestled against the jagged brown peak of Mawenzi itself. Dozens of white-necked ravens surfed the air currents above, while we hunkered down in the main tent to dodge the chilling wind. Like members of any multinational expedition in need of something to distract them from the suffering ahead, and lacking Jim Beam, we traded riddles. Heinrich's went like this: A beautiful woman is in a tall tree. She won't come down. Her father, the king, gives you a goat, some grass, a dog, and some meat. If you get her down, she's yours. What do you do?


I had reservations about the premise of the riddle. What does it mean that she's mine? And why did I have to trick the princess out of the tree? I guessed fruitlessly until Heinrich revealed the answer: You give the dog the grass and the goat the meat. She will think you are stupid and come down to scold you.


The porters chuckled and I did, too. The cultural bridge had been spanned; our team was coming together. I began to feel the esprit de corps necessary for arduous undertakings. But the next morning, as we crossed the desolate saddle from Mawenzi to Kibo Hut, Uhuru remained as bare as my bottom, and no one was laughing.


Sir Edmund drew a large arrow in the gravel, pointed toward the summit.


"This way, Eric," he said, deadpan. I could see the skiboard route I'd selected. The glacier extended from the summit like an unwelcoming middle finger, some 100 feet thick and frighteningly steep.


When I didn't laugh, Sir Edmund continued. "In monsoon, there can be snow all over the mountain. Even down here. But last three winters, nothing."


Still no laugh. "It is low season," he said. "Not many people at Kibo. We will go to summit first and you can ski other side."


"Yeah?" I asked.


"Yes," he said. "Now this way, Eric."


"Not many people" was relative to the 250 maximum capacity of Kibo Hut, a ranger station and stone bunkhouse (the "lodge") equipped with seven latrines at 15,400 feet. When we reached the hut at noon, two classes of Tanzanian middle-school students were leaving en masse, six rangers were milling around, and a couple dozen porters were sunning themselves in sweaters, jackets, and wool hats.


I was eager to meet my fellow mountaineers right away, but Sir Edmund had commandeered an empty corner bunk room, so first I dropped my bags inside. Through the window I could see the latrines and, nearby, a few people waiting on boulders. I must admit I was somewhat disappointed. There were five fit Belgians, a couple of Israelis, and Paul, a chubby thirty something who owned a fence company in Australia and was currently on walkabout. I went out and introduced myself, and they rambled on about their headaches, their vomiting, their diarrhea. None of them had a grand mission, like me. I desperately wanted to tell them about my impending first descent and the skiboards hidden inside my pack, but I could hardly get a word in between everyone's trips to the can.


Finally I asked Paul how he'd found his way to Kili. "I was in South Africa for a wedding," he said. "I flipped through the book and said, 'Oh, that looks like a good one.' I didn't know how bloody high it was!"


I could hear the old voice again in my head, still talking in third person but now with leaden gravity. "Eric does not take this as a good omen," it said.



AND THE VOICE CONTINUED. That very night, just before 1 a.m., Eric and Sir Edmund set off for the summit. Eric was wearing long johns, leather boots, ski pants, a vest, a fleece hat, gloves, and a down jacket. Sir Edmund wore much the same. In Eric's pack were the skiboards, hidden by two full water bottles, one Cadbury Dairy Milk chocolate bar, a headlamp, a handful of mango hard candies, and a pair of sunglasses. Sir Edmund brought a small white daypack, a first-aid kit, a thermos of tea, and a pack of Sportsmen cigarettes.


The sky was clear. The air was still. The men's noses ran. The full moon was so bright that they put away their headlamps. The trail was steep, covered in scree and boulders. Eric took three quick steps, felt the vein between his eyes throb, and slowed down to about two steps per second.


Sir Edmund and Eric hoped to reach the summit at 7 a.m., before the rest of the tourists. They would stop at Indian Point (a quarter of the way up), Hans Meyer's Cave (roughly halfway), Gillman's Point on the crater rim, and finally Uhuru Peak. Most other groups would stop twice as often.


At Indian Point, Sir Edmund and Eric greeted a group of tourists with a cordial jambo! and passed them. Time flew. The trail was a seemingly endless series of switchbacks. The cold night air had frozen the loose gravel into a manicured walking path. Each step made an audible crunch.


Around Hans Meyer's Cave, an overhanging slab of rock named after the German who first summited Kilimanjaro in 1889, Sir Edmund and Eric passed the second of three groups, and then sang a full verse of what had become the expedition's anthem, "Vera, nakupenda, Vera,"—roughly translated, "So-and-so, I love you, So-and-so," this time dedicated to Sir Edmund's wife, Vera. Twenty minutes later they were at Jamaica Point, threading their way through avalanche runout on a steep, uneven path. They were now breathing air that held approximately 50 percent less oxygen than their brains were used to.


"Whaddya think?" Eric asked. "Is this the hardest section?"


"Yeahhh," replied Sir Edmund. Then, "No! No. It's easy here. Be happy, be happy, Eric." Eric let out a wheezy laugh and immediately felt nauseous.


They reached Gillman's Point at 5:15 a.m., drank some tea, and pressed on. The true summit was still a half-mile ahead. Eric stumbled every dozen or so steps and teetered from left to right. The nearly flat trail was bordered on one side by precipitous slopes, where penumbral snowfields fell into the crater 100 feet below.


The two men followed a long arc for half an hour. At the top of the last little bump, they could see the shoulder-high summit sign illuminated by the first light of day. The sun was rising and Mount Kilimanjaro cast a pyramid-shaped shadow for miles on the neighboring plains. Emerald fields. Dark triangular shadow. Cerulean sky. Round white moon. The twosome hooted and laughed—until someone hooted back.


Just beyond the sign, two hazy figures crested the summit.


"They must be from Shira Route," Sir Edmund said. "They will pass, then you can ski a little bit there." He pointed to the only glacier that tapered smoothly into the crater rim, a football field of flat ice just below the sign.


The figures turned out to be a snap-happy British gentleman and his guide. Let's try it from this angle. Now how about a quickie over here. They took six shots and then asked Sir Edmund to take one, too. The Brit had killed two whole minutes explaining the wonders of his digital camera when the tiny screen froze. "Bugger all," he said, his guide shivering nearby. After the LCD blipped back on, Sir Edmund was solicited for two more pictures. Finally, he just sat down and lit a Sportsmen. Fifteen minutes had passed. "What the hell?" thought Eric. Eric was becoming a bit of a jerk.


Finally the two left, and Eric and Sir Edmund shuffled out onto the glacier, producing the skiboards only at the last possible moment. Eric wondered who else might pop up on some other hidden trail to rat them out.


The slope rolled away before him. All Eric could see was ice and a patchwork of farms 16,000 feet below. The glacier's surface was pocked with thousands of depressions the size of saucers. Eric showed Sir Edmund where he was going and gave him the camera. Then he tightened the laces on his hiking boots, latched himself onto the Big Feet, and shoved off, elated to finally be skiboarding.


The first turn threw him, causing his arms to windmill, but Eric regained his balance and fell into another knock-kneed arc. He headed toward the moon and stood upright, eyes focused ten feet in front of his toes, always looking where he wanted to go. He began to pick up speed—three miles per hour, six miles per hour, ten. Eric's legs felt strong and breathing came easily. He let the skiboards go, swooping first one way and then the other. Eric felt free. He was in the zone, in the flow of the moment. It was as if skiboarders all over the world were channeling their energy through him. Eric had been to the mountaintop, and he could hear the Guinness Book of World Records calling.


"Stop!"


Huh? Eric stopped being Eric and I became me again. I slashed out a hockey stop. Sir Edmund was running toward me.


"Did you get the pictures?" I asked.


"Yes, but no more!" he said. He pointed toward the horizon. "Cliff. Here, it is cliff."


He pulled out a map and showed me where we were, and how the contour lines mushed together into one striped band. Sure enough, I was on the Hein Glacier, just above an ice cliff at the top of the Umbwe Route. God had made his will known. I had accidentally skiboarded Stephen Koch's line, but from the tippy-top—not only a first skiboard descent, but a first skiboard descent on a new route!


Unfortunately, Sir Edmund did not share my elation. "Please, Eric," he said, "remove your Big Feet immediately."



I TIDIED UP FOR THE PAPARAZZI before deplaning back home. Strangely, the airport terminal was quiet. No matter—the flashbulbs would surely pop once the folks at Guinness World Records got hold of the news. But then, a few months later, I received this, from Scott Christie in the Guinness Records Research Services division in London, England: "After having examined the information you sent, and given full consideration to your proposal, I am afraid we are unable to accept your proposal as a record. We have looked at your proposal in detail, but as you yourself mention it would be a first. A 'first' is not necessarily, in itself, a record. Records have to be breakable, measurable and comparable."


This made no sense. If, however unlikely, someone skiboarded higher and farther, would they not be breaking my record?


Mr. Christie continued: "I appreciate you have gone to a lot of effort, and we are delighted to hear from people around the world with their record claims and suggestions. However, given the sheer scope of the records on our database, and the growing number of people contacting us with record claims and suggestions, we need to exercise some editorial control over what is and is not accepted as a record."


Ah, so there was the nut of it—some kind of antiskiboarding prejudice. Seething with anger, I typed a curt response. "Dear Mr. Christie," I wrote. "I suggest you reconsider. Frankly, your decision to deny Eric's first-ever skiboard descent of Mount Kilimanjaro is about as logical as feeding grass to a dog—or for that matter, meat to a goat. Sincerely, Eric Hansen."


I knew I'd never send the letter. Postmodern adventurers must maintain good style. But somehow, it made me, and Eric, feel better.
Trending on Outside Online