The First Ukrainian Woman to Climb Everest Has Joined the Fight Against Russia
Mountaineer Irina Galay wants Russian climbers blocked from the high peaks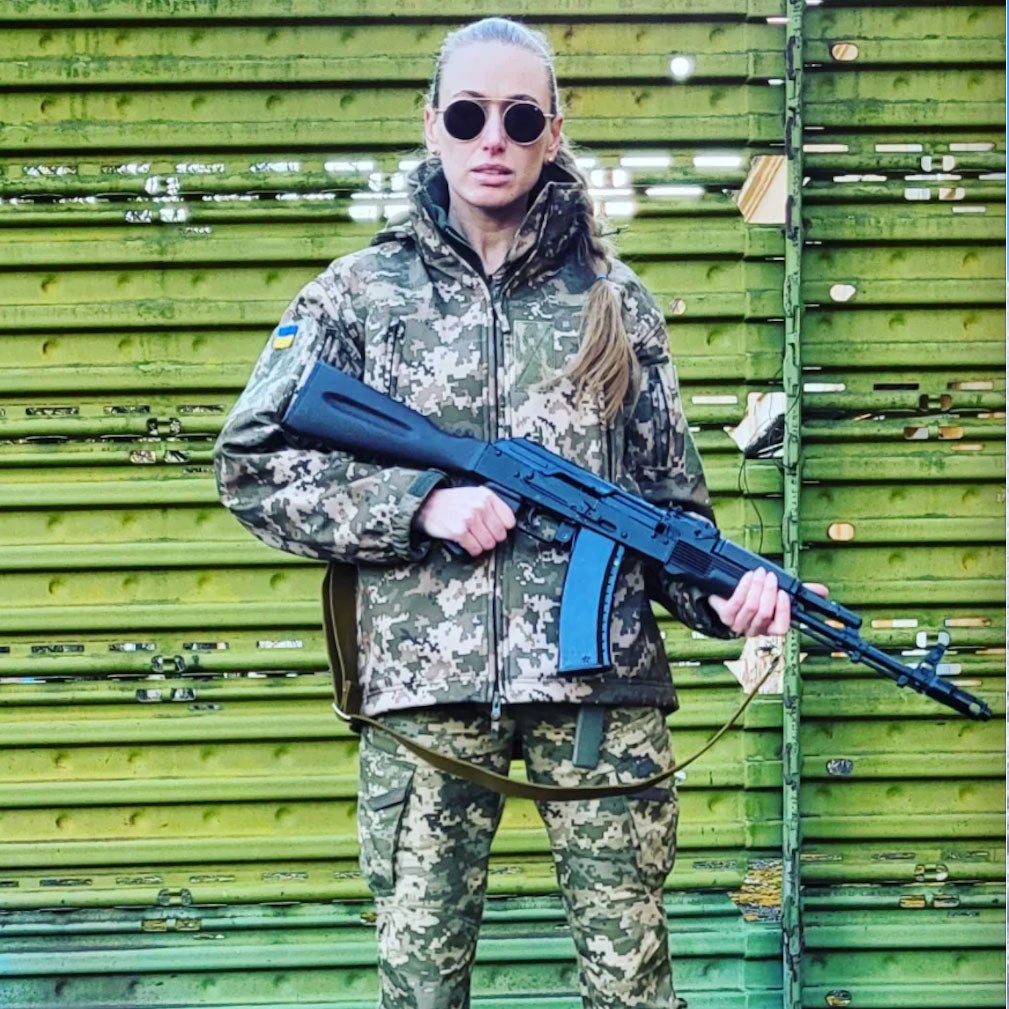 Irina Galay/Instagram
Heading out the door? Read this article on the new Outside+ app available now on iOS devices for members! Download the app.
Clad in brown military fatigues, Irina Galay crouches beneath a wall of sandbags and smiles into the camera. The 32-year-old Ukrainian mountaineer urges her compatriots to have hope that the Russian invasion will soon end.
"I don't know when it will happen, but I know that it will happen, because it's our land," Galay says. "And we will not give it away, never and to no one. We're strong and courageous, and the continuation of this nation depends only on us."
The short video is one of the latest posts on Galay's Facebook page, and it sits alongside images of her atop the world's two highest peaks. Galay is one of Ukraine's most famous mountaineers; in 2016, she became the first Ukrainian woman to reach the summit of Mount Everest, and this past summer she became the first Ukrainian woman to climb K2.
Now, Galay is defending her home country. Shortly after Russian president Vladimir Putin invaded Ukraine on February 24, Galay enlisted in the territorial defense forces near her hometown of Mukachevo, a small city on the country's western border with Slovakia.
"Thanks to my experience in mountains, I wasn't scared to join the army," Galay says in a recent Whatsapp text exchange. "If I was brave enough to climb K2, then I must accept my destiny and be ready to protect my home."
Galay's social media showcases her rapid shift from a mountaineer and entrepreneur—she co-founded a beauty brand—to wartime patriot. In January, Galay was in the snowy Carpathian Mountains offering safety advice for wintertime expeditions. In early February, she attended a political event organized by Dymetro Razumkov, a member of Ukraine's parliament.
"Two weeks ago, I had a normal life," she says. "I had many upcoming events and projects. I had been delivering some motivational speeches about mountains and preparing my new political career. But now I wake up to nightmares every morning."
Galay is one of a growing number of Ukrainian athletes and celebrities who have taken up arms to fight for Ukraine against the Russians. Boxer and two-time Olympic champion Vasiliy Lomachenko is reportedly helping in the defense of Odessa, mixed martial arts fighter Yaroslav Amosov told his followers on Instagram that he is staying in Ukraine to fight the Russians, and tennis player Sergiy Stakhovsky is also fighting in the territorial defense forces. Ukraine's most famous athletes, heavyweight boxing champions and brothers Wladimir and Vitali Klitschko, are fighting in the defense of Kyiv.
Galay says she considers her social media part of her military work, and she now broadcasts patriotic messages and videos to 86,000 followers on Instagram and 14,450 on Facebook. In a recent Instagram video, she documented Ukrainians filling Molotov cocktails in an outdoor square. Another image on Facebook shows her standing shoulder to shoulder with the other armed members of her unit.
"Every day, from the first sunlight until late at night, we learn how to protect our country," she says. "I try to motivate people through social networks by showing the example, as well as help my friends abroad to better understand what is happening in Ukraine."
Galay also wants the international mountaineering community to block Russians from the high mountains.
"I hope that Russians won't be permitted to approach any single mountain this year," Galay says. "I hope they won't be allowed to raise the flag of their country on any mountain in the world."
That request may be a hard one to realize. Alpinism has no governing body like the International Olympic Committee or European Union of Football Associations, both of which recently banned Russians from competitions. To climb Mount Everest or other high peaks, a mountaineer must obtain a climbing permit issued by a national government and either ascend the mountains with other climbers or secure a spot on a guided expedition.
Veteran guide Adrian Ballinger hasn't heard any discussion of blacklisting Russian climbers from international expeditions. Instead, he says he's seen sympathy for the Russian and Ukrainian climbers who are now being affected by geopolitical forces they cannot control.
"I don't have any Russians on my Himalayan team, so [banning them] isn't a decision I have to make," Ballinger says. "But Russians would be welcome on my team today."
Ballinger predicts Russian climbers will be isolated within alpine climbing due to other factors. Economic sanctions against Russia have decimated the ruble's value, reducing spending power. Uncertainty around travel visas will also keep Russians at home.
Galay told Outside that she hopes Russian mountaineers are limited to Russia's highest peak, Mount Elbrus, which is one of the Seven Summits. Foreign climbers are unlikely to mount expeditions on Elbrus in wartime. The U.S. embassy in Russia recently announced a "do not travel" advisory for the mountain.
Aside from her request to keep Russians from the mountains, Galay told Outside that she has another message for people following her country's defense: "Glory to our heroes," Galay says. "Glory to Ukraine."
Lead Photo: Irina Galay/Instagram
Trending on Outside Online