Kevin Jorgeson on Life After Dawn Wall
Ten weeks after completing a historic ascent in Yosemite, the 30-year-old climber is raising awareness about the sport and contemplating what's next.
Ben Margot/AP Images(Photo)
Heading out the door? Read this article on the new Outside+ app available now on iOS devices for members! Download the app.
Last Saturday, two and a half months after Tommy Caldwell and Kevin Jorgeson completed their historic, 19-day free climb of El Capitan's Dawn Wall, Jorgeson visited Vail, Colorado, to present never-before-seen footage of the climb's most dramatic section: pitch 15, a 5.14d traverse that nearly ended Jorgeson's expedition.
It was arguably the toughest pitch on what many have called the most difficult climb in the world. Caldwell sent pitch 15 first, but it took Jorgeson eight days to push through it. He fell 11 times, resting every other day to let his shredded fingertips heal.
The footage of Jorgeson's battle with pitch 15, which aired at the Vail Film Festival and will be included in the forthcoming documentary Dawn Wall, due out next year, gives an intimate window into the enormous pressure Jorgeson faced to succeed. During one clip, Jorgeson attempts pitch 15 at night, with cameras hovering overhead. He moves methodically between tiny holds, including what he called the sharpest two on the entire wall. He and the cameramen are silent. For a moment it looks like he has it. Then he loses his grip and falls, again. "Fucker!" he screams as he drops off the wall and swings back and forth in the dark abyss.
Standing on the side of the stage in front of a capacity crowd, Jorgeson explained that the prospect of failure became very real toward the end of his weeklong battle with pitch 15.
"Tommy would've been the guy who climbed the Dawn Wall, and I would've been the guy who almost climbed the Dawn Wall. That thought was unbearable," Jorgeson said.
Of course, Jorgeson never had to face that reality—thanks in part to technology. Nearing an unofficial deadline to send pitch 15 ("I couldn't hold up the project forever," Jorgeson said), the film producers compiled a montage of all of Jorgeson's falls, then emailed him a password-protected Vimeo link. Jorgeson watched the clip on his smartphone while dangling from the wall in a portaledge. It worked. He sent the pitch soon after, letting out eight days' worth of frustration when he passed the crux in a mighty "Yeahhhhhhhh!"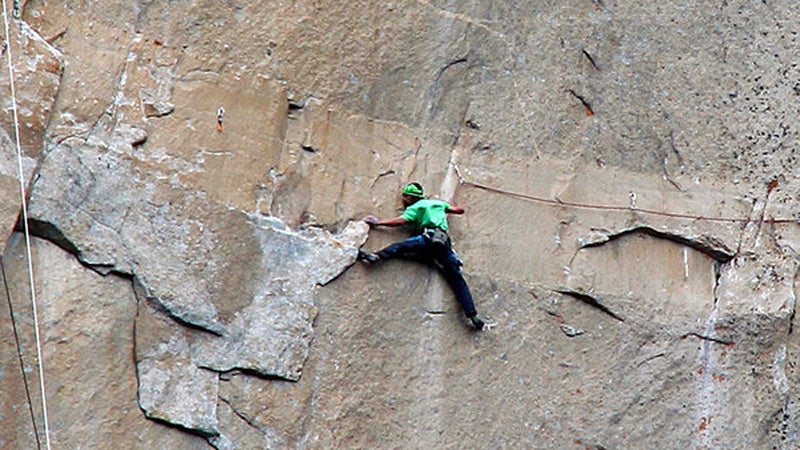 Smiling on stage, Jorgeson said, "It still gives me goose bumps to watch that."
Though Jorgeson, 30, and Caldwell, 36, will forever be linked to the wall, their partnership was an unlikely one. Caldwell, a renowned big-wall climber, conceived the project in 2007 to help him get through a painful divorce. When Jorgeson saw a short video about Caldwell's goal, in 2009, the self-described "pebble wrestler" (he'd made his name bouldering) asked Caldwell, "Do you need a partner?" They had climbed together just once. Caldwell accepted Jorgeson's offer. Six years later, they spidered into sporting lore.
Just before the screening, Outside caught up with Joregson to learn about his life, post-Dawn Wall.
OUTSIDE: What made you think you could climb pitch 15 after failing so many times?
Jorgeson: Nothing. All I had was the resolve to achieve a certain outcome. It's not enough to just be confident. Every athlete at his peak is going to perform with a different mental cocktail. I thrive in the underdog, reserved, it's-not-over-till-it's-over mindset.
When did you last speak to Tommy?
Last week. He's in France now, bouldering.
A lot of adventurers can relate to accomplishing something significant with a friend and sharing that glow. What's it like to share a feat like free climbing the Dawn Wall?
It's a whole new project in a way. The Dawn Wall required a partnership to do that climb, and likewise, managing this aftermath in a way that keeps us just as close as friends and partners is like the next project. Because there's a lot of complicated shit to figure out. It takes the same trust and loyalty and communication, and balancing strengths and weaknesses, but in a public and media setting and not a rock-climbing setting.
You climbed for four to seven hours a day, usually between 4 p.m. and midnight. How much did you sleep?
Twelve hours a night.
Did you bring any good luck charms?
I wore a memorial T-shirt for a late friend, Brad Parker, who died in a fall on Matthes Crest last August. It was a big blow to the whole community, so we started a foundation in his name and designed these really cool shirts from a drawing he did in the dust on the back of his pickup truck. I wore that shirt every day while I was on the push.
For non-climbers, how much is there to cling to on a 5.14 route?
I climbed brick façades as a kid. You'd kind of stick your fingers in there. But sink in those bricks so they barely stick out from the wall. That's what you're dealing with, but with so few options as far as what you can hang on to. It's probably most similar to an Olympic gymnastics floor routine. It's highly choreographed, and you have to execute it perfectly or you're going to fall.
Tommy was too hoarse to talk after the climb, which meant you answered every interview question. What was it like to be the lone voice?
That was a bummer, because I had the pressure of speaking for both of us. I was constantly checking in with Tommy, "Was that all right? Is that how you would've answered it?" It was our day, and for him not to be able to share his first-person thoughts was really hard for him. He's still bummed about that.
Did you get any incentives from sponsors for climbing the Dawn Wall?
No.
How long did it take your body to recover?
The hardest thing was my fingers. They were really bruised and cracked and nasty for three weeks. Then all the callouses fell off, and now my skin is soft again. As a whole, I felt stronger at the top than I did when we started.
What's the biggest opportunity that's arisen since the climb?
I can't speak to a single one, but awareness is a powerful and totally abstract thing. You can pretty much open whatever door you want, have any conversation you want, push whatever agenda you want. And by that I mean: Well, what's the point? So we climbed the rock and people know about it—who fucking cares? What are you going to do with that? We didn't ask for all the attention, it just happened. So we can ignore it and let it die and fade out of people's memories. That's totally an option. But Tommy's writing, and I'm doing a lot of speaking. We're both processing the aftermath of this.
What are some people's personal "Dawn Walls" that you've seen since you posed the "What's your Dawn Wall?" question on social media?
If you search the hashtag, you get all these stories. Some are as lame as "My Dawn Wall is to eat five Big Macs in a row." But while we were in the lodge in Yosemite, taking interviews two days after we topped out, this woman with a walker came up to Tommy and me and said: "Are you those climbers? That was so inspiring. Doctors told me that if I don't get my act together, I'm going to be back in a wheelchair in six months, and I'm not going to walk again. And you inspired me to make sure that doesn't happen. That's my Dawn Wall." We all had tears in our eyes.
Lead Photo: Ben Margot/AP Images
Trending on Outside Online