New Park Service Policy Authorizes Fixed Anchors in Wilderness
A final directive caps years of debate over whether climbing anchors should be allowed inside National Park wilderness. But questions still remain around just how the policy will be enacted—and what impacts it will have on climbing and the environment.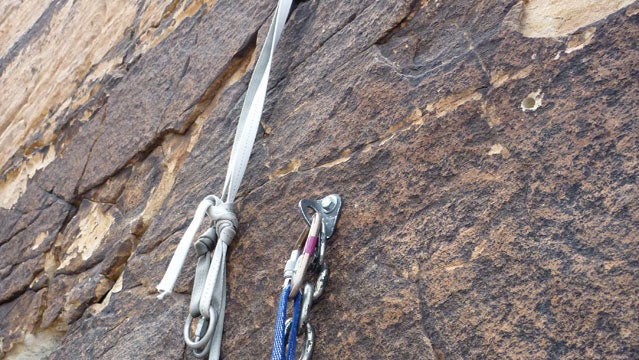 Heading out the door? Read this article on the new Outside+ app available now on iOS devices for members! Download the app.
With his signature, National Park Service director Jonathan Jarvis on Monday answered a question that has plagued climbing access advocates as well as wilderness advocates for decades: can climbers place permanent anchors within wilderness areas inside National Parks? The answer is yes—with conditions. 
Well before President Lyndon Johnson signed the Wilderness Act of 1964, rock climbers were screwing anchors into rock faces in an attempt to set safe, repeatable routes. In the intervening half-century, tensions grew over the definition of a wilderness boundary. Many climbers argue that the occasional use of fixed anchors is needed for safe climbing. Wilderness advocates say fixed anchors conflict with both the intent and the letter of the Wilderness Act.
Each agency within the Department of the Interior manages its own wilderness areas, and climbers have long petitioned the National Park Service, which contains a number of climbing Mecca's, such as Yosemite and Zion, to clarify its position on the use of fixed anchors, such as bolts. The Director's Order #41, which Jarvis signed on Monday and which represents more than 6 years of policy development, evolving from the last sweeping NPS policy changes made in 2006, says: "The occasional placement of a fixed anchor for belay, rappel, or protection purposes does not necessarily impair the future enjoyment of wilderness or violate the Wilderness Act."
"We've been working on this issue for 20 years," says Jason Keith, senior policy advisor for the climbing advocacy group Access Fund. "We're very pleased this is finally out; it's a big deal for us."
But the final version of the Director's Order didn't give the Access Fund everything it wanted. The group petitioned the NPS to not require climbers to obtain authorization before placing new fixed anchors in wilderness areas, but that didn't fly.
Garry Oye, chief of the Wilderness Stewardship Division at NPS, says he is aware that the Access Fund feels climbers should be able to decide whether an anchor should be placed, but that "we want the Superintendent of each park to be the one deciding whether a fixed anchor is done."
Keith argues that authorization is onerous, and that climbers would not set out to place more anchors than are called for to ensure safe climbing. As for negative impacts on natural or cultural resources, he argues that climbing is already prohibited in wilderness areas where these impacts are possible.
He says the authorization requirement is a significant concession, but that the final Director's Order also contains important assurances for climbing access. "We were willing to accept new restrictions so long as there was certainty that anchors would not be banned in various areas," he says. The new policy makes anchors allowable across the park system, which will overrule efforts by managers at specific parks from banning anchoring—something Keith claims has been done in the past at Canyonland, Arches, and Joshua Tree national parks.
The allowance of fixed anchors for climbing is just one of many management subjects covered in the Director's Order, and public lands advocacy group Public Employees for Environmental Responsibility (PEER) has taken issue with many of them. PEER's executive director Jeff Ruch says the final version of the Director's Order is dangerously opaque. "While we're still reviewing the document, it's not clear how the line is drawn. It says 'fixed anchors should be rare.' That is a management term that does not have much rigor. Is it 'rare' in a particular park? Is it 'rare' park system-wide? This is vague guidance."
Oye counters that using the word rare is more fitting than setting numerical limits. "We are clearly communicating to the climbing community that we want you to be conservative [when it comes to placing anchors]."
But George Nickas, executive director of wilderness advocacy Wilderness Watch, says even rare anchors are too many. "The NPS has a policy that says wilderness visitors must accept wilderness on its own terms and I think that reflects the appropriate approach to wilderness stewardship," he says. "Humans want to change everything to benefit our particular interests at a given time. The Wilderness Act was a statement that we weren't going to do that. If you can't climb a mountain without fixed anchors, then you shouldn't climb that mountain."
Hayden Kennedy and Jason Kruk, who were widely praised for chopping bolts on Patagonia's iconic Cerro Torre, proved that there is a segment of the climbing community that also believes bolts can desecrate a mountain.
As for what comes next, Keith says many questions still remain, but they should be addressed quickly when the NPS releases its reference manual in the coming days. The biggest questions to be addressed, he says, are how the permit process is going to work, to what degree Access Fund and other climbing groups will be able to participate in the permitting process and how or whether they can influence the establishment of best practices the park system will use.
"We're relieved they finally got it done," Keith says of the Director's Order. "All the hard questions will be raised at the park level. In the past, we felt there were land managers who acted on their own. We think this [policy] makes that less likely. We are encouraged. This is a huge milestone."