Nor'easter Interview: Climber Daniel Woods Crushes Comps
Heading out the door? Read this article on the new Outside+ app available now on iOS devices for members! Download the app.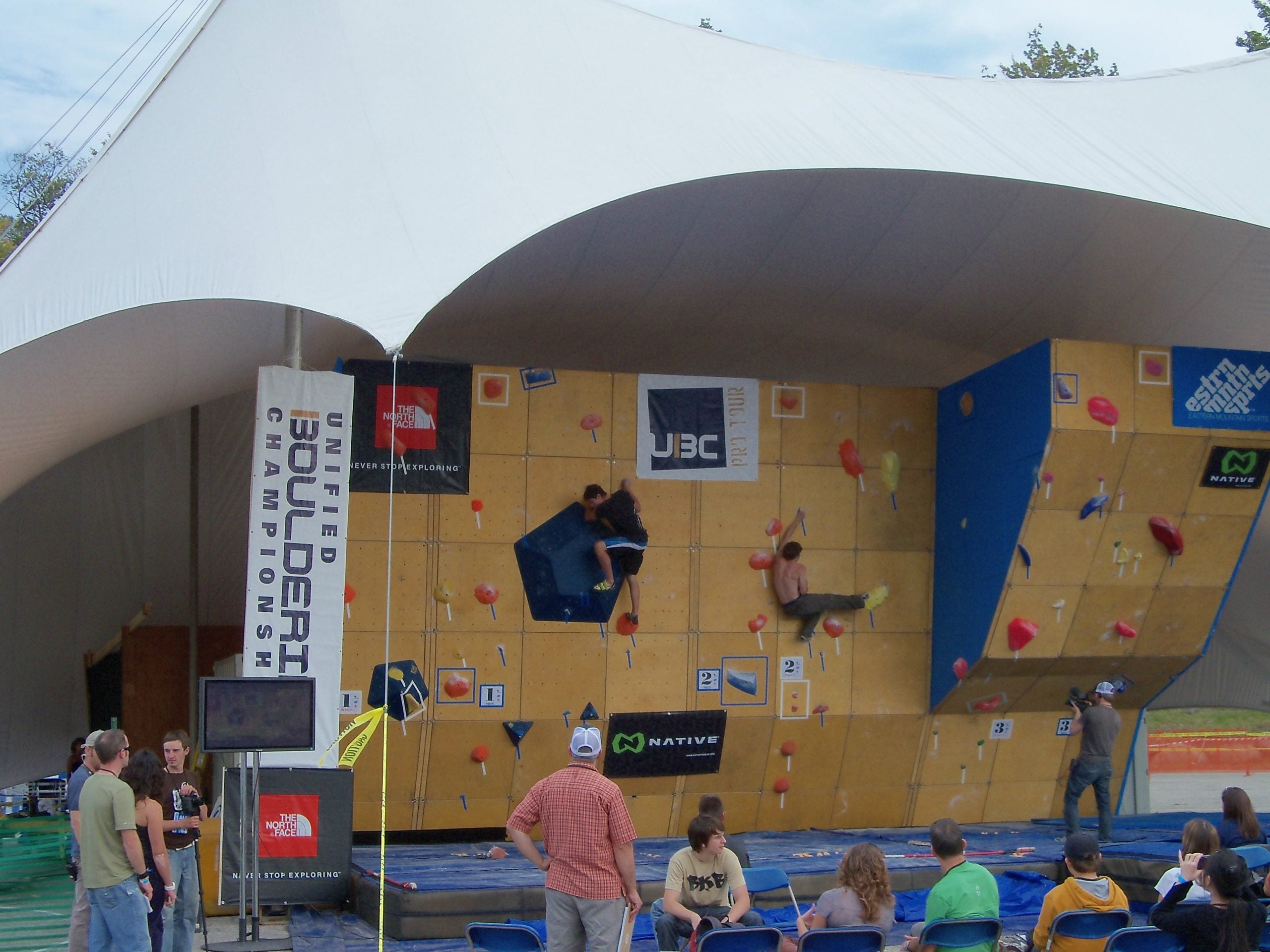 After spending the morning checking out the Nor'easter sponsor village, slacklining, and trying my hand at artificial ice climbing (more on that later), I got the chance to sit down with climber Daniel Woods. Woods, who crushed all six problems in qualifiers on Friday, is a V16 boulderer and the favorite to win the men's final this afternoon.
After playing phone tag with Daniel for half an hour, I finally met up with him and fellow climber Sasha DiGiulian in Loon Mountain's cafeteria. You can watch both in the Nor'easter finals, which will be webcast starting at 3 EST.
–Adam Roy
How did you feel about the problems yesterday? You destroyed all six of them.
DW: They were more like outdoor rock climbs than your typical gymnastic-style problems. The holds were bad, so it just required finger strength and very static movement. Maybe subtle pops here and there, but nothing too dynamic, like where you could easily fall. Even the last moves you could kind of keep in control. I thought the boulders were hard, but they just fit me perfectly.
This comp and the World Cup I did in Vail were more outside-oriented. It tested your all-around ability, but it wasn't a freak show competition where if you're good at dynoing you're going to do well. You had to be good at rock climbing if you wanted to do well.
Speaking of outdoor climbing, tell me a little bit about this area you and Dave Graham were climbing in this summer. What's the deal with that?
DW: We dubbed it Wolverineland. There was some rumor that the government put wolverines back in Colorado to try and repopulate them. I don't know if this rumor's true or not, but we heard this and were like 'Why not?'
Right now it has the most concentration of hard problems in the US, for V13 or harder. Even compared than Hueco Tanks We have like 15 more that are going to be from V13 to V16. So it's nice to know that we have something to go back to next year.
I take it it's not an area that many people go to?
DW: At first no, but actually, towards the end of the season, more people stopped going to Rocky Mountain National Park and started going to this area. So it's kind of cool to see the evolution of a virgin area being blown up. Everyone's talking about it on the internet, everyone's talking about it at the gym. A couple weeks ago we were the only ones up there and now people are interested in what we're doing.
This may be a stupid question, but that Native Eyewear tattoo on your arm isn't real, is it?
DW: No. This one's real though. [Lifts up shirt to show lion tattoo on his side].
Tell me the story behind that.
DW: It's my astrology sign, Leo. And I have an Aries sign right here; that's [Woods' fiancé] Courtney's sign. So I have our two astrology signs. And I've always liked lions, so I wanted to get something there.
Before I got it, I was like, I wonder if I can even pull off the tattoo. I'm not a [person with a] hardcore image or anything, I'm more mellow and laid-back.
Going into the final today, you're the favorite to win by far. How does it feel to know that so many people just expect you to take first?
DW: It's getting a little more nerve-wracking. This is the first year that competitions have just clicked in my head. Earth Treks was probably my worst result, getting third. But after the World Cup I was zoned-in. I really focused on training, my diet and everything, to get myself to a certain position where I knew that I could go into a competition and win it and not have any doubts about what was going to happen.
But then it turned out that people would be like 'Oh, you're going to win, aren't you?' I didn't think about it like that. When someone else tells it to you, you're like, ooh, that's weird, I'm expected now to win.
Honestly, there's a lot of strong guys out there tonight. Anyone could take first, or second, or third. The point is you just go out and just rock climb. You go out confidently and try hard, and whatever the outcome is, the outcome is.
Trending on Outside Online