Deadly Crash at Lukla Tenzing-Hillary Airport in Nepal
Three died and four were injured on Sunday when a plane veered off course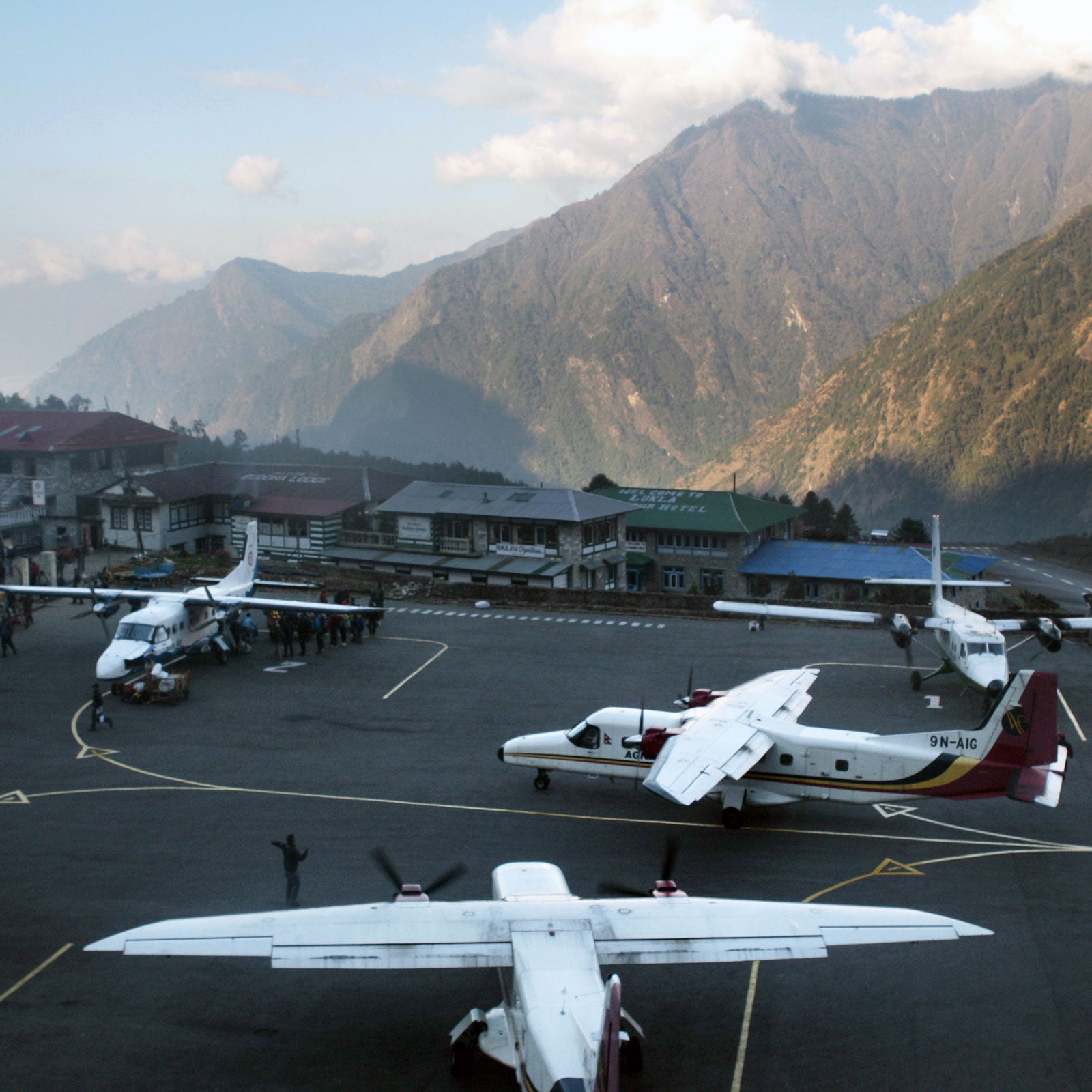 David Cheskin/Getty(Photo)
Heading out the door? Read this article on the new Outside+ app available now on iOS devices for members! Download the app.
On Sunday at the Lukla Tenzing-Hillary Airport in Nepal, a plane veered to the right while taking off and smashed into a parked helicopter. The crash killed the first officer of the airplane and one police officer standing near the helicopter. A second police officer was injured and later died while undergoing surgery in Kathmandu. Four other people were hurt but are now in stable condition.
The dead were identified as First Officer Sujit Dhungana, Assistant Sub-Inspector Ram Bahadur Khadka, and Assistant Sub-Inspector Rudra Bahadur Shrestha, who were on duty at the helipad. According to Summit Air's Facebook page, there were no passengers on board. The plane hit a Manang Air AS 350 B3e helicopter that had just landed, and two passengers had disembarked moments earlier. The rotors were still moving when the collision occurred. The pilot, Chet Bahadur Gurung, was on board but not seriously injured. A second helicopter operated by Shree Airl was slightly damaged, and a small fire broke out as a result of the collision.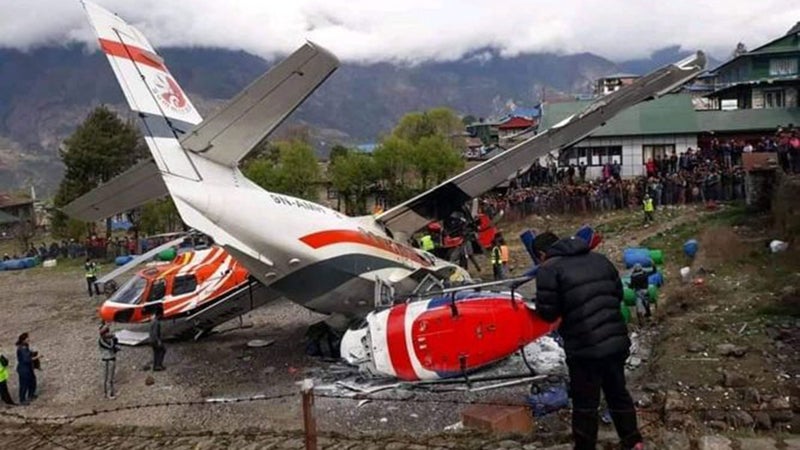 The exact details of what caused the plane to veer from its route are unclear. A video shows that it began to go off course almost immediately as it started its roll down the runway.
The Let L-410 Turbolet, an aircraft designed for high-altitude, short runway take-offs, was flown by Summit Air, a small Nepali airline. This isn't the first time the Let L-410 has had problems at the Lukla airport. In 2017, the same model aircraft crashed while attempting to land and there were also issues with its landing gear steering on April 16, 2018.
Lukla is the gateway to Mount Everest and Nepal's Khumbu area. Every year, over 100,000 people, many of them climbers and trekkers, fly into the airport. Most teams on Everest take a fixed winged airplane from Kathmandu to Lukla, but the flights are notorious for being canceled at the last minute. The runway sits at 9,400 feet on top of a 2,000-foot cliff and ends where a high mountain wall begins. Lukla-bound flights have become infamous for crashes. Seven have occurred since 2000, killing over 50 passengers and crew. There is no safety cushion for a missed landing or equipment failure.
Lead Photo: David Cheskin/Getty
Trending on Outside Online