Pro Climber Chris Sharma's First-Ever Training Plan
The world's most reclusive climber just became a father and opened a gym, which means he's had to dramatically rethink how he stays in rock shape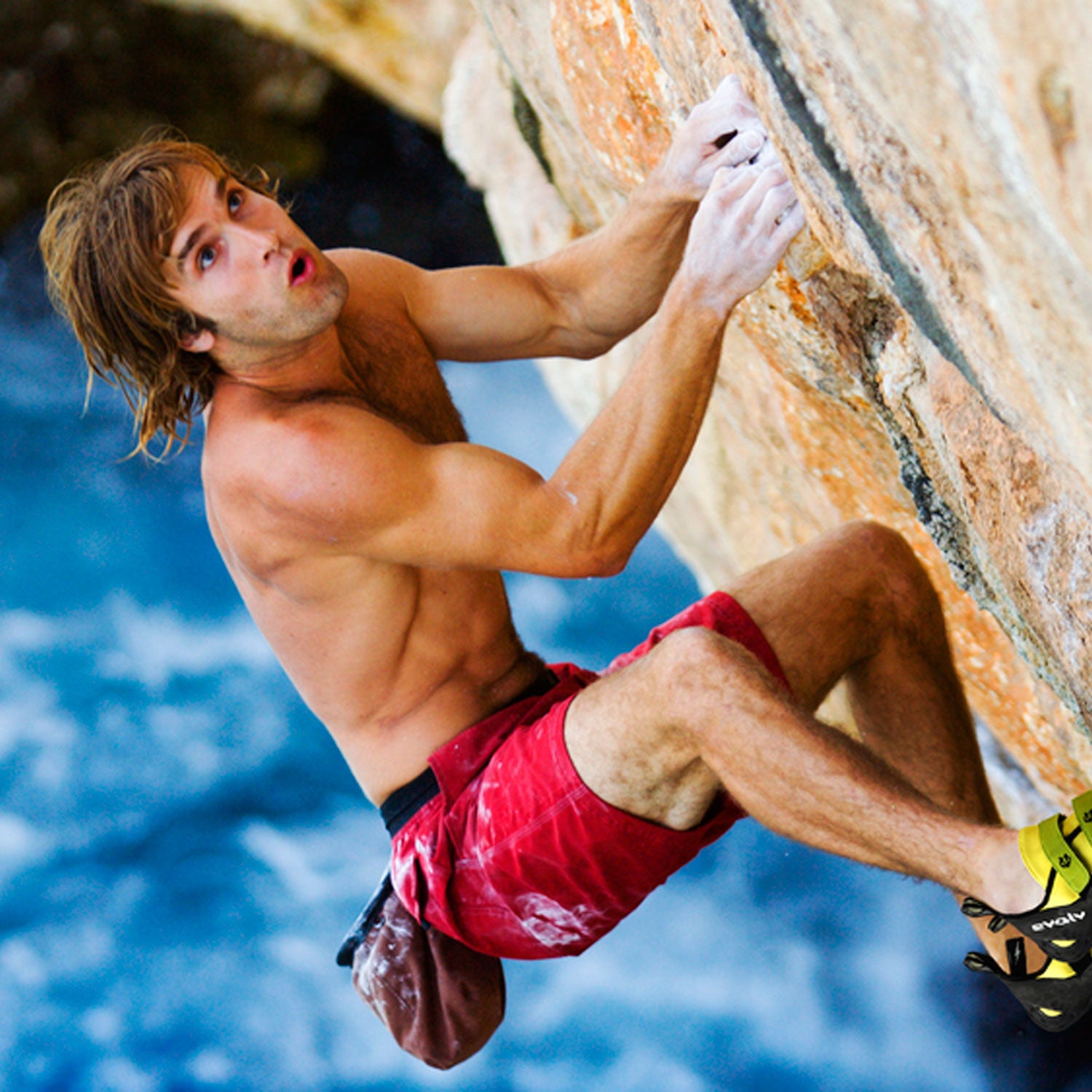 Courtesy of Chris Sharma(Photo)
Heading out the door? Read this article on the new Outside+ app available now on iOS devices for members! Download the app.
If you ask climber Chris Sharma how he trains, you'll get a one-word answer: by climbing. At a time when most pro athletes consider cross-training essential, Sharma's single-minded approach remains an anomaly, especially considering that he's held his own among climbing's elite for nearly two decades.
"My method has always been throwing myself at these walls and these lines over and over again," Sharma says. "I'm beating myself up and pushing my limits. You might call that training or you might call that climbing."
It's a strategy that has worked for Sharma in no small part because he's naturally gifted, and he's been fortunate enough to have sponsors supporting his all-climb-all-the-time lifestyle; it is not uncommon for Sharma to work a single project for years, without interruption. But he's now 35 years old and accumulating responsibilities: he and his wife had their first child this summer, and he recently opened a gym in Barcelona, down the street from his home. It's hard to imagine Sharma having time to continue his patented brand of patient, laser-focused, balls-out wall crawling. Something has to give and he knows it.
For six weeks this summer, Sharma submitted to training in a gym (his gym) with climber and old friend Paxti Usobiaga. It was actually the first training program he's tried in his 24 years of climbing, and Sharma, who is as impulsive as he is determined when it comes to his vocation, has come away with mixed feelings about the whole idea of scheduled aerobic exercise. He knows it's probably good for him, but it runs counter to the philosophy that has guided him for his entire adult life.
"I'm probably one of the most difficult students that Patxi could ever have," Sharma says. "I have my own way of doing things, and that's worked, so it's going to be hard for me to change my ways."
We recently talked to Sharma about how his perspective on climbing has evolved, why he doesn't like gyms, and whether he's going to adhere to a fitness plan going forward. (It's unlikely.)
---
OUTSIDE: Why haven't you trained before?
SHARMA: I've always been able to maintain a pretty steady level of fitness by just climbing. I don't do dieting. I live a balanced life, so I can maintain that high level consistently.
Is it true that you don't own any exercise equipment?
I don't. I actually just got my first fingerboard. A portable one.
What made you decide to do a training program now? 
The summer is hot here in Barcelona and not good for climbing outside. With a newborn, it's a recipe for getting out of shape. But I have this amazing climbing space ten minutes from our home and it's a perfect opportunity to experiment with a different approach.
As our life changes, we go through these different phases, and I had moments where I was 100 percent focused on climbing every day at the rock. And at those moments it's been enough to just go at it super hard. But these days, I've got a family, I'm running a business, and I have obligations. So when I do go rock climbing, I have to make it count, so it makes sense to prepare beforehand.
What is it about training in a gym that doesn't interest you?
I've always compared it to Spanish class in high school. I got a D-, but by living in Spain I learned to speak Spanish fluently. Different approaches work for different people. The important thing is to be inspired. If there's motivation, then the discipline comes naturally because you're not forcing yourself to do something you don't want to do.
What was it like having a trainer?
A big part of it was just yielding to someone else. For me, climbing has always been a personal thing—it's about following my own path, finding my own line, doing my own thing. When I'm told to do something, my knee-jerk reaction has been to do the opposite. I've been climbing at the highest level for 20 years now, so whatever I'm doing has worked pretty well. So it's a challenge now to let go of my own way.
Why Patxi?
He's a friend of mine, and we competed against each other for the Junior World Championship when I was 14 years old. But we took very different paths. I've been more of a lifestyle climber, and he's gone this strict, regimented training direction and brought himself to a high level. He won the World Championship in 2009 and he's retired from pro climbing, and he's training people.
In the Epic TV video, Paxti says it's good for you to have someone around, pushing you physically. Do you think that's true?
I'm a low-key, mellow guy. But at the same time, there's a pretty strong fire burning inside, and there's a competitive side to me as well. When you have someone pushing you—like with Adam Ondra on La Dura Dura—that friendly competition is really motivating. 
Having someone like Patxi around—it's been interesting. With training I always have my own way of doing things and it's a challenge for me to blindly follow someone. But I've learned things I can incorporate into my climbing. 
I've started thinking of myself as an athlete instead of a climber.
What kinds of things?
Circuits. He'd have me doing calisthenics, then campusing, then sit-ups, then pull-ups, then more campusing. You get to the point of total physical exhaustion, and for me there was definitely a lot of suffering. But every time I did that I felt good about it, felt healthy, and was proud of myself. I felt like I was making a really good base to strengthen my whole body.
Then we did some four-by-fours where you pick four boulder problems and do them each four times. It was a way to analyze in a controlled environment. That scientific approach is new for me. In the past, I've just been winging it. So why not structure it and see what can happen? 
I've started thinking of myself as an athlete instead of a climber. Climbing has been more of an art than a sport for me. But now, accepting that I'm an athlete has allowed me to explore what being a high-level athlete means.
What changed your mind?
With La Dura Dura, I was working on that route for two years, and I plateaued. It made me think about how I'd just been following my heart in climbing. But then I thought, "Let's see what I'm capable of if I really put the pedal to the metal." So I started resting and eating well, which I don't normally do. I lost some of that free-flowing spontaneous creativity, and it made me think that at different times you need to do different things. It's good to have both—being able to have fun, but then being able to take it super serious.
Now that your training with Patxi is done, are you going to incorporate training into your daily life? 
I'm a spontaneous person, so I don't know if I can stick to a straight schedule. But I'll take the experience to heart and try to apply some of these exercises to supplement the moments when I don't have enough time to dedicate to quality rock climbing.
I feel like it's been a great summer and I'm in great shape for the fall. Maybe if I learn some new tricks, I can push it even further—maybe do a 5.15D. I feel fitter than ever and I still love climbing, so why not try it?
Lead Photo: Courtesy of Chris Sharma