The Problem With Climbing Manaslu
An avalanche on 26,759-foot Manaslu left at least 11 dead and dozens injured in September—and it could have been a lot worse. Mike Marolt explains how commercial guides are putting their clients at risk.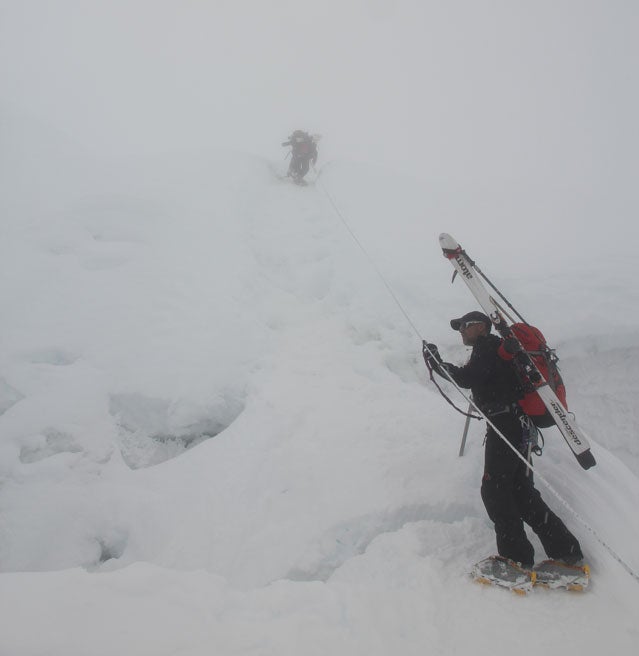 Mike Marolt(Photo)
Heading out the door? Read this article on the new Outside+ app available now on iOS devices for members! Download the app.
I woke up on September 24 to something that I had long expected: a major disaster on Manaslu, the eighth-highest peak in the world. This particular one came in the form of an avalanche that killed at least 11 people and left dozens of others severely injured.

An avalanche above base camp.
I found myself on Manaslu a few years ago, and in my mind, and the minds of many who have climbed it, this tragedy was anything but a surprise. It was an act of God, but one that was manufactured into a disaster by human action. After climbing and skiing on some 40 of the world's major 6,000-, 7,000-, and 8,000-meter peaks, this is the only mountain I could not recommend to anyone: it is avalanche central.
The history of Manaslu up until about five years ago was comprised mainly of serious, relatively small private expeditions. Being one of the world's 14 8,000-meter peaks, it was a sought-after goal for hardcore climbers looking for an off-the-beaten path objective in the Himalayas. The peak itself is short by Himalayan standards, sitting off one of the more popular trekking routes. However, as history would dictate, short is not the same thing as safe. Under ideal conditions, the peak can be easily climbed, and has seen approximately 300 summits over the course of its history, making it the fifth most climbed eight-thousander; however, it has a death rate of just over 35 percent relative to summits. Unless you actually experience the peak or research it closely, you have no idea what Manaslu will throw at you. Historically, it has been an avalanche chute.
Manaslu's history is peppered with no less than 32 avalanche fatalities, including five Koreans who died in 1972 and two Americans who perished in a slide in 1990. The mountain is unique in that there really is no safe zone: virtually no section of the peak, from base camp to high camp, is safe from the objective hazard of avalanches.
In 2010, I attempted Manaslu with four team members. We researched the peak, decided to make our climb, and prayed for good weather. When we arrived at the mountain in early September at the end of the monsoon, two things struck me. First, it is an incredibly warm peak, with temperatures even around the higher parts of the mountain rarely dipping below zero degrees Fahrenheit, and generally around freezing or warmer on the lower slopes. Second, Manaslu is covered in an incredible accumulation of warm, heavy snow. We experienced multiple days of snow and rain accumulating by the meter, which is very typical for this site.
Avalanches were constant; at one point, I filmed six 4,000-foot gullies sliding at once. The sound in base camp was as if we had pitched our tents in the middle of Denver International Airport. It was absolutely mind-boggling, beyond anything I had expected based on my previous expeditions—and, per other guides, typical for Manaslu.
As we ascended the mountain, the next hurdle of Manaslu became apparent. The route from base camp to Camp 1 travels up a heavily-crevassed glacier. The commercial guides had attempted to reduce the danger by placing fixed lines across the slots, but few people used them, guides included. Having lost a friend to these same crevasses a few years before, we broke out a rope. A solo fall would have resulted in a climber disappearing forever; there were simply too many of the seemingly bottomless black holes.
Perched on top of a small peak, Camp 1 was the only safe spot on the entire route. Beyond, the path traversed a massive icefall that also had continuous debris falls; when we reached it, we found a fixed line completely covered by a truck-sized block of ice. We climbed over it, an act that in retrospect makes me question my own intelligence as a mountaineer. Climbers take risks, but this was a seriously active icefall with crashes almost by the day.
After an hour of negotiating the icefall, we found ourselves at the base of a 1,500- to 2,000-foot headwall. Referred to as the hourglass, it is a steep, smooth, 40-degree patch of terrain, perfectly angled to capture enormous amounts of heavy, wet snow. Over time, it has slid to the demise of more than a few climbers, resulting in a huge pile of debris at its base. As I climbed to the upper section of the hourglass, a down-climbing Sherpa needed to rappel past me. The path was made up of rock-hard ice, but the ground to either side was another story: no sooner had I stepped off the beaten path than I found myself in armpit-deep mush. In the event of a slide, the entire path would have been wiped out. The top was closer than the bottom, so I ran up as quickly as I could to get out of what I was rapidly realizing was a seriously dangerous zone, dreading the fact that I would have to go down it to get back to Camp 1.
After navigating the hourglass and a massive crevasse field, we arrived at the first level of Camp 3 at just under 7,000 meters. Many guide companies choose this bench as a place to stop in lieu of a higher camp that sits at a col about an hour higher on the peak, as it is slightly further from the area usually hit by the upper slope's avalanches. My initial reaction was to wonder what the ice cliff some 3,000 feet above us looked like from there. We were in a complete whiteout, and while I knew the cliff was above us, we stopped there to have a quick bite and a drink. I had deferred to the herd mentality: there were other tents there, so it must have been OK.
As we started toward the next camp, we met an International Mountain Guide Association-patched Japanese guide who was as grey as the sky. He told us how the entire face (the same one that avalanched in the recent disaster) had slid as he climbed down. We walked a short way to find the 300-meter-wide debris pile, which had slid from the top of the slope. My team retreated back to the rest stop and hashed it out. My partners and I had had enough of the herd mentality and, after 10 minutes, finally made the only logical decision: trip over. Further cementing our choice, the clouds cleared a bit, and it became painfully obvious that there really were no bomber camp spots below the massive 200-foot ice cliff that loomed above us. We left Manaslu with our tails between our legs; we had climbed and skied some of the greatest peaks in the world, and this "easy" mountain had proved to be well beyond our comfort level. Guides and clients continued up, some smirking and laughing, others shaking their heads.
The herd mentality I've mentioned affects everyone, including non-commercial climbers. If one group in base camp decides to move up the mountain, any success generally means the other teams go too. For commercial guides, this is doubly true. It is extremely difficult to stay put as other climbers ascend, and guides often feel pressure to be aggressive: happy clients are good for business. It is rare for a company to make the tough call to turn back by itself. I have seen master guides like Russell Brice, Kari Kobler, and a few others make painful decisions to call off ascents, like Russell did on Everest last spring. I have also seen the impact it makes on their clients; in the short term, it is not good for their businesses. Still, these rare guides understand that there is a great difference between mad clients and dead clients. But not all guides have this level of experience, hence the mass ascents we're seeing on Himalayan peaks.
I'm not trying to Monday-morning quarterback or assign blame. But look at Manaslu and its history, and you'll find that it is not a great alternative to the normal guided peaks. Take Cho Oyu and Shishapangma, or even north Everest: the typical strategy that commercial groups follow is to set the routes with fixed lines and send the climbers out to reach the camp with experienced Sherpas. Climbers can come and go as they want with little danger to think about other than altitude, which can be mitigated with supplemental oxygen. Routes are fixed A through Z, and there is little or no chance of clients landing themselves in trouble. The model works incredibly well, as statistics of summits to fatalities will attest. Cho and Shish now have death-to-summit ratios below two percent. Manaslu's is more than 15 times that.
Commercially-guided climbers rely on their guides to make practically every decision, from the time they arrive until the time they depart. The guide rules, no matter what. If he says go, you go; if he walks through the crevasse field unroped, you do too. It takes the thought process out of a climber: others are going up, therefore it must be OK.
This, in turn, places enormous pressure on guides to let clients climb, compounding the problem. It is impossible to tell one client no when you just let another client go; they are all there for the same reason, paying the same fee. If a guide has even a slight lapse in judgment and lets anyone go, not only does he have very little control over his group, but generally every other group follows suit.
On Manaslu, I saw Russell Brice handle this extremely well, climbing as a team with a Sherpa to help those that could not go on to get back to the last camp. However, Brice and one or two other teams were the exception to the rule. Manaslu doesn't have the high number of guides and Sherpas that commonly-guided peaks like Everest do. If shit hits the fan, as it did when one climber fell into a crevasse, it takes time to organize and manage a rescue. On a peak like Manaslu, where the high objective danger from avalanches means that emergencies are common, it's nearly impossible for a commercial team to take care of itself.
The mess on Everest aside, we have guide companies offering hazardous climbs like Manaslu and even K2 as alternatives to the normal, safe, and totally guidable peaks. When these safer peaks become too crowded, or governments close them for any reason, as the Chinese did to Cho Oyu this fall, guide companies attempt to preserve their season's income by redirecting parties to Manaslu.
I have a good friend, more than 70 years old, with no 7,000- or 8,000-meter peak experience. He was slated to attempt Cho Oyu, which has been successfully guided for more than 20 years and is a great choice for entry into the game. The peak has camps where, even if a storm blows in, a climber can retreat and wait things out safely. When it was closed off, the guide company talked him into Manaslu as a "great alternative." After the guides has twisted his arm, there was absolutely no talking him out of it.
He is not alone: As the reports from Manaslu continue to filter in, it is becoming apparent that many people who were slated for Cho Oyu changed their plans. The normal 50 to 100 people at base camp ballooned to 300. Combined with the lack of safe camps, this is a recipe for disaster. You could argue that it was only by good fortune that the number of fatalities was not 10 or even 20 times greater. There is room for 300 people at the spot where the avalanche victims died.
Yes, a change of peaks is part of the business; outfitters plan multiple peaks all the time. But what they fail to appreciate is the mental strain that this puts on climbers. In his book Surviving Denali, former park ranger Jonathan Waterman explains that almost all of the fatal accidents on the peak were preceded by major changes in group dynamics or objectives. When these kinds of changes happen, he says, the trip should be over. The same goes for Himalayan climbing: it is not reasonable for most climbers, let alone commercial clients, to suddenly change gears after spending months or even years preparing for a mountain.
Last year, my team arrived at the base of a 7,000-meter peak to find the Chinese military doing live-ammunition exercises there. Our logistics company offered an alternative peak in lieu of the mix-up, but we had come prepared for a specific objective. Even with the company pushing us to do another climb to preserve its income, we were present enough to realize that we hadn't researched or prepared for a different peak. We went home. The guide company, which was not at all happy with our choice, is holding our deposit and permit to return—when this stuff happens, they generally will. I know a handful of ski mountaineers that, faced with the same scenario, chose to go to Manaslu instead.
The only alternative is for guide services to offer refunds or let the expeditions return when the situation permits. Modern guide companies and the economics of an industry that is difficult at best are providing the base for disaster. What happened in September was a painful illustration of this fact, but it's just the latest in a long string of tragedies that dates back to the advent of commercial guiding, including the deaths of eight climbers on Everest in 1996 and 11 on K2 in 2008.
Climbers need to take control of the game, and guides need to better understand that the way they have been operating in recent years is nothing more than a short-term economic fix that is effectively demolishing the industry that they rely on. Companies are taking clients to mountains where they probably should not be, and people are dying as a result. After photos that depicted 300 people on a single fixed line on the south face of Everest, and now this tragedy, it should be apparent that large commercial groups are pushing the limits of the game to unrealistic levels.
Mountains don't care about what any guide or climber thinks. If we can't respect that, we shouldn't climb them. That slope that killed the climbers on Manaslu slides virtually every snow storm, and has gone that big many times in the past. Seracs fall, and if the slopes they fall on are loaded with enormous amounts of warm, heavy snow, they will avalanche. Rolling the dice is part of what climbers do, but without respect for what we are rolling the dice over, we are doomed. Consider the fact that 11 people were killed and many more injured by a naturally released avalanche while camping in the safest spot available, and you can see why Manaslu is just not a peak that warrants high traffic.
I, along with many others, fully expected something like this avalanche to happen on Manaslu; we even knew two possible places where it could hit. I have nothing to lose by piping in, and if my reality can twist someone else's arm, I will twist hard. It's not for me to judge if you go, but if you do, think about every step and make decisions on your own. I guarantee every inch of the mountain will demand total respect, with virtually no place to let your guard down.
Lead Photo: Mike Marolt
Trending on Outside Online