Sasha DiGiulian Conquers the Eiger: The Pro Sport Climber Evolves
Her accomplishment is impressive by any measure, but it's also an exciting turning point in the star climber's career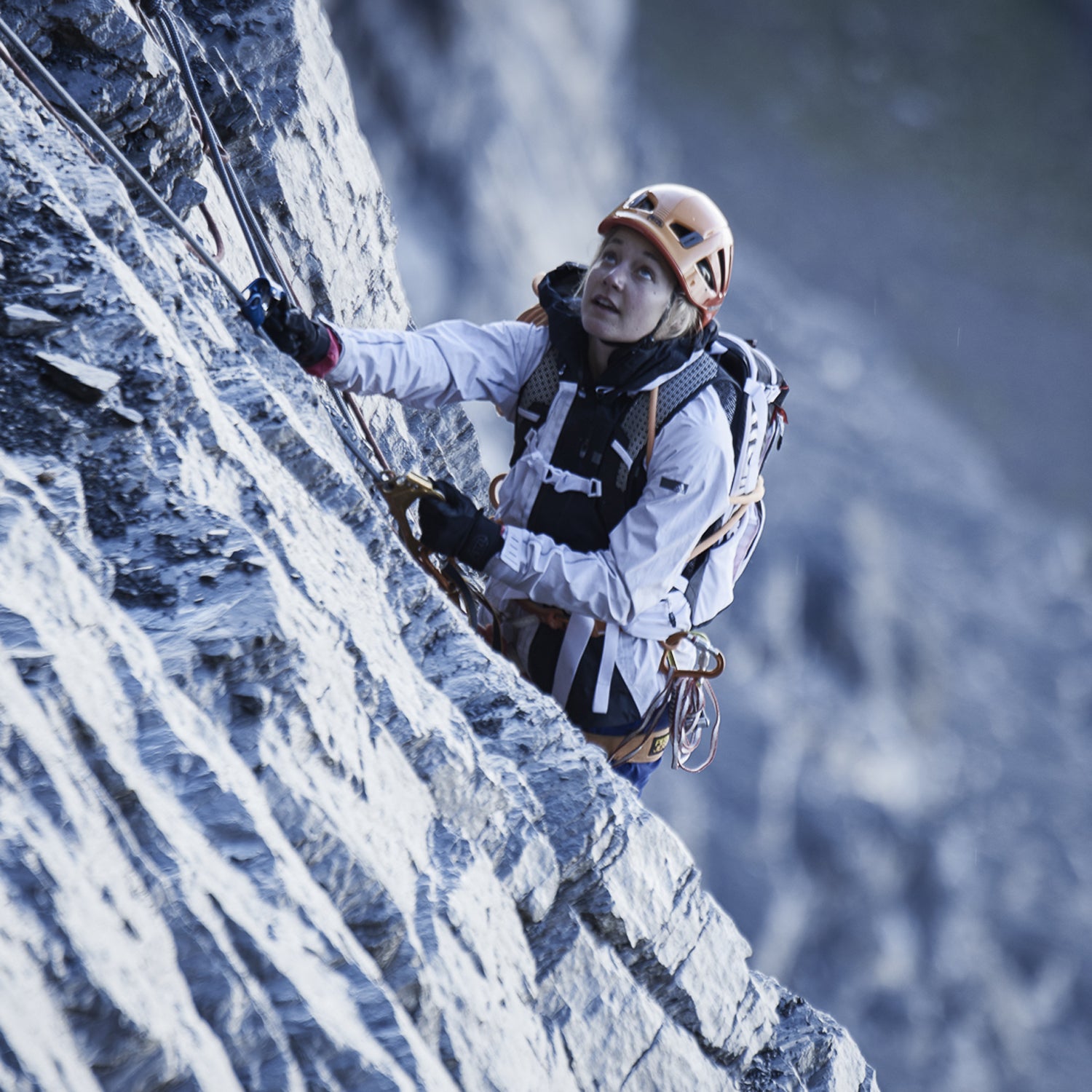 Frank Kretschmann and Adidas Out(Photo)
Heading out the door? Read this article on the new Outside+ app available now on iOS devices for members! Download the app.
Sasha DiGiulian was rock climbing in Southern California this past June when a friend brought up an article he'd read about Swiss alpinists Ueli Steck and Stephan Siegrist, who pioneered a route on the north face of the Eiger in 2003 called La Paciencia. Rated 5.13b, it is the hardest route up the biggest wall in the Alps and, at that point, had never been climbed by a woman.
DiGiulian, 22, a world champion sport climber from Virginia with virtually zero alpine experience, took a mental note. The route, she says now, sounded like "a fun challenge"—the perfect opportunity to establish herself on a massive wall, even if the climbing would be all rock instead of traditional alpine or mixed climbing. "The Eiger was kind of the epitome of something beyond my comfort zone," DiGiulian said Monday.
She texted a friend and fellow climber, 27-year-old Carlo Traversi, a two-time national champion sport climber from Northern California, to see if he might want to support her on a free climb up Paciencia in August. Of course he did. "I had no idea what I was getting myself into," DiGiulian said.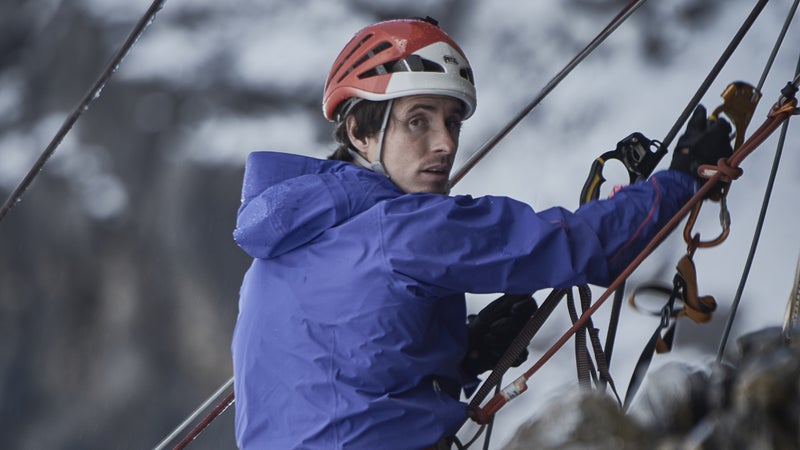 By now you may have heard: After three weeks of battling rain, snow, and ice storms between weather windows on Paciencia, DiGiulian and Traversi abandoned their ascent halfway up the north face and made a spontaneous decision to tackle a different route, Magic Mushroom (5.13a), which had also never been climbed by a woman. (Or an American, for that matter.) They topped out on Saturday, August 29, after three days of climbing.
The ascent was significant because of its "firsts," but it also represents a turning point in the young climber's career. DiGiulian is just beginning to test her climbing chops outside the confines of a gym, which makes her the latest in a long line of stud sport climbers to transition to the treacherous world of big walls and unpredictable conditions. (That lineage that includes DiGiulian's hero, Lynn Hill, as well as heavyweights Tommy Caldwell and Alex Honnold.) She spent much of last winter ice climbing in Colorado and practiced placing her own protection on trad routes this summer in Zion. She was already one of three women to have climbed a route rated 5.14d ("Pure Imagination," in Kentucky's Red River Gorge), the hardest on record by a female.
"I think it's only natural that at some point a sport climber who thrives on pushing themselves physically and mentally will venture out of the comfort zone and try to do something a little bigger and more meaningful with all that fitness," says big-wall veteran Cedar Wright.
For DiGiulian, with her gym-homed strength and deftness, that next step took the shape of the Eiger. Within her attempt is a case study in whether pure athleticism can overcome a lack of experience. Not only would DiGiulian and Traversi be attempting to climb the biggest wall either of them had ever been on, they would be entering an alpine weather environment notorious for changing without warning and killing its aspirants—more than 60 climbers have died while attempting the north face, which has earned it the nickname "Murder Wall." "I'd never even slept on a wall before," said DiGiulian, reflecting on the trip. "We were a little naïve going into the project."
At the beginning of August, DiGiulian and Traversi flew to a stormy Grindelwald, Switzerland, the village at the base of the Eiger, to start scouting the wall. Paciencia is a bolted route featuring seven pitches rated 5.12a or harder, and it spans roughly 3,000 vertical feet. When Steck, a.k.a. the Swiss Machine, free climbed it for the first time in 2008, he took two days.
But weather conspired against DiGiulian and Traversi throughout the month. About three-quarters of the way up the crux pitch, more than 1,300 feet up, they had to stop. The wall was wet and only getting wetter. Swiss mountain guides and local climbers told the Americans that unusually warm weather was causing ice inside the north face to melt and seep out onto the face. "It was literally a waterfall coming down the rock," Traversi said Monday. They couldn't go higher.
Throughout their trip, the climbers filed short video journal entries of their progress online. One afternoon, midway through the trip, after attempting the crux pitch alone, with the story of another climber's death flooding her mind, DiGiulian broke down in tears on camera: "I just kind of freaked out and felt a little nauseous," she said from a ledge. "The extremity of some of the circumstances that we'll be facing hit me pretty hard today, and I started thinking only of the danger that we're going to be dealing with. I'm really scared."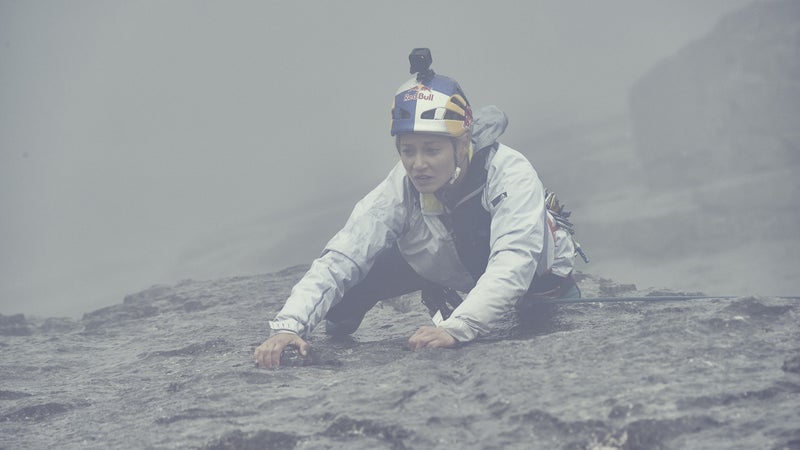 Shortly thereafter, a Grindelwald local named Roger Schaeli told the climbers he believed Paciencia to be a lost cause, but said if they still wanted to climb the Eiger, they could try Magic Mushroom on the right side of the wall's north face. (Schaeli made the first one-day free climb of Magic Mushroom in 2011, and has climbed the north face 35 times.) By that point, August 25, the climbers had been struggling with Paciencia for three weeks. Nerves frayed and physically exhausted, they opted to change course. "It was kind of a chance we had to take," DiGiulian said. "We had no idea what to expect. All we knew was this rock was going to be dry, and the other rock was going to be wet."
But would they have time? Traversi, a climbing nomad, planned to stay in Europe after the attempt. But DiGiulian had a firm return ticket—classes at Columbia University, where she's now a fourth-year student, started this week. 
Over the course of the next 24 hours, they pulled their gear from Paciencia, hauled it in back-to-back two-and-a-half-hour trips along the Eiger's west ridge to a bivouac, then fixed ropes to rappel down into Magic Mushroom the next morning and start the ascent.
Magic Mushroom, though technically stout, proved to be dry, just as Schaeli expected. After two full days of climbing, DiGiulian and Traversi completed the final two pitches on Saturday during a sunny interlude. Their lingering frustration with Paciencia tempered when the climbers looked over at the route a quarter-mile to the east; it was still too wet to climb.
"Ultimately, our goal was to free climb the north face of the Eiger," DiGiulian says. "We were in this state of exhausted astonishment when we got to the top."
DiGiulian isn't letting up. She plans to free climb El Capitan in Yosemite later this year. Whether she approaches the level that Yosemite legend Lynn Hill reached 25 years ago, when Hill set the bar in climbing for both genders by free climbing The Nose on El Cap, remains to be seen. She'll have to overcome the risk and bravery factors in big-wall climbing, Wright says. But he concedes, "At the end of the day there is no replacement for pure athleticism."
Lead Photo: Frank Kretschmann and Adidas Out
Trending on Outside Online