School of Rock
When it comes to producing climbers, there's one college that stands above all the rest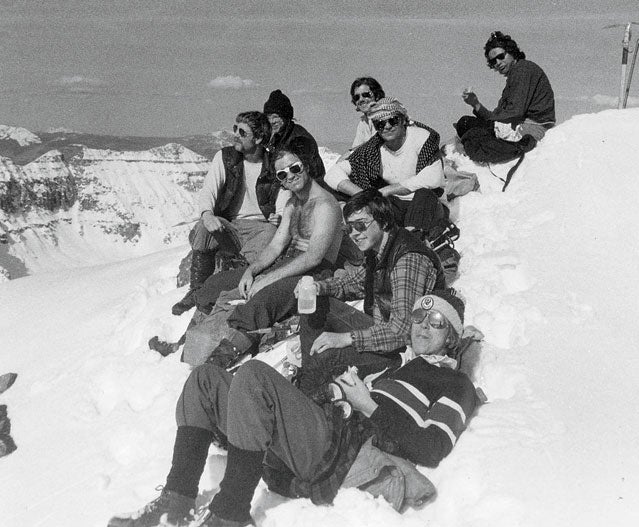 Special Collections, Tutt Library, Colorado College
Heading out the door? Read this article on the new Outside+ app available now on iOS devices for members! Download the app.
If you want your college experience to be heavy on the outdoors, there are options: Washington's Evergreen College offers an intro to crevasse rescue class, and Prescott College, in Arizona, offers an adventure education major. But one school stands above the rest: Colorado College. Sitting at the foot of Pike's Peak in Colorado Springs, the place is a veritable feeder school for professional climbing (and Outside subscribers). "My degree at CC was really in advanced rock climbing," says Himalayan veteran Ed Webster, Class of 1978. "Which isn't something you want to tell your parents." We asked five notable alumni to lift the curtain on the nation's most prestigious climbing club.
"The original motivation for starting the Mountain Club [now known as the Climbing Association of Colorado College] was to get access to women. All these GIs were coming back from World War II, and those guys had plenty of money and nice places to live. We couldn't compete with that, but we figured out that some of the girls wanted to learn how to rock climb. That's how I met my wife, Virginia. I was her rock-climbing instructor." —Stanley Boucher, Class of 1949. Boucher was founding co-chairman of the CC Mountain Club and went on to serve in the U.S. Army.
"I remember leaving class, jumping right into a car with three guys, and heading out to Indian Creek Canyon, near Moab, Utah, for a weekend expedition. We slept under the stars, then hiked at dawn to the base of North Six-Shooter Peak, where we made the first ascent of a climb called Lightning Bolt Cracks." —Ed Webster, Class of 1978. Webster was part of an expedition that pioneered a new route up Everest's eastern Kangshung Face in 1988.
"I needed to clear my head after a spat with a girlfriend, so I did the first winter ascent of a ridge connecting Colorado's Little Bear (14,037 feet) and Blanca (14,345 feet). I did it solo, leaving Colorado Springs on Monday and returning before midnight Tuesday. When I tried to register my climb with the Colorado Mountain Club, they told me they wouldn't record it because they couldn't condone such dangerous activity." —Charley Mace, Class of 1980. Along with Ed Viesturs, Mace was on the first American team to summit the Abruzzi Ridge of K2 without oxygen. He runs Soldiers to Summits, a non-profit that organizes climbing trips for wounded veterans.
"I got kicked out of our graduation dance at the Antlers Hotel in Colorado Springs for climbing up one of those big cement columns in front of the building. After graduation I gave away all my belongings and had some friends drive me out to Canyonlands. They dropped me off alone in the rain and were like, 'Are you gonna be all right?' I said, 'Yeah, I'll be fine.'" —Renan Ozturk, Class of 2002. A North Face climbing-team member and a nominee for the coveted Piolet d'Or prize, Ozturk lived in three national parks for six years after his friends left him in Utah.
"There were a group of climbers my senior year who hauled a keg onto the roof of the arts center one night using climbing ropes. I wasn't involved, but these guys spent hours up there drinking before police spotlighted them. Most of them escaped by rappelling, but a few were caught and got roof probation. You can get in serious trouble at CC for being on a roof." —Erik Rieger, Class of 2012. He is the assistant editor of the American Alpine Journal.