Search Continues on Mt. Hood
Heading out the door? Read this article on the new Outside+ app available now on iOS devices for members! Download the app.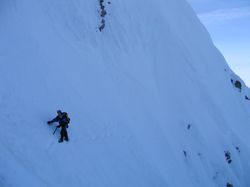 Aircraft continue searching for the remaining two climbers on Mt. Hood Monday after finding their partner's body on Saturday.
Multiple news agencies reported on one dead and two climbersmissing on Mt. Hood as of Saturday, December 12. They left theTimberline Wy'east Day Lodge at 1:00 a.m. Friday morning for a 12 hourclimb up the Reid Glacier but never returned. Friends alerted Searchand Rescue (SAR) when they failed to return as scheduled.
Saturday, 26 year-old climber Luke Gullberg was found dead near 9,000 feet.Climbing gear was found strewn randomly on the glacier. Angles in thisarea reach 60 degrees. Thirty SAR personnel were involved in the efforts onSaturday and reported  the area was avalanche prone and  conditionswere dangerous. Sunday no foot searches were launched based on theconditions and a military helicopter was requested to continue thesearch.
The climbers registered their plan at the Lodge but were notcarrying any type of locator beacon. The other climbers are 24-year-oldAnthony Vietti  and 29-year-old Katti Nolan.
Mt Hood has been the scene of multiple deaths and rescues over thepast decade. 10,000 people attempt Hood each year and there have been130 deaths. Rescues are highly publicized and in fact, Mt. Hood was thescene of a helicopter crash in 2002 shown on national television duringa rescue attempt. In 2006, three climbers died in a highly visible search.The worst event was of nine students who died in a storm in 1986.
With every search, regardless of the result, a debate is fueled asto who should pay for SAR; should climbers be forced to carry locatorbeacons such as SPOT devices or should climbing be allowed at all. Thedebate is usually emotionally. In 2007, the Oregon legislaturetried to mandate locator beacons for all climbers but the measurefailed.
Climbers argue that mountains and climbing are part of everyone'sdomain and should never be regulated. The other viewpoints speak ofhuge costs incurred by the hundreds of people and equipment inavoidable situations. However, this is rarely cited for rescues by theCoast Guard. Climbers account for 3.4% of the SAR activity in Oregon;hunters and other people getting lost account for the majority ofsearches.
Often, the point is lost that SAR individuals are for the mostpart volunteers. Climbers argue that regulating climbing would reducethe experience. As climbers know, sometimes incidents in mountainsoccur that are unavoidable and are just part of mountaineering.However, it is true that climbers will, through ambition or otherwise,put themselves in situations that could have been avoided such asignoring weather forecasts or not carrying locator beacons given therisks of winter climbing.
Personally, I always carefully evaluate weather and avalancheconditions plus the forecast; I now own a SPOT locator beacon andalways carry sufficient gear to survive overnight even in harsh winterconditions. Yet, one day, I too may need the services of SAR. To thatend I buy an annual Colorado Search and Rescue Card,CORSAR, for $3. While this is not insurance, by purchasing a CORSARcard I am contributing to the Search and Rescue Fund, which willreimburse teams for costs incurred in a search and rescue.
My condolences to all the families involved and let's hope the remaining two are found safe. Oregonlive has an excellent summary of the situation.
–Alan Arnette
Trending on Outside Online