Sponsor Content: GARMIN
Shelma Jun is Changing the Way Women Climb
And it has nothing to do with how hard you climb. It's about creating a fun and inclusive environment that's welcoming to everybody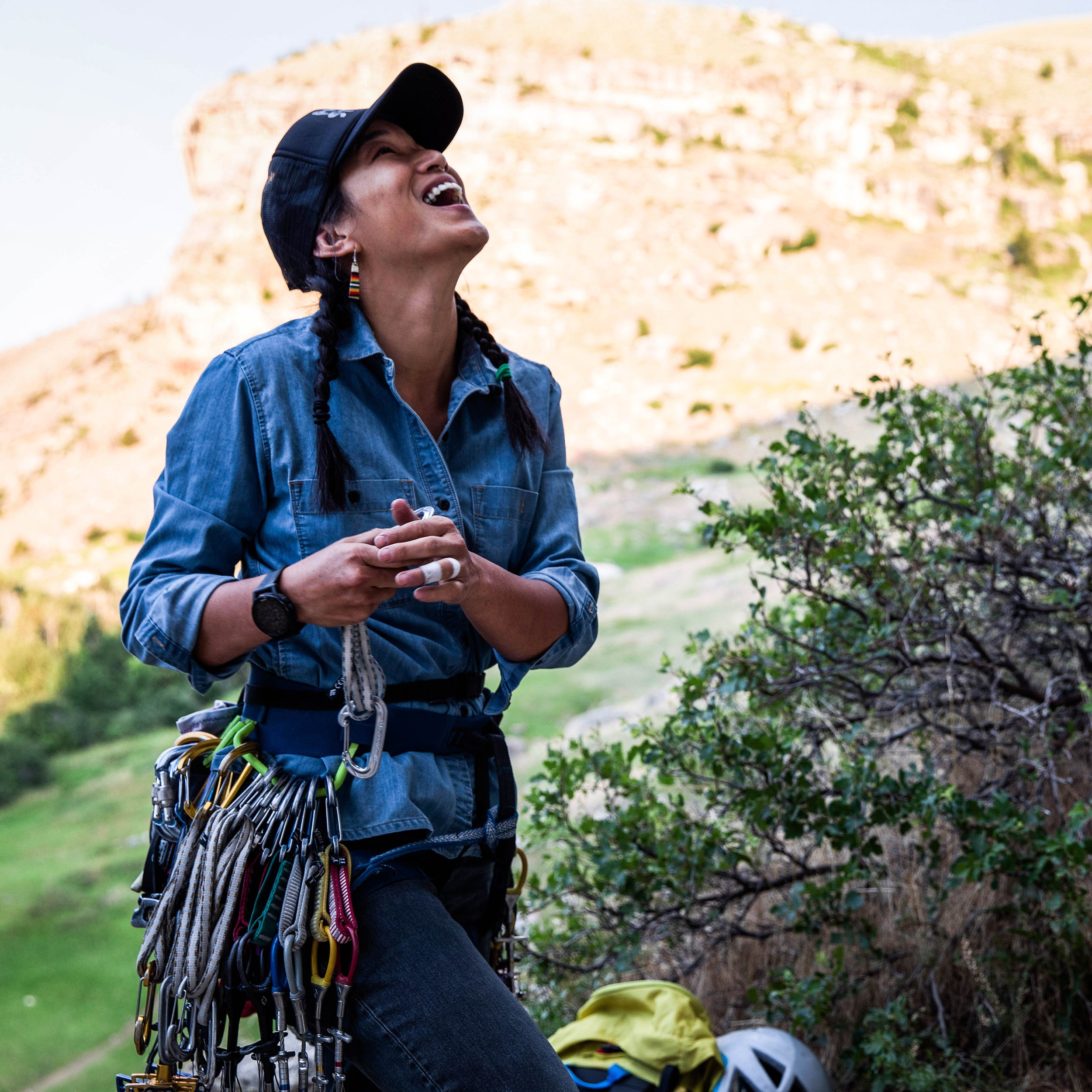 Shelma Jun grew up hiking, camping, snowboarding, and captaining her high school women's varsity water polo team. But in doing so, she got pinned as a tomboy. She hated the term. Why was fun associated with being a boy? But the label stuck, and as a teen she found herself reinforcing the stereotype. "I felt like I had to put other women down," she's said. "'They aren't like me. They're so girly and emotional.'"
It was only years later, at age 34, that Jun realized the labeling was just society's typecasting. She'd fallen into a trap. So she retooled her outlook, which eventually led her to start Flash Foxy, a women's climbing community that hosts women's-only climbing events and festivals across the country. She quickly became one of the strongest advocates for women climbers in the country—sowing acceptance and equality simply by being accepting and sparking real conversations about gender discrimination and sexism in the outdoors.
Pretty impressive, considering that Jun didn't even really start climbing until after college. Upon graduation, the South Korea–born California native moved to June Lake, California, near June Mountain, to snowboard. But burning hot laps in the fall line every day wasn't helping her finances, so she did what the highly enterprising do and moved to San Francisco and got a job with one of the largest corporate accounting firms in the world. That, too, got old. "It didn't feel meaningful," she says. "And it made me so busy I couldn't do anything else." So ten years ago, she quit the corporate world—though not so she could live in a truck at the base of a crag, as you might expect—but to pursue a master's in urban planning.
The advanced degree led her to non-profits like Asian Americans for Equality and the Hester Street Collaborative, in New York City. It was there that the seeds of community organizing took root. Her day job involved building tools to help marginalized communities better understand urban planning—and more readily express their needs and wishes. Her skills in community outreach would soon come in handy when the climbing bug took her.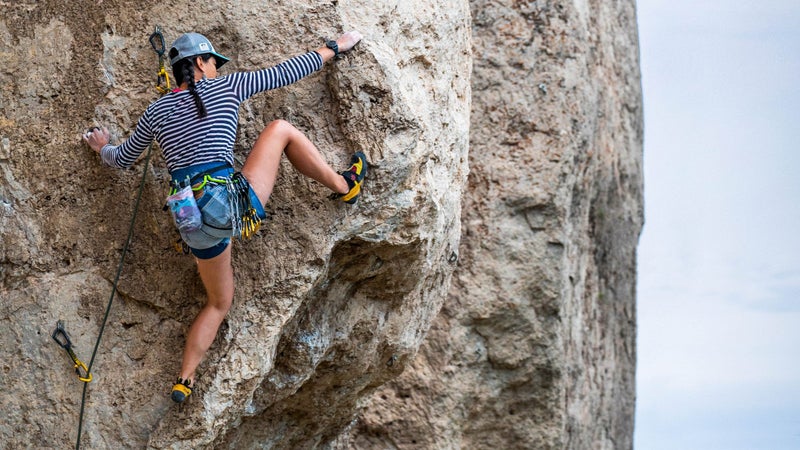 While Jun had climbed a bit in college, it wasn't until she moved to NYC that she got into it. She found a partner online. "I wouldn't recommend that to anyone," she says, "but it ended well for me." Together they traveled to the crags in the Shawangunks, and to the famed climbing gym Brooklyn Boulders. That's where Jun found her people: women hooked on the thrill and adrenaline of climbing.
Eventually, she and a diverse group of women of mixed abilities began heading out on weekend trips. As they shared their experiences, the group progressed. The all-women outings gave the crew "a break from social norms," and, on top of this, a place to talk.
That's where Jun found her people: women hooked on the thrill and adrenaline of climbing.
The conversations often started out being about the gender dynamics of climbing but then morphed into broader societal topics, like how experts in most fields disproportionately tend to be men. "I have a male friend who's a pilot, and when his co-pilot is a woman, after the flight everyone still thanks just him," Jun says. "These experiences have been ingrained in us and need to be broken down."
Jun adds that helping men understand the unique challenges women face can be exhausting. "I have male friends who are incredibly sensitive. Yet I still have to explain why women feel invalidated. Imagine having to be emotionally on all the time." The trips relieved the pressure of having to feel "on" all the time.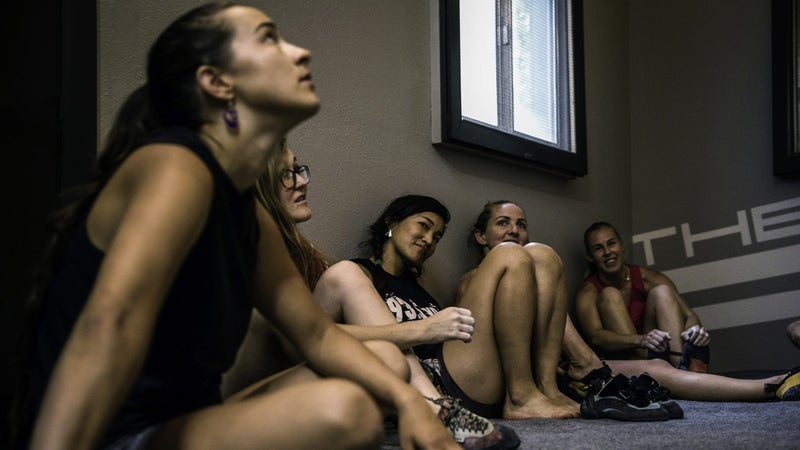 Expanding on that vibe—and turning those conversations into action—in 2014 Jun founded Flash Foxy, which promotes the belief "We are stronger together." The group's Instagram page attracted the attention of people like Julie Ellison, Climbing magazine's first and only female editor in chief in its 48-year history. Ellison messaged Flash Foxy, saying, "Climbing magazine (and I personally) absolutely must be a part of this. What can we do?" recalls Ellison. "There aren't many people who are willing to work so hard on something with no guarantee of payoff or resolution. Shelma is one of those people."
Flash Foxy quickly acquired thousands of followers (it now has nearly 40,000). Women used it as inspiration and a place to connect on interests in addition to climbing, but mostly it was a community. Expanding on the digital platform, in 2016 Jun organized the first women's-only climbing festival, in Bishop, California.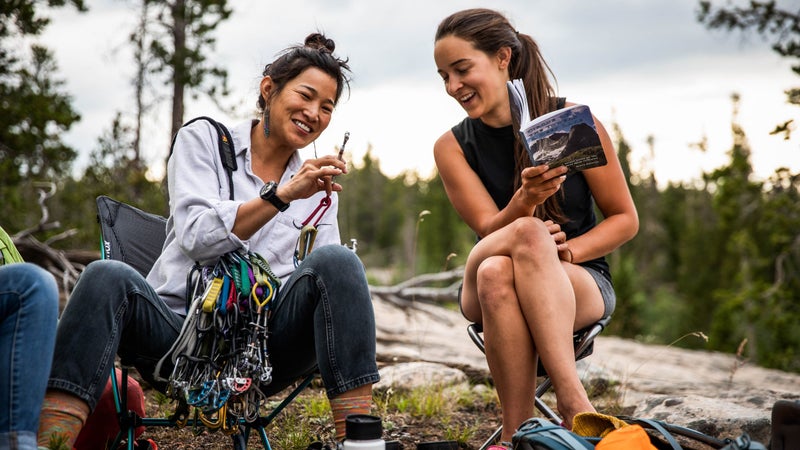 It sold out in one minute. Jun isn't exactly sure why climbing is the sport in which the deepest conversations about gender are unfolding, but she has a few good theories. Not only is climbing experiencing a surge in growth—gyms are popping up in cities across the country—the sport is also attracting a lot of new, and often younger and more urban, people who haven't been in the outdoor space. Plus, its barriers to entry (cost, location, etc.) are not nearly as high as, say, skiing or mountain biking.
Women of Adventure
This 3-part series, presented by Garmin, celebrates the women who inspire us through their physical feats, fearlessness, and advocacy in action.

But Jun was still blown away by the initial response to the first Women's Climbing Festival. "When you get a response like that," she says, "you know people want to be there. It created this incredible crazy energy."

Two years in, Jun and her crew are extremely mindful about keeping Flash Foxy inclusive. If you come to the festival, and all you care about is becoming a better technical rock climber, then "you're here for the wrong reasons" Jun says. "The festival is for women of all abilities—including ones who've never climbed—to share and listen and have conversations. Climbing is the vehicle, but a lot of the festival is hanging out, watching slideshows, and talking about issues that affect us." At their last festival, they had a panel consisting of all women of color, talking about intersectional feminism. Naturally, Flash Foxy hires all female guides, athletes, photographers, and experts.
There aren't many people who are willing to work so hard on something with no guarantee of payoff or resolution. Shelma is one of those people.
But Flash Foxy isn't the only way Jun is opening up the sport. REI teamed up with Outside to create a film about her two years ago. While the vast majority of the feedback was positive, Jun experienced her fair share of blowback. For that she was unprepared. "It's just very different," she says. "I've always had people who don't agree with what I'm doing, but much more on a one-on-one level. This was strangers saying terrible things about you on the internet, and I don't think you can be prepared for negative stranger feedback. But I've come to the realization that if I'm trying to shake things up and I'm making everyone happy, I'm probably not doing a very good job."
Around the same time, Jun began collaborating with Ellison of Climbing magazine and two other women on a multimedia production company called the Never Not Collective. They identify as "unapologetic women of the outdoors" seeking to tell stories of "everyday people doing great things regardless of 'success' " with, so far, a focus on women.
Jun also recently joined The Access Fund's board of directors, where she'll focus more on bigger issues affecting the sport, such as keeping climbing areas open and working with public land managers to conserve climbing environments. "I'm both her biggest fan and the organization's president," says Kenji Haroutunian. "She's been a key organizational leader, driving diversity and inclusion."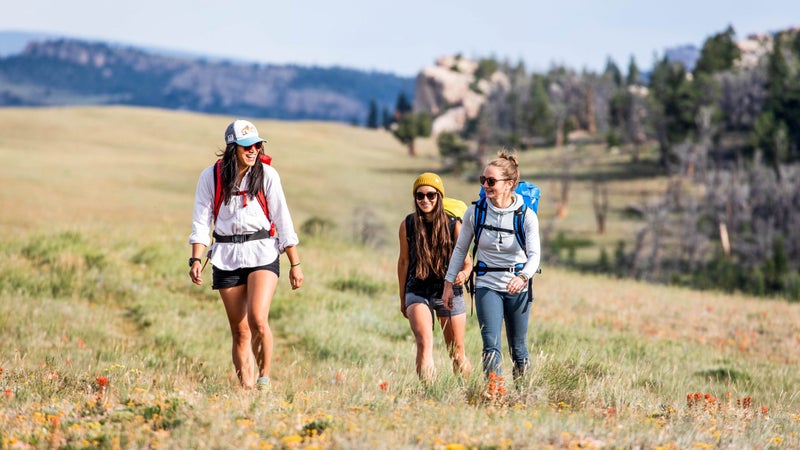 Next up? Don't be surprised to see the movement Jun helped start revolutionizing other outdoor sports. Her climbing festival has become a template for other women activists. In 2017, mountain biker Ash Bocast created a women's-only three-day mountain bike festival, called Roam Bike Fest, fueled by Jun's belief that women truly are stronger together.
"I haven't met Shelma personally," says Bocast, "but she definitely continues to be an inspiration to us here at Roam and I look forward to actually meeting her one day so I can give her a big friggin' hug."
Bocast is just one of many people who have been positively impacted by Jun and her crew. Jun's spirit is infectious and inspiring. And whether she's leading a panel discussion with other women, advocating for better access to climbing crags, or developing a new film project, one thing is certain: the conversation will be lively, the atmosphere will be inclusive, and everyone involved will come away with an enlightened perspective.
---
Garmin supports everyone who explores the outdoors and follows their passions. The Garmin Women of Adventure series celebrates the women who inspire us through their physical feats, fearlessness, and advocacy in action. Discover more stories here.  
Trending on Outside Online