Social Climber
Is the chalk-bag crowd ready to go upscale? New York City bouldering pioneer Ivan Greene thinks so, and he wants to lead the way.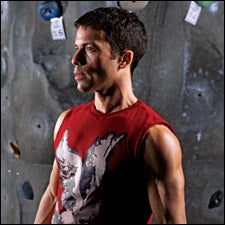 Heading out the door? Read this article on the new Outside+ app available now on iOS devices for members! Download the app.
IVAN GREENE STROLLS UP TENTH AVENUE just past midnight, in a snug black hoodie—freshly plucked from the clothing line he designs—parting a throng of people fighting to get the attention of the bouncers outside Marquee, perhaps New York City's hottest nightclub. Greene gestures to a doorman with dreadlocks, who unclips the velvet rope, saying hello as Greene strolls through the front door.
Ivan Greene

ROCKS AND THE CITY: Ivan Greene wearing a shirt from his clothing line, Khadejha.
"You get used to climbers being all the same—hippie-ish, slightly socially retarded," says Josh Lowell, owner of the preeminent climbing-film outfit Big Up Productions, based in Pound Ridge, New York. "They're much more comfortable in the desert, sleeping in the dirt. Ivan definitely breaks that mold." Al Diamond, a longtime guide in upstate New York's Shawangunk Mountains, is more direct: "He's the closest thing we have to a rock star in climbing."
Greene, 35, is living proof that climbing cred and an urban lifestyle need not be mutually exclusive. Short—five foot six—and sinewy, with the powerful build of the gymnast he was as a teen growing up in Manhattan, he has a climbing résumé few can match, including more than 300 first ascents and five straight Northeast Climbing Championships from the early nineties. But he also sports stylishly close-cropped hair, glasses that look more expensive than any of his technical gear, and a fondness for, as he puts it, "entertaining the ladies."
Through his day job teaching climbing at New York's ultra-chic Chelsea Piers gym, Greene brings his sport to Manhattanites more accustomed to commuting below ground than dangling above it. And through his clothing line, Khadejha, launched last year with fellow climber and roommate Jason Horvath, he is making climbing clothes tough enough for rockhounds but slick enough for downtowners—in other words, clothes for Greene, who has been known to show up for an afternoon of bouldering in vintage camo pants and a skintight sleeveless shirt. "I think climbing clothes are wack," he says. "Climbing has this crunchy granola vibe, and the clothes have reflected that. My idea was to make clothing I want to wear."
His route to the sport wasn't exactly direct. In 1988, Greene was living with his father in the then-rough Washington Heights neighborhood of upper Manhattan, drinking heavily, abusing drugs, and quitting the prestigious LaGuardia High School for the Arts during his senior year. He fled upstate to New Paltz to live with his mother, who had moved there after his parents divorced ten years earlier. New Paltz, a café- and bike-shop-riddled town two hours north of the city, is the gateway to the Shawangunks, the legendary range of quartz conglomerate cliffs where Greene began climbing. "From the first day I did it," he says, "I was aware that this was the only thing I wanted to do." He got a job guiding for Al Diamond's Diamond Sports, one of the area's first schools, and started experimenting on the hundreds of monolithic boulders that litter the forest below the cliffs, tackling the short, incredibly difficult lines that make up the sport of bouldering. It quickly became his obsession.
"He pretty much single-handedly started the bouldering revolution in the 'Gunks," says Diamond. Lowell, who now spans the globe shooting footage of climbing demigods like Chris Sharma, launched his career in 1997 with Big Up: Bouldering in the Gunks, which featured Greene throwing down on his home turf. Greene's book Bouldering in the Shawangunks, first published in 1997 (and co-written by fellow climber Marc Russo), is now in its second edition and is considered the definitive guide to the area's "problems," as bouldering routes are known.
These days, though, Greene's focus is shifting. Hypercaffeinated and a jokingly self-diagnosed ADD sufferer, he balances his job at Chelsea Piers with a nascent music career—he is at work on a self-produced solo album—and Khadejha, named for Greene's sister, who died of AIDS in 1991. The bulk of Khadejha's line is T-shirts and hoodies in the $25-to-$60 range, but Greene says button-downs and canvas pants are coming. "I look at what companies like Volcom and Quiksilver have done for surfing," he says, referring to the marketing of a fringe sport as a broader lifestyle. "The goal behind Khadejha is to do that for climbing."
None of this will work, of course, if Greene loses his credibility on the rocks. He is hoping to get more into "high-balls bouldering," a growing niche that pushes the sport to heights where falls become extremely dangerous and thus "really not an option," he says. But that will have to wait until Greene fully recovers from surgery he had in October to repair a biceps that snapped while he was doing some routine climbing on the Chelsea Piers wall. To stay in shape during the downtime, he has taken up parkour, a bizarre French sport that combines running, climbing, and gymnastics through urban obstacle courses—think Jackie Chan set to a hip-hop soundtrack.
"It's good for climbing to have guys like Ivan to break the mold and expose the sport to a larger audience," says Sharma. "And as a climber, he's the real deal."
In January, Greene traveled to Salt Lake City to promote Khadejha at the outdoor industry's largest trade show, where function generally holds sway over form and where backcountry veterans from Wyoming vastly outnumber downtown hustlers from New York. But he came away feeling that his two worlds are starting to mesh. Khadejha struck its first big deal, getting an order from the retail chain Eastern Mountain Sports, and Green reconnected with old climber friends like Dave Graham and Sharma. "These hardcore climbers are finally accepting me for who I am," says Greene. Which is good, because he isn't planning to change his big-city ways.
"I'm a New Yorker," he says. "This city has every different aspect of life that I appreciate. Some of the best climbing in the country is very close by. I get to go to Chelsea Piers and talk to a photographer who just got back from shooting supermodels. I walk out of my apartment and see people from Kenya, Sweden, Oklahoma. That experience of humanity is right there." He pauses. "And the girls aren't bad either."