The Spindrift Diaries: The Memoir of a Climber's Daughter, Part 3
This is the third in a three-part series excerpted from Laurel Holland's forthcoming book, Spindrift. Her father, Bill Holland, was killed while attempting an unroped descent of Slipstream, the 3,000-foot frozen waterfall in Alberta, Canada's Jasper National Park. His body was discovered 21 years later, a mile from the estimated site of his fall.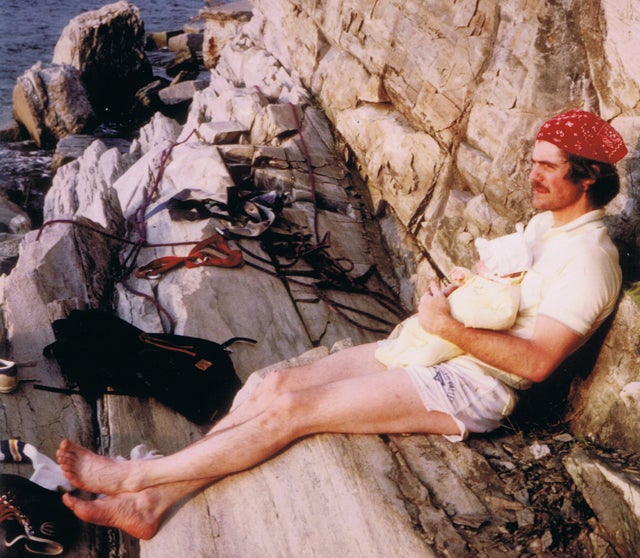 Heading out the door? Read this article on the new Outside+ app available now on iOS devices for members! Download the app.
For six days after my father's accident, helicopters made daily sweeps over Snow Dome. They documented aerial views of a three-foot by four-foot break in the cornice on the upper chutes of the face where Daddy had last been seen. But the team couldn't land the helicopter or attempt a ground rescue. The week-long storm system that had blown in had rendered the terrain too volatile. Avalanche danger was at its peak. The snow was uneven, the footing too loose.
On April 9, nearly a week after my father's fall, the park wardens and Royal Canadian Mounted Police decided the area was finally secure enough for a rescue attempt. A team of four men and two dogs was dispatched, aiming to focus on the slopes that fanned down the east face of Snow Dome and spread out at its base.
The rescue attempt was recorded on video. The grainy footage captures huge snow-covered massifs thrust jaggedly against a clear, cloudless sky. "We're, uh, beginning a search on Slipstream for the missing climber," the narrator's voice says in a genial Canadian lilt, panning to the rescue team with their dogs and their sleds.
As the camera spans up to the mountain and targeted search area, it captures a giant snow slide down a face of Snow Dome.
"Well, uh," the voice trails off in awe. "A, uh, a slide just came off the top there and down to the fan of the area where we'd be searching."
The voice can be heard negotiating with his team. After a quick deliberation, he speaks to the camera again.
"The decision has been made. There's just too much objective danger, the possibility of ice coming down."
Empty-handed, the team packed up and evacuated the area.
Just minutes after they retreated by helicopter, a monster avalanche crashed down, wiping out the exact location where they'd been standing moments before. Had the group remained a moment longer, they would have been swept away in the rush of ice and snow.
On May 2, 1989, Corporal R.B. Rauckman of the RCMP sent my mother an official letter analyzing the events surrounding my father's fall. He detailed how Daddy likely fell about 300 feet before striking the face of the mountain. From there, he would have continued down for another 1,800 feet before hitting the snow slope that fans out into an area of approximately 160,000 square feet. That my father had been hung up on the face was highly unlikely, the report stated. It was believed he had been swept over the edge and, possibly, into a crevasse. If the goal was to locate my father's body, this did not bode well.
"Considerable snowfall has filled the crevasses with a conservative estimate of 30 feet of snow," Corporal Rauckman wrote, adding, "I should note that if he in fact did fall into a crevasse, chances of recovery may be impossible."
Due to continued inclement weather conditions caused by rising spring temperatures in the days and weeks that followed, the search and rescue team was unsuccessful in locating either my father's body or his equipment.
"We have suspended our search due to the extreme hazard of avalanches in the area," Rauckman wrote. "We, however, will be making regular checks of the area," he assured, promising that if any sign of my father's location was observed, recovery attempts would be made.
Daddy was never found.
And so, for over two decades, nothing came of nothing. Not a glove, not a ski, not an echo.
IN THE EARLY SUMMER of that same year, before my mother had finalized the sale of 63 Harding Road, the two of us were cleaning up after dinner one evening. She was at the sink washing dishes, and the smell of lemon-scented Joy saturated the kitchen. Mommy had been particularly quiet today, didn't feel up to playing afternoon dominoes or coloring with me before dinner. There was a deep sadness I saw in her, a hurt I ached to heal. Being silly, I thought, would cheer her.
Improvising, I pushed a counter stool up to the wall where the plastic kitchen telephone hung, climbed up to reach the receiver, and, feigning a call to Heaven, spoke into the mouthpiece with authority. "Hello God, I'd like to speak to my Daddy, please," I said, glancing sideways at Mom with a grin.
I had my doubts about God. In spite of attending Sunday School regularly, Heaven didn't exist for me, not when I couldn't reach out and touch it, not when I couldn't go there myself. Besides, if God were real, I reasoned, he wouldn't have taken my father away. When I picked up the phone that lonely evening in June, I knew all I'd hear was the dial tone on the other end. I simply thought I could make my mother laugh.
Instead, she turned to face the sink and, gripping the sides of the basin for support, began to sob. I stood paralyzed on the stool, phone to ear and dial tone droning, watching my mother heave. I'd never seen her like this before. She couldn't stop. "Bill, oh Bill…" she kept saying.
I clamored off the stool and went to her. Taking her by a rubber-gloved hand, I led her around the corner to the chair propped against the dining room wall, an extra seat for when company came to dinner. The chair was among my favorite spots in our house. Its cushion was coarse and woolen and itched the backs of my legs, but it creaked in a familiar way, in a way that made me feel safe.
I sat my mother down, crawled into her lap, and threw my arms around her neck. "I'm sorry, Mommy-wee," I whispered, petting her hair and nestling my chin in the soft muscle above her scapula. "Please don't cry."
As I held her tighter, my eyes fell on the electrical outlet along the dining room baseboard. It was the outlet into which, not long—perhaps just months—before, I had attempted to plug my mother's car keys in an innocent game of pretend driver. It was there, seconds before I became a little blonde ball of electricity, that my father rounded the corner and caught me mid-air. With a hasty swipe he grabbed me by my right forearm and shook me roughly.
"Do you want to die?!" he screamed, inches from my face, his eyebrows arched in a mixture of fury and fear. "Do you want to know what it feels like to be e-lec-tro-cuted?"
I had no idea what "e-lec-tro-cuted" meant, but in that moment, I thought it might be a preferable alternative to this, to being the object of my father's wrath.
Rocking back and forth in my creaky, itchy thinking chair that summer evening, Mom and I sat cradling each other in the shadows. I gazed at the outlet and wondered what death felt like. I wondered if it hurt.
AT FIVE, I COULDN'T imagine what had happened to my father up there on Slipstream. It was a story I regurgitated to friends on the playground at school, but one I could neither prove nor understand. I couldn't fathom the enormity of the mountains that took him hold, couldn't grasp the idea of "cornice" or "crevasse." When I heard grownups using those terms, I drew a blank. It was an impossible reality.
I imagined my father a kind of one-dimensional character like the cartoons I watched on Saturday mornings, plummeting slowly backwards in half-time, enveloped in a silent whiteness. There was no sound of body on ice, no struggle, no final image of a lifeless man that my five-year-old brain could conjure up. In my mind, his body never came to rest. In my mind, there was no imaginable end.
I KNEW MY FATHER would come back to me one day. He had to. Without a body, there was no finality. All we had was the official report filled with vague details of the incident. The argument, the storm, the disappearance. That was all we had. But words on paper mean little when you need sinew and substance, and death to a child is nothing but a great vanishing act. As far as I was concerned, my father was not dead.
After Daddy's fall, I found myself wondering what his last thoughts were, what he last said. I knew he loved me, the proof was there. It was in the red cowgirl boots he brought me back from a business trip to Texas, in the lullabies he wrote for me and strummed out on his guitar, in our plate-licking ritual after the Sunday morning waffles we'd douse in maple syrup. But I needed more. I needed to know even then that I, too, had been a priority, that my father's love for me was on equal footing with his passion for climbing.
It was in those months that I'd fall asleep at night imagining his last thought was of me. I would drift off comforted by the echo of his voice calling out my name, "Laurel" resounding off the mountain walls as he descended further and further into the void.
When the reports from Canada were completed and filed away, we were told that the case would remain open for 99 years. At the time, I was about to celebrate my sixth birthday. I calculated the sum. It meant that Daddy had until my 105th birthday to make his way back. I didn't know where I'd be when I was 105, couldn't imagine what it would be like to be that old. All I knew was that I'd have to be patient.
Excerpted from the forthcoming memoir, Spindrift, by Laurel Holland, a Brooklyn-based writer and former actor. Contribute to the project's Kickstarter campaign (live until Thursday, July 12) or follow Holland's progress on her blog, The Spindrift Diaries.