Stoned
He's the original dirtbag hero, with a record of first ascents and endless exploration that will never be matched. At 87, Fred Beckey is still crazy for rock.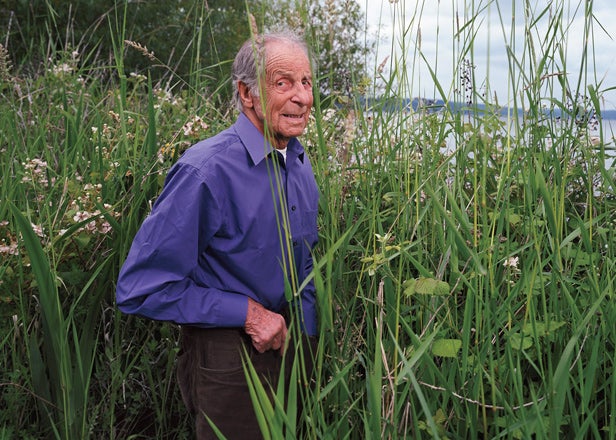 Annie Marie Musselman
Heading out the door? Read this article on the new Outside+ app available now on iOS devices for members! Download the app.
"WARNING! FRED BECKEY IS (STILL) ON THE LOOSE." That was the title of Jon Krakauer's classic Outside profile of a 69-year-old climbing fanatic who, impossibly, was still charging harder than ever when it was published in 1992. Damned if we weren't 18 years too early. Beckey is now 87, and he hasn't stopped yet. During his remarkable career, he's made hundreds of first ascents in North America's iconic mountains: the North Cascades, the Sierras, the Alaska Range. He's also blown through a phonebook's worth of climbing partners (some still tolerate him), pursued many women (though he never married or had a child), and written a number of essential histories and guidebooks on the mountains (one was dubbed "Beckey's Bible"). His story is nothing less than the the story of American climbing for the past seven decades.
Fred Beckey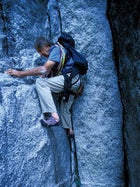 Beckey climbing Stands of Time, a 5.9 route on Calaveras Dome, near Lake Tahoe, California, 2005
Fred Is Relentless
His hunger for first ascents and the sheer volume of what he's accomplished—that's what other climbers always mention first.
CONRAD ANKER (leading alpinist) In the pantheon of climbing legends, he's the man. He never got the big, famous peaks, he never did Everest. But just that unrelenting drive to do new routes—that's what puts him on top in my book.
TOM HORNBEIN (first American to climb Everest's West Ridge, 1963) The most remarkable thing to me is the massive quantity of what he has done for such a long period of time—and just the tenacity.
PHIL POWERS (executive director, American Alpine Club) People talk about young climbers today and how prolific a person might be. But there's just no comparison with Fred. I mean, it's not one level, but ten levels of magnitude more than the second-place guy. If you travel the American West, open any guidebook, try to do any route, try to do any mountain, you'll likely come across Fred's name.
JIM NELSON (veteran climber of Washington State's North Cascades) Up in the Enchantments, he's literally got hundreds of first ascents. Then you go up to the Washington Pass area and it's the same thing. It's not just a couple of first ascents. It's dozens and dozens. Take ten more areas like that in the Cascades. Now, the Sierras. Fred's done more first ascents there than pretty much anybody. Then you go to Utah and the desert towers. Fred was involved in the first climbs there. And then the Wind River Range. And then Idaho. And then British Columbia. And then Alaska.
PETER METCALF (CEO of Black Diamond Equipment) He's the history of North American alpinism embodied in a single individual.
It's Fred's Way or No Way
He never lacked for skill or endurance or motivation. Diplomacy? Well …
JOHN RUPLEY (friend and climbing partner since 1955) Most people see Fred as being somewhat thoughtless, somewhat abrasive, and somewhat arrogant. Which is true, in a sense. But, in my view, that is almost required for his climbing focus.
POWERS Fred has probably climbed with —and I'm not making this up—thousands of partners. That's unique. The majority of my climbs have been with about 20 partners. You build trust with the guy on the other end of the rope. Climbers put a lot of stock in that. Fred is just looking for someone to hold the rope and go.
DON LISKA (climbing partner from 1963 to the mid-1970s) He's climbed with a lot of big names over the years: Layton Kor, Yvon Chouinard, Heinrich Harrer, Royal Robbins, Leif Patterson, Tom Hornbein, Eric Björnstad …
HELMUT BECKEY (Beckey's brother and first climbing partner, 85) He'd never tell anybody what he was planning. He'd just say it's a first ascent.
ROY RATLIFF (climbing partner since 1977) He wouldn't tell us what the mountain was—the height, nothing about it. He'd only say it was in British Columbia. And that's it. Let's go. We'd just follow him. He didn't want anyone to climb these mountains until he had.
LISKA There were these midnight telephone calls, where you'd be invited the next morning, or even within the next couple hours, to join him on some climb. And Fred had this mysterious thing that everyone called his little black book. This was a highly touted document of the mountains, climbs, and various routes that hadn't been done. He was always going through his book, setting up these trips.
ALEX BERTULIS (longtime friend and climbing partner) Actually, Fred has an almost photographic memory for mountains. But the black book was a legend. The closest thing he had were stacks of business cards with climbers' names written on the back of them and tied together with a rubber band.
RATLIFF Every town we would drive through, he had to stop and make a phone call. He was always lining up his next climb.
RICHARD NOLTING (climbing partner since 1979) Fred's interactions with telephones—and especially telephone booths—are legendary. I never understood his system, but I don't think he paid much for long-distance calls, and he always made plenty of them.
MARK LANDREVILLE (climbing partner since 1991) He keeps leaving messages on your answering machine. He basically tries to wear you down. He'll call you up and want to drop by and show you some pictures, which of course will be the thing he's trying to get you interested in.
METCALF He would be like "God, I know some really good routes in the Bella Coola Range. Can't you get back up here?" And I was like "No, Fred. I just spent five days getting from there to here. I'm not going back." Then he'd always say, "So you really can't get up here?" And I'd say, "I really can't get up there." So he'd start talking about it anyway. And then five minutes later he'd say, "So you really can't get up here?" "No, Fred, I really can't get up there."
DEE MOLENAAR (leading alpinist in the 1940s and '50s) Fred's climbing buddies extended over two or three generations, but most individuals never lasted more than a season or two with the old master before taking up sailboating.
BOB CRAIG (friend and climbing partner since the 1940s) Because he is such an intense character, almost a monomaniac about climbing and routes and mountains, I think his character and values are not readily recognized or appreciated.
ERIC BJÖRNSTAD (climbing partner since 1960) He was impossible—impossible—to get along with. I had many fallings-out with Fred, and I was his best friend. If anyone would ask about what gear he was sorting out on the ground before some climb, he'd insult them. He's gone 180 degrees, though—he's now very easy and friendly.
Fred Got in Early
He didn't fit in with other kids. You could say that climbing found Fred.
HELMUT BECKEY Fred was born in 1923 in the suburbs of Zülpich, Germany. At that time, there was a horrible economic situation throughout the country, and our father, who was a surgeon, heard that Seattle was a good place to go. We moved there when Fred was two. Fred was born Wolfgang Friedrich Beckey. The short form is Wolf. As a child, he didn't like that because they'd kid him. He was sensitive. He didn't know English very well in the first grade, so they put him aside. But Fred is very intelligent. He caught up fast.
FRED BECKEY I found my freedom doing things on my own. Climbing appealed to me because there was endurance involved. And strategy. I'd tried playing football, baseball, and there were people who were bigger, faster, and stronger than I was, so I felt I fit in more with the individual things, where you engage your mind more than in a team sport.
HELMUT BECKEY Fred was a Boy Scout. And the scouts went hiking up into the Olympic range, in Washington State. They did some scrambling. He was good at it, and he got some recognition.
FRED BECKEY My first first ascent was a mountain called Despair, in the North Cascades, in 1939. I got together with Lloyd Anderson, who started REI. He was a good explorer. That was the first real adventure. It required bushwhacking and route finding. You could definitely get in trouble.
LISKA In 1942, Fred and Helmy went for this big peak in B.C., Mount Waddington. Fritz Wiessner made the first ascent in 1936. But Fred and his brother, they went in, just the two of them, all the way from the ocean—some 15 to 20 miles up the glaciers to reach the base. Waddington is one of the greatest peaks in B.C., if not in all of Canada. It's about 7,000 feet of vertical. And it's a technical climb. By God if they didn't climb a new route. They were teenagers. That takes something.
HELMUT BECKEY We used manila rope. Nylon wasn't around yet. And tennis shoes, which are fine on rock. When it was wet or icy, we had our own homemade wool stockings that we pulled over them. I had my 17th birthday on the top. Fred would have been 19. It was 35 years before a third ascent on that route was made.
STEVE HOUSE (leading alpinist) They were climbing at these high technical standards with this primitive gear and doing routes that are still really serious undertakings. They didn't even have belay devices. They didn't have harnesses.
LANDREVILLE In 1954, Fred did first ascents of the northwest face of Mount McKinley, and of Mount Hunter, and of Mount Deborah, which are three of the hardest summits in the Alaska Range. The climbs on Hunter and Deborah were each done in one continuous push. These were among the first examples of alpine-style climbing on big mountains.
LISKA In the fifties and sixties, he was climbing probably 100 days a year. Maybe doing 50 to 100 different routes during those years. He was just on the go all the time.
Fred's House on Wheels
When climbing is all that matters, you have to know how to stretch a dollar.
LANDREVILLE Anyone who has taken up the sport since World War II owes a lot to Fred for his pioneering tactics in living cheap on the road.
RUPLEY He lived for a good part of his life out of his car. It was well organized. It might not look very good, but, boy, he could put his hands on stuff.
LISKA There were these long-distance drives in his pink Thunderbird, everybody jammed in with their climbing hardware, usually in bad weather, and Fred driving rough roads to get to the base of some peak. He had all kinds of tricks to stay awake. He'd take his shoe off and rub the gas pedal with his foot. Another one was putting his head out the window and screaming. It worked best when it was raining.
LANDREVILLE Riding in a vehicle driven by Fred was often more dangerous than the climbs. I remember waking up to Fred driving like a man possessed down the North Cascades Highway with the radio blasting static full-blast.
FRED BECKEY I worked for companies in the printing business and paper business for a long time. Sales and marketing. I had to make a living. In hindsight, I was lucky I took jobs where I could take leaves of absence.
METCALF He was the quintessential dirtbag climber.
LANDREVILLE One of the things Fred has a really hard time doing is paying for a cup of coffee. For years, the scam was to always have a McDonald's cup in his car, and then he'd go into a McDonald's and ask for a refill. I remember one time he forgot his cup, and he was using the little paper cups that you squirt ketchup into. He was trying to look inconspicuous, filling up these tiny cups with coffee. And he was just spilling it all over the place and burning himself. It was hilarious.
TODD OFFENBACHER (climbing partner since 1997) Fred will roll up at night and just pull out a sleeping bag in our driveway. One morning, my neighbor asked, "Why is your grandpa sleeping in the driveway?"
BERTULIS He used my address for at least ten years as a mailing address, and before that various girlfriends' places or a P.O. box.
DAVE VAUGHAN (longtime friend and climbing partner) One time he wanted to visit the all-you-can-eat salad bar at Wendy's, in Bozeman. Fred took off his climbing boots and dug out a pair of lace-up dress shoes, and then he pulled off his anorak to reveal a totally wrinkled, filthy white dress shirt. He kept his faded and duct-taped neon-yellow Gore-Tex climbing pants on. As he led the way inside, I gazed in horror at a truly huge skid mark on the butt seam of his pants. I thought he'd shit himself, but then I remembered Fred having to straddle a rotten log crossing the trail. Inside, a couple of tykes noticed the stain right away. They pointed to it and tugged their parents' sleeves while whispering. The family moved back quickly. Others slowly began to notice that some wretched old wino had crashed Wendy's.
BERTULIS If he was getting ready for a date or a job interview, he could dress up and make the cover of GQ. He was that sharp. The rest of the time, especially when he went into the mountains, he didn't care how he looked.
CRAIG On the first ascent of Alaska's Devils Thumb, in 1946, Cliff Schmidtke and I were about to prepare dinner in the tent. Fred brought out a bag of what appeared to be crumbling, dried beans. Inside we noticed what looked like eggs or larvae. It turned out the beans were left over from Mount Waddington in '42. We were hungry enough that we ate the whole thing.
JOLLEEN RATLIFF (Roy Ratliff's wife) Around 1 A.M., I heard noises from the kitchen; it was Fred having a snack. I asked him what he was eating and he said, "Don't know. Crackers and some dip stuff." I asked if it was any good. He replied, "It's OK, not bad." Then I looked at the can and said, "Fred, it's cat food."And he goes, "Well, it tastes OK." Another time I put dry kibble in a bowl and on the counter for the cats. Fred comes over and he's standing there talking to Roy, and I hear him going crunch, crunch, crunch.
Fred Wasn't There
When the first Americans summited Mount Everest, in 1963, Beckey was absent. He hadn't been invited to join the team after damaging his reputation eight years earlier on Nepal's 27,940-foot Lhotse, where he'd left a weakened climber alone high on the mountain.
NORMAN DYHRENFURTH (leader of the 1963 American expedition to Everest) I was trying to raise money for a 1955 expedition to Lhotse in a hurry. And Henry Hall [president of the American Alpine Club in the early 1950s] said, "OK, I'll give you $10,000, but under one condition: that you take Fred Beckey." I said, "Why is that so important?" And he said, "Well, he's such a good climber and he's never been invited on a major expedition. And I feel that he should be given the chance." I was happy to get the $10,000. But I regretted it later, because I was forced into taking somebody who is not an expedition man.
CRAIG It's been my experience in the Himalayas that stories get distorted. I know Fred got a bum rap on Lhotse.
DYHRENFURTH He risked the life of Dr. Bruno Spirig. Fred left him at Camp 4 without adequate assistance. Bruno was snowblind and nearly died of cerebral edema. We saw a single person coming down. It was Fred. I asked him, "Why did you leave Dr. Spirig alone?" Turns out Dr. Spirig didn't even have a sleeping bag, he didn't have down clothing. We couldn't understand it. It's strange, the actions that take place when you are without oxygen at 7,500 meters. The next morning, we got Spirig down and he recovered. From then on, people had no confidence in Fred Beckey, I'm very sorry to say.
LISKA That was a bad trip. They ran into problems at a high camp. Fred said it was like a war zone. Blizzard, altitude, things coming down on them. Fred descended against Dyhrenfurth's wishes. That was one reason Fred wasn't invited on the Everest climb. He should have been, of course, because he was the best.
JIM WHITTAKER (first American to summit Everest, in 1963) Oh, yeah, Fred was very capable. But you can't just be a good climber on expeditions. You've got to get along with people and not have your own agenda.
FRED BECKEY It was a big thing. But I didn't take it too hard. It didn't affect my life. Maybe it's like some girl you're interested in and it doesn't work out and you get involved with somebody else and you forget about her.
LISKA At any rate, it left him with a frenzy to climb everything in sight.
Fred Is a Player
His singular pursuit of climbing meant he never settled down and had a family. Some guys just can't be tamed.
FRED BECKEY I like kids. It's like puppy dogs: I like golden retrievers, and Labradors are great dogs—but a lot of dog-care maintenance. I saw a couple of my friends that had kids and, boy, their wives put their foot down pretty quick. They essentially quit climbing. It's a big job to raise kids up, to do it right. Time-consuming. It leads to conflicts, if you're off running around climbing all the time. To tell you the truth, it's probably selfish on my part.
HORNBEIN Fred's breadth of interest in life seemed to be pretty narrowly focused on mountaineering and young women.
CRAIG It started when he was about 16. He started hanging out at the skating rink and picking up girls who were what, in those days, we called "roller babes."
RATLIFF In the mid-1980s, he was trying to put the make on my girlfriend. She was 27 years younger than him. He loves women. He always wanted to give them a backrub. Anything to get his hands on them.
MIKE SWAYNE (Northwest climber, with major Cascades first ascents in the early 1960s) There was the time we were in Portland visiting some girls who had given Fred their number when they met in Yosemite Valley. Fred asked one of them if she would go out to the car with him, and that it would only take a few minutes. That was a pickup line that I'd never heard before. But I was young.
Fred Is No Fool
He wasn't just scaling mountains. He was studying them.
DICK DORWORTH (writer, occasional climbing partner) Fred's published books, including Mount McKinley, the Cascade Alpine Guide, Mountains of North America, and Challenge of the North Cascades, are the work of a meticulous, scholarly researcher.
MEGAN BOND (close friend) He's an incredible historian. He can tell you who climbed what mountain in what year, by what route, etc. If you've ever seen his book Range of Glaciers [Beckey's 568-page 2003 history of the early explorations of the Northern Cascades], that's quite a tome.
BERTULIS He collected information on every mountain in sight. Fred would spend weeks going through his photo files to pick up the routes and the mountains and the different sides and all that. This is the kind of thing you had to do if you wanted to do first ascents.
BERTULIS Never, ever challenge Fred when it comes to facts and figures.
POWERS We published some stuff in the American Alpine Journal a while back and he immediately called me with 25 corrections.
Fred's Isn't Done
These days, simply walking hurts. And yet the man keeps roping up.
LANDREVILLE When he gets up in the morning he can barely stand until he gets loosened up. It's from years of carrying huge loads in an old Trapper Nelson pack. They have a couple of shoulder straps but no hipbelt, so your back is bearing the whole load.
FRED BECKEY I think it's just a matter of aging. You don't run as fast as you did when you were 20.
HORNBEIN He will pursue it until he drops dead or simply can't creep anymore. It's mind-boggling to see him—undoubtedly a lot slower but with the same determination and tenacity.
BERTULIS If he decides to tie in, double-check his knots. When you get that old, you forget things. I admire that he still wants to be part of the scene. It's a romance he doesn't want to let go of.
BOND If he can't keep going, if he has to stop at some point … That's just too sad for me to think about. When he's ready to settle down, he needs to be climber-in-residence at an academic institution that will appreciate everything he brings to the table. His brains, his prowess, his knowledge base, his wisdom.
POWERS There will never be another like him, I'll tell you that.
FRED BECKEY I'd like to go to both India and China and take another expedition for a first ascent of a major peak. If I can pull it off, I will. But I just don't know. Maybe something on the Coast Range. I got my eye on a couple of things.
Trending on Outside Online