The Top 10 Climbing Stories of 2011
From drama in the Greater Ranges to cutting-edge bouldering problems, 2011 was a great year for climbing. We pick the top ten ascents of the past 12 months.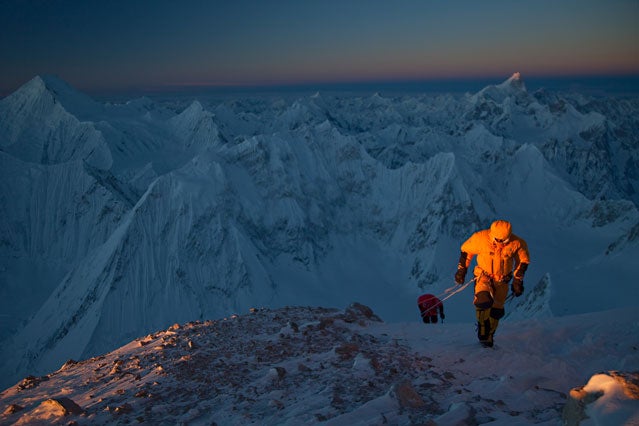 Heading out the door? Read this article on the new Outside+ app available now on iOS devices for members! Download the app.
With so many impressive ascents on rock and high-mountain faces this year, it was tough for us to pick the best story. In compiling the following list, we looked for climbs that weren't just hard, but busted the curve with their difficulty or boldness. Ascents from any discipline were fair game.  Below, you'll find everything from a third-grade boulderer who tore up Hueco Tanks to a team of three renowned alpinists who survived winter storms and an avalanche to take one of the last great prizes in Himalayan mountaineering. We couldn't fit all of the worthy stories on the list; Gerlinde Kaltenbrunner, who after a 13-year campaign became the first woman to climb all 14 eight-thousanders without oxygen this August, deserves a special mention. After this year's hype has died down, these are the climbing stories we'll still be thinking about in 2012. Click on the links below to read more.
10. A Nine Year Old Takes Down Hueco
9. Ueli Steck Solos Shishapangma
8. Daniel Woods Flashes V14/15
7. First Winter Ascent of Gasherbrum II
6. The Wide Boyz Climb the World's Hardest Offwidth
5. Sharma Sends First Round, First Minute
4. Anker, Chin, and Ozturk Climb Shark's Fin
3. Sasha DiGiulian Repeats Pure Imagination
2. Alex Honnold's Hardest Solos Yet
1. Adam Ondra Climbs V16, Twice
10. A Nine Year Old Takes Down Hueco
For Ashima Shiraishi, age is no limit
Sending a V11/12 boulder problem normally wouldn't be enough to get on this list, but we'll make an exception for Ashima Shiraishi. In January, then-nine-year-old Ashima tore through Hueco Tanks, Texas, sending hard problems including Rogered in the Shower (V11) and Chablanke (V11/V12). The sends brought her to within a grade of the hardest-ever send by a woman, then-25-year-old Angie Payne's ascent of The Automator (V13) in 2010. Not bad for someone who still has to balance climbing with grade school.
Read more at Big UP Productions
9. Ueli Steck Solos Shishapangma
The Swiss ubermensch goes from base camp to summit in half a day
Ueli Steck didn't originally plan on climbing Shishapangma (26,289 feet) alone. But when his partner Don Bowie became altitude sick near the end of their only weather window, Steck headed up the mountain, planning to climb to just 23,600 feet to check conditions. Ten and a half hours later, he topped out Shishapangma for what was likely the peak's fastest-ever ascent. Steck, who originally made a name for himself by racing up the Eiger and other alpine faces in record time, planned to follow his ascent of Shishapangma with fast-and-light climbs of two more 8,000-meter peaks as part of his Himalaya Speed expedition. He and Bowie went on to summit Cho Oyu, but were turned back by cold conditions on Mt. Everest.
Read more at Outside
8. Daniel Woods Flashes V14/15
A world-class testpiece goes down first try
Daniel Woods pushed bouldering standards just a little bit higher on November 28 when he fired Entlinge (V14/15), a five-move Fred Nicole problem climbing a steep prow in Murgtal, Switzerland, on his first try (the above video shows Austrian boulderer Bernd Zangerl on the second ascent). The ascent edged out Adam Ondra's repeat of Confessions (V14) as the hardest flash ever. The significance wasn't lost on Woods: In just a few seconds, he had climbed a grade that still takes most top boulderers days of work. "The whole day felt like being in a dream," he said on 8a.nu. "Climbing seemed effortless."
Read more at Climbing Narc
7. First Winter Ascent of Gasherbrum II
Storms, crevasses, and an avalanche weren't enough to stop this team
On February 2, Cory Richards, Simone Moro, and Denis Urubko became the first climbers ever to summit one of Pakistan's 8,000-meter peaks in winter when they reached the summit of Gasherbrum II (26,360 feet). But getting to the top was the easy part. On the descent, the team walked straight into a full-force Himalayan storm, complete with eighty-mile-an-hour winds, and snow that reduced their visibility to near zero. "It was almost like the mountain was pissed that we climbed it," Richards told Outside. Then, while crossing an icefall beneath Gasherbrum V, a serac split from the mountain, touching off a Class 4 avalanche that buried the team. Miraculously, they all survived. Undeterred, Moro and Urubko are already planning another winter expedition for early 2012, this one to Pakistan's Nanga Parbat (26,657 feet).
Read more at Outside
6. The Wide Boyz Climb the World's Hardest Offwidth
Most climbers won't touch wide cracks. This year, two British climbers traveled halfway around the world looking for them.
British climbers Tom Randall and Pete Whittaker showed up in the United States in September with a mission: climb as many hard offwidths (wide cracks) as they could. The pair, who called themselves the Wide Boyz, had spent two years training specifically for offwidth climbing—an awkward, exhausting discipline with relatively few fans—in a specially-built gym in Randall's basement. Their hard work paid off on October 11, when they made the first ascent of Century Crack, a 100-foot-long, near-horizontal wide crack underneath Moab's White Rim. "I'd never seen a roof crack that was anywhere close to it in size," Randall said in an interview with Outside. "You can't resolve it in your mind." They later proposed a grade of 5.14b for the climb—the hardest ever given to an offwidth.
Read more at Outside
5. Sharma Sends First Round, First Minute
After two years and hundreds of falls, one of the world's most famous projects receives its first ascent
Two years, one film, and an Internet dust-up after he first started working on it, Chris Sharma finally made the first ascent of First Round First Minute, his bouldery, 25-move testpiece in Margalef, Spain, on April 20. Sharma, who hadn't tried FRFM for two months, was climbing in another area that day when he decided on a whim to put in a burn on the project. To his surprise, he sent. While he hasn't given the route a grade, many speculate it could be his hardest at 5.15b. "I've always had faith. This one really beat me though," Sharma told PlanetMountain afterward. "I'm just glad it's all over."
Read more at Outside
4. Anker, Chin, and Ozturk Climb Shark's Fin
Three years ago, Conrad Anker, Jimmy Chin, and Renan Ozturk nearly starved in a storm while attempting to climb India's Shark's Fin. This year, they came back to try again.
In 2008, Conrad Anker, Jimmy Chin, and Renan Ozturk had to bail from the Shark's Fin, an ice-caked granite prow running up the side of India's Meru Central (20,702 feet), after depleting their food supplies and losing nearly 20 pounds each while waiting out a storm. This fall, the trio returned and knocked off the line, summitting on October 2. It was Anker's third try at the Shark's Fin, which features delicate aid climbing with difficulties of up to A4 and had shut down dozens of previous attempts. It was also Ozturk's first serious ascent since suffering severe head and spinal injuries in a ski accident in March. So what enabled the team to succeed where others had failed? Preparation, and a stretch of clear, calm days. "I can't stress enough the importance that the weather played during our trip," Anker told Alpinist after the climb. "We got incredibly lucky."
Read more at Alpinist
3. Sasha DiGiulian Repeats Pure Imagination
The World Champion becomes the first American woman to climb 5.14d
If there was a breakout climber of the year, Sasha DiGiulian was it. Going into 2011, DiGiulian had climbed just three 5.14 routes, none harder than Welcome to Tijuana (5.14b). But beginning in March, she kicked into a higher gear, climbing multiple 5.14c's and onsighting routes as hard as 5.14a. The 19 year old's season hit its peak in October, when she repeated Pure Imagination (5.14d) in the Red River Gorge, making her the first American woman to climb a route of that grade—and bringing female climbers as a whole one tick closer to closing sport climbing's gender gap.
Read more at Climbing Narc
2. Alex Honnold's Hardest Solos Yet
After Alex Honnold climbed Half Dome without a rope, we thought he couldn't push soloing any further. We were wrong.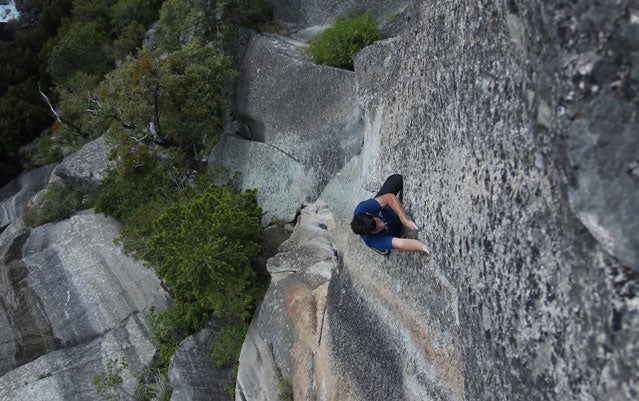 After spending last summer blazing up big walls, Alex Honnold turned his attention this year to soloing hard single-pitch routes in Yosemite. On June 13, Honnold soloed The Phoenix, the world's first 5.13, while in the Valley to film a segment for 60 Minutes. In September, he returned and, in one of the best days of soloing the Valley had ever seen, free soloed Cosmic Debris (5.13b)—Yosemite's hardest-ever solo—and made a ropeless flash of Heaven (5.12d), an overhanging 40-foot crack perched hundreds of feet above the valley floor. In an interview with Rock and Ice after the ascents, Honnold played the solos down. "It definitely wasn't one of my best days," he said. "I literally climbed 11 minutes the whole day."
Read more at Outside
1. Adam Ondra Climbs V16, Twice
The strongest cliimber in the world got even stronger in 2011
If Adam Ondra was on top of the climbing world in 2010, he was on another planet in 2011. This spring, the 18-year-old Czech sent four routes at the bleeding-edge grade of 5.15b, including Chris Sharma's Chaxi Raxi project and Bernabe Fernandez's controversial route Chilam Balam. In between, he managed to find the time to onsight seven 5.14c's; to put that achievement in perspective, the rest of the world's top climbers combined have onsighted a total of three. But his most impressive sends came in the space of two months this fall, when he climbed two boulder problems at the almost-unheard-of grade of V16: Christian Core's Gioia and a traverse that Ondra dubbed Terranova. Two V16's in a year would be an incredible achievement for a dedicated boulderer. For Ondra–first and foremost a route climber—it's just more evidence of just how far ahead of the game he is.
Read more at Outside
Trending on Outside Online