Two Climbers Just Completed One of the Hardest Alpine Ascents of the Year
Americans Josh Wharton and Vince Anderson completed the first integral ascent and first free ascent of the Italian route "Suerte" on 20,100-foot Peruvian peak Jirishanca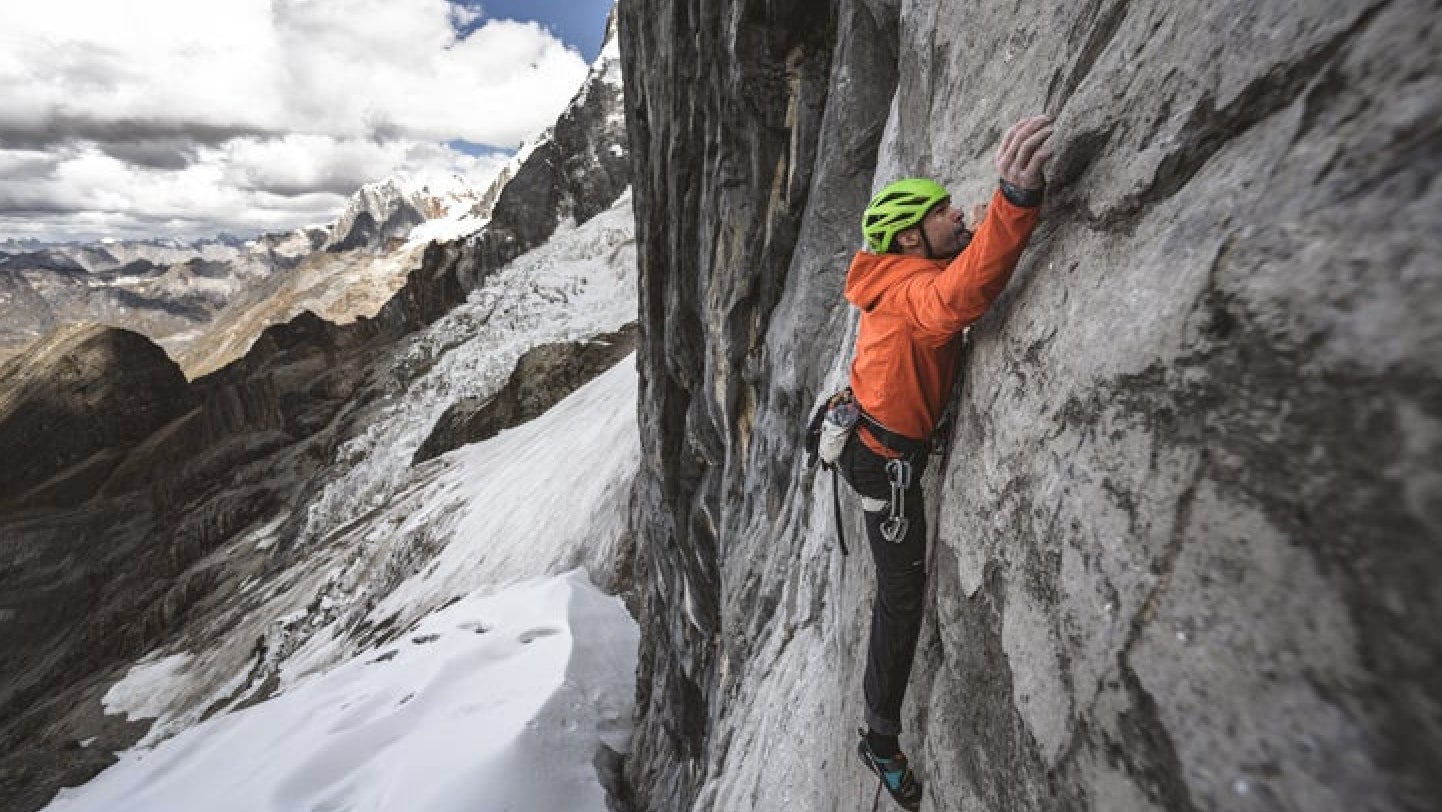 Drew Smith
Heading out the door? Read this article on the new Outside+ app available now on iOS devices for members! Download the app.
Two American climbers just completed one of the toughest alpine ascents of the year.
On July 23, Vince Anderson and Josh Wharton finished their multi-year climb on Jirishanca, a rarely summited 20,100-foot peak in Peru's Cordillera Huayhuash. Their route, a longstanding open project on the mountain's south face, was first climbed to the northeast ridge by an Italian team in 2003 but had never been ascended all the way to the summit. Wharton and Anderson climbed the route—alternately called Suerte Integral or Italian Integral—over a three-day alpine-style push. 
"I think the coolest thing about this route is that it has hard, technical climbing in every genre," Wharton said in a recent Zoom call. "I haven't been to many peaks that involve 5.13a climbing, WI6, and M7. You kind of need a full package of skills to free climb the whole route."
This was Wharton's fourth trip to the mountain—his second with Anderson. In 2019, the duo climbed to within 450-feet—four pitches—of the top but opted to play it safe rather than push to the summit.
"It was late in the day," Wharton said about that decision. "We hadn't brought our bivvy gear from our highest bivvy, and nights in Peru are really long and cold, and the terrain ahead of us looked complicated: You have to reverse some of it and down climb. So it was a conservative decision—to go down and keep our toes."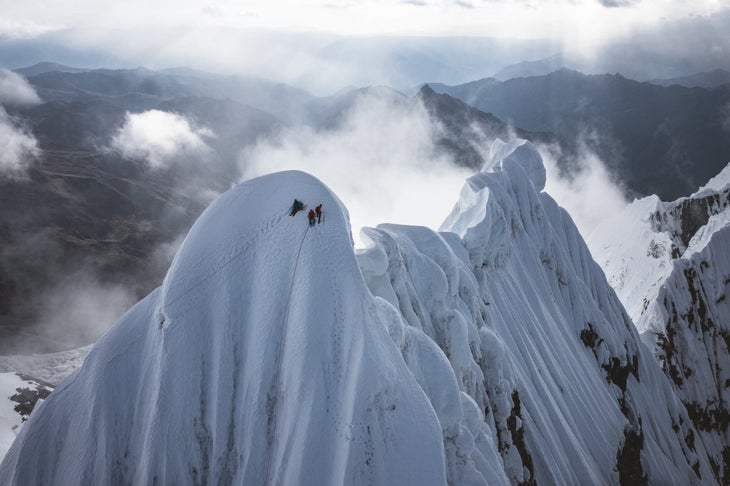 Jirashanca, which roughly translates to "Hummingbird Bill Peak" in the local Quechua, was the last of Peru's 6,000-meter peaks to be climbed—and is one of the most difficult summits in the Andes. When it was first done via the East Buttress by Toni Egger and Siegfried Jungmair in July 1957, their ascent was widely lauded as one of the most impressive alpine ascents yet accomplished in South America.
Even now, it's successfully climbed very rarely. When they summited last month, Wharton and Anderson were the first known team to reach the top since a 2003 French expedition—though in an amazing coincidence, Canadians Quentin Roberts and Alik Berg joined them on the summit only minutes later, having just established a new route called Reino Hongo (M7 5.8 90°) up the mountain's east side, also in alpine style.
"The timing was amazing," Wharton said. "I hit the summit, and then literally five minutes later Alik popped over down and to my right, and I was like, 'Oh, hey Alik. How's it going?' They started the day before us up a different side of the mountain, so the fact that it all happened within ten minutes was pretty wild."
From bottom to summit, Wharton and Anderson climbed Italian Integral in 39 pitches over three days—followed by one day of descent.
The first day involved roughly 1,000 feet of limestone that, "if someone brushed it and cleaned it, would actually be really good," Wharton said, "like big wall sport climbing in Europe." When establishing the route in 2003, the Italian team had used bolts to aid through the less-featured sections of this lower wall, leaving in their wake a perfect free climbing challenge. The slabby second pitch, which houses a technical V7 crux, went free at 5.13a—a very challenging grade in this big-mountain setting. (Anderson fell while following this section, but Wharton freed it on lead.)
Day two featured another 1,500 feet of "traditional Alpine terrain," Wharton said, "like ice climbing up a gully and some snow fields, things like that." But on day three, high on the mountain, the climbing got interesting.  "In Peru the sun melts the snow and ice in all kinds of bizarre ways," Wharton explained. "You get these bizarre tube features and these weird mushroom overhangs and these glacial-type overhangs that I haven't seen in other mountain ranges."
Wharton adds that, thanks to climate change, the mountain has changed significantly since its first ascent in the 1950s—and that it's gotten much harder. In photos from an Alpine Journal article by Ricardo Cassin, who led a nine-person Italian team on the second ascent of the mountain via its West Face in 1969, Jirishanca is a steep triangle of compacted snow and lumpy bergschrunds. Now, however, with the glaciers receding from its lower slopes and the ice and snow melting from the higher walls, the mountain is far rockier, and the bergschrunds have melted back into huge ice roofs. These are some of the route's hardest pitches.
"It's funny, because if you look at a [route map] of Jirishanca, you'll see a lot of routes on the southeast face," Wharton says. "But a lot of those routes just joined the original route and didn't go to the summit—everyone just wrote it off as easy to top." This is presumably why the Italians called it quits once they reached the northeast ridge in 2003: They assumed that the rest of the climb wasn't going to be very hard since it was first done way back in 1957. "But having now tried it a few times," Wharton said, "I actually think that the summit ridge is now the crux of the mountain."
Indeed, as Anderson and Wharton climbed the upper ridge toward the summit, roughly following Egger's original route, they found ancient carabiners and pre-kernmantle ropes hanging out of the ice roofs—but 60 feet away from the current contour of the mountain, hanging out in space.
Lead Photo: Drew Smith